The state park system in Georgia was founded in 1931, with Indian Springs State Park and Vogel State Park being the first state parks established in Georgia. Indian Springs has been open as a public park since 1825, making it one of the oldest state parks in the United States.
The Department of Natural Resources (DNR) has created a lot more state parks in the last century. Today, with a total of around 50 state parks in Georgia, state park camping has never been better. These parks provide tons of outdoor adventure opportunities for road- and day-trippers alike. Here are the state parks we suggest visiting while camping in Georgia.
---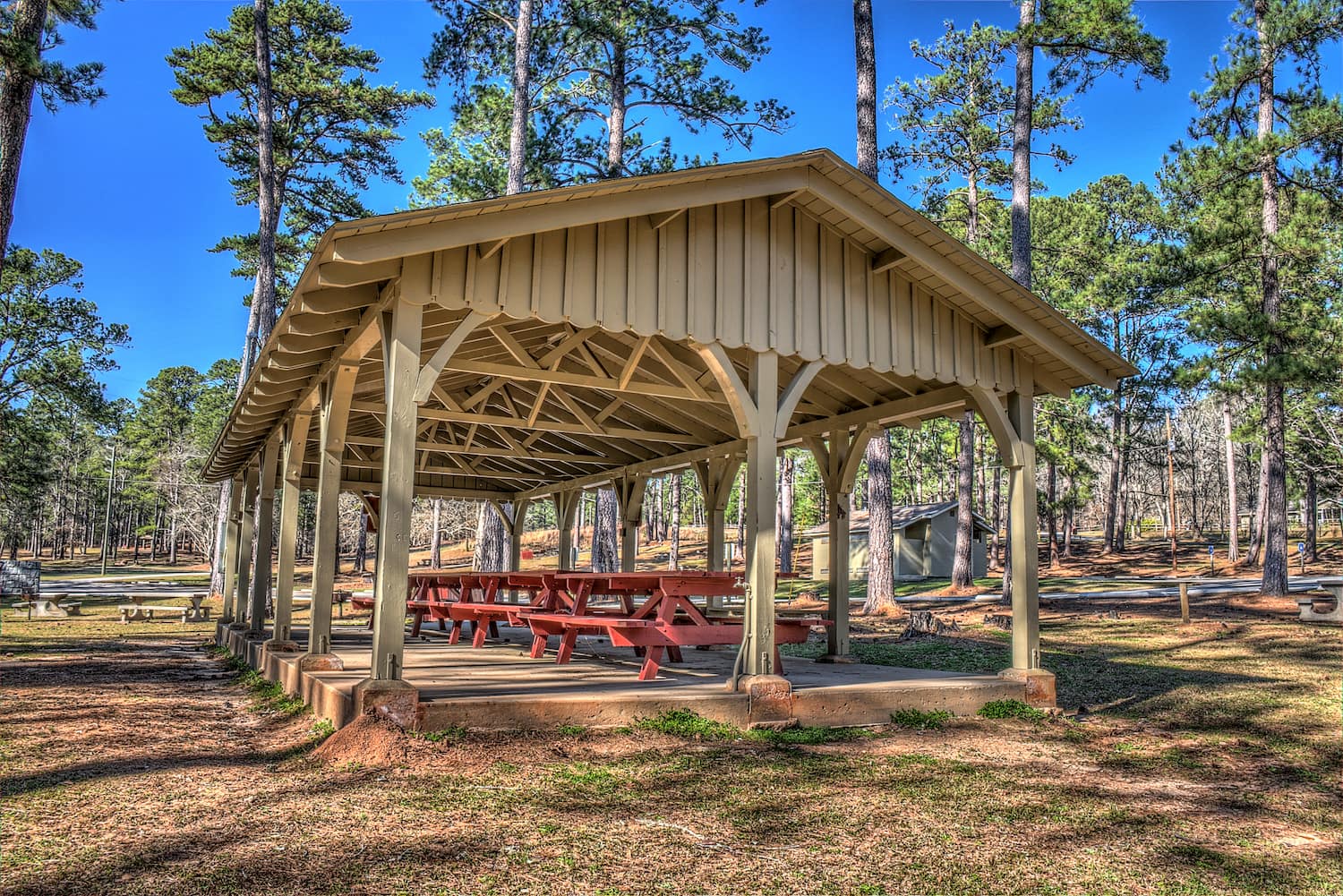 According to the DNR, Indian Springs draws people to its mineral-rich healing waters and serene natural setting. "Park guests can enjoy wading in Sandy Creek, walking nature trails or biking to nearby Dauset Trails. A small museum, open seasonally, highlights Creek Indians, the resort era and CCC history. Cottages and campsites may be reserved for overnight stays." The park covers about 530 acres in total.
The Indian Springs Campground has 10 cottages that can all be reserved online, as well as 62 tent, trailer, and RV campsites. Indian Springs is also a drive-in campground, which makes it convenient and easily accessible for all vehicles. The grounds include plenty of picnic tables, fire rings, showers, and a nearby market. Visitors can also bring their four-legged companions with them, because the entire campground area is dog friendly.
The park is open year-round from 7 a.m. to 10 p.m. and is conveniently located in the center of Georgia near the I-75. The weather remains fair for most of the year, making the park visitable during any season. Just be sure to check for rainfall before planning a trip.
"This is a great state park located in Flovilla, Georgia. It's about 10 miles off I-75." — The Dyrt camper Joshua C.
---
Vogel State Park is located in northern Georgia, within the Chattahoochee National Forest. This 233-acre park is known for its fall weather that transforms the color of the entire park. Vogel State Park is also home to Lake Trahlyta and, the seasonal, Sand Beach. Hiking is another main activity in the park, drawing visitors from far and wide. Vogel contains a challenging 13-mile Coosa backcountry trail. The trail is an invaluable way to experience the park's wildlife and water features.
Vogel State Park has plenty of camping options, including 34 cottages, a primitive campground, as well as tent, trailer, and RV sites. The drive-in campground is easily accessible for all visitors, and features amenities like picnic tables, fire rings, trash cans, and showers. Pets are also allowed at the campground.
Although the park is open year-round (from 7 a.m. to 10 p.m.), temperatures can get pretty low in the winter months. Unless you're ok with cold, rainy camping, be sure to check the weather and rain forecasts before planning your trip.
"Spacious campsite, clean, friendly people, the view is fantastic, mountain, lake, waterfalls and lots of things to do! Love!!!!!" — The Dyrt camper Repkah P.
---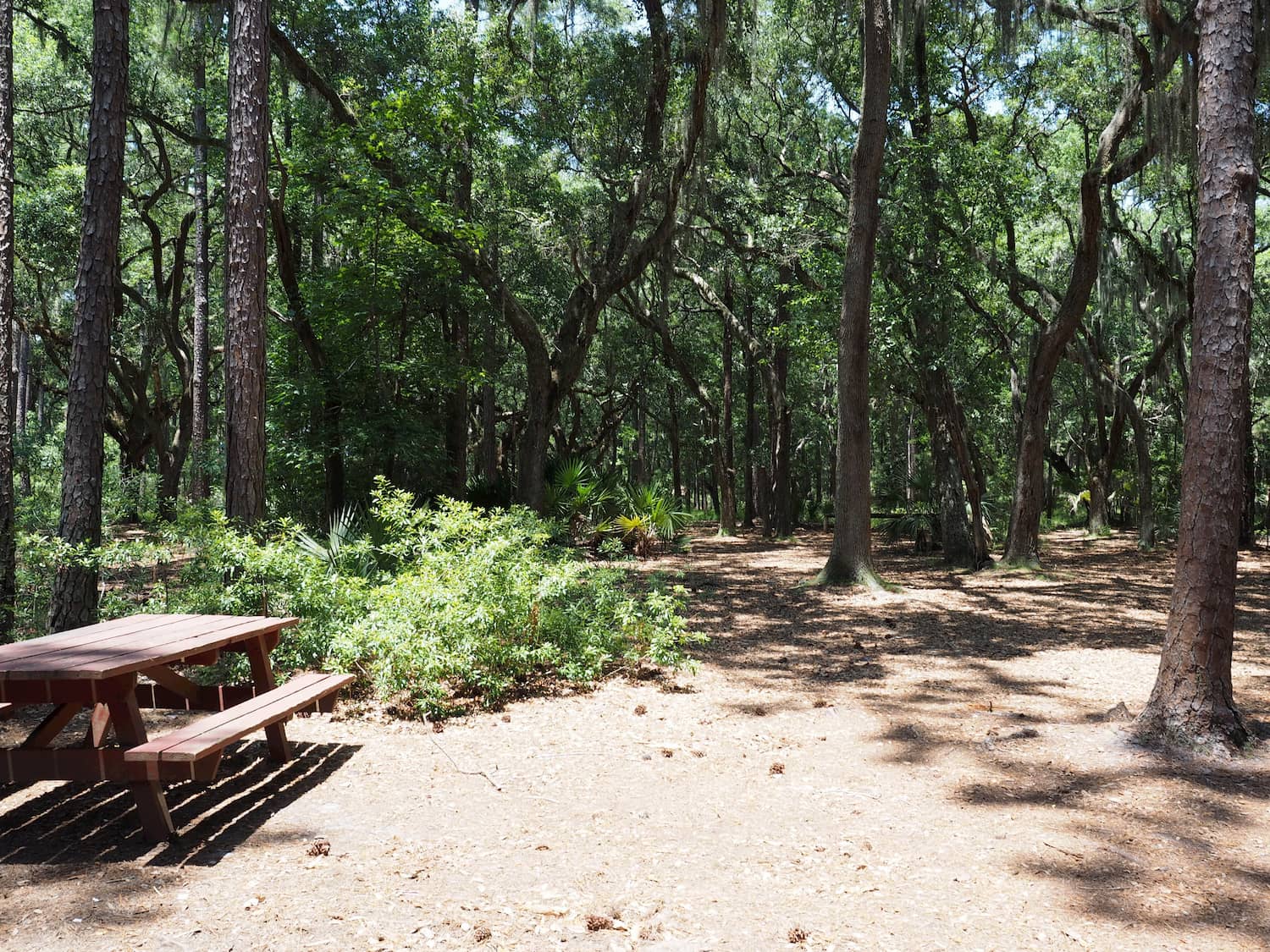 Skidaway Island State Park is located near a network of rivers that empty into Georgia's northern coast along the border of South Carolina. Some of these include the Skidaway River, the Wilmington River, and the Vernon River, all of which create what's been coined the "Skidaway Narrows," a part of Georgia's intracoastal waterway. The state park is known for its maritime forest trails, salt marshes, boardwalks, and observation center. Guests to the park often observe deer, crabs, egrets, and should have some excellent bird watching opportunities.
Skidaway also borders the historic city of Savannah. This is a must-stop city for campers who are keen on resupplying, while also seeing a place where horse-drawn carriages still roll over cobblestone streets and Spanish moss. Other points of interest include the city's charming parks and a notable gothic cathedral.
The Skidaway Island State Park campground provides 90 tent and RV campsites. Cabins, tent cabins, and yurts are also available. The campground contains many amenities including picnic tables, fire rings, showers, toilets, and even WiFi. A key feature of the grounds is the trail that leads to an observation tower, which overlooks the Skidaway Narrows. This is another great place for bird watching.
Weather permits year-round visitation. Just be sure to check for rain, and excessive heat in the summer months.
"This was an exceptional park! So well-maintained throughout. The trees are beautiful and the sites are spacious." — The Dyrt camper Sue B.
---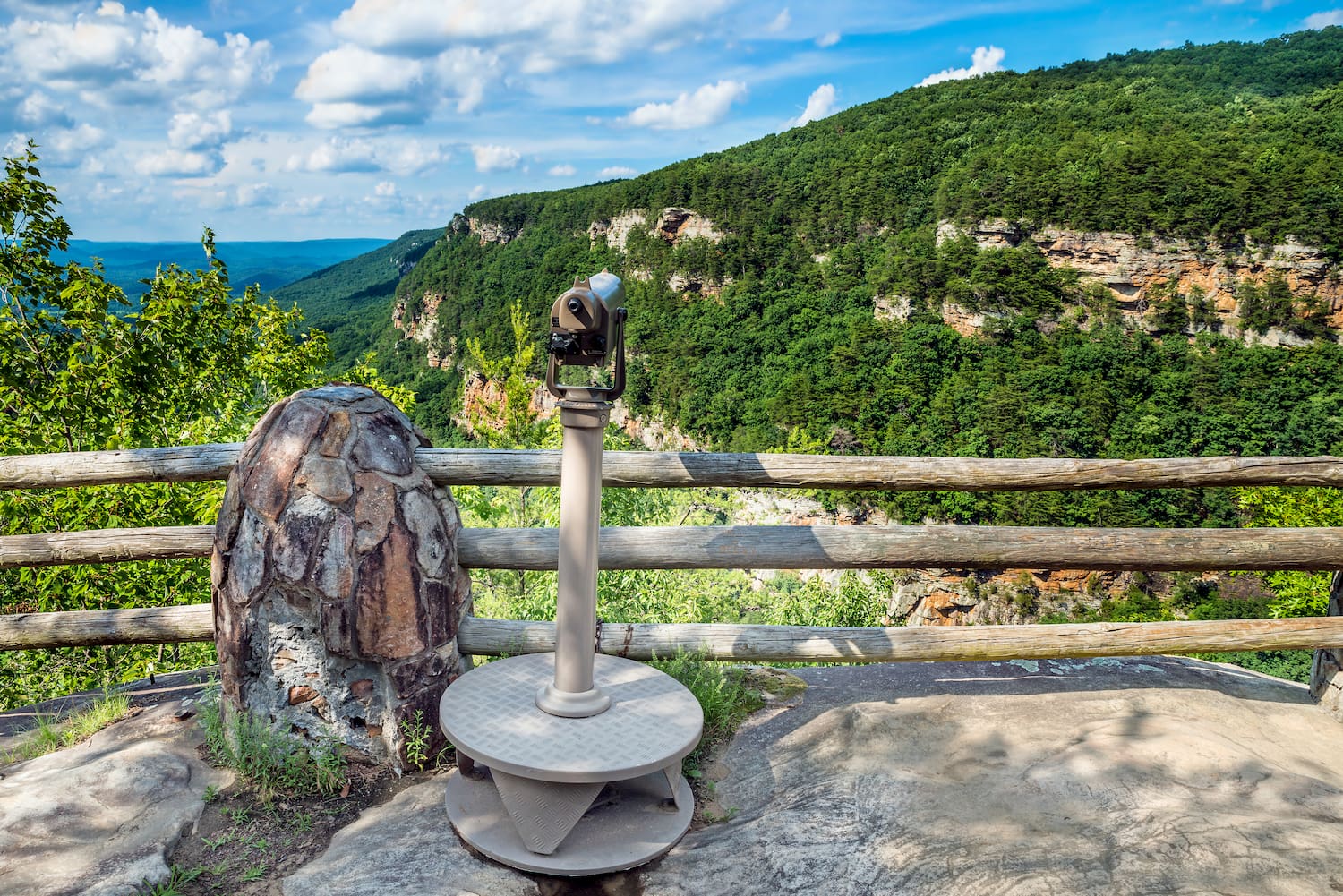 This is the largest state park mentioned so far, at about 3,500 acres. It is located in the northwest corner of Georgia and is widely known for residing on the Cumberland Plateau, marking the southernmost bit of the Appalachian Mountains. The park is "home to thousand-foot deep canyons, sandstone cliffs, wild caves, waterfalls, cascading creeks, dense woodland, and abundant wildlife, the park offers ample outdoor recreation opportunities," as the DNR writes.
This is a great place for marvelous scenic views and unique hiking experiences. The park contains the popular Overlook Trail, trails for horseback riding, plus other challenging hiking trails that lead to viewpoints and waterfalls.
Cloudland Canyon State Park Campground is a drive-in and hike-in campground. Guests can choose from cabins, tent sites, RV sites, tent cabins, and yurts. There's plenty of amenities on-site as well, including picnic tables, fire rings, showers, toilets, WiFi, and electric hookups. Note that pets are indeed allowed and drinking water is readily available.
Like most other Georgia state parks, Cloudland Canyon is open from 7 a.m. to 10 p.m., year-round. Winter weather at the park can be cold and rainy, but the weather during the rest of the year is usually pretty temperate and comfortable. But as always, it's recommended that you check on the weather conditions before visiting.
"This is a 3,500 +/- acre State Park. It's well maintained with nice amenities. The site seeing and hikes were great. The campsites were mostly level and easy to access." — The Dyrt camper
Joshua C.
---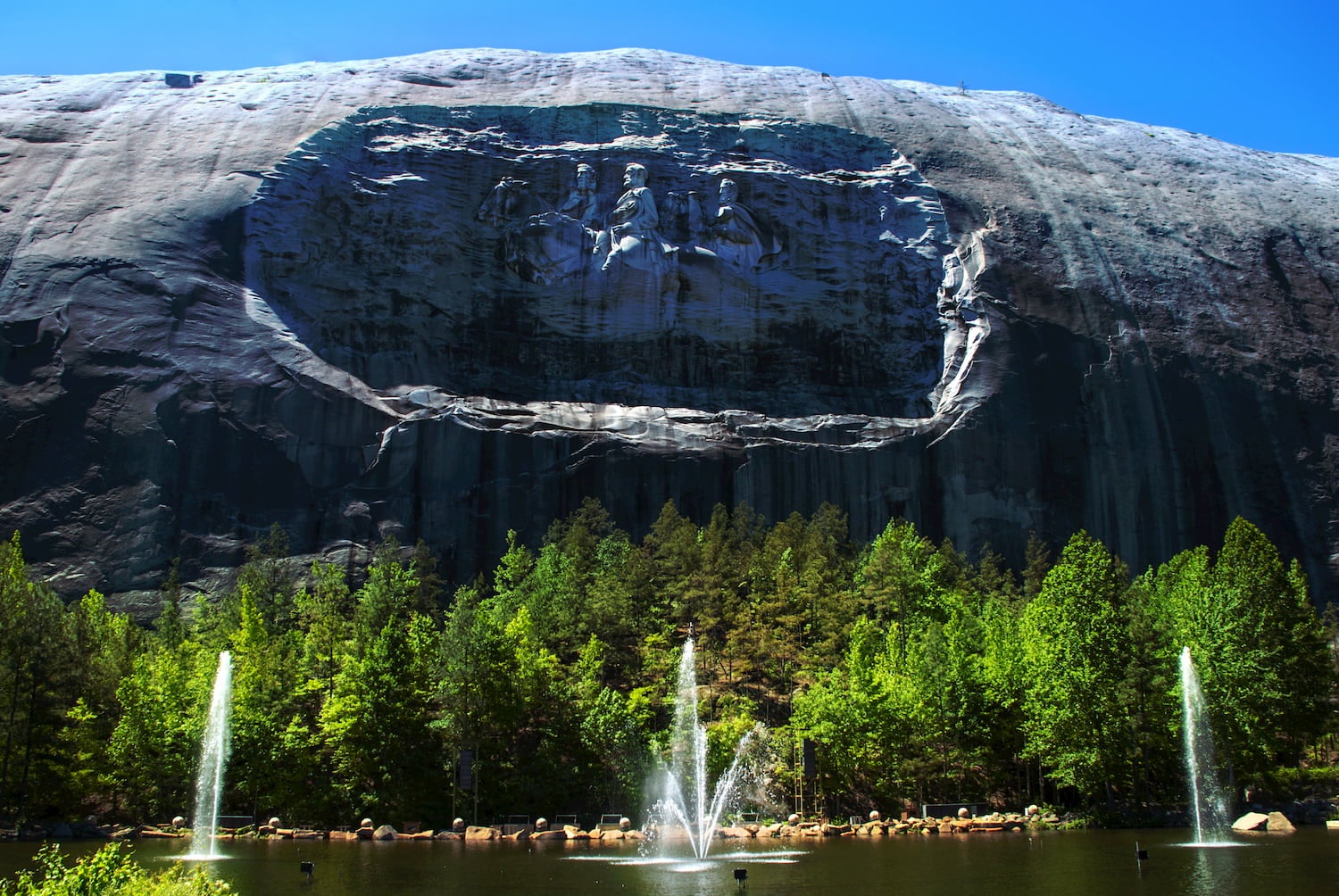 Although Stone Mountain Park is technically not a state park, we had to include it in the mix for its popularity, and for the famous Stone Mountain itself. Stone Mountain is an 825-foot isolated quartz monzonite dome located near Atlanta, Georgia. The park that shares its name officially opened in 1965. The summit of Stone Mountain is reachable by both trail and a Skyride aerial tram. The mountain is the most-visited tourist attraction in the entire state of Georgia and contains a confederate carving which serves as a memorial.
Visitors may wish to begin their journey to the mountain by seeing Stone Mountain Village, known primarily for its Civil War-time history. Then, it's on to the Stone Mountain Campground for a few nights of solitude. The 3,200 picturesque acres of Stone Mountain Park offer a wide variety of activities to visitors, including an adventure course in the treetops, laser shows, museums, and a scenic railroad.
This Georgia State Parks camping destination offers cabins, tent cabins, yurts, and RV camping. Amenities include picnic tables, fire rings, drinking water, toilets, and even WiFi.
Getting to Stone Mountain Park is pretty easy. It is located just 20 miles northeast of Atlanta. The weather there remains fair year-round, but as with others on this list, winters can get a bit chilly and summers fairly hot.
"Beautiful campground with access to huge park with lots of fun things to do. Seasonal events always happening too." — The Dyrt camper Amy B.
---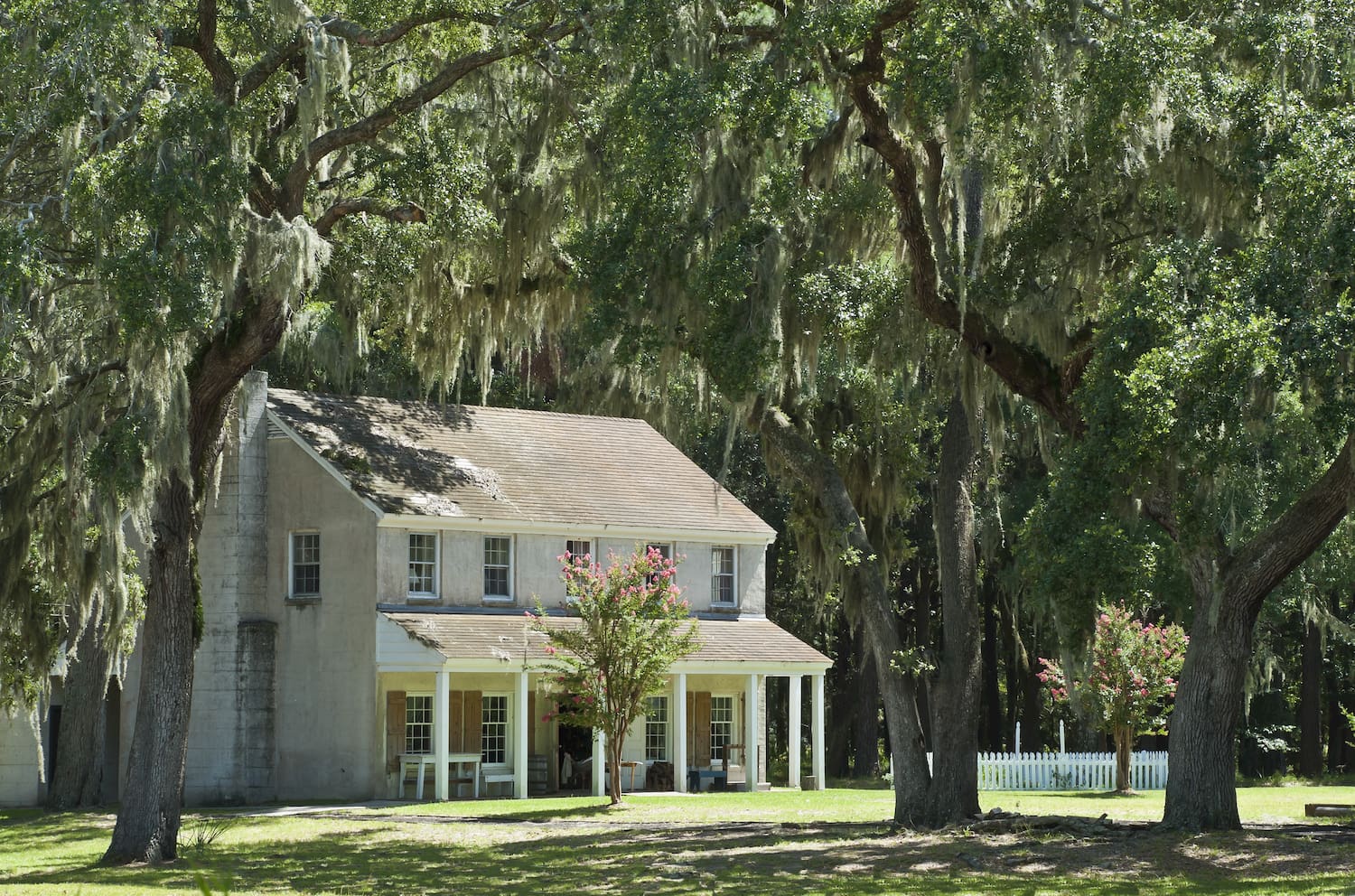 Fort McAllister is a Civil War fort and museum, located along the Ogeechee River. The fort is the best-preserved earthwork fortification of the Confederacy. Like Skidaway, Fort Mcallister is a coastal state park. It spreads across 1,725 acres, featuring a well maintained camping area, and plenty of good walking trails, many of which are along the water. This coastal spot is great to visit year-round!
The campground is forested with plenty of space between each site. It features cabins, tent cabins, dispersed camping, tent sites, and RV sites. Some of the amenities include picnic tables, fire rings, showers, toilets, and WiFi.
"We try to get to Ft McAllister SP as often as we can. Not too far from Savannah and also close to the other barrier islands. Large, shaded sites, with breezes off the water to keep cool even in summer." — The Dyrt camper Joel R.
Popular Articles: