Eldorado Canyon State Park is an adventurer's paradise right in the backyard of Boulder, Colorado. Sheer, towering, golden sandstone cliffs, forest landscapes, and mountains—this park offers something for everyone.
The sunny Colorado weather makes the park a prime camping destination. Visitors can enjoy the wilderness surroundings, and yet still be close to all the culture and convenience of Boulder. Here's what you need to know about Eldorado Canyon State Park, from rock climbing to RV hookups.
Eldorado Canyon State Park: History, Wildlife, and the Great Outdoors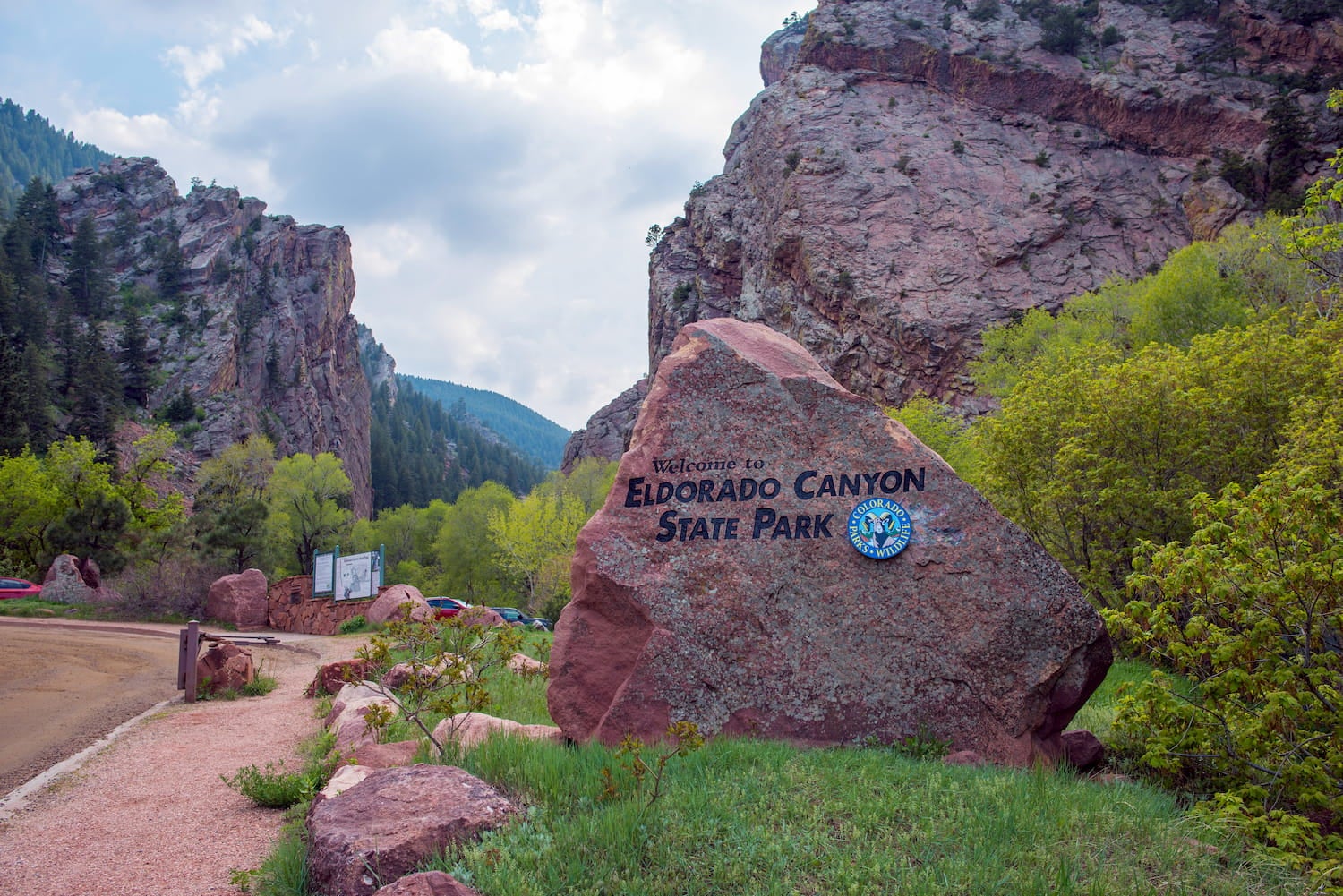 Eldorado Canyon features powerful creeks and towering cliffs. During the uplift of the Front Range—the portion of the Rocky Mountains stretching from Southeastern Wyoming to Central Colorado—the South Boulder Creek carved out the canyon that we know today. This created a sheltered space that would become home to humans and animals.
Eldorado Canyon State Park was home to the Ute Nation for thousands of years. The oldest inhabitants of Colorado, the Ute People's territory reached as far as Arizona, Utah, Northern New Mexico, Eastern Nevada, and Wyoming. They frequented Eldorado Canyon, as it provided a sheltered location in the wintertime. Warm springs facilitated the Ute's health and spiritual renewal.
The gold rush and American pioneer expansion westward rapidly ate up Ute territory. Following the colonization of the American West and the forced removal of Native Peoples from their homelands, pioneer ranchers and farmers settled in and around Eldorado Canyon. Beginning in 1902, the canyon saw the introduction of the railroad, resorts, and even spiritualist groups.
Things began to change when the first wave of rock climbers arrived in the canyon during the 1950s. Issues of ownership and access ensued. Eventually, in 1978, the state of Colorado purchased the canyon and created Eldorado Canyon State Park. Popular among rock climbers, hikers, and cyclists, this park is also located approximately 20 minutes away from Golden Gate Canyon State Park, a popular hunting destination.

Wildlife of Eldorado Canyon
Eldorado Canyon State Park boasts a wide variety of animal species; from black bears to mountain lions, elk, coyotes, bobcats, mule deer, red foxes, and an impressive collection of 7 different species of bats.
Hikers, climbers, and all other visitors to the park should take care to respect and not disturb the wildlife.
Rock Climbing at Eldorado Canyon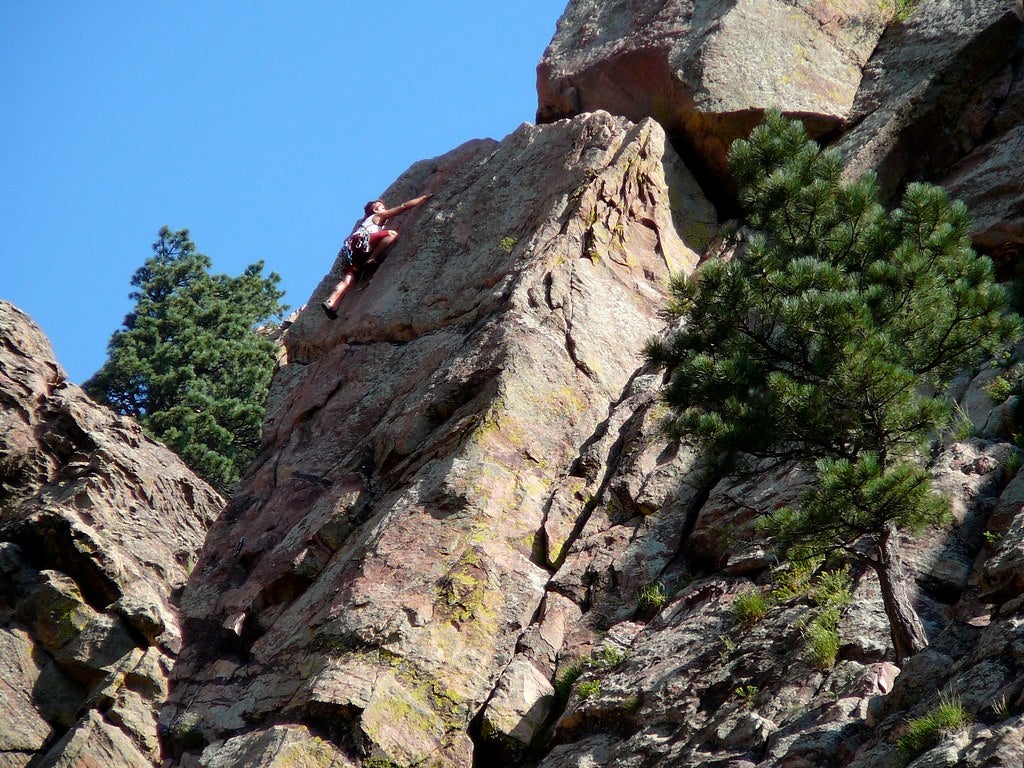 Eldorado Canyon State Park may be most popular amongst rock climbers, and it's easy to see why. The park's sheer, sandstone cliffs provide climbers with over 1,000 routes to choose from across the park.
Most of the park's climbing is traditionally protected—or trad, in the climbing world—and much of it is multi-pitch. The bolted sport climbing routes are beautiful, but few and far between, and they start at an impressive 5.11d.
Top-roping is available at the park, but most top-rope climbs there require gear to rig. In fact, you'll need slings around trees for many of them. Supremacy Rock offers some of the easiest and most accessible top-roping, with grades hovering between 5.0 and 5.5.
Hike, Bike, and Kayak
Outside of climbing, Eldorado Canyon State Park also offers trails for pedestrians (all trails), horseback riders (Eldorado Canyon Trail, and Crescent Meadows Trail), and mountain bikers (Crescent Meadows Trail and Rattlesnake Gulch Trail). Rattlesnake Gulch Trail is a favorite amongst experienced mountain bikers, and is definitely not a route for novice riders or the faint of heart. But for veteran mountain bikers, the climb, hairpin turns, and rewarding views make the Rattlesnake Gulch Trail a true classic.
While tubing and rafting are not permitted in the park, kayakers are welcome to ride South Boulder Creek when the water flow is both sufficient and safe. Check with the park office if you have any questions about kayaking at the state park.
The park also offers excellent picnic locations as well as some stunning fishing spots. In the winter, the park boasts cross-country skiing and snowshoeing opportunities.
Camping in Boulder, CO, and Near Eldorado Canyon
Camping isn't permitted inside the park, but there are plenty of great spots for camping in Boulder, CO and the surrounding area.
Winiger Ridge campground offers dispersed camping, RV hookups, and group camping. Both alcohol and pets are allowed on the grounds. With walk-in, drive-in, and boat-in sites, this campground allows campers to stay for up to 14 days. Phone service and trash service are available, but campers are responsible for procuring their own firewood.
Visitors to the Eldorado Canyon area should also consider this Rainbow Lakes, which is open from mid-June to mid-September. At an elevation of 10,000 feet, and sitting just on the edge of the Indian Peaks Wilderness, this thin-air campground offers hikers, bikers, water sports enthusiasts, and climbers a fantastic opportunity to experience the wilderness at its best.
Spots are first-come, first-served, and there are 18 combined RV sites and tent sites. Picnic tables, vault toilets, fire rings, cooking grates, and trash services are provided to each site. Get there early to snag your dream spot; the campground is usually full for the weekend by Friday morning.
Popular Articles: