This article about Colorado's Lost Creek Wilderness is brought to you by Liquid IV. Their Hydration Multiplier drink powder has the electrolytes that your body needs to take on the Colorado wilderness.
---
Find Yourself on a Trip to Colorado's Lost Creek Wilderness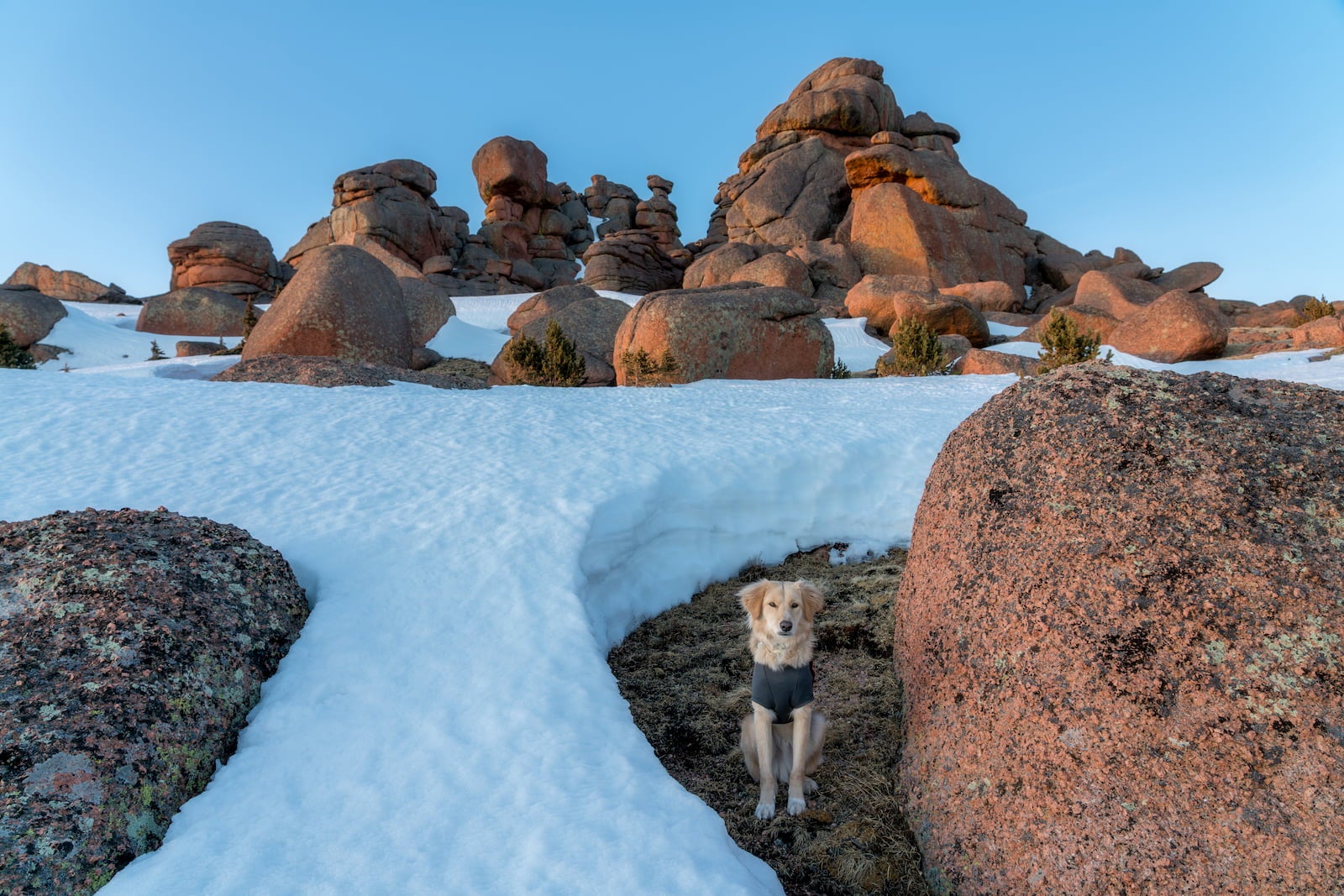 Tucked into the foothills, between Denver and Colorado Springs, lies a mighty expanse of wilderness. Named for the perennial stream that empties into the South Platte River, the Lost Creek Wilderness has largely escaped development projects, due to its rocky and rugged landscape. This 119,790-acre wilderness area is unlike your typical Colorado natural area of jagged 14,000 foot peaks and high alpine meadows. Instead, Lost Creek is a wonderland of rounded granite domes, natural arches, and other interesting rock formations that make it well worth a visit.
How To Get To Colorado's Lost Creek Wilderness
The Lost Creek Wilderness is located south of the town of Bailey, and can be reached via highway 285 South, from Denver. The Goose Creek Trailhead is a common entry point into the wilderness area and is located 38 miles south of Bailey. The dirt roads leading to the trailhead are generally accessible with a standard passenger vehicle, but the roads can be difficult after heavy rains. You can also easily approach Lost Creek Wilderness from Colorado Springs or Fairplay.
Outdoor Activities in Colorado's Lost Creek Wilderness
Due to its proximity to Denver, the Lost Creek Wilderness is a popular recreation area for Front Range locals. Despite its popularity, it's quite easy to find solitude in these mountains. You may even have a run in with mule deer, elk, bighorn sheep, or the occasional black bear. Hiking and backpacking are the most common outdoor activities in Lost Creek Wilderness, but you can also enjoy fishing, hunting, and rock climbing in some areas. Mountain bikes and motorized recreation vehicles are not allowed on trails in wilderness areas.
Hike to The Devil's Head Fire Lookout
The Devil's Head Trail is one of the most popular trails in the Lost Creek Wilderness. Ultimately, it will lead hikers to a fire lookout point perched on the edge of a large granite pinnacle. It's approximately 1.4 miles to reach the Devil's Head Fire Lookout, one of the few original Front Range fire lookout tours still in use. The tower is typically staffed from late-May through early-September.
Backpack The Lost Creek Wilderness Loop
Backpacking in Colorado is a can't miss activity for any outdoor enthusiast. Unsurprisingly, backpacking is also one of the best ways to experience the Lost Creek Wilderness. From the Goose Creek Trailhead, there's a popular 30-mile route that connects the Lizard Rock, McCurdy Park, Hankins Pass, and Goose Creek trails. Wilderness permits are required, but are self-issued at the trailheads and are free of charge. To minimize impact, please choose existing campsites that are at least 100 feet from any water source.
Hike a Segment of The Colorado Trail
The Colorado Trail stretches for 486 miles though Colorado's high country—from the mouth of Waterton Canyon in southwest Denver, to its terminus near Durango. From Kenosha Pass, you can connect with the Colorado Trail and head southeast into the Lost Creek Wilderness. Alternatively, you can also take the trail west towards the Continental Divide. This section of trail is well-known for its thick groves of aspen trees. It's also a very popular tourist spot during peak fall foliage season, which typically runs from late September through early October.
Camping in Colorado's Lost Creek Wilderness
Located 13 miles north of Lake George, on Colorado Road 77, the Spruce Grove Campground is situated among the large rocky outcroppings along Tarryall Creek. The campground provides convenient access to several hiking trails in the Lost Creek Wilderness, including The Lizard Rock Trail, which begins from within the campground.
Sitting at nearly 9,000 feet, Spruce Grove Campground is only open during the summer months. And be warned, campsites are rarely available on weekends without a reservation. The campground's 27 sites can accommodate RVs and trailers up to 35 feet in length, but no hook-ups are available. Each site has a picnic table and fire ring, and campground amenities include vault toilets, drinking water, and trash collection. Campsites can be reserved online, up to six months in advance.
There are 17 campsites scattered around the Tarryall Reservoir, as well as a handful of dispersed sites. Sites are available on a first-come, first-served basis, and are incredibly popular because there are no fees. Sites are roomy and can accomodate most RVs and trailers. Each site has a picnic table, plus there are vault toilets and drinking water located near the reservoir.
The Devil's Head Campground is located near the popular Devil's Head Lookout Trail and is a popular camp spot for sport climbers. The Devil's Head area has over a thousand climbing routes scattered among the granite spires and crags. Twenty-one campsites are available on a first-come, first-served basis only. The on-site amenities are limited to vault toilets and trash services. Each site has its own picnic table and fire ring, as well as enough parking for two vehicles.
Kenosha Pass Campground is a popular camping spot for Colorado Trail hikers and Coloradans looking for a weekend mountain getaway. Sitting at 10,000 feet, Kenosha Pass is one of the highest mountain passes in the United States that is accessible by car. The campground has 25 campsites, and sites can be reserved online up to six months in advance. Each site has a picnic table and campfire ring, and vault toilets and drinking water are available. Across the road from the campground, the Kenosha Pass Interpretive Area provides some history on the South Park and Pacific Railroad that provided the first railway link between Denver and the mining communities during the Colorado Silver Boom.
Popular Articles: