This article is brought to you by Travellers Autobarn, a top-notch camper van rental company that sets themselves apart by being the only rental outlet that offers their camper van & RV rentals with unlimited miles — for free!
---
With the passage of the 2020 National Defense Authorization Act, White Sands National Park transformed from a national monument and into a national park. At 275-square miles, it is the largest gypsum dune field on the planet.
Although it has only technically been a national park since the passage of this Act in December 2019, this area has been celebrated and protected for decades. In 1933, then-President Herbert Hoover made White Sands a national monument, in hopes of safeguarding this gorgeous, unique region.
If you're planning a trip to the newest national park in America, here are some helpful tips and suggestions.
Adventuring to New Mexico's White Sands National Park
Where Is White Sands National Park?
This national park is in the Tularosa Basin in New Mexico, 15 miles from Alamogordo, and 53 miles from Las Cruces. The closest airport is in El Paso, Texas—85 miles away.
White Sands National Park sits 4,000 feet above sea-level in the Chihuahuan Desert. Twelve thousand years ago, the Tularosa Basin consisted of inland lakes, the most significant being Lake Otero. It was also covered in grasslands and streams, and was home to animals like dire wolves, mammoths, and ancient camels.
Another exciting aspect of this park is how close it sits to a variety of Army bases, including White Sands Missile Range, which was established in 1945 and is currently the largest Department of Defense installation of its kind. In fact, White Sands National Park and Route 70 are occasionally closed for safety when tests are conducted at the missile range.

How Big Is White Sands National Park?
The park is broad, encompassing 145,762 acres—with white gypsum dunes stretching to 60 feet high. There is one road, known as Dunes Drives, which leads 8 miles into the park's interior.
When Is the Best Time to Visit?
As you might have guessed, camping in New Mexico is usually a sun-filled delight. In fact, this part of New Mexico boasts 300 days of sunny weather per year! That's a good thing, as gypsum dissolves easily in water. The hottest months are during the summer when the temperature gauge can reach as high as 110 degrees Fahrenheit. It is a high desert climate, so regardless of how hot it is during the day, the elevation makes nights cool and even downright chilly sometimes.
This park is the most visited of all the national parks in New Mexico, with 600,000 annual visitors. The summer months are the busiest, with March and July each recording around 60,000 visitors. However, you can find visitors in the park all year long, especially those who enjoy dune sledding and photography.
Fall seems to be the ideal time to visit the White Sands National Park as the temperatures are relatively temperate. Plus, going in fall means you'll also be avoiding the windy season in spring, and the wettest months, which happen from July through September.
Where Can I Stay When I Visit?
If you're planning a day trip to the park, there are three picnic areas to choose from, and five hiking trails that cover a total of 9 miles. You can easily spend a full day exploring the dunes on foot. There are also ten backcountry sites in the White Sands National Park, but be prepared to pack everything in and everything back out again, as this is a Leave No Trace area.
Oliver Lee Campground is also close to the national park, and it offers a few more amenities than the backcountry tent sites mentioned above. Visitors can even bring their pet(s) along for the trip, as this is a dog-friendly area. And with the option of driving your vehicle directly to your campsite, you're able to enjoy a night of car camping under the stars and the clear New Mexico skies.
What Are the Most Popular Attractions?
Undoubtedly, the most popular attraction in White Sands National Park is the dunes. Their unique, opaque appearance creates a landscape that looks like nowhere else on Earth. It honestly feels like you're on a different planet when you're in the middle of the dunes.
Photography is a top recreational activity for visitors, especially when the sunrise or sunset bathes the white crystals in sherbert colors, dyeing the entire scene in peach and pink hues. You can also sled down the dunes as you would a snowy hill, and many visitors come prepared with waxed sleds and saucers.
What Kind of Animals or Nature Can I Find There?
There are at least 600 types of invertebrates, 300 plants, 250 birds, 30 reptiles, 50 mammals, seven amphibians, and one fish species living in White Sands. Of these, 45 species are endemic—meaning they only live in White Sands National Park.
Forty of these endemic species are moths, so the park is an appropriate place to hold a festival celebrating all things moth – Mothapalooza. Some other endemic species in the park are the pocket mouse and two types of camel crickets.
Are There Places to Visit Nearby?
If you are planning a trip to White Sands National Park, carve out a day for a side trip to Carlsbad Caverns. Located 180 miles southeast from White Sands, these breathtaking caverns are a part of New Mexico's other awe-inspiring national park. They are a one-of-a-kind experience, so add them to your bucket list.
White Sands National Park is the newest jewel in America's national park system and for excellent reasons. With sunny skies, almost every day, unique desert wildlife, and a stunning landscape composed of crystallized gypsum, this park looks like no other place on Earth. It's a must-see for any outdoor enthusiast visiting New Mexico!
---
This article was brought to you by Travellers Autobarn.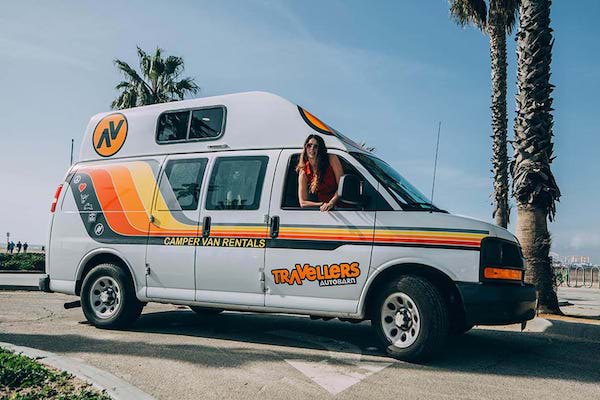 ---
Popular Articles: