This article about Camping near Cedar Rapids, Iowa is brought to you by Wenzel. Their pop-up shelter will keep you comfortable no matter where you decide to camp.
---
These campgrounds near Cedar Rapids, Iowa have it all – from gorgeous caves to prairies to lakes. Choose between modern or primitive campgrounds at the same location, or go deep into Iowa wilderness for dispersed camping. Most of these parks have lakes and boat rentals, and a few have amenities on site.
Climb the Devil's Backbone near Strawberry Point, descend into the breathtaking Dancehall Cave at Maquoketa State Park, or lazily drift around Lake Macbride. Both native and restored prairies are a fascinating snapshot of Iowa's ecological history, and you can learn about them at F.W. Kent Park, right off the interstate near I-80. With no further ado, here's our favorite camping near Cedar Rapids, Iowa.
Our Top 4 Favorite Campgrounds Near Cedar Rapids, Iowa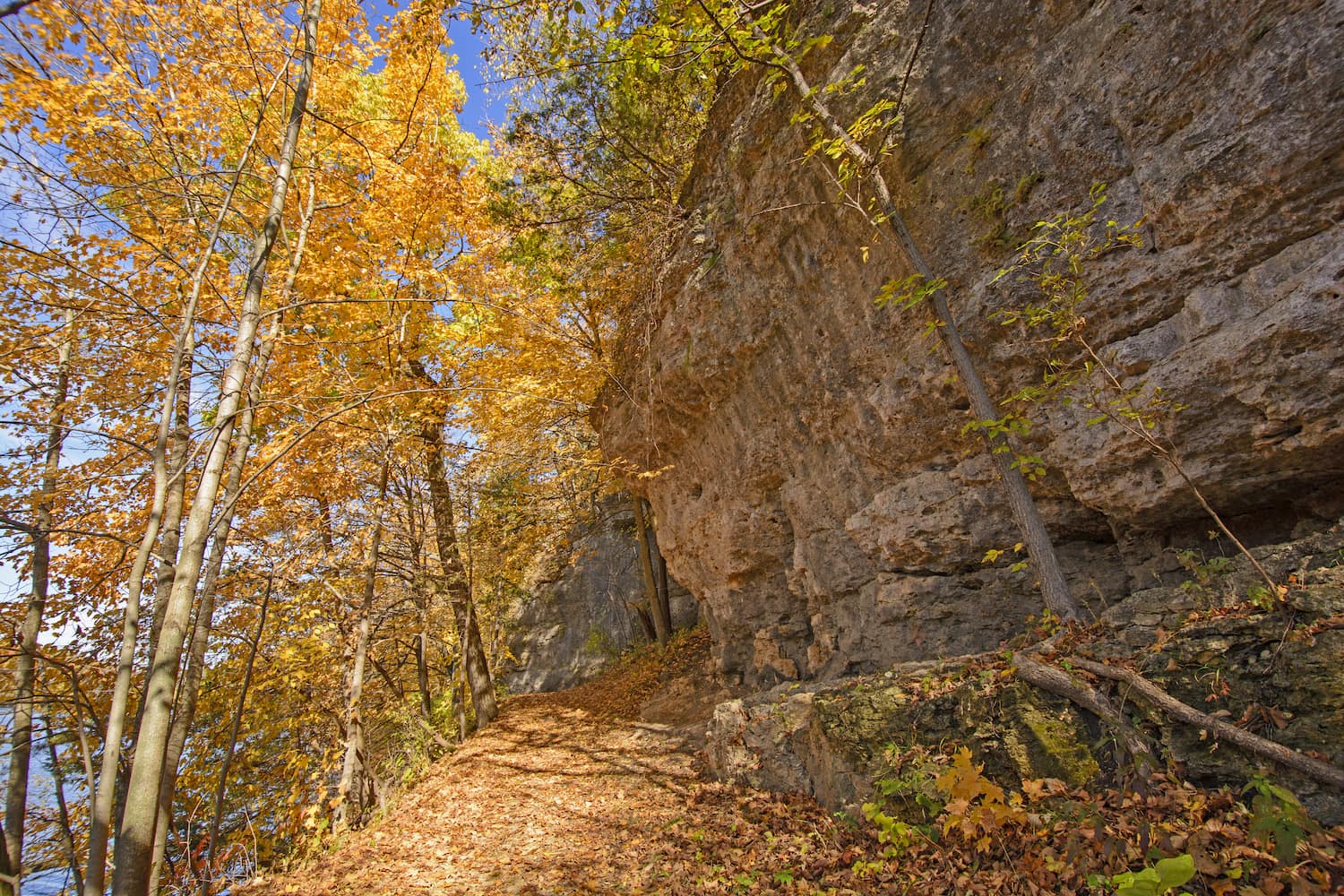 This park has something for everyone. Dubbed for a limestone ridge located close by named the Devil's Backbone, this park is one of the state's oldest, established in 1920. At its founding, the park was one of the most expansive in the United States; now it is almost double its original size with an astounding 2,100 acres.
This park is made up of two campgrounds – the South Lake Campground and the Six Pines – about an hour north of Cedar Rapids. South Lake includes 100 campsites and RV hookups, half with electrical availability, as well as showers and flush toilets. Six Pines is much smaller and more primitive, with 27 campsites and vault toilets.
A great mix of shade trees and open grassy areas, this state park has 21 miles of multi-use trails that are used for recreation in both warm and cold seasons. Enjoy a myriad of activities, including fishing, hiking, biking, and boating in the summer, and snowmobiling, cross-country skiing, and snowshoeing in the winter.

On the southwest end of Backbone Lake, which is an impoundment of the Maquoketa River, there is a boat ramp where you can rent boats and kayaks, a beach to lounge on, and a seasonal concession stand.
"Beautiful hiking trails and a great place to camp with good bathroom accommodations!" – Sara P.
Pets allowed at the campsite
Potable water available
15 tent sites for $6-11 per night
59 standard non-electric sites for $6-11 per night
49 standard electric sites for $11-16 per night
1 standard full hook-up sites for $14-19 per night
12 modern family cabins for $50-85 per night or $300-510 weekly
4 deluxe family cabins for $100 per night or $600 weekly
Sewer hookups and trash removal available
3 miles away from Strawberry Point amenities
---
One of the biggest attractions in Jackson County is this state park, centered around the beautiful Maquoketa Caves. Only 20 minutes outside of Maquoketa, these beautiful caves and the trails and campground surrounding it are a massive draw for tourists and locals alike.
With 370 acres nestled among high bluffs and hardwood trees, this state park gives visitors access to the 13 caves, the most out of any park in Iowa. Visit the Dancehall Cave to be truly astounded.
Although there's no rock-climbing or mountain biking at the park, visitors can explore the six miles of trails around the caves, leading to amazing tiny passages, and flowstone and dripstone formations. After visiting the caves, hike up to the open prairie to enjoy the abundance of wildlife.
With electric sites and modern shower facilities, this campground has RV sites, group sites, and tent sites, and you can bring your four-legged companions with you. If you don't feel like camping, there is a children's play structure and two open picnic shelters for you to enjoy the beautiful natural surroundings as a day-trip.
"Overall, the cave network is stunning and a great place for group camping! There are caves for everyone!" – Amanda F.
Walkways and lighting systems in more popular caves
Iowa's most unique state park
Potable water, toilets, and showers available
24 standard electric sites for $11-16 per night
6 walk-to sites for $6-11 per night
2 shelters for $25 per night
Attractions include Balanced Rock and Natural Bridge
Pets are allowed at this state park
---
With four open picnic shelters and a reservable lodge, this is a perfect spot for a family reunion or large gathering. Located on Coralville Lake, this park has two campgrounds – modern one with showers and electric hookups at the north end, and a more primitive one in a shaded area on the lake.
Bicyclists love the multi-use trail that runs from the park entrance to Solon, and there are miles of trails around the lake that display all that Iowa has to offer. If you love to golf, there is a course located less than a mile away.
Most of the campsites, which include RV sites, tent sites, dispersed camping, and more, are reservable online, but at least a quarter of the campsites are strictly first-come, first-served.
"I have camped here many times, but my favorite time is spring and fall. The weather is nice during the day and cool at night." – Jared N.
Fires and pets allowed on the campground
Toilets, showers, and potable water available on-site
Sewer and water hook-ups
Wi-Fi
4 shelters for $25 per night
32 standard electric sites for $11-16 per night
11 standard full hook-up sites for $14-19 per night
56 standard non-electric hook-up sites for $6-9 per night
Boat rentals and swimming available
Lake Macbride is a favorite spot for fishing
Snowmobiling and cross country skiing are popular in winter
---
On a gorgeous 1,052-acre tract of prairie land, this campground soothes your senses and provides a fountain of knowledge for visitors. Learn something about the fascinating native and restored prairie lands at the Knight Prairie Pavilion.
Go fishing on the pier or explore nine miles of trails and eight historic bridges. On the 28-acre restored lake, you can enjoy all manner of watersports, and this park also boasts plenty of fishing ponds.
There is plenty of room at the 86-site campground, including RV sites, and standard and dispersed camping, but the sites are not reservable. You'll find variety in the campsites at F.W. Kent Park, with a solid mix of densely located sites, perfect for extended families, and more isolated spots.
"Very clean and easy. Loads of fairly private spots in a rolling twisty loop." – Evan P.
86-site campground with 50-amp electric hook-ups for $20 per night
Campers limited to 40' trailers and RVs
Back-in sites only
4 shelters available with varying capacity between 90-150 people, $50 groups of 100, $150 for more than 100 people and weddings
Hills: 38 campsites, 14 electric, 5 non-electric $10-15 per unit/tent per night, 7 pull-through sites with 120' camper limit
River Junction: 12 non-electric campsites $10 per night
Wi-Fi available
Toilets, showers, and drinking water
No market within the campground
Pets and fires allowed, and firewood for sale
No water hookups
---
This article about campgrounds near Cedar Rapids was brought to you by Wenzel

Their 10 person tent is perfect for those traveling in large groups.
Popular Articles: