Located northwest of Denver in the foothills of Loveland, Carter Lake is a 1,100-acre reservoir surrounded by public lands. The Carter Lake Dam was completed in 1950 and the reservoir provides water to the northeast suburbs of Denver. The Carter Dam is just one of many parts of the Colorado-Big Thompson Project, which collects waters from the headwaters of the Colorado River to provide water to Colorado's Front Range. (The Front Range is a mountain range within the southern Rocky Mountains.)
Today, Carter Lake is a popular getaway for Denver area locals, while still remaining a bit off the radar for visitors. But locals will tell you that it's quite the hidden treasure of a lake. Carter Lake's eight miles of shoreline offer family-friendly camping, fishing, sailing, hiking, boating, and water skiing, just an hour outside of Rocky Mountain National Park.
What to Do Around Colorado's Carter Lake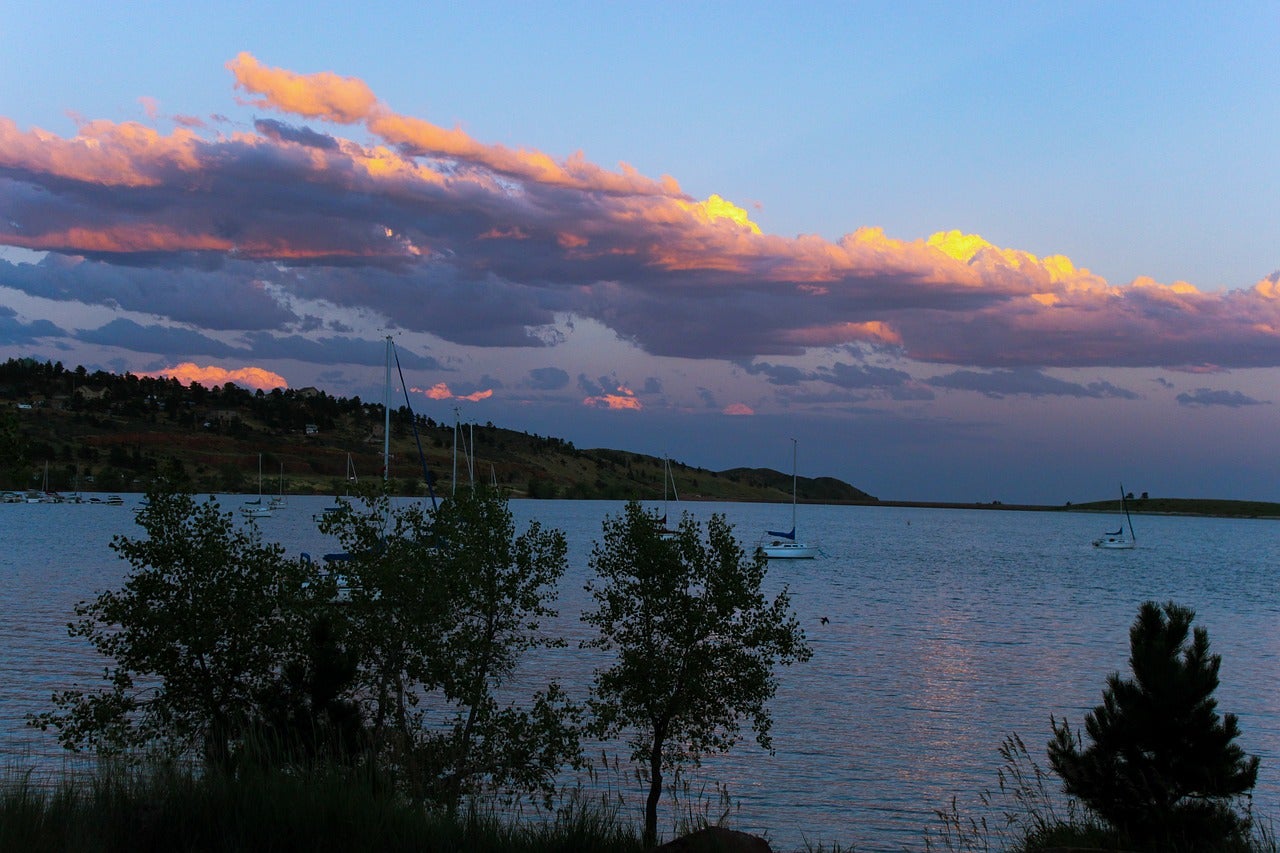 Fishing at Carter Lake
Fishing is the main draw to Carter Lake. Best known for its largemouth bass, anglers will also encounter rainbow trout, walleye, bluegill, and yellow perch in Carter Lake. The lake rarely freezes over so ice fishing is almost always unsafe, but shore anglers can still do well here even during the winter months when other area lakes are frozen over.
Hiking around Carter Lake
Carter Lake has two hiking trails that traverse the shoreline of the lake. The Fawn Hollow Trail is an easy 1-mile-long trail on the east side of the lake. There's also the 3.5-mile Sundance Trail that hugs the western side of the lake. The first quarter mile of the Sundance Trail is wheelchair accessible, and then it becomes narrow and rocky in spots. Both Carter Lake trails have very little shade cover in the heat of summer and swimming is only allowed at the swimming beach near the dam.
Boating on Carter Lake
Carter Lake gets very busy on summer weekends so waterskiing is only advised in the early morning and evenings. For safety reasons, boat travel is only permitted in a counter-clockwise direction. Water skiers must have an observer in the boat, and an orange flag must be displayed from the boat at all times when a skier is in the water. Sailing is also a popular activity on the lake, and winds tend to be at their best during midday and early evening.
When to Visit
Colorado's Carter Lake is a pleasant spot to visit anytime of year. The lake is extremely popular with boaters on weekends during the summer months and can get quite congested, so opt for a visit on weekdays if you can. Hiking, fishing, waterskiing, sailing, and camping are popular activities during the summer months—with shore angling and snowshoeing being the top choices in winter.
Carter Lake Campgrounds
Carter Lake itself has five campgrounds to choose from: Big Thompson, South Shore, North Pines, Eagle Campground, and Carter Knolls Campground. Both electric and non-electric sites are available, and campsites can be reserved ahead of time online. Most sites are available on a first-come, first-served basis from November through March. A daily entrance permit to Carter Lake is required, in addition to a camping permit.
More Camping Options Near Carter Lake
Pinewood Reservoir is located just west of Carter Lake and is another popular fishing and camping spot. Here, you'll find 15 standard electric sites and 12 walk-in tent sites, all with excellent views of the lake. Pinewood tends to be less busy than Carter Lake, thanks to the fact that only non-motorized boats are allowed on the lake. The Besant Point Trail offers a nice and easy 3-mile stroll along the entire perimeter of the lake.
East of Carter Lake, and just northeast of Loveland, Boyd Lake State Park is northern Colorado's prime water sports destination. This 1,700-acre lake allows all watercrafts. Boyd Lake also has a swimming beach, sand volleyball courts, and a campground complete with playgrounds, grills, showers, and electric hookups. Park trails are open to snowshoeing and cross country skiing during the winter months, and there's often sufficient ice on the lake for ice fishing.
Estes Park, the gateway to Rocky Mountain National Park, is only 26 miles west of Carter Lake. The Estes Park KOA is an ideal base camp for exploring both Carter Lake and Rocky Mountain. At the KOA, you'll find tent and RV sites, rustic cabin rentals, and deluxe cabins with full bath and shower. The park also features WiFi, cable TV connections, a dog park, and a free shuttle into town during the peak summer months.
For campers looking for a bit more privacy and solitude, the Hermit Park Open Space Campground is a great option in between Carter Lake and Estes Park. Campsites are very spread out and pleasantly nestled into the ponderosa pine forest and alpine meadows. The park is open seasonally from March 1 through December 20 and reservations are almost always required in advance during the summer months, even on weekdays. Rustic camper cabins are also available for rent.
Popular Articles: