Beckoning visitors into the mystic Never Summer range near North Park, Colorado, is State Forest State Park. No, you didn't read that wrong, that is the official name. Don't let the boring title fool you, though; visitors will find themselves enchanted by jagged peaks, miles of trails, and North Park is the moose viewing capital of Colorado. We recommend checking out the park in winter when the crowds are sparse and the camping is top notch.
Find Epic Winter Camping in State Forest State Park
Far from the frenzy of major ski resorts and I-70 traffic, State Forest State Park offers visitors access to over 71,000 acres of wild, high alpine forests. It is one of the few state parks known just as much for its winter adventures as its summer escapades. The park is located an hour north of Granby and just under two hours west of Fort Collins, making it easy to get to, without the  hustle and bustle of other state or national parks in Colorado.
Entrance to the park is $7/vehicle, or free with an annual parks pass.
The camping options are plentiful at State Forest State Park. Within its boundaries, the park offers 13 cabins, campsites with basic facilities, and multiple primitive and backcountry camping opportunities. Inside the park are also a number of yurts managed by Never Summer Nordic which are much loved by backcountry enthusiasts.
Check out this insider's guide to State Forest State Park, Colorado's best destination for winter camping.
How to Prepare for Winter Camping in Colorado
Before you dive into winter camping in Colorado for the first time, do your research and be fully prepared. The mountains in the winter are everything but friendly, and weather changes quickly. Make sure you have the right gear in the case of reduced visibility and dropping temperatures. Check out some of our tips on how to camp for comfort in winter.
Winter travel in backcountry areas requires serious preparation. Skiers, snowboarders and snowmobilers must have training in how to use avalanche rescue equipment including shovel, probe and beacon. They also need to carry non-digital maps and have sufficient resources for unexpected weather and delays. Be sure to contact local rangers for up-to-date conditions.
Backcountry Winter Activities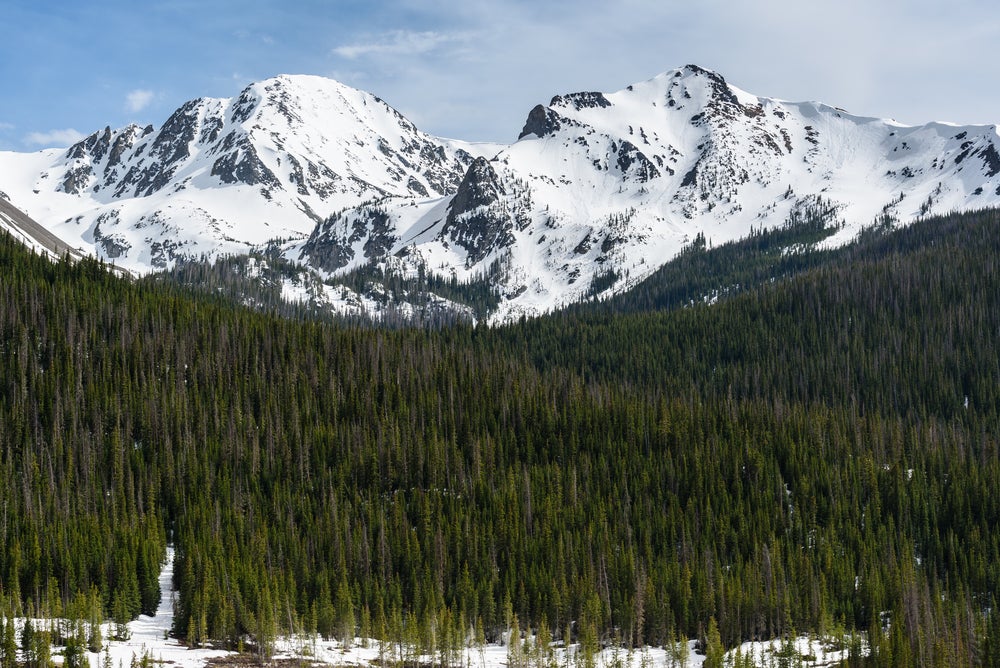 On the east side of the park, there are several non-motorized trails. These trails can take snowshoers or cross-country skiiers up to the stunning American Lakes (8.5 miles one way), or Lake Agnes (2.5 miles one way). On the other side of the pass, trails lead to Zimmerman Lakes, or up to the gorgeous backcountry ski mecca of Montgomery Pass at 12,000 feet.
Further back in the park, winter enthusiasts can dive into the back country on the way to Ruby Jewel Lake or Hidden Valley.
Motorized Activities
State Forest State Park maintains both groomed and ungroomed trails for avid snowmobilers.
In the Eastern half of the park, American Lakes and Bockman Trail offer long loops that start from a parking lot off the highway. Many of the snowmobile trails leaving from south of Highway 14 enter Routt National Forest for a longer ride.
From the Western entrance, Bull Mountain and Custer Draw offer beautiful views for a less challenging day.
Moose Visitor Center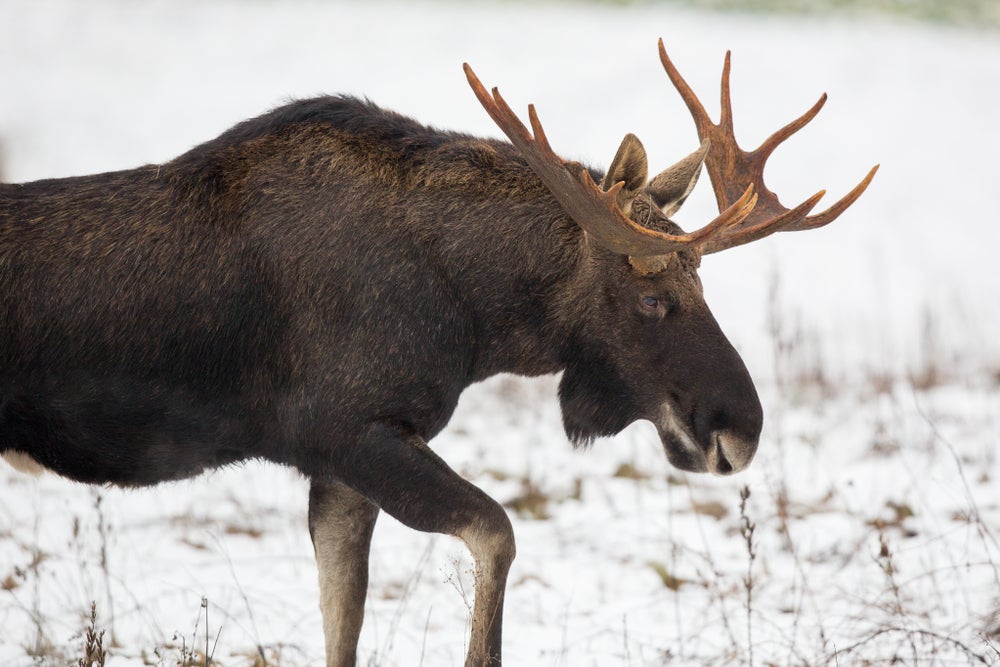 In case you need another reason to visit, North Park Colorado is the moose viewing capital of Colorado. A recent Colorado Wildlife Department survey estimated just over 600 moose within the State Park itself.
The Moose Visitor Center is a great place to start for the amateur naturalist. Staffed throughout the winter and open from 9-4:30, the visitor center offers interactive exhibits about native moose. Staff can also advise visitors on where moose have been most active lately and provide information about safe interactions.
The Best Campgrounds in State Forest State Park
When you enter the west side of the park by turning off of Highway 14, on to county road 41, North Park Campground is the first campground you'll see. It is newly established and open year round. There are three camping sites here, appropriate for RVs, but without hookups. The facilities include flushing toilets, sinks, and showers.
There are also 7 basic cabins with electricity here. These cabins are meant for four people and have access to the toilet facility in the campground.
The campground and cabins are surrounded by pines and firs, although the damage from the pine-beetle epidemic has affected some of the woods. For those traveling with two-wheel drive, and looking for convenience and relative comfort in a winter setting, this site is ideal.
If you drive a little further up County Road 41, North Michigan reservoir is another great camping option. Rugged tires or 4WD is recommended here, because although the road is plowed year-round, even a bit of snow can make the surface treacherous.
Spread out along the reservoir are 5 campsites with a vault toilet maintained throughout the winter.
There are also six cabins along the lake, all with propane heaters and solar electricity. The size of these cabins varies, with two large cabins housing from 15-20 people, one with room for eight, and three with room for six.
The campsites and cabins have easy access to the lake where visitors can enjoy ice fishing, snowmobiling, snowshoeing, cross-country skiing, and moose watching. The setting is remote and peaceful, and the large cabins are a perfect way to bring friends and family together to experience the winter together. Trails lead up from the campground to Gould Mountain, or back up the road to a smaller nature hike called Beaver Lodge.
Primitive Sites in State Forest State Park
County Road 41 continues north from the reservoir into more rugged terrain. It is plowed to the end, where there are several dispersed sites and a horse corral available. The primitive sites include only a fire pit and are $10 a night.
If you camp at one of these sites, be sure to plan for winterized shelter, bring your own water, and pack out all waste.
Yurts in State Forest State Park
Scattered throughout the State Park are the jewels of winter camping in Colorado. Yurts!
Yurt camping in the winter has become an increasingly popular option throughout Colorado. Inside these simple structures, heavy canvas walls enclose a raised floor and heat source. Campers can still feel close to the wild lands around them, while sleeping in comfort.
This yurt system is maintained by Never Summer Nordic, a private company operating with the State Park itself. All the yurts include a wood stove, beds, propane cook-stove with pots, pans, dishes and silverware as well as an outhouse facility. Because of these amenities, visitors only bring their own clothes and bedding, along with other winter gear. There are also several beautiful cabins to rent within the system. Never Summer Nordic will even haul in bedding for a fee to keep guest's backpacks lighter.
Access to yurts almost always includes a hike of some distance. Whether the distance is .25 miles or 2.5 depends on the individual yurt. Check out the Park's website for a quick summary of the access to each.
Make your reservations with Never Summer Nordic well in advance for these popular backcountry gems.
Popular Articles: