This article about Michigan State Parks camping is brought to you by Tentrr — check out their 30+ camping sites all across Michigan's great state parks.
---
It's never too early to start planning your next summer Michigan State Parks camping trip. Get a head start and reserve the perfect campsite at one of these incredible Michigan State Parks.
All Michigan State Park campsites can be booked up to 6 months in advance, with a greater choice of campsites available early in the season. Campsites are allocated on a first-come, first-served basis. Plan ahead this year to make the most of what Michigan State Parks camping has to offer.
Our Favorite Michigan State Parks for Camping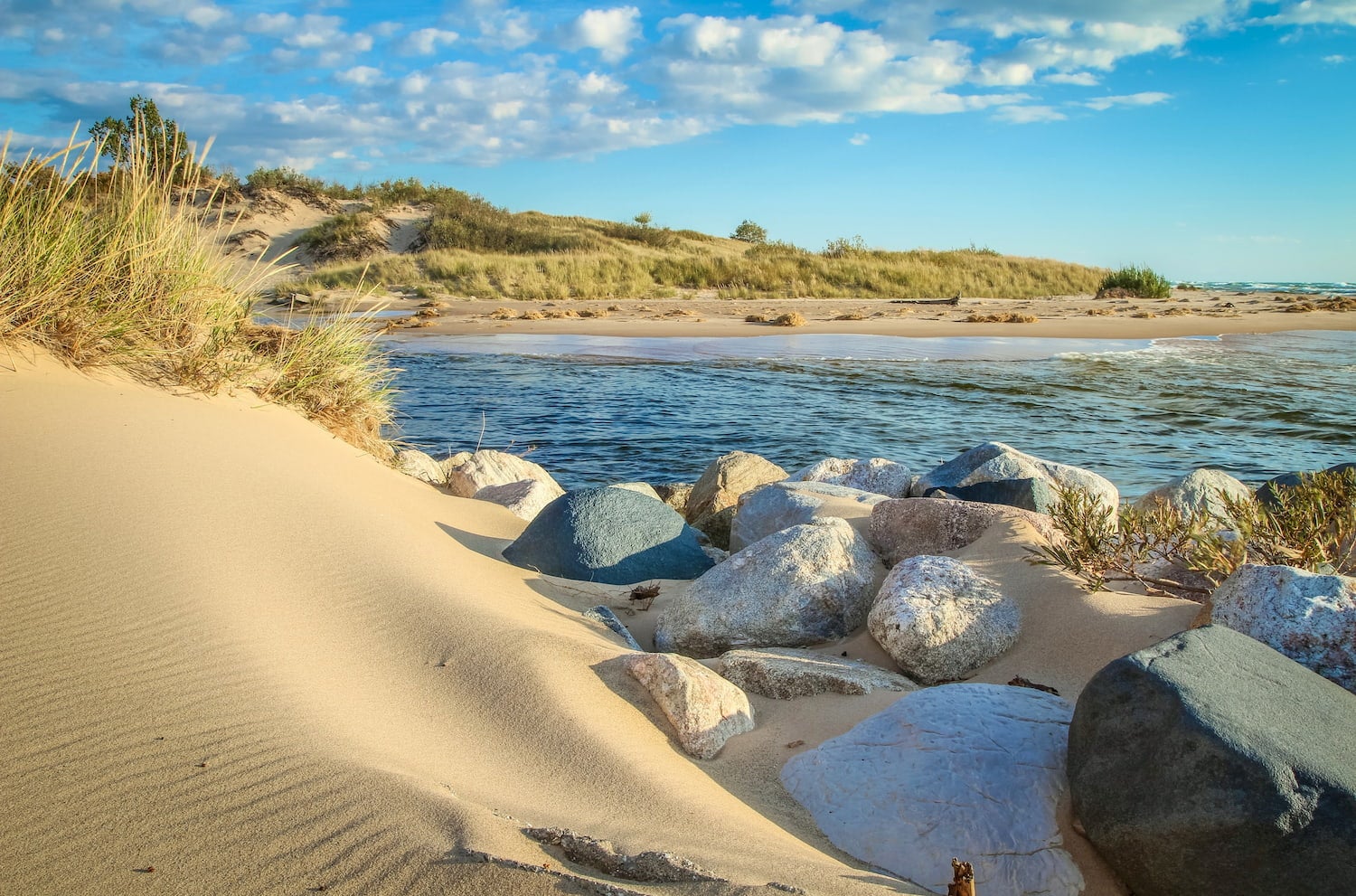 Ludington State Park is nestled between Lake Michigan and Hamlin Lake. It features miles of sandy shoreline with plenty of places to take a dip or enjoy watersports throughout the summer.
A winding network of trails offers ample opportunity for viewing the abundant wildlife, and there are year-round classes and programs to keep you occupied. One of the activities recommended by avid campers in the area is metal detecting. Hunt along the dunes for hidden treasures and take in the fresh lake air.
Explore the historical sites around Ludington, including biking around Historic White Pine Village or boating and fishing on the Pere Marquette River.

Opportunities for camping in Michigan state parks are abundant. There are 360 campsites dotted around the 5,000-acre Ludington state park, with 3 modern campgrounds divided into 3 areas: Beechwood, Cedar, and Pines. There are also mini cabins for rent and hike-in sites available.
"This campground easily has the best beach I have ever been to in Michigan. It's vast, has plenty of space and parking. The sand is always pure without straw or trash. There is a playground nearby and a very unique river running out to Lake Michigan. I witnessed a proposal the last time I was camping in the area. Family friendly, and serves great ice cream at its beach store." –The Dyrt camper Bryce J.
---
A 25-minute drive north of Lansing is Sleepy Hollow State Park. This charming spot offers a wealth of activities, including 14 miles of hiking and biking trails and some of the best horse trails in the state. You can also learn about the local flora, fauna, and history at the park ranger nature program, an excellent option for families.
All campsites are easily accessible, whether you are driving, walking, or boating in. If you are from the Great Lakes State, you can use your State Park Recreation Passport for free entry. Otherwise, entrance to the park is between $11-$16.
Renting a campsite will cost you $17 per night for a basic site, and $25 per night for full hook-up facilities. Some recreational activities and amenities are seasonal, so before you book, contact the park to find out the latest updates.
"One of the best times camping we've ever had. Loved the campsite! Would highly recommend this park! Good, scenic hiking trails…with lots to explore!" –The Dyrt camper Magy C.
---
At the very tip of Michigan's Leelanau Peninsula is the secluded Leelanau State Park. It features the stunning Grand Traverse Lighthouse Museum, as well as 8 miles of scenic hiking trails and 1.5 miles of sandy beaches along Cat Head Bay.
The 51 campsites available offer basic amenities such as vault toilets, electrical hookups, and a small market. Don't expect Wi-Fi or luxury camping facilities because this is rustic camping at its best.
Once you have enjoyed camping in this Michigan state park, as well as its hiking trails, check out the surrounding area. Leelanau Peninsula is wine-making country, so you have plenty of scenic wineries to tour.
"Stayed here on a chilly late September weekend with very few other campers around. Loved it. It's remote, rustic and the lakefront is scrubby and unspoiled. We had one of the waterfront sites and could hear the shore sounds all through the night. The location, while removed from the bustle of touristy areas, is a great starting/ending point for exploring the peninsula with all its Lake Michigan vistas and quirky little bars. Loved it." –The Dyrt camper Mary H.
---
Located in northwest Michigan, Wilderness State Park is the most popular camping destination in the state, and for good reason. With 26 miles of Lake Michigan shoreline and more than 10,000 acres of lush forest, it offers recreational activities all year long. There are numerous hiking trails, a swimming beach, a dog beach and plenty of camping opportunities.
Explore one of the many hiking trails available, including the spectacular Red Pine Trail and Swamp Line loop. Take a dip at the swimming hole, then view the awe-inspiring night sky at the designated dark-sky preserve.
Camping in Michigan State Parks is a must, and this state park features 250 well-equipped, modern campsites separated into two areas: Pines and Lakeshore. There are 18 campsites with full hook-up facilities and 9 tent-only sites available from May through October, as well as rustic sites with the option for cabin accommodation available for hire all year round. Depending on whether you prefer a modern or rustic camping experience, sites cost between $15-$45.
"With plenty of trees for hammocking I found myself gazing at lake michigan, and being peacefully lulled to sleep. With a limited number of campsites, it's definitely a treat to stay right on the water. To port kayaks out was only a few steps from the site, and in view is the Mackinac bridge, what more could one ask for?" –The Dyrt camper Heather K.
---
Just an hour and a half drive from Chicago, you will find the popular and accessible Warren Dunes State Park. While there are plenty of short trails available for day hikers to explore, the big draw of Warren Dunes State Park is the 3 miles of sandy dunes along Lake Michigan.
Climb the Tower Hill dune, which reaches 260 feet above the lakeshore and offers campers sweeping views of the breathtaking scenery, or just relax on the soft sand and soak up the sun.
Back from the shoreline is the shady and cool Warren Dunes Campground, which boasts 200 RV and tent campsites with modern and semi-modern facilities. Reserve a campsite from between $25-$45 per night, or you can upgrade your camping experience and rent a cabin for $52 per night. This is a top bucket list item for any fan of Michigan state parks camping.
"This campground is phenomenal. Staff is amazing, grounds are always well maintained, bathrooms and showers are always clean. If you're looking for a kid friendly campground, then this is it. Multiple playgrounds, awesome hiking and nature trails, cool shop on site with toys, odds & ends you may have forgotten at home, firewood, options between small and big bags of ice, etc. We will definitely be back!" –The Dyrt camper Bridgette W.
---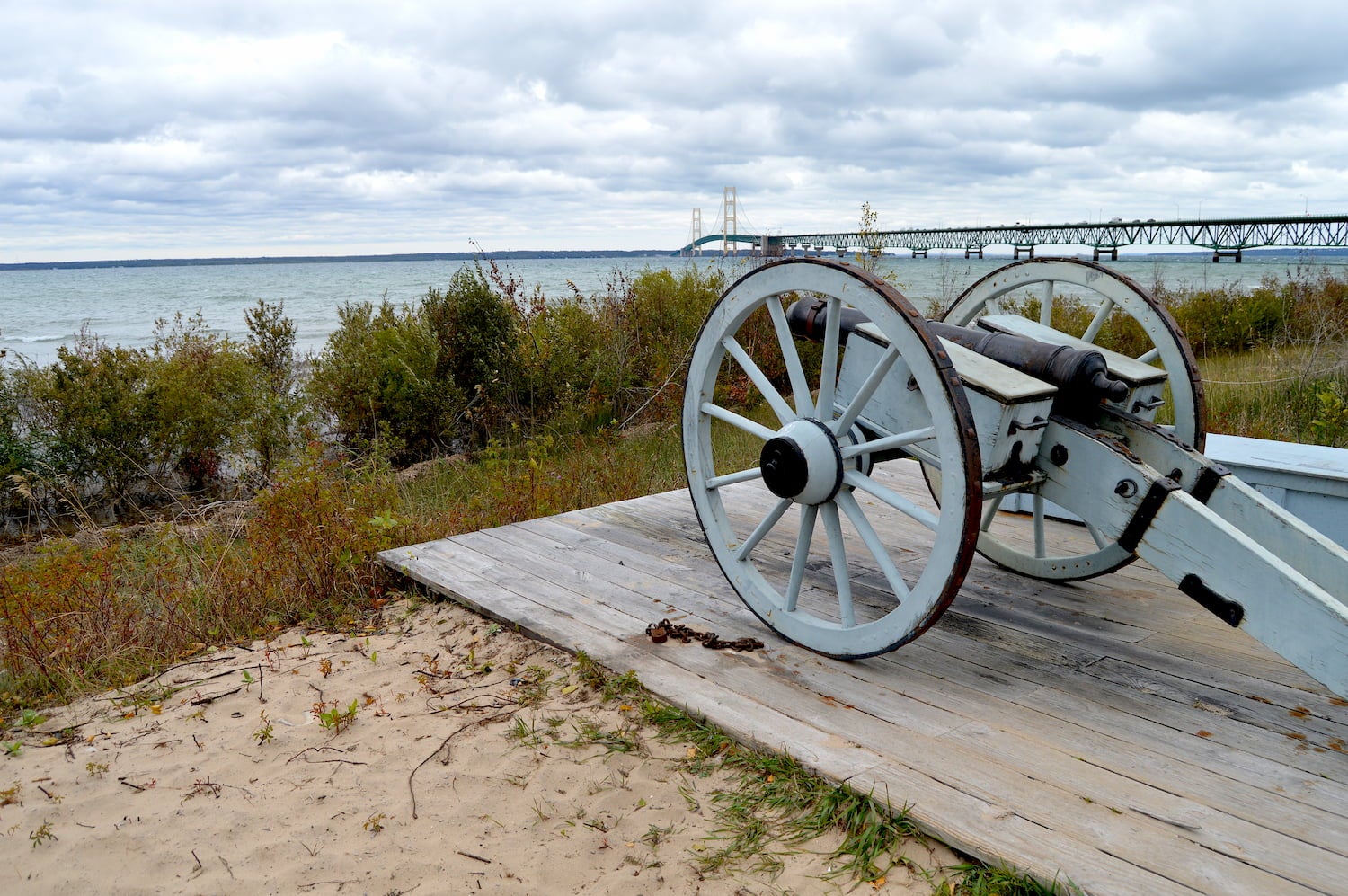 For unparalleled views, it's hard to beat the campgrounds at Straits State Park. Find the stunning site just over the Mackinac Bridge on the Upper Peninsula at the edge of St. Ignace.
Aside from taking in the spectacular views of the bridge and bay, there are many other attractions available at the park and nearby St. Ignace. Go for a kayak tour of Mackinac Island or hop on an ATV and roam the forest trails.
The 181-acre park offers 270 campsites with both drive-in and walk-in access. There are a variety of campsite amenities ranging from rustic campsites available for $20 per night to modern sites from $30 per night. You can also rent one of the mini cabins seasonally between May and October. Michigan state parks camping is unrivaled, and Straits State Park is a favorite among Michiganders.
"I have camped here many times over the years, it is tucked away right near the Mackinac Bridge. There are tent sites right on the water and you can watch the lights come on at night. There is wood to buy and the camp hosts are always keeping you updated on the weather and have plenty of ideas of things to do. The St. Ignace Trolly comes through and picks people up to go to the ferry there as well." –The Dyrt camper Kathleen T.
---
At close to 50,000 acres, Tahquamenon Falls State Park is Michigan's second-largest park and can be found about 5 miles south of Paradise. The Tahquamenon River and spectacular Upper Falls make an unforgettable camping experience with exhilarating water sports and hiking trails to fill your summer days.
Canoe 17 miles of tranquil waters from the lower falls to Lake Superior or rent a boat and row across to Lower Falls Island where you can do a short hike around the island. All summer long, the park staff offer daily nature programs to help you explore the wildlife at the park.
There are two large campgrounds at the park. There is one at the Lower Falls and another at the Rivermouth, with 316 campsites available with modern and rustic amenities. You need to pay an entrance fee of $8.50 daily for your vehicles, and campsites are priced between $15-$32 per night.
"This beautiful state park is a stunner during the fall colors! Located just outside of the town of Paradise on the Upper Peninsula of Michigan. It has all the amenities of a state park such as: spacious camp sites with plenty of room for larger RV's, fire rings, picnic tables, super clean bathrooms and showers, nature programs, a playground, and a camp store. There are miles of hiking trails, gorgeous waterfalls, fishing boat rentals, paddling/canoeing opportunities, large picnic areas for groups and more." –The Dyrt camper Shari G.
---
Just outside Charlevoix, you will find another Michigan state parks camping gem: Fisherman's Island State Park. This area is composed of miles of unspoiled shoreline and over 2,600 acres of rolling dunes and fragrant wooded forest. Although not truly an island, natural water fluctuations have created a tombolo that now connects the area to Michigan's mainland.
After enjoying the natural beauty of the park, head over to Charlevoix and take a tour of the historical and unique Mushroom houses or wander through the lush grounds of Castle Farms.
There are 80 rustic campsites available from May through to September for $17 per night. The park also offers campsites on through November on a first-come, first-served basis.
"There are plenty of sites all along the shore of Lake Michigan! it gave the illusion of our own private beach and even though we had a camper at the site next to ours it was still very private because of all the trees in between. Waking up to the sound of crashing waves was so relaxing. It even thunderstormed while we were there and it's still one of my favorite camping trips ever! Plus nice hiking trails as well!" –The Dyrt camper Magy C.
---
For history buffs, Fort Wilkins State Park is a must-see. Built in 1884, Fort Wilkins maintained the peace during the area's copper rush but became a State Park in 1923.
Aside from visiting the fully reconstructed fort, take a living history tour organized by the Michigan History Center. Check out the lighthouses in Copper Harbor and soak up the history as you explore the park's many hiking trails.
For a fantastic Michigan State Parks camping experience, stay at one of two campgrounds in the area that collectively boast 251 campsites. A 20/30 AMP site costs around $25 per night, or for more modern amenities a 50 AMP site costs $29 per night. You can also rent a mini cabin or camper cabin from between $68-$90 per night.
"This campground/state park was absolutely incredible! There's so much to do between the old fort, seeing the lighthouse, or swimming in the quiet inland lake. The campsite was close to others but felt private with lots of trees surrounding us on 3 sides. Absolute favorite place to camp, and will be back many times in the future!" –The Dyrt camper Emma W.
---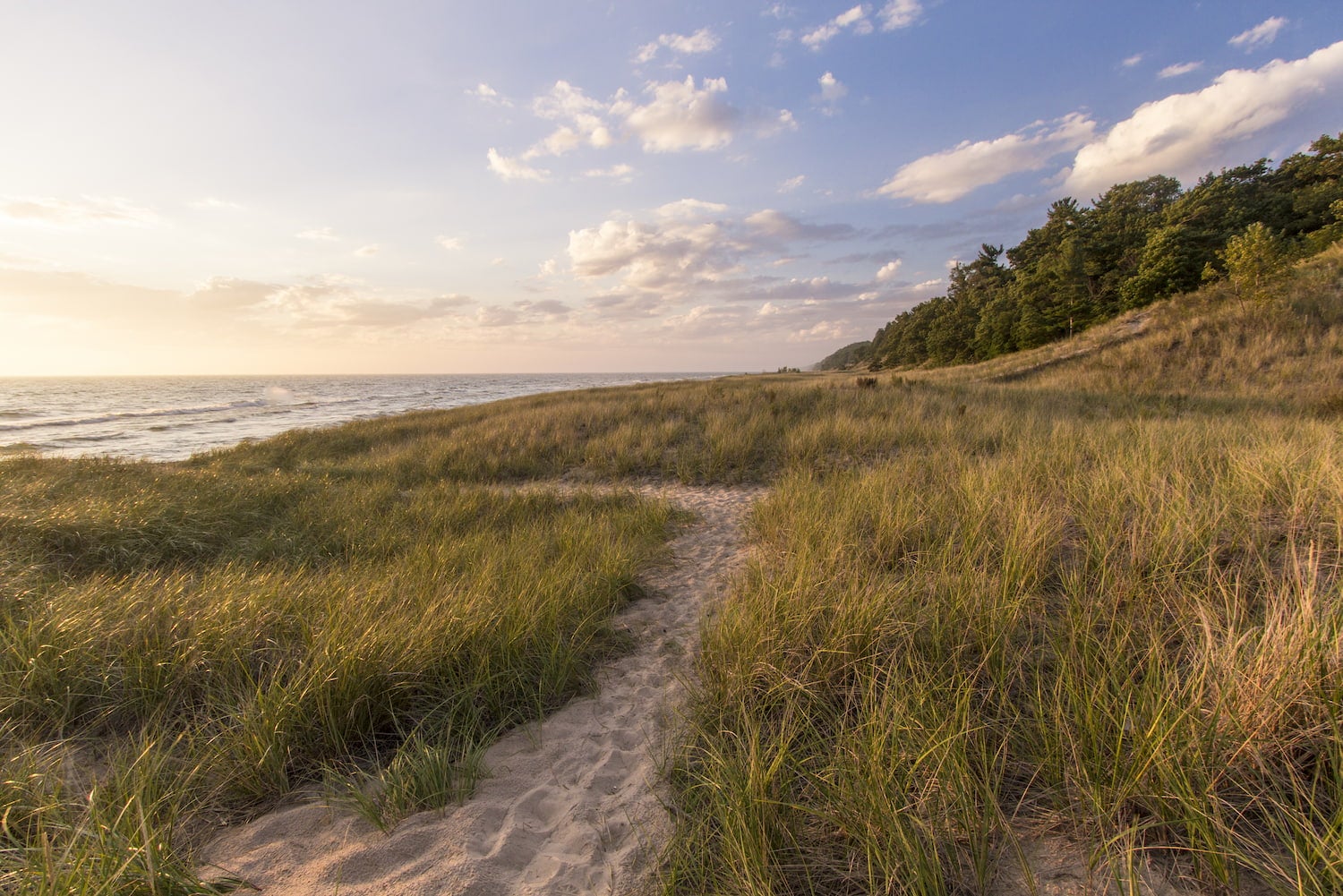 Head to P.J. Hoffmaster State Park, nestled right against Lake Michigan. Though P.J. Hoffmaster State Park has a slightly shorter season, it is well worth the trip to enjoy 3 miles of sandy shoreline and 1,200 acres of wooded forest.
Trek the Dune Climb Stairway to the top of the park's highest dune and take in the breathtaking views of Lake Michigan from the observation deck. Or, head over to nearby Muskegon and enjoy some of the historical museums and attractions on offer.
For your next trip camping in Michigan State Parks, Hoffmaster has a single campground that offers almost 300 modern campsites, some with 50 AMP service. The campsites are available from May through September for between $25-$37 per night.
"One of the best hiking spots in W MI. Campground well shaded. Short hike to beach and trails. Land and trails stretch the lakeshore down to Ferrysberg at Coast Guard Park. Name actually PJ Hoffmaster State Park. $25-37/night. DNR strictly enforce drinking and late night beach visits." –The Dyrt camper Jen W.
Popular Articles: