This article about Cape Lookout camping was brought to you by Gregory, the makers of the best hiking day pack for adventuring along the Oregon Coast, or whichever landscape you are inspired to explore this season. 
---
The Oregon State Parks system boasts 110 famously beautiful state parks that reflect the diverse geography of the northwest, including beaches, forests, lakes, and deserts. Of them all, Cape Lookout State Park offers some of the most impressive views with ample opportunity to camp, surf, hike, and even hang glide or paraglide. 
The camping at Cape Lookout is second to none, with beach views, easy access to surfing for the swell-inclined, and the opportunity to catch a glimpse of gray whales during their impressive migration from Alaska to Mexico from mid-December to January. 
The eponymous Cape Lookout is a rocky promontory covered in lush forest along the stunning and rugged Oregon coast, just southwest of pastoral Tillamook. This cliff-edged cape juts out into the sea from the mainland, offering visitors a panoramic coastal view while standing on a winding trail surrounded by rich emerald forest. The beach on either side of the cape is protected by a 50-foot-wide stone revetment to prevent erosion of the nearby dunes and helps protect the campground. All in all, the surrounding nature in the park's three-loop campground is a fantastic place to crash after your full day of activity, with a stunning ocean view.
Cape Lookout Camping Options
Image from The Dyrt Camper Ryan W.
This campground with over 200 sites is perfectly situated, offering outstanding views of the spruce-lined coast and the sound of crashing waves nearby. There is a nature-loop trail located west of the campground that eventually leads to a small section of the Oregon Coast Trail. The campground boasts 38 RV sites with hookups, 170 tent sites, 13 yurts and 6 deluxe cabins — just about something for every type of camper. For the coastal adventurer, there is a hiker/biker camp with plenty of friendly folk walking the Oregon Coast Trail, or some even those biking the Pacific Coast Route from Canada to Southern California.
If Cape Lookout State Park's campground is full, Sand Lake Recreation Area is just over nine miles south, and can be a semi-reliable backup option. Campers will find the area's three developed campgrounds and one dispersed campsite scenic and relaxing, offering views of large sand dunes surrounded by coastal mixed-conifer that hug the Pacific Ocean. Campers can fish, swim, crab, kayak, hike and spy some wildlife, pretty much all in one day. This campground is also popular with OHV riders. Sand Lake offers open sand dunes and steep drops for an exhilarating day of off-roading. If you're visiting short term, you can rent an all-terrain vehicle from Sandlake Tsunami ATV Rental, LLC. If you plan to cruise around the picturesque dunes in your OHV, you'll need a permit.
Activities For Your Stay at Cape Lookout
While camping at Cape Lookout, there are plenty of additional activities to enhance your coastal experience. From beautiful nature trails to infamous swells, you'll find your favorite outdoor activity at Cape Lookout.
Hiking
There are two trail options along the cape. Hikers can walk to the edge of the peninsula, or descend to a secluded beach at the southern base of Cape Lookout State Park.
The Cape Trail:
The hike to the edge of the cape runs 2.4 miles one way and is relatively flat, with only 400 feet in elevation gain. The trailhead is located 2.6 miles south of the park entrance along the Three Capes Scenic Route. From the main parking lot of the Cape Lookout camping area, take the left-hand trail and keep straight at the nearby junction.
Along the trail, spruce and hemlock trees shelter the ferns and salmonberry bushes on the forest floor. From the trail, hikers can see Haystack Rock near Cape Kiwanda to the south, and on a clear day, the Three Arch Rocks off of Cape Meares. When hikers reach the end of the trail, scarlet paintbrush and white yarrow fill the landing looking out at the sea. Don't forget to bring binoculars and try to find whales off the seashore, as the tip of the cape is a prime locale for whale watching during gray whale migration in winter.
The South Trail:
The South Trail is a 1.8-mile hike to a secluded beach, beginning at the main trailhead near the campground. The beach is typically secluded and offers a great place to relax for the day or surf if you're willing to bring your board on your trek to the beach.
These two hikes are nearby the Cape Lookout camping area, but the Oregon Coast Trail runs north or south from Cape Lookout State Park. If you're geared up for a longer hike, you can head north on the OCT north for 4.9 miles to Netarts Spit, hike 70+ miles to the northwestern tip of Oregon at Fort Stevens State Park, or head south and hike 275 miles to the border of Oregon and California. Hikers can add any amount of mileage they'd like from Cape Lookout.
Surfing
Cape Lookout offers great breaks for those who are willing to work to reach the best spots. One of our users of The Dyrt and surf aficionado, who prefers to remain anonymous, has this to say about surfing at Cape Lookout:
"Great spot for a fun uncrowded surf, but be willing to work for it. This seemingly fickle spot is unpredictable but can pay off for some great surf if you are up for the 3 mile hike from the parking lot. There is a rock table and cobble stone beach on the north end that produces a great right on a west swell with great shelter from north winds, but will blow out with a lot of south wind. (There is) a left beach break at sand bottom (that) can work further south down the beach on a south or southwest swell. Beautiful beach and a great hike, have fun carrying your log back up the path."  – Anonymous user of The Dyrt and surfing fanatic.
Whale Watching
Up to 20,000 Gray whales migrate from Alaska to Mexico each year. This is the longest known migration of any mammal, so make sure to keep an eye out as you spend your days along the coast. Whales frequent Cape Lookout during migration periods in December and January.
Scenic Coast Driving & Cheese Tasting
Cape Lookout State Park is part of a stunning coastal loop, known as Three Capes Scenic Loop, which includes Cape Kiwanda State Park and Cape Meares State Park. There are lots of things to do along this idyllic road trip in addition to the state park. The loop runs from Tillamook to Pacific City offering mesmerizing ocean views and tranquil old-growth forests with trails to stretch your legs along the way.
When in Tillamook, check out the infamous Tillamook Creamery which offers a plethora of cheese tasting-options, delicious ice cream flavors and enjoy a gourmet grilled cheese for lunch.
After Tillamook, Cape Meares is the first stop along the Three Capes loop, located 13 miles northwest of Tillamook. This cape features a picturesque lighthouse with a Fresnel lens and a large 'octopus tree', with its many branches that mimic an eight-armed sea creature. After Cape Meares, head 10 miles south to Cape Lookout.
The last stop on the Three Capes Scenic Loop is Cape Kiwanda. This is a lovely locale to eat lunch or surf. Pelican Brewery and Taproom at Cape Kiwanda is a beachfront brewpub with views of Haystack Rock and the impressive dunes nearby.
---
This article was brought to you by Gregory.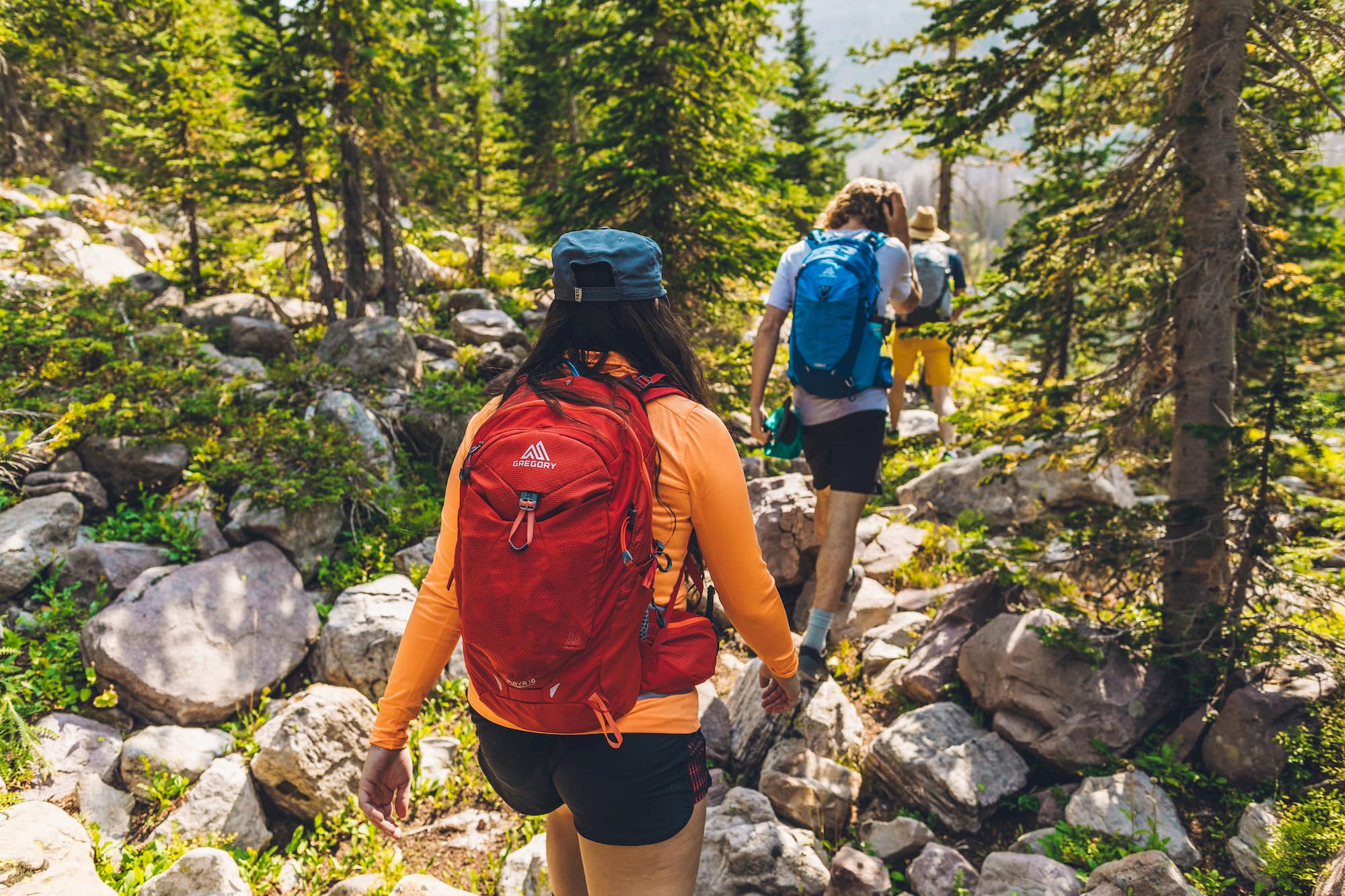 Gregory makes comfortable hiking packs that fit well and carry your day's gear during a Pacific Northwest adventure and beyond.  
Related Campgrounds:
Popular Articles:
---

---