This roundup of the best trail runners of 2019 was brought to you by OOFOS, whose recovery shoes are the perfect way to rest your feet after shedding your muddy trail runners.
---
Scoping gear on the trail is a classic hikers' pastime. (Or maybe that's just me?) In recent years, I've noticed a transition in trail footwear. Gone are the days when you would see most hikers stomping down the trail in hefty high-top hiking boots.
Trail running shoes have become increasingly popular for both hikers and runners. The growing trail running community has made the shoe industry rethink their entire design for lighter and more comfortable options, with increased control on varied terrain—and the rest of the outdoors community has jumped on the bandwagon.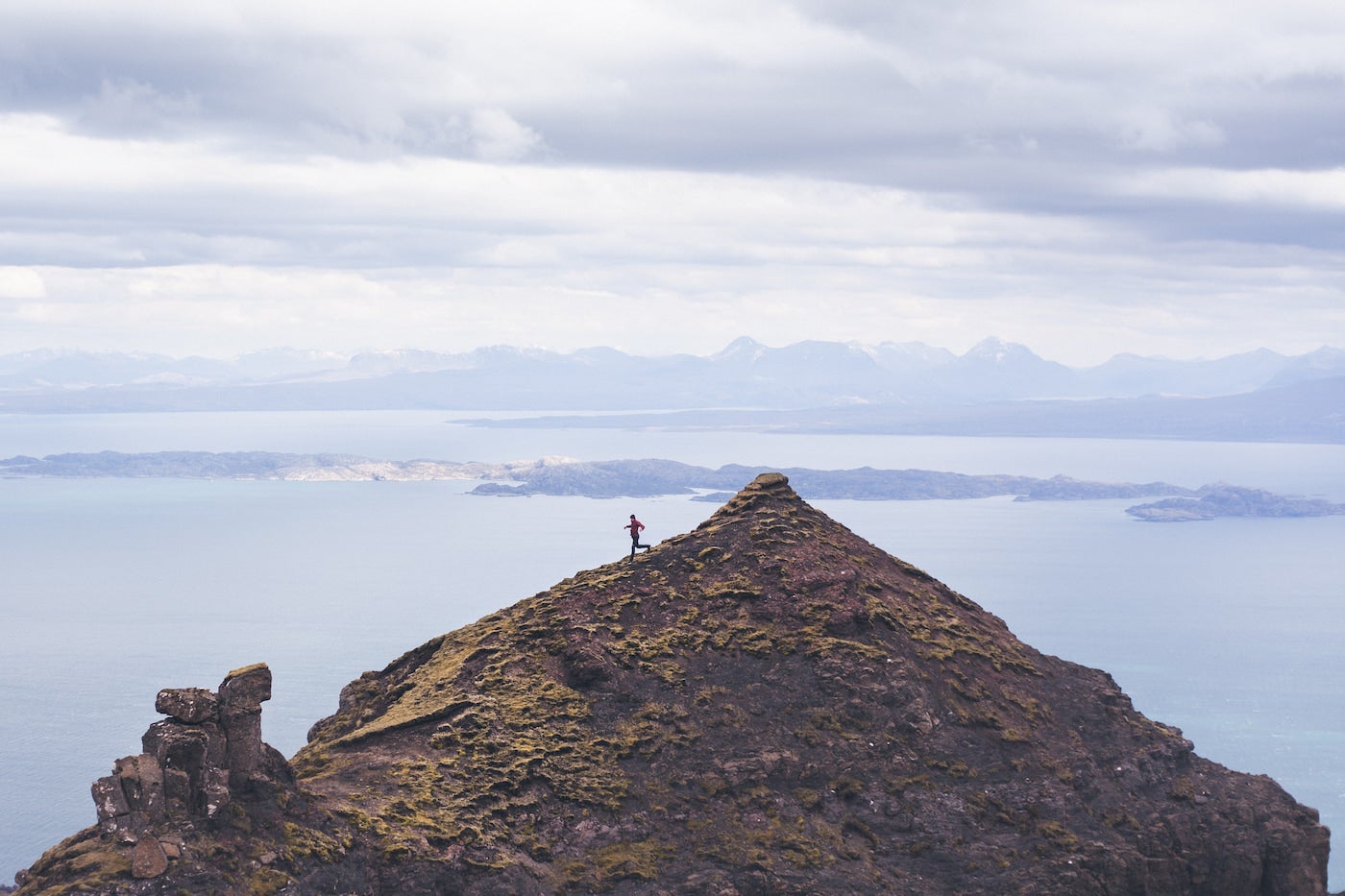 How to Pick the Best Trail Running Shoes for Your Feet
Before scoping out the best trail runners, there are two main points to consider. Ask yourself, what kind of activities are you using these shoes for? And what type of terrain will you be covering? A trail run across the Oregon coast will look quite different from one in Big Bend National Park.
It's also important to remember that the best-rated trail running shoes are not always going to be the best trail runners for you. Not only is it essential to pick a trail runner that works for your activity, you should also look for a shoe that works with your body; this includes features like support, cushioning, and the ever-important heel-toe drop (the difference in height between your heel and your toe).
The 6 Best Trail Running Shoes of 2019
I spoke to my friends and colleagues who run and hike to find out which trail running shoes people are loving this year. We think these are some of the best options on the market. But make sure to go to a shoe store for a gait analysis and to try on shoes before purchasing a pair. The wrong shoes can lead to injuries so learning about what kind of shoe your body needs is essential.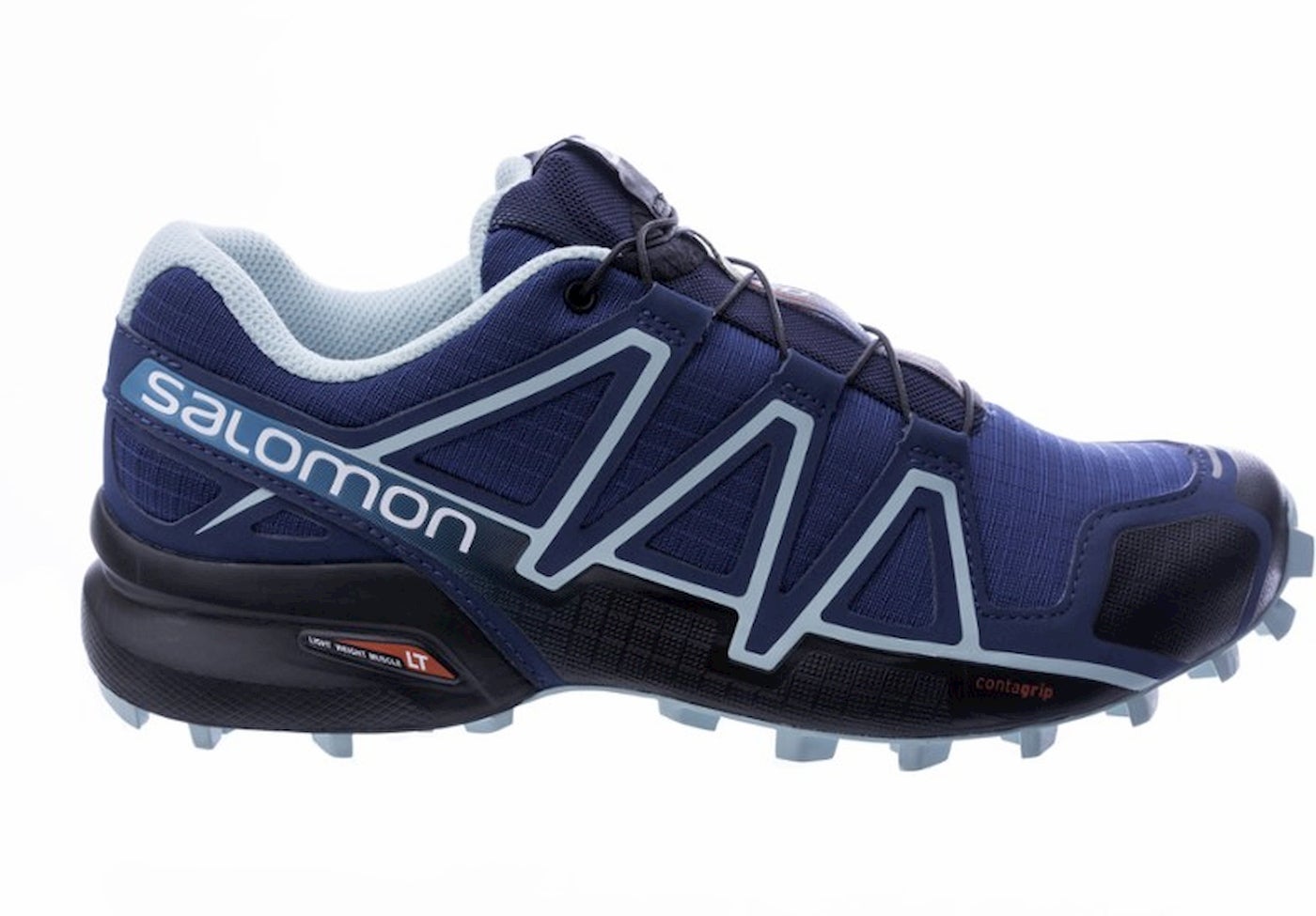 Heel-Toe Drop: 11mm
Cushion: Moderate
Weight: 9.2 oz
Rock Plate: No
The Salomon Speedcross 4 has been highly rated for their traction by countless outlets, making them a household name in the running community. Their wide, durable tread with Contragrip rubber makes them perfect for confidently running through mud and gravel. The shoe's single-pull quicklace system makes putting them on easy and fast, and unlikely to go anywhere. With high arch support and a solid midsole, you'll retain high stability while keeping your feet cushioned. These are a great option for both running and hiking, for someone looking to maintain the support of a more traditional hiking boot or running shoe.
"I ran my first ultra with the Salomon Speed Cross 3, and upgraded to the 4 when I started training for my second. After covering all types of terrain and lots of miles, I know I can trust my Salomon Speed Crosses for any kind of run. They help me feel stable, even on the downhills and slippery rocks." — Ultra Runner and Managing Editor Britany R.
Buy Now $130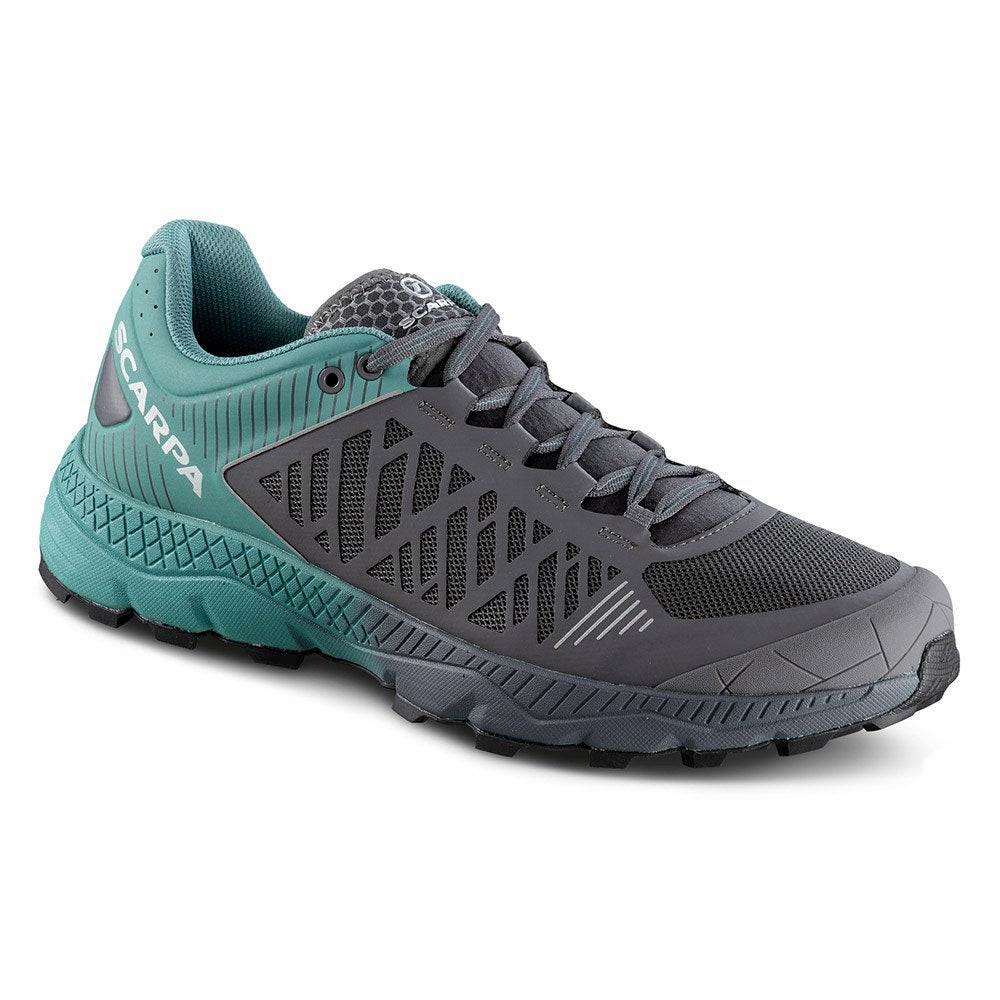 Heel-Toe Drop: 6mm
Cushion: Moderate
Weight: 7.8oz
Rock Plate: yes
Scarpa's Spin Ultras have been considered one of the best trail running shoes for any form of trail running, after winning both Gear of the Year from Outside Magazine as well as the Trail Runner Magazine's Editor's Choice Award. A cushioned midsole and Vibram Megagrip tread mean this shoe can handle everything from a casual off-pavement jog to a long haul to the summit. The Scarpa Spin Ultras are designed with a lightweight structure, making them a great hiking crossover for those looking for a spry hiking shoe. One of the Spin Ultas' best features? Oddly enough, the tongue. It's sewn to the rest of the upper, ensuring that it will hug your feet for miles, and also has a small pocket to tuck your laces so they don't get caught on roots or sticks.
Buy Now $149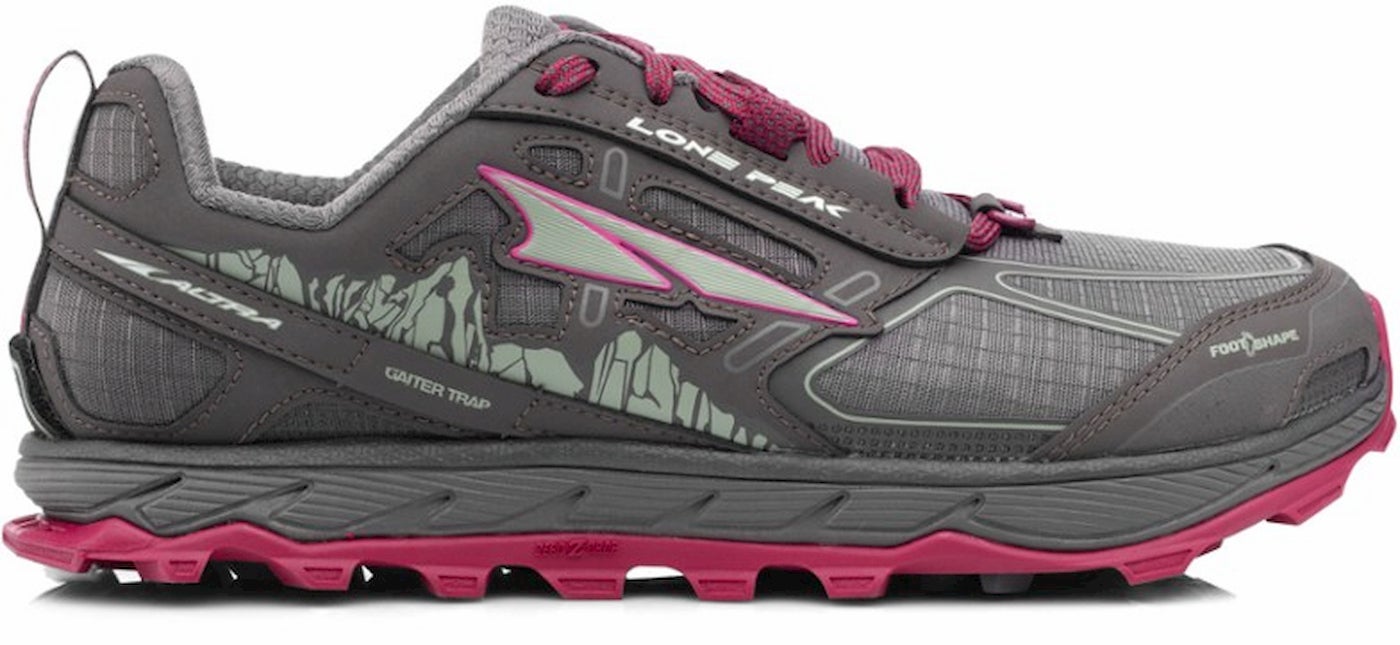 Heel-Toe Drop: 0mm
Cushion: High
Weight: 10.6 oz
Rock Plate: yes
Altra's Lone Peaks have become one of the most common hiking-to-trail running crossovers in recent years; take a gander down any section of the Pacific Crest Trail and you'll be sure to see countless thru-hikers wearing this shoe. On the spectrum of trail running shoes, Lone Peaks definitely sit closest to a hiking boot with their ergonomic construction. Don't be thrown by their extra-wide toe box, these shoes are capable for rugged conditions with a waterproof sole and built-in gaiter trap. Running in Lone Peaks allows for a cushioned experience while still haver the tread and responsivity to scramble through mud, rocks, and sand. The only downside that hikers and runners alike have seen the Lone Peak's is their ability to wear down after only a couple hundred miles, luckily Altra has been working to make these shoes last longer each time they release a new version!
Buy Now $120
Heel-Toe Drop: 4mm
Cushion: Maximum
Weight: 9.6 oz
Rock Plate: no
The Hoka Evo Mafate is considered one of the best trail running shoes partly due to Jim Walmsleys performance in The Western States 100. Hoka is a fairly new running shoe company that has become well known for its high cushion, lightweight wildly colorful kicks. After a few years of mixed reviews, the Evo Mafates are a testament to the growth Hoka has endured since their beginning in 2009. The Evo Mafate is a rugged trail shoe with Vibram Megagrip tread, a notable water drainage system, and hefty underfoot cushion at just 9.6 ounces. The main complaint of this shoe has to do with the tapered toe box which most runners have solved by using a shoe stretcher. For those looking for a lightweight, neutral shoe with the cushion of an Altra but the durability of a Salomon, this is the shoe for you.
"I have been running in Hoka One One trail shoes for the past three ultramarathon seasons for road and trail training, as well as in 50k to 100 mile races. I ran my first 100 miler at Mountain Lakes 100 in the Hoka Evo Mafates and they were lightweight but durable shoes with great traction and a responsive, soft ride that had me finishing in 23h 18m 11s without having sore feet. I love my trail running experience in Hokas, they let me go farther on more technical trails while keeping my feet and body happy, healthy, and speedy!" — Ultra Runner Mark Friess
Buy Now $170
Heel-Toe Drop: 8mm
Cushion: Moderate
Weight: 12.5 oz
Rock Plate: yes
While Brooks has been part of the running industry for years, they really made their name in trail running with the Cascadia. Created in collaboration with ultra-marathoner Scott Jurek, this was Brooks' original trail running shoe and is still considered one of the best today for both hiking and running. While the Cascadia has gone through many iterations, the most recent include gore tex waterproofing, rugged soles, and a rock plate while only weighing 1 lb 3oz.
"My preferred trail runner has been the Brooks Cascadia, which I have been using since 2010 when I made the switch after thru-hiking the PCT. Since then, I have thru-hiked The Oregon Desert Trail, Te Araroa Trail, Continental Divide Trail and Appalachian Trail with them. They have always had fantastic grip on wet surfaces such as a wet log or on a icey pass in the San Juan Mountains of Colorado. I typically get between 500-600 miles per pair on a thru-hike before I have to replace them." — Thru-Hiker Shane V.S.
Buy Now $120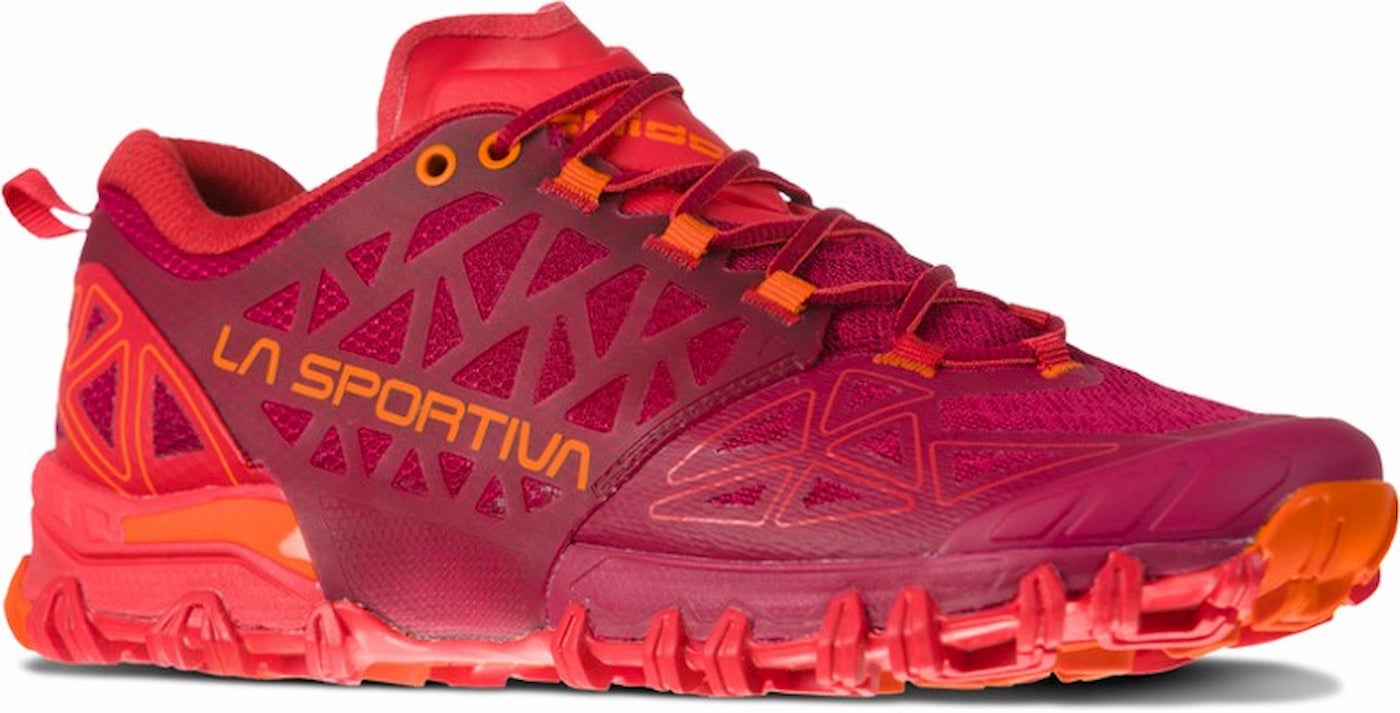 Heel-Toe Drop: 6mm
Cushion: Moderate
Weight: 1lb 2.2 oz
Rock Plate: yes
La Sportiva is known for creating more rugged trail runners with high grip and deep treads for on and off-trail environments.The Bushidos are a great choice for someone who wants a lot of support, but doesn't need much cushion or a wide toe box. These responsive trail runners are versatile, and sure to stop on a dime whether you are scrambling over scree or running over wet ground.
"For trail running I use exclusively the La Sportiva Bushidos. I don't like a ton of cushion on trails because I like the responsiveness because it makes me more confident with more technical footing." — Ultra Runner Claire Derr
Buy Now $130
---
This article was brought to you by Oofos.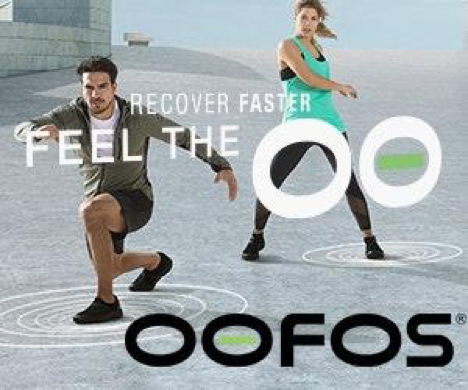 Ooofos recovery shoes are the perfect way to recover from your next trail run, whether you running your neighborhood nature trail or circumnavigating a mountain.
Popular Articles: