This guide to the Denali Backcountry Lodge was brought to you by RovR, the makers of our favorite cooler with wheels.
---
A ribbon of highway winds its way through Denali National Park, allowing visitors to access the region's pristine peaks, valleys, and alpine lakes that are iconic for their preserved beauty. For those who wish to explore beyond the obvious road, camping and hiking in Denali is unlike any other national park. Without trails or established campgrounds, backcountry exploration requires a high level of wilderness and navigational awareness.
For those who don't feel comfortable navigating the wild terrain of Alaska, Denali's Backcountry Lodge bring a remote location together with luxurious amenities and comfort. Denali Backcountry Lodge is located in a remote valley at the heart of Denali National Park. With no traffic or wrong turns, just babbling rivers and winding trails, this backcountry lodge offers a peaceful place for rest and rejuvenation, or access to outdoor thrills, or a little bit of both.
A Guide to the Denali Backcountry Lodge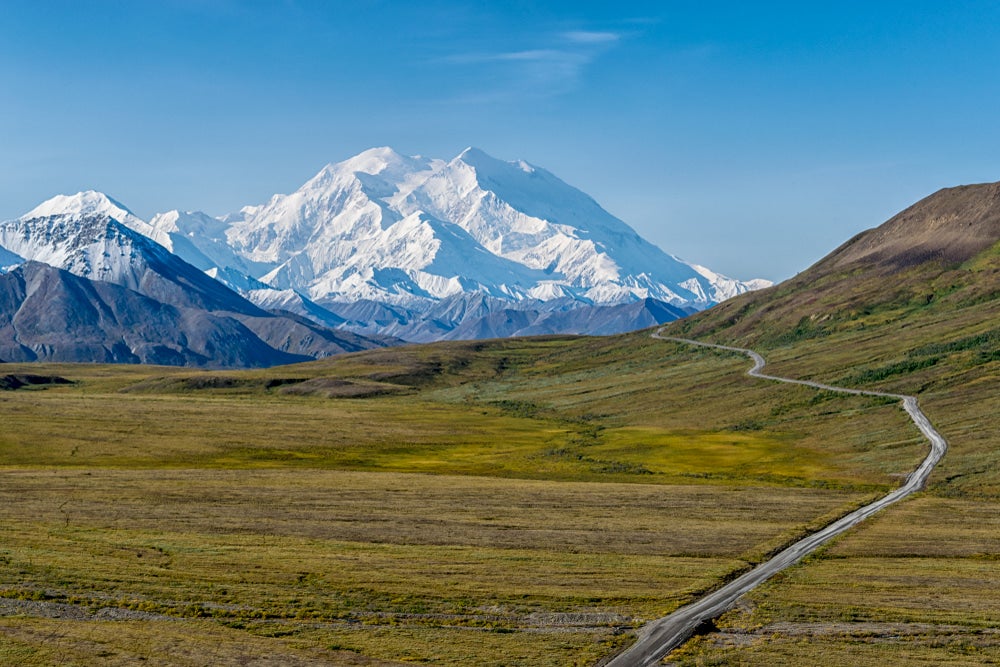 Denali Backcountry Lodge, located in the historic settlement of Kantishna, offers a myriad of backcountry luxuries in one of the wildest landscapes in the world. Fine dining, a spa and wellness center, and a swath of outdoors activities nearby are just a few of the many reasons this lodge an unbeatable place to spend your Alaskan vacation.
The Lodge offers a complimentary, guided bus tour from the park's entrance to the lodge. Visitors will stop along the way, taking in the vast, glorious landscapes of Denali's range of wilderness areas. Visitors are responsible for getting to the park's entrance, however.
Getting To The Lodge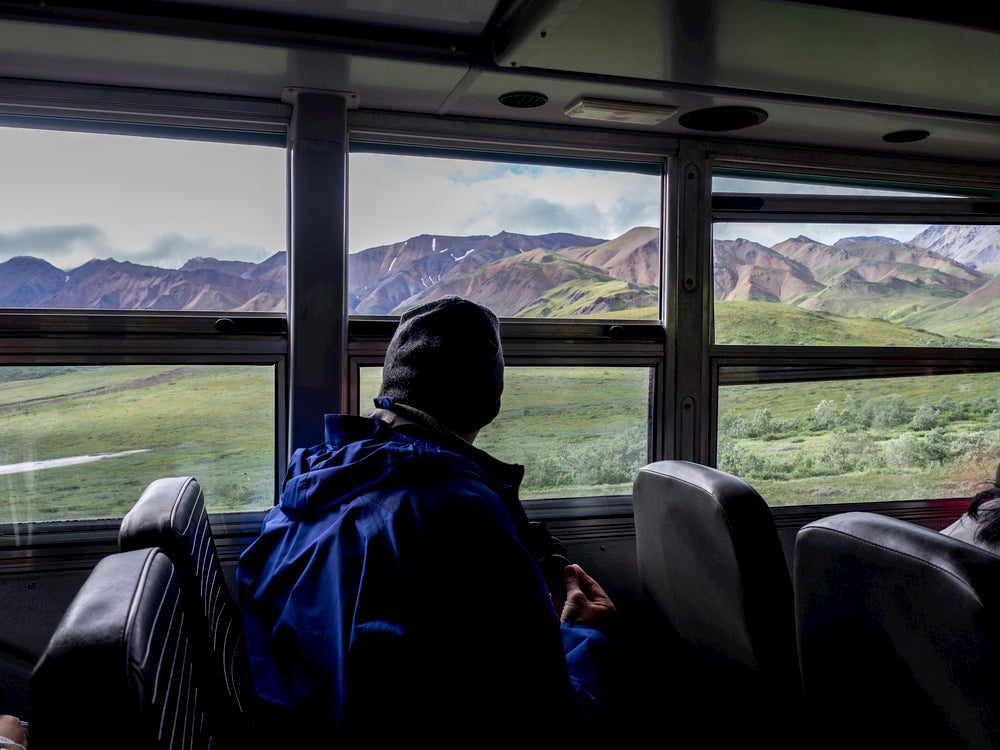 Located at mile 92 of the Denali Park Road, Denali Backcountry Lodge rests in the former gold mining village of Kantishna. There is restricted access for private vehicles past mile 15 along the road, so the lodge sends a private bus to pick up visitors at the Denali Cabins at 1pm or the Denali Train Depot at 1:30pm each day.
To get to Denali's Visitor Center, visitors can fly into Anchorage and then rent a car, take a bus or ride a train to the park's entrance. Denali Backcountry Lodge then encourages visitors to drive or bus to Denali Cabins where there is parking available for the duration of the stay at the lodge, or at the Denali bus and train depot where the tour bus will meet visitors.
Rates and When to Go
Rates to stay at the lodge start at $560 per person, per night based on double occupancy and go up depending on accommodation type. Rates include the sightseeing tour to the lodge, the stay at one of the inviting cabins, guided activities during your stay, meals, and onsite wellness center and spa.
The Lodge is open year round. Spring and summer offers the most sunlight for exploration, while fall and winter offer the opportunity to snowmobile or mush and see the iconic, once in a lifetime aurora borealis.
Your Experience at Denali Backcountry Lodge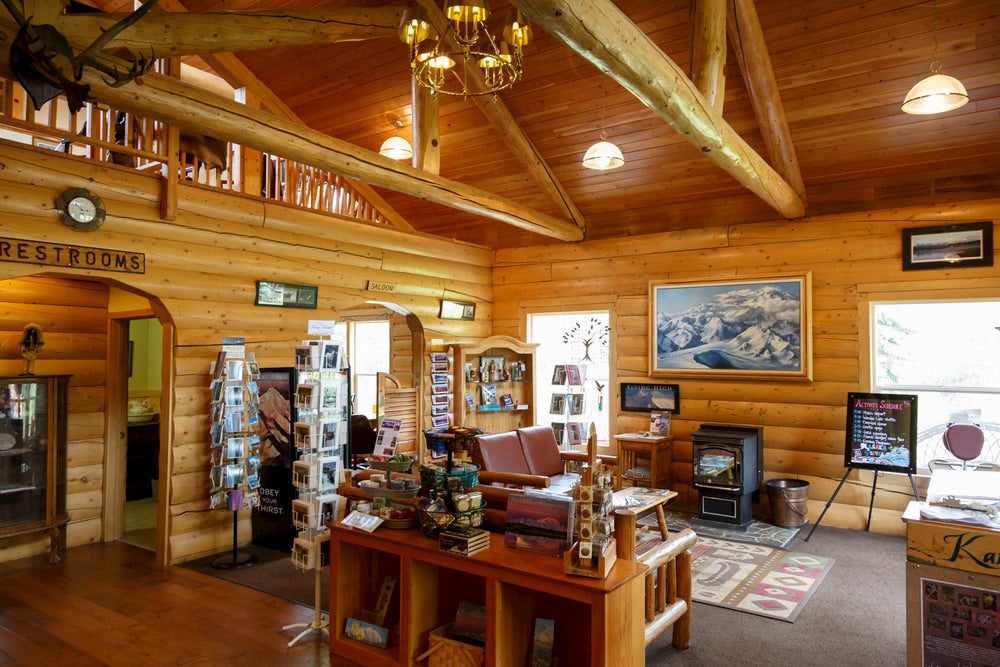 Upon arrival at Denali Backcountry Lodge, guests will check-in at the two-story, idyllic Main Lodge. The Main Lodge is the hub for guests to enjoy exquisite meals and relax in comfortable sofas and chairs in the upstairs vaulted-ceiling lounge, accompanied by a full bar. Guests stay at one of 42 individual cozy cabins with private baths and blackout curtains for a full night's sleep. Each cabin is comfortably heated with comfortable beds.
There are a plethora of activities to do at Denali Backcountry Lodge paired with hospitable employees, fresh cuisine and the chance to sit by the fire and reflect on the enchanting and serene wonders of Alaskan wilderness.
The Nest Spa and Wellness
This newly-opened center allows for guests to unwind and relax. Onsite massage therapists blend the art of massage with a celebration of the human spirit for a holistic experience. There are several different types of massages that the wellness center offers including customized massages, Swedish technique, deep tissue, hot stone therapy, and foot massages.
Backcountry Dining
Denali Backcountry Lodge gives visitors the chance to rest and enjoy delicious meals to start or end the day.
Fresh fruits, baked pastries, eggs, bacon, french toast, coffee and an assemblage of other breakfast foods are available for guests to enjoy upon greeting the day. There is also a lunch buffet in the afternoon with a selection of hot soups, sandwiches and salads.
Guests can end their day with an American-style dinner with an Alaskan twist. Meals are prepared daily and include fresh, seasonal ingredients and flavors.
Things To Do At Denali Backcountry Lodge
Guided Hikes
The Denali Backcountry Lodge offers guided hikes, botanical walks or historic site exploration from their Naturalist Guides. The seasoned guides lead trips that are categorized as being casual, moderate and challenging. Each evening, guests can sign up for the hikes that they would like to participate in. The hikes vary in terrain and mileage, but typically range from 2 to 7 hours.
If you'd prefer to hike at your own pace, guides can point out excellent areas to explore either hiking or mountain biking. If you are interested in hiking or biking alone, remember that the backcountry of much of Alaska, including this region of Denali, is trail-less, so explorers should take precautions and make sure to have navigation skills for the journey. The Denali Tundra and surrounding scenery is striking and rewarding, so exploring either with a guide or solo is well worth the journey.
If hiking or biking doesn't interest you, there are also opportunities to fish near the lodge. The guides will be the experts to let guests know where to find the best fishing holes. Moose Creek offers some of the best opportunity for fishing and gold panning.
Guided Tour Along the Denali Park Road
Denali Backcountry Lodge is 92 miles from the Denali Visitor Center. Included in the stay is a transportation from Denali Visitor Center to the lodge via a guided wildlife and sightseeing bus tour. Guests will make several stops along the way with views of some of Denali's most impressive landscapes.
Mile 30: Teklanika River – A short stop with views of the beautiful Teklanika River and surrounding wilderness.
Mile 46: Polychrome Overlook – This wilderness area is true to its name. The colorful landscape was formed from volcanic rock and offers spectators a spectrum of colors. At the overlook, guests will see colorful vegetation, mountains, streams and glaciers, and even moose and caribou.
Mile 53: Toklat River Rest Stop – The road drops 3,000 feet to reach the Toklat River. Guests will see a snow-capped range along shining glacial rivers.
Mile 66: Eielson Visitor Center – This visitor center is only 33 miles from the summit of Denali. During this stop, guests can stretch their legs among high alpine vegetation before the final stop at the lodge.
Mile 92: Enjoy Denali Backcountry Lodge
---
This article was brought to you by RovR Wheeled Coolers
RovR makes the best wheeled cooler for any Alaskan adventure.
Popular Articles: