This article is brought to you by Inno, whose kayak roof rack product line is the perfect way to gear up for your next Apostle Islands kayaking adventure. With state-of-the-art technology that allows you to life and rig your 'yak to your car without a scratch, Inno's products are an easy way to ensure that your trip runs smoothly from start to finish.
---
The waters of the Great Lakes are notorious for their size, depth, and quality. Containing over 21% of the world's surface fresh water, the Great Lakes area is an outdoor destination for water athletes, fisherman, and anyone with a taste for gorgeous lake views and rich biodiversity.
Among the Great Lakes, Lake Superior is the largest, sizing in at over 31,000 square miles, making it a gold mine when it comes to outdoor exploration and other water activities like boating, skiing, fishing, and tubing. Due to their size, white-capped waves, and often windy waters, the Great Lakes have been called the "inland seas," and, just like seas, the Great Lakes are home to a number of islands.
The largest of the island networks are the Apostle Islands, located in Lake Superior just off of the Bayfield Peninsula. Famous for their designation as a National Lakeshore Area, the Apostle Islands are known as a kayaker-campers paradise, both for their remote location and the pristine wilderness that welcomes visitors year-round.
Make the Most Out of Your Apostle Islands Kayaking Trip
Made up of 22 islands in total, the Apostle Islands, as a designated National Lakeshore Area, are home to over 800 species of plants. Unlike tropical islands, these islands are heavily forested and contain a large variety of trees, including balsam fir, white cedar, white pine, and quaking aspen—all contributing to a unique experience while camping in Wisconsin.
Several species of animals also roam the islands, including what the National Park Service believes to be one of the largest concentrations of black bears in North America (Oak Island is currently home to almost 20 bears, which makes it the highest population density in the country). In addition to that, the Apostle Islands Lakeshore plays a critical role in breeding of gull populations, as they make up over 80% of the breeding populations on the entirety of the Wisconsin lakeshore.
Along with a diverse ecosystem and flourishing wildlife population, the Apostle Islands play host to a variety of unique geological formations. Perhaps the most intriguing of these formations are the sea caves, the most prominent of which occur along Sand Island, Devils Island, and Squaw Bay (on the mainland). Due to their unique arches and hidden sea chambers, the sea caves are a popular place for exploration, particularly via watercraft.
Prep for Your Apostle Islands Kayaking Trip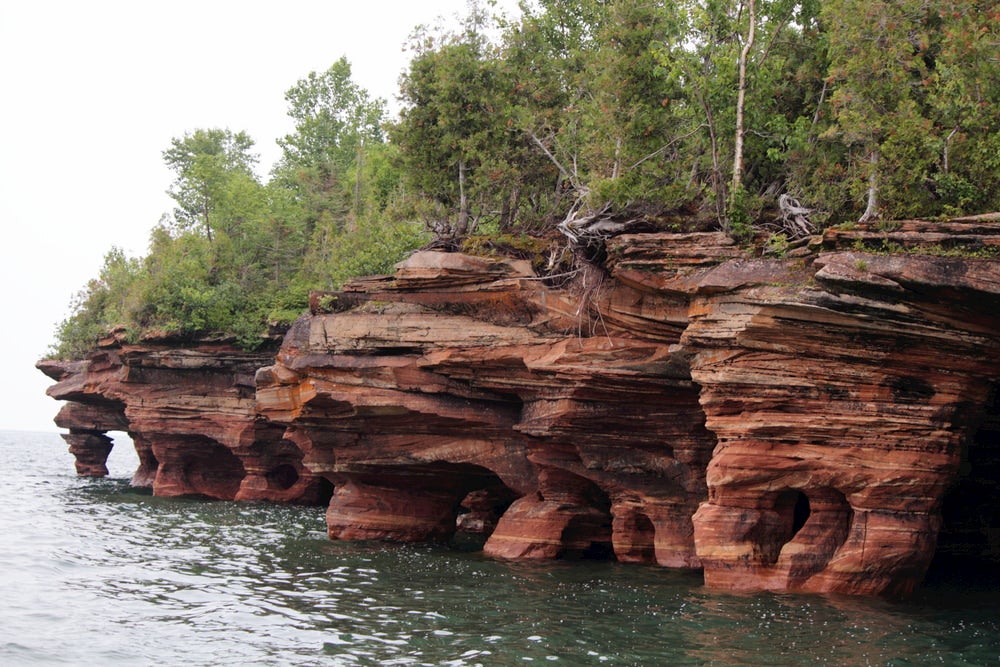 Since each of the 22 islands offer something unique to visitors, kayaking is a popular way to explore the islands. While sea kayaks are useful and common ways of getting around Lake Superior, Apostle Islands kayaking can be a difficult and, occasionally, dangerous activity.
Hopeful kayakers should understand the equipment and experience necessary for running a sea kayak on the lake's often unstable waters. Since the Apostle Islands National Lakeshore is a federally maintained area, all guests hoping to take advantage of Apostle Islands kayaking should follow the guidelines created by the National Park Service.
For Day Kayaking Trips:
For eager explorers looking for a short-term exploration, a number of half-day trips are available through local guiding companies, many of which offer tours of one or two of the Apostle Islands, and a basic to intermediate level kayaking trip. Lost Creek Adventures provides half-day and full-day tours, many of which incorporate a short tour of the sea caves. For families, the Roman's Point Sea Cave and Nature Paddle offers tandem kayaks to make it easier for children to enjoy their first open-water kayaking experience.
Other trips include the "Sand Island In a Day" trip, which features an 8-mile round trip paddle ride and the chance to hike on Sand Island, one of the most popular of the Apostle Islands, and home to the historic Apostle Islands lighthouse. Lost Creek Adventures also offers night kayak trips as well, weather permitting, on dates when the moon is expected to be full. All trips with Lost Creek Adventures include safety equipment, kayaking equipment, and a brief lesson for beginners to the sport.
For Multi-Day Kayaking Trips:
Most kayak guide companies also offer the option for multi-day Apostle Islands kayaking experiences, involving island camping as you make your way from shore to shore. Wilderness Inquiry offers seven different multi-day itineraries. While certain overnight trips are meant to accommodate families and beginners to sea kayaking, most overnight trips should be considered for those more familiar with open-water kayaking, and for outdoor enthusiasts seeking a more immersive experience at the Apostle Islands. Options from Wilderness Inquiry's extensive list include a four-day "Base Camp" style trip, which operates day trips from a pristine campsite on Little Sand Bay. Each day includes a different excursion usually involving some form of hiking and kayaking.
For beer and wine enthusiasts, the Apostle Islands Paddle Pinot, and Porter trip allows visitors to explore the islands by day and tour local wineries and breweries by night. Still other trips include a 5-day kayaking and camping adventure and an Apostle Islands kayaking, camping, and yoga experience sure to bring some zen to an otherwise adventurous itinerary.
Kayaking Without a Guide:
While kayaking free of a guide at the Apostle Islands is permitted (and enticing), it is only recommended for kayakers with some previous experience on the water. Due to variable weather conditions and strenuous distances between the islands, attempting to travel between the Apostle Islands on a solo trip is a challenge meant for kayakers with advanced skills and navigation techniques. That said, during the summer months, when temperatures can reach into the 70s, camping and kayaking along the Apostle Islands National Lakeshore can be the perfect multi-day camping getaway, particularly during spells of good weather on the lake.
For those seeking to attempt an Apostle Islands kayaking trip on their own, there are a number of trips possible, including the notable Outer Island Loop, a 75-mile kayaking adventure that visits 11 of the Apostle Islands over the course of about a week. Given the distance and duration of this trip and the high level of exposure that the outer islands experience, it is recommended for advanced paddlers only.
Kayaking Equipment Recommendations
The NPS recommends the use of water crafts of at least 16 feet in length, and does not advise the use of open cockpit boats, canoes, or kayaks. Due to low water temperatures throughout the year (30s in the winter to low-50s in the summer), wet suits or dry suits are recommended for all paddlers. According to federal regulations, all paddlers must be equipped with a Personal Flotation Device at all times. For paddlers hoping to conduct lengthy explorations of the Apostle Islands, carrying supplies for at least one day beyond your trip's planned duration.
Items the NPS recommends adding the following to your kayak trip pack list:
Cell phone
First Aid Kit
Backpacking stove
Maps
50 feet of lashing line (or rope)
Rain gear
The NPS also advises paddlers to carry a flag or paddle with bright markings on it, as larger watercrafts may have a difficult time spotting sea kayaks, particularly in windy or high seas condition. Bright colored kayaks and clothing are also advisable for increased visibility.
Sea Cave Safety for Apostle Island Kayakers
While the sea caves are an extraordinary landmark for visiting paddlers, the structure and angles of the sea caves can present an extreme hazard in high seas or windy conditions. Since the waves often rebound off of the rock formations, smaller vessels (even sea kayaks) are prone to being windbound, capsized, or wrecked in the wrong conditions.
The NPS recommends planning your itinerary well in advance, as well as keeping an eye on the weather forecast, as the weather can change in an instant on the lake. If the weather is unfavorable for visiting the sea caves, there are a plethora of additional beaches and shoreline spots to explore on your Apostle Islands kayaking trip that other alternatives to being out on the water.
Where to Paddle-In Camp On the Islands
Camping on your Apostle Islands kayaking trip can be one of the most rewarding experiences of your outdoor adventure, largely because of the 19 different islands at your disposal for camping. Combined with the statistically low number of thru-travelers at any given time of year, camping on the Apostle Islands often presents visitors with a more secluded experience than most other NPS-designated campgrounds. If you pair that with the scenery surrounding you on Lake Superior, kayak-camping your way through the Apostle Islands is a can't-miss experience.
Permits are required for camping in any of the Apostle Islands designated areas, which include Sand Island, York Island, Devil's Island, Rocky Island, Ironwood Island, Outer Island, Stockton Island, and Oak Islands. Wilderness camping is allowed on every other island except Gull and Eagles Islands, though the wilderness campsites are not designated. The ranger station at Bayfield or Little Sand Bay offers reservations and permits on a daily basis.
Camp-kayaked at any of the islands we mentioned? Be the first to review them on The Dyrt!
---
 This article was brought to you by Inno

Pick up a kayak roof carrier from Inno today!
Popular Articles: