This article about Bryce Canyon camping is brought to you by Tentrr. If you're visiting Bryce Canyon, make sure to check out the awesome site options Tentrr has for unique camping and glamping in Utah.
---
Bryce Canyon National Park is a geological wonderland of delicately carved pinnacles called hoodoos. A fantastic recipe of ancient sedimentation patterns, plate tectonics, and natural forces like wind, erosion, and temperature changes created these fantastic shapes found nowhere else in the world.
Archeological surveys show that people have been awed by the colorful hoodoos for thousands of years. The Paiute people hunted in the valleys and plateaus around Bryce Canyon about 800 years ago and have their own story as to how Bryce Canyon was created. The Legend People were known for living in disharmony with the land and were punished by Coyote for gobbling up all the pine nuts. They were turned to stone and still stand here today, stuck like rocks below the rim of the canyon.
Hiking, stargazing, and ranger-guided geology tours are the most popular activities in the park. Bryce Canyon is best viewed and photographed in early morning and late evening so consider camping in or near the park for easy access to park trails and viewpoints.
Bryce Canyon National Park Camping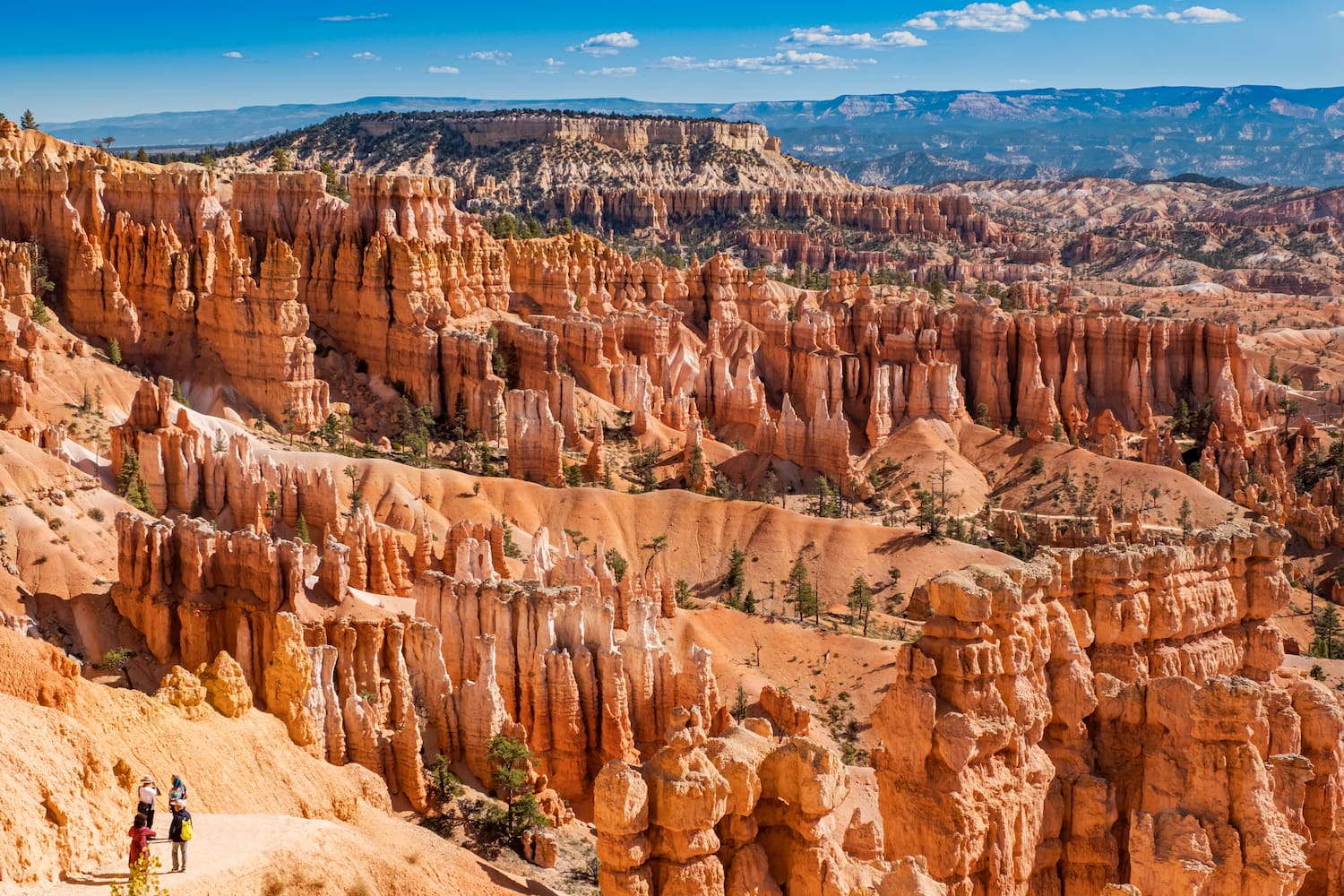 In the park, there are two Bryce Canyon camping options: North Campground and Sunset Campground. All North Campground sites are available on a first-come, first served basis and are located within walking distance of the Bryce Canyon Visitor Center and the Fairyland Loop/Rim Trail. No RV hook-ups are available and a dump station is only open during the summer months.
Sunset campground is located west of Sunset Point, about 1.5 miles south of the visitor center. The campground has 100 sites suitable for both tents and RVs, but no hook-ups. Reservations can be made in advance during peak season (mid-May through mid-October), otherwise it is first-come, first-served. Sunset Campground is closed during the winter months, but one loop in the North Campground remains open year-round. Pets are permitted in both campgrounds, but limited to paved viewpoint areas and the paved path between Sunset Point and Sunrise Point in the park.
Ruby's Inn RV Park and Campground offers the closest Bryce Canyon camping outside the park. The campground is tucked into the Ponderosa Pine forest just a half mile from the park's entrance and features over 200 campsites for both tents and RVs. Amenities include full hook-ups, shower facilities, heated pool, and Wi-Fi.
Cabins and tipis are also available for rent and the neighboring Ruby's Inn has restaurants, a grocery store, and a variety of outdoor activities including horseback rides, ATV tours, and mountain bike rentals. Visitors can board the Bryce Canyon National Park Shuttle at the campground and enjoy a free (with park admission) ride into the park. The shuttle runs every 20 minutes during peak season and stops at the visitor center and numerous trailheads and scenic viewpoints.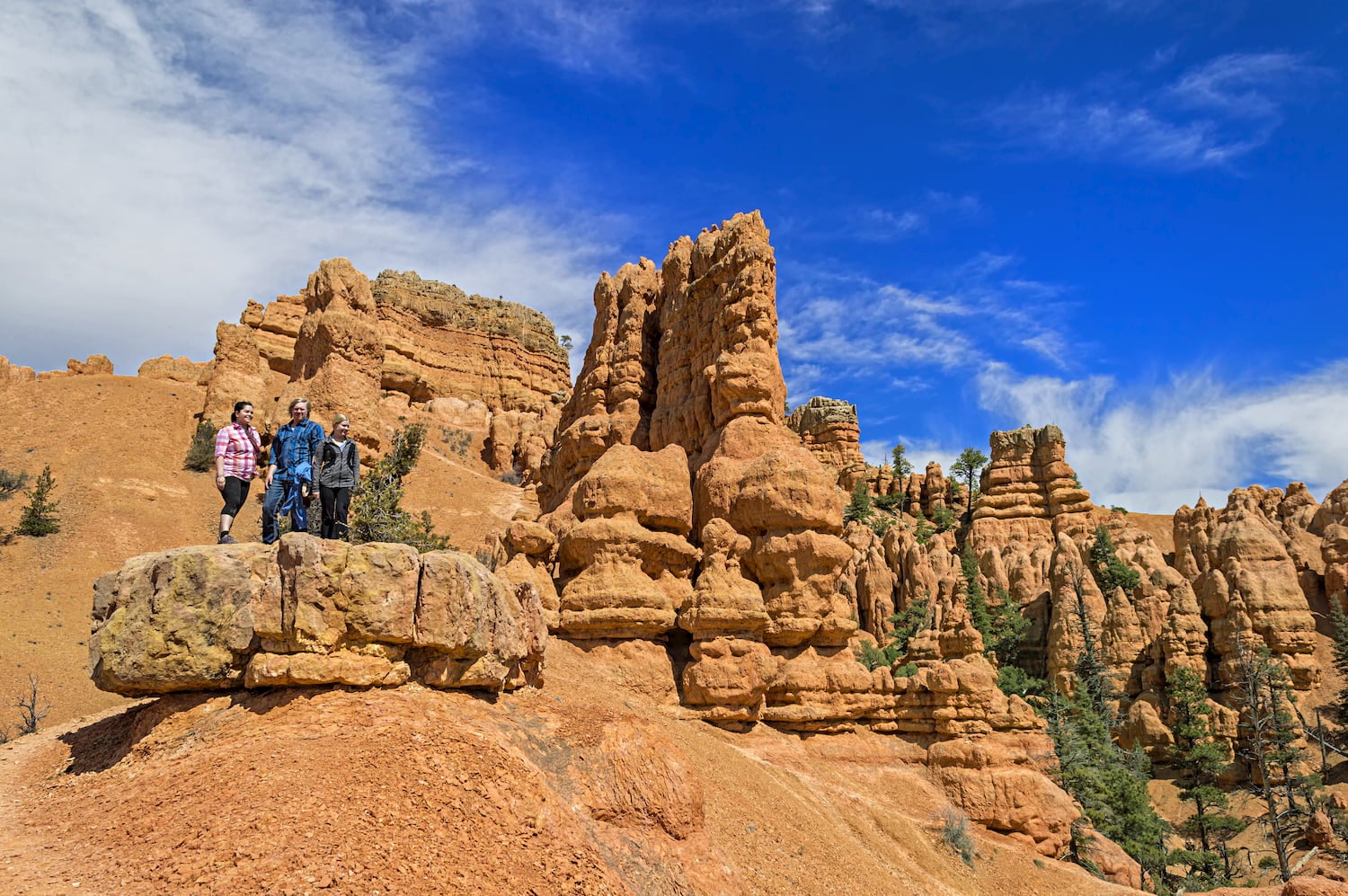 The Red Canyon Campground is located on Scenic Byway 12 about 13 miles from Bryce Canyon National Park. Red Canyon is like a smaller version of Bryce Canyon with stunning hoodoo formations, brightly colored cliffs, and towering ponderosa pines, but without the crowds of Bryce. Plus unlike Bryce Canyon, mountain bikes and dogs are allowed on the trails.
The campground has 27 sites and are only available on a first-come, first-served basis. Red Canyon Campground is typically open from early May through early October. Sites accommodate RVs up to 45 feet in length, but no hook-ups are available. Amenities include flush toilets, showers, drinking water, and tent pads. Red Canyon has an extensive trail system and the Buckhorn Trailhead is located right inside the campground. Pick up a trail map at the nearby Red Canyon Visitor Center.
The Cannonville / Bryce Valley KOA is situated between Bryce Canyon National Park and Kodachrome State Park and Grand Staircase-Escalante National Monument. It's a great place to set up basecamp for a few days (or even a week) if you wish to explore all of these areas.
The KOA offers RV sites with full hook-ups and a patio, tent sites with and without electricity, and vacation rentals and camping cabins. Amenities include a camp store, snack bar, pool, dog park, wi-fi, and a pay shuttle service to Bryce Canyon National Park.
Kodachrome Basin State Park is a wild landscape of curiously sculpted sandstone spires just 22 miles southeast of Bryce Canyon National Park. Hiking, horseback riding, mountain biking, and photography are the top activities in the park. In fact, the park was named after the brand new Kodak film – Kodachrome – that was used to first photograph the park for National Geographic in 1948.
Kodachrome Basin State Park has three campgrounds to choose from. Bryce View and Arch Campground are open year-round and Basin Campground is only open from March through November. Most sites can be reserved in advance, but a few sites are available first-come, first-served. Tent sites, RV sites with hook-ups, and bunkhouses are available for rent and amenities include hot showers,drinking water, and laundry facilities. Dogs are allowed in campgrounds and park trails.
Free BLM Camping Near Bryce Canyon National Park
Much of the land surrounding Bryce Canyon National Park is managed by the Bureau of Land Management (BLM) or National Forest Service meaning unless otherwise posted you can camp on the land for free. Just west of the Red Canyon Visitor Center on Casto Canyon Road, you'll find plenty of dispersed camp spots and restroom facilities near the Losee Canyon Trailhead.
Other dispersed camp spots can be found in Dixie National Forest and off of the Cottonwood Road just beyond Kodachrome Basin State Park in Grand Staircase-Escalante National Monument.
---
This article was brought to you by Tentrr.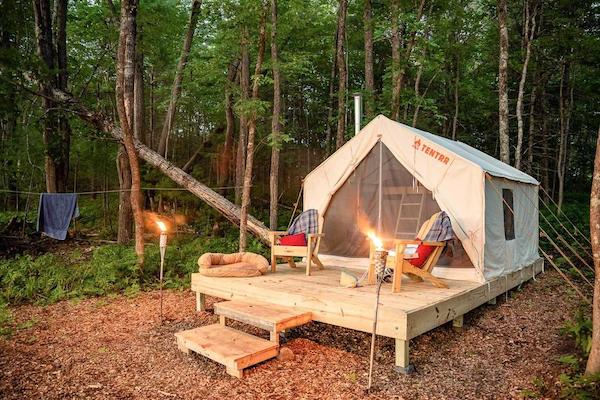 Popular Articles: