This article is brought to you by Tentsile. Their innovative 2-person hammock can also double as a tent. Bring one of these with you to Vermilion Cliffs and enjoy a quiet night of desert camping.
---
Known for its colorful swirling sandstone formations, impeccably carved slot canyons, and undeniable solitude—Vermilion Cliffs National Monument offers a true wilderness experience. Vermillion Cliffs is only an hour or so north from the North Rim of the Grand Canyon. It also borders the Grand Staircase-Escalante National Monument to the north. Yet, somehow, this stunningly gorgeous wilderness area remains a hidden gem of Arizona.
Some desert savviness is required if you wish to venture into the Vermilion Cliffs National Monument. There are few marked trails, no visitor centers, and many of the top sights are located down long, rough, dirt roads. Bring along more water than you think you'll need. And make sure to pick up maps and information from either the Kaibab Plateau Visitor Center at Jacob Lake, the Paria Contact Station near Page, or the Kanab Visitor Center.
Hiking in Vermilion Cliffs National Monument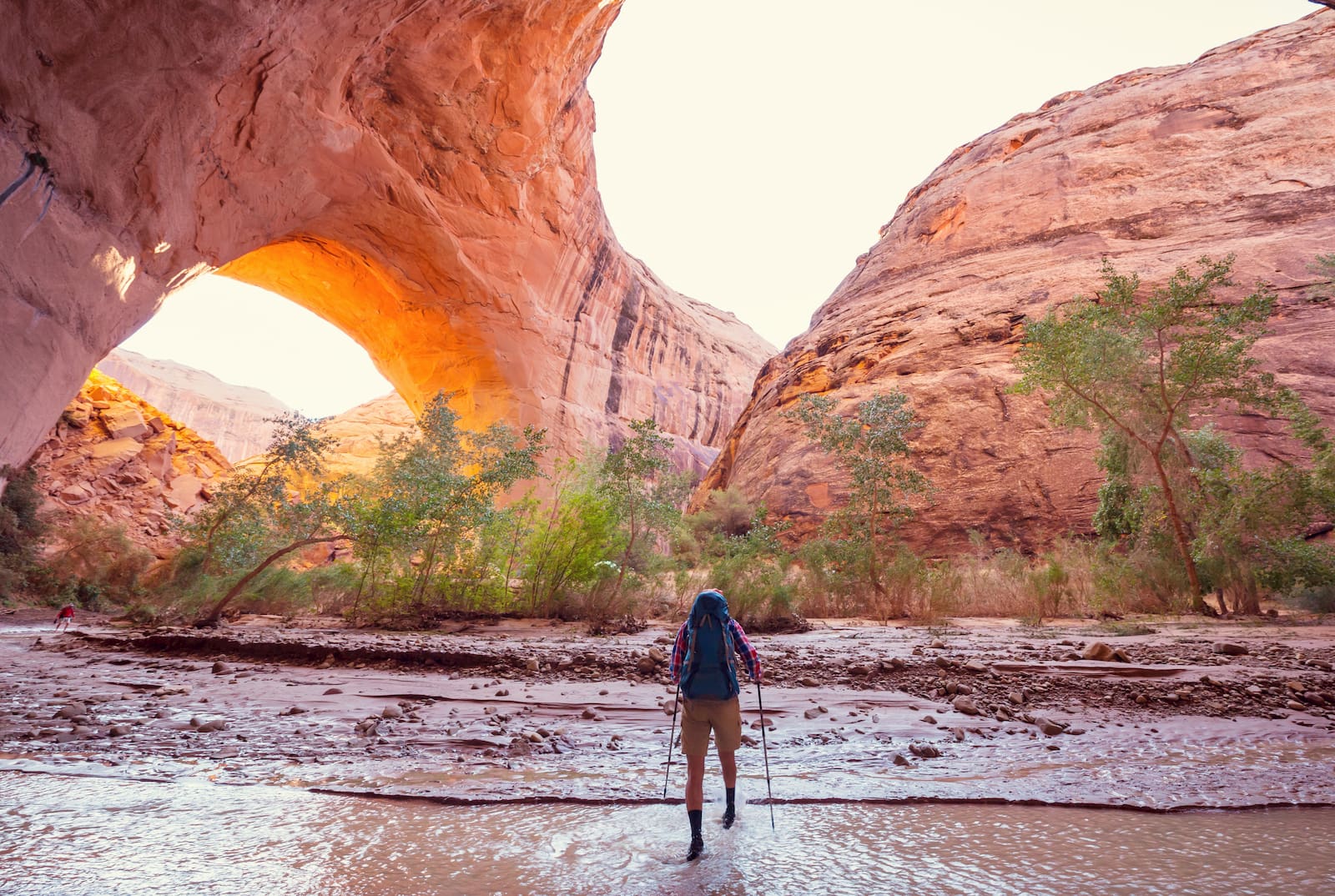 Hiking, backpacking, photography, and bird watching are the most popular activities in Vermilion Cliffs National Monument. The California Condor was reintroduced into the region at Vermilion Cliffs in 1996, and a viewing site on the west end of the monument offers visitors the chance to see North America's largest bird up close!
Visit Arizona's Famous Wave Formation
The swirling, rippling red rock patterns etched into the sandstone of the Wave formation is the poster image of the Vermilion Cliffs area. The Wave is well-known among photographers and hikers. But, due to its fragile nature, daily visitation is limited to a small number of people, and "Wave permits" are notoriously difficult to obtain. A handful of next-day permits are available via a lottery system at the Kanab Visitor Center and online permits can also be obtained three months in advance. It is a strenuous 6.4-mile round trip hike to reach the Wave. And one important thing to remember is that having a map and navigation skills are required because the trail is not marked.
Backpack Buckskin Gulch to Lees Ferry
Buckskin Gulch is a 13-mile narrow slot carved deep into the Navajo sandstone, and may just be the longest slot canyon in the world. This hike is often counted among the country's most dangerous hikes because there are only a handful of places to escape to higher ground if a flash flood sweeps through the canyon.
You can day hike into Buckskin Gulch from the Wire Pass or Buckskin Gulch trailheads. Or you can set out for an epic thru-hike of Paria Canyon to Lees Ferry, AZ—the launching point for whitewater trips down the Grand Canyon. Permits are required for day use and can be obtained via self-serve envelopes at each trailhead. Overnight permits must also be obtained in advance. Dogs are allowed, but must pay the same per day fee as humans.
Explore the White Pocket on the Paria Plateau
Unlike other areas of the Vermillion Cliffs, no permits are required to explore White Pocket. This area is characterized by candy-striped rock formations similar to the Wave hike. It's a great alternative if you were unable to score a Wave permit, or if you just want to avoid the hassle of applying for permits altogether. Reaching the White Pocket Trailhead does require a four-wheel-drive, high-clearance vehicle. But don't worry, tours of the area are available if you don't have suitable transportation.
Camping in Vermilion Cliffs National Monument
There are only two developed campgrounds in Vermilion Cliffs: Stateline and White House. Dispersed camping is allowed on existing sites inside the monument, as long as you are outside the boundaries of the Paria Canyon-Vermilion Cliffs Wilderness. Both campgrounds require dirt road travel and are fairly remote. If you're looking for more amenities or wish to be closer to civilization, the Page Lake Powell Campground is a good alternative to camping at the monument. Plus, some of the camping spots in this area are located right on the waters of Lake Powell — such as Lone Rock Beach.
Located just two miles off of Highway 89, halfway between Kanab, Utah, and Page, Arizona. The White House Campground is the perfect basecamp for exploring Paria Canyon and the Vermillion Cliffs. The White House Trail sets out from the campground and follows the riverbed of the Paria River, into Buckskin Gulch, and beyond. Day hikers can enjoy a nice out-and-back hike from here, or backpackers can make it all the way down to Lees Ferry.
The White House Campground is generally accessible with a standard two-wheel-drive passenger vehicle, but the road may become impassable after heavy rain. Five individual sites are available and amenities include vault toilets, fire rings, tent pads, and picnic tables. Drinking water is available two miles away at the Paria Contact Station. The campground is open year-round and campsites are only available on a first-come, first-served basis.
The Stateline Campground is located on the border of Utah and Idaho, near the terminus of the 800-mile Arizona National Scenic Trail. Trailheads for Wire Pass, Buckskin Gulch, and the Wave are only a few miles north of this campground. The Stateline Campground has seven campsites, all available on a first-come, first-served basis. Amenities include vault toilets, shade structures, picnic tables, and fire pits, but no water is available.
The campground can be accessed via the House Rock Valley Road, which runs through the monument. This road connects Highway 89 in Utah, with Highway 89A in Arizona. The road is dirt and rough in spots, and can be impassable when wet. The campground is open year-round, and there is no fee to camp.
---
This article was brought to you by Tentsile. Check out their hammock tents today.
Popular Articles: