RV campers know the importance of keeping your food and drinks cool and fresh while enjoying nature. An RV camping cooler is an ideal solution for your food storage needs, but with so many options and features to choose from, it can be challenging to know which one is best for your next RV camping trip.
We've rounded up the top contenders for the best RV camping cooler of 2020 ranked from most expensive to least to help you make your decision.
1. RovR Roller 60 – $399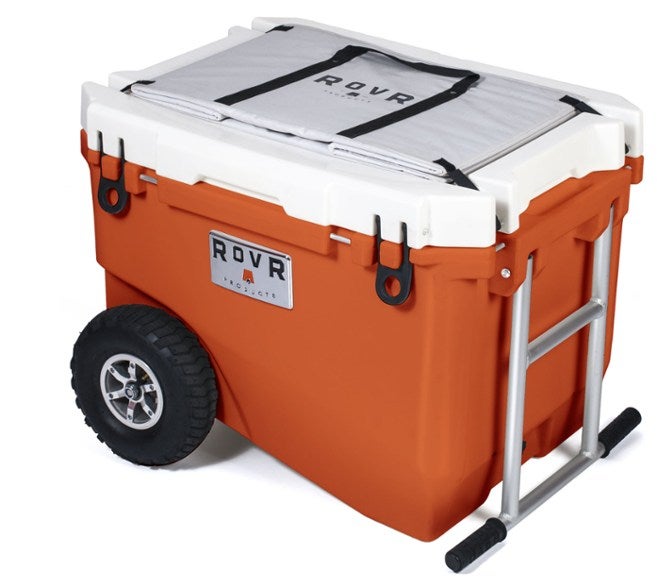 For RV campers who love to head off the beaten path, the RovR Roller 60 offers lightweight construction and rugged wheels.
This RV camping cooler comes with a plethora of awesome features that make it durable and sleek. The tires are designed for rocky terrain, so you wont have trouble trekking with the cooler to far-out campsites. The extra-long foldable handle allows you to pull the cooler easily, and it features an attachable box for hauling dry goods.
The RovR Roller 60 keeps your food and drinks at food-safe temperatures for 2-4 days, depending on the weather. This makes it perfect for picnicking in the area around your campground.
2. YETI Tundra 65 – $349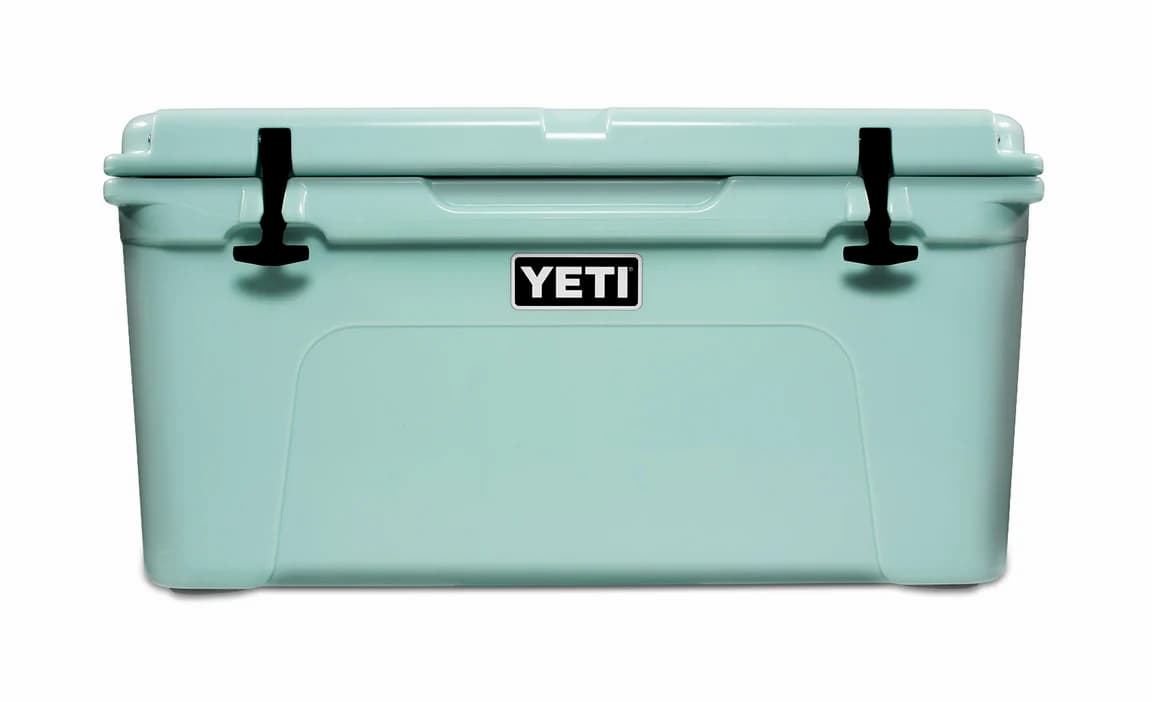 While the YETI Tundra has a heftier price tag than some other RV camping coolers, this cooler is a worthwhile investment. YETI has built a solid reputation for their high-quality coolers because of their exceptional construction and performance.
If you love camping in the backcountry or bear-filled Yellowstone National Park, you understand the need for a sturdy cooler that offers bear-resistant features. The YETI Tundra has an IGCB rating that is only awarded to products that meet the structural standards of the Interagency Grizzly Bear Committee to protect the bears and yourself.
The rugged features include rotomolded construction with 3" of PermaFrost insulation encased in the brand's FatWall shell, which effectively acts like armor for your food. Heavy-duty rubber latches and seal gaskets keep the cool in and the heat out for ice that lasts up to 5 days. The cooler comes with a removable interior basket to store dry goods and delicate food items.
3. Pelican Products ProGear Elite – $349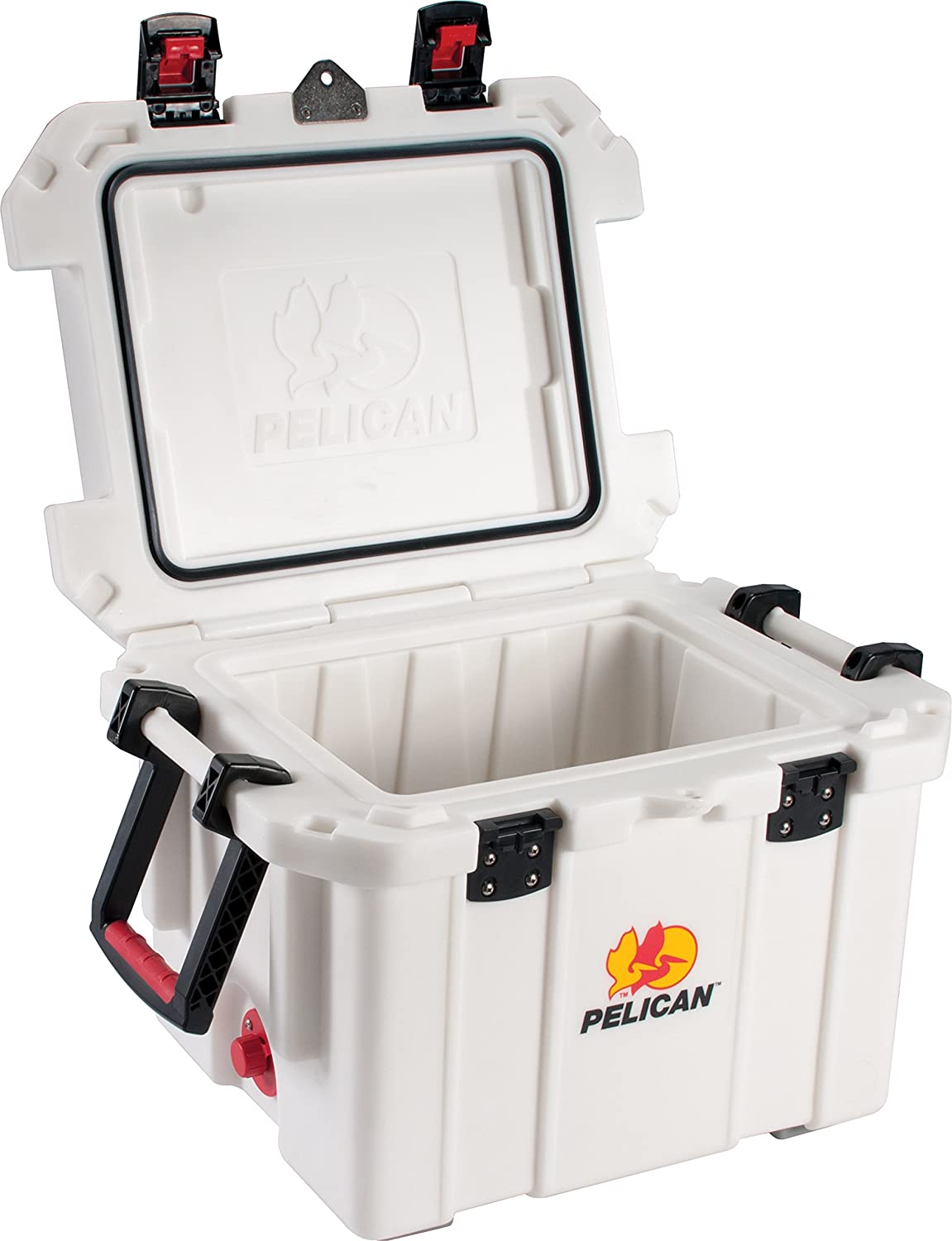 With an extremely robust design, the ProGear Elite is made to handle harsh conditions, while also keeping your food cool for up to 10 days.
The lid has 2 inches of polyurethane insulation and features freezer-grade rubber sealing gaskets secured with the brand's unique press-and-pull latch system, designed to keep out even the most curious animals.
The raised design keeps the cooler off the ground. There is also a slightly sloped interior that ensures that melted ice can escape easily through the drain.
All hardware is made from corrosion-resistant stainless steel, and the cooler components are manufactured and assembled in the USA for quality assurance. Pelican offers a lifetime guarantee on all products.
4. Ozark Trail 73 – $160.00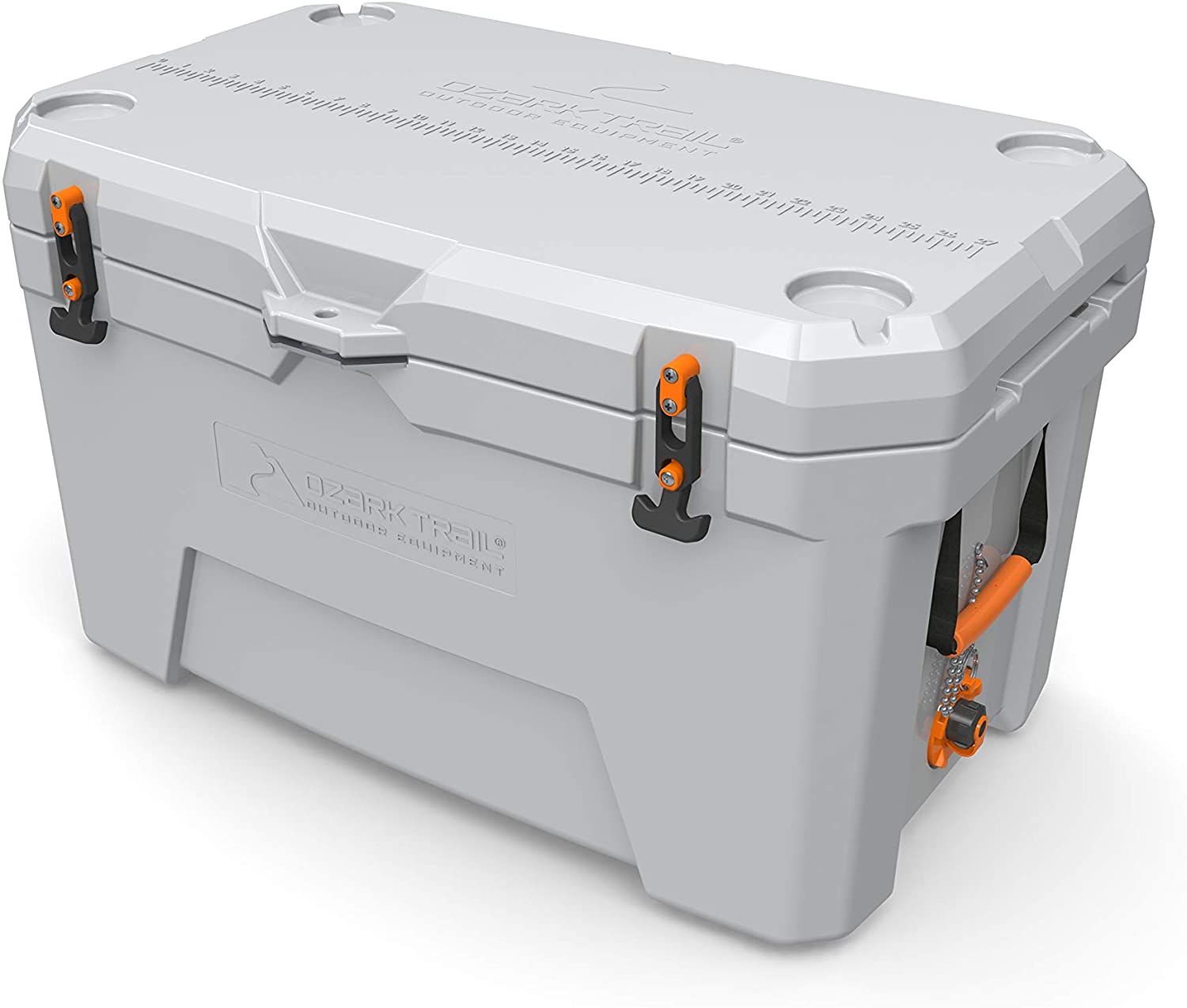 If you are looking for a basic RV cooler that gives you great quality for money, the Ozark Trail 73 is the ideal choice for you.
The 2.5 inch insulated walls are coated in a UV protective film that helps to prevent sun damage. A thick freezer-grade gasket on the inside of the lid seals in the chill to preserve your ice and is secured by tough rubber T-latches.
As with many other large coolers, the heavy weight can make it difficult to transport, but Ozark Trail aims to compensate for this with heavy-duty side handles that feature ergonomic grips.
5. Arctic Zone Titan Roto Cooler 55 – $150.00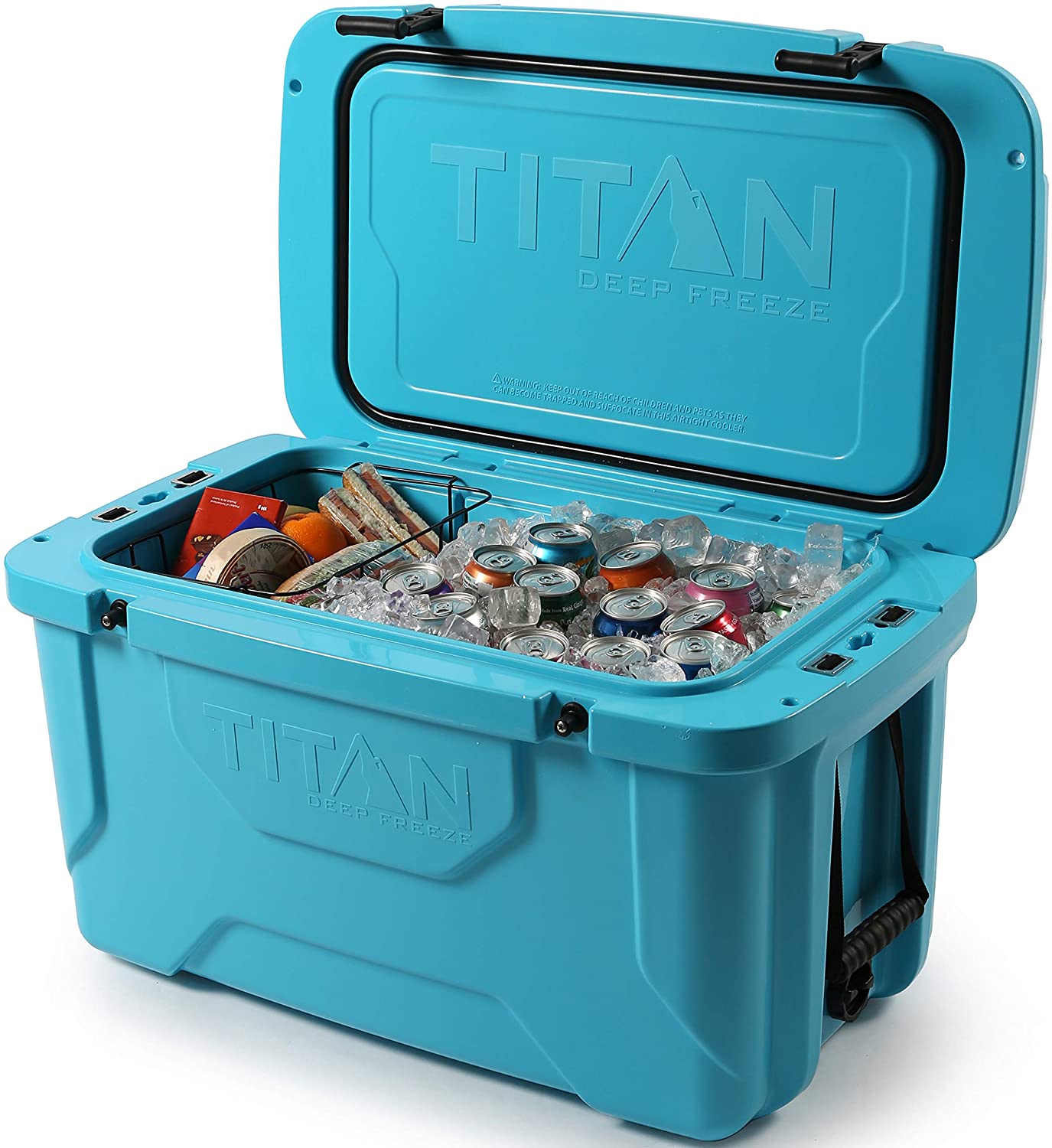 The perfect RV cooler for avid anglers, the Arctic Zone Titan Roto Cooler 55 features an integrated fish ruler, oversized drain, and polyurethane insulation, which offers up to 8 days of continual chilling to keep your catch cooler for longer.
The Titan Roto Cooler 55 is also currently the only RV camping cooler to feature anti-microbial technology built into the plastic, which means no more mildew or odors.
With many features of big brand coolers for a fraction of the price, the Titan Roto Cooler 55 is one of the best-value coolers on the market.
6. Coleman Powerchill Thermoelectric Cooler – $129.99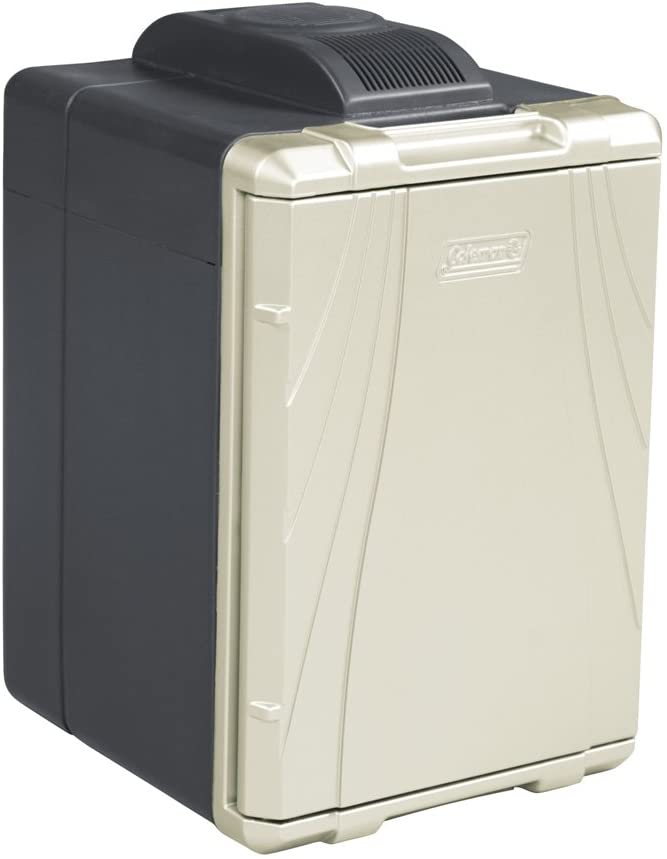 The Coleman Powerchill Thermoelectric Cooler is designed to work with a 110v outlet, rather than relying on bags of ice, which can leave your food soggy. The lack of ice also means that you can utilize the full 40 quarts of space for food and drink storage.
This RV camping cooler can be configured in multiple ways to suit the layout of your RV and features an internal shelf for better organization.
Popular Articles: