This article is brought to you by Tentrr. Go camping in Maine the Tentrr way—choose from any of Tentrr's 70+ camping, glamping, and tent cabin sites all over the state. And yes, that includes some unforgettable spots on Maine's idyllic islands.
---
Maine boasts over 4,000 islands, making it one of the premier island-hopping destinations in the country. With so many islands to choose from, finding your ideal summer camping spot can be challenging. We've rounded up five of our favorite Maine islands for you to visit and go camping on this summer.
 1. Mount Desert Island
As one of the most popular island camping destinations in Maine, Mount Desert boasts over a dozen different state- and privately-owned campgrounds. But if you ask us, the most scenic campground on the island, by far, is Mount Desert Campground.
Found just a few minutes' drive from Bar Harbor, the Mount Desert Campground is a privately-owned rustic retreat with 161 campsites carved into the wooded forest, and stretching down to the shoreline. The sites are ideal for camping in tents or small trailers, as there is no septic dumping station for RVs.
All sites offer basic, but well-maintained, amenities including hot showers, bathrooms, and a store. Rent a kayak and explore Somes Sound, or bike along more than 50 miles of scenic carriage roads.
During the peak summer months, Acadia National Park campgrounds on Mount Desert Island can get very busy. For campers who prefer a little more privacy during their outdoor adventures, the Seawall campground offers a tranquil alternative, with over 200 tent campsites spread across four different loops. Located on the western half of the island, it is close to Bass Harbor, which offers striking views as the sun goes down.
Visitors can enjoy the many tours and nature programs that are organized by the park rangers. Or, you can hike to Echo Lake and spend the day swimming and fishing in the crystal-clear water.

Thrill-seeking rock climbers can enjoy one of the best climbing experiences in the state at Otter Point, located on the eastern side of Acadia National Park. The sheer granite cliff face has over 70 different routes and offers views of Great Head and Sand Beach.
After you have taken in the views from the top of the climb, you can stay a night or two at Blackwoods Campground. Blackwoods has over 300 rustic campsites and is located just minutes from Otter Point. Plus, the campground also has plenty of trails to explore, including a track that takes you to the top of Cadillac Mountain.
The campsites at Blackwoods Campground are available year-round with peak season running between May and October. At only $20 per site, per night, they offer an affordable way to enjoy Maine in the summer.
2.  Deer Isle
Located just over an hour outside of Bangor, Deer Isle is easily accessible by car. Thanks to the bridge nearby, visitors just need to take Route 15, which will take you right into the heart of the island. There are two official campgrounds available on the island: Old Quarry Ocean Adventures and Greenlaw's Campground.
Greenlaw's campground is located about a mile from Stonington Harbor – Maine's largest lobstering port. This campground features sites for tent and trailer camping, as well as an RV park with full-hookups available. Amenities include a full bathroom with hot showers, Wi-Fi, and excellent cellular service.
Old Quarry Ocean Adventures is also located close to Stonington Harbor, but this spot features 18 waterfront and forested campsites. Nearly all sites offer a tent platform, picnic tables, a fire ring, and deck chairs. The full-service facility has bathrooms, hot showers, laundry, a swimming pond, Wi-Fi, a camp store, and a takeout restaurant.
Deer Isle is a favorite location for hikers. Conservation lands feature a variety of terrains, from easy coastal trails with expansive ocean views to pink-granite cliffs for climbing and sticky clam-mud.
Wander the boreal fog forest on the magical Barred Island Preserve, where you can observe some of the island's incredible wildlife, including bald eagles and ospreys. Take a short boat ride out to Isle de Haut to explore the less-traveled regions of Acadia National Park.
3.  Chebeague Island
Chebeague Island (or the Town of Chebeague Island) is made up of 17 islands in total. However, there are two main islands that are connected by a sandbar, which can only be crossed during low tide. The larger of the two, Great Chebeague, is a lobster fishing town full of stunning colonial homes and scenic walking routes. The smaller island, Little Chebeague, is an ideal destination for summer visitors who want to enjoy some uninterrupted nature time. Little Chebeague is uninhabited, mainly covered in dense plant life, yet has stretches of white sandy beaches and turquoise waters that will make you feel like you're in the Caribbean.
Chebeague Island can be accessed by boat, which departs from East End Beach in bustling Portland just 10 miles away. Campsites are first-come, first-served, and are managed by a caretaker who is stationed on the tiny satellite island throughout the summer.
Sites are primitive and suitable for tenting only, so you will need to take everything you need with you. The lack of facilities allows you to truly disconnect and appreciate the natural beauty of the surroundings. Hiking trails wind all over the 100-acre island, and kayakers will love exploring the shoreline and other tiny islands dotting the waters of Casco Bay.
4.  Jewell Island
The shining gem of all the Maine islands is the remote and rugged Jewell Island in Casco Bay. Accessible by boat only, which departs from East End Beach in Portland, Jewell Island is completely uninhabited and offers a unique chance to get back to nature.
Campsites are first-come, first-served, so to find the perfect location during the summer, it is best to visit during the week. Sites are basic, but most feature water views, picnic tables, and a fire ring.
There are also outhouses placed around the sites for basic sanitation needs. If you require any assistance during your visit, there is a caretaker available throughout the summer—you'll find them in a shack on Little Jewell Island, off Cocktail Cove.
Despite its isolation, there is still a wealth of things to do on the island. Explore WWII relics like the submarine tower, hike winding trails, or view the huge tidepool known as the Punchbowl, which is home to an abundance of marine life.
5.  Hermit Island
While not technically an island, the secluded peninsula located just off the tip of Phippsburg offers miles of serene Maine shoreline and is accessible from Routes 209 and 216. Follow a right-of-way, through a sand causeway, for a camping experience that feels very much 'off-the-beaten-track'.
The family-friendly Hermit Island Campground features 270 unique campsites, their stunning locations dot the southern end of this rugged island. Each campsite features a fire pit, picnic table, and plenty of space to park your car and set up gear.
Amenities include complimentary hot showers and bathrooms, both flushing and composting. There is also a small camp store, snack bar, and two docks for launching boats. Boat-goers can spend the day exploring the coastal waters of Maine and nearby Gooseberry Island.
The campsites are suitable for car camping, tents, pop-up trailers, and truck campers—but they cannot accommodate RVs or hard-topped campers. Unfortunately, your furry friends need to stay at home because dogs are not permitted at this campground. Camping is available only to registered campers, and you can make reservations from Memorial Day through Labor Day.
There is plenty to see and do on the island, including hiking trails that take you along the rocky coastline. You'll experience breathtaking ocean views and densely wooded forest where bird lovers can listen to the calls of the island's native birds. Many of the trails also end in some of the island's more spectacular beaches, which are only accessible by water or trail.
---
This article was brought to you by Tentrr.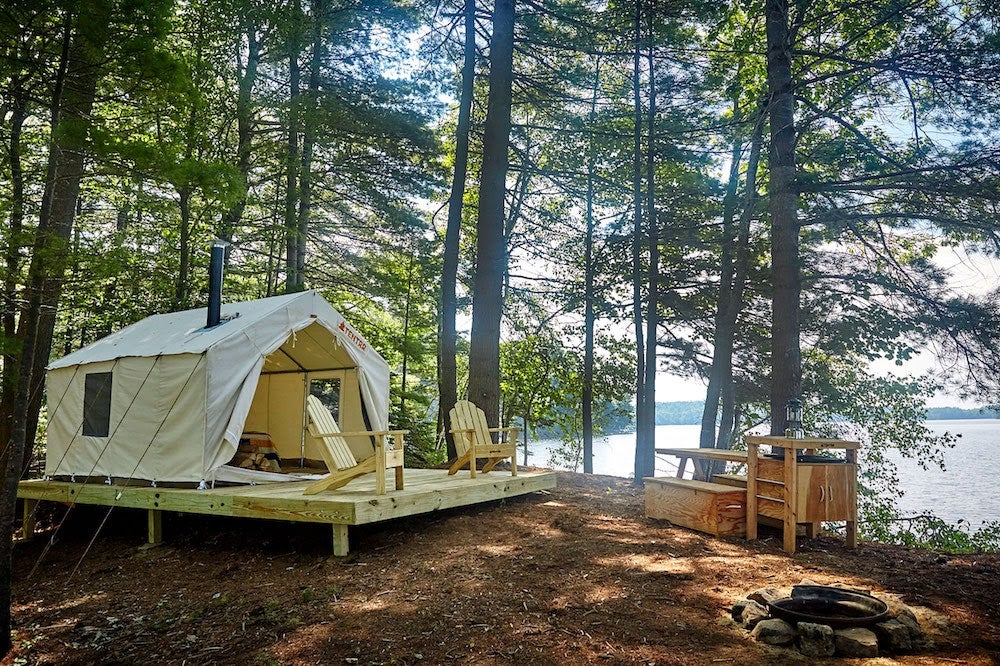 Popular Articles: