This article about vegetarian backpacking meals was brought to you by Morsel, the makers of a must-have spork for your backcountry kitchen.
---
Vegetarians shouldn't settle for rice and beans and instant potatoes for every meal in the backcountry. New options for backpackers on a plant-based diet are popping up all the time. Classic vegetarian backpacking stand-bys like mac and cheese, ramen and veggie wraps made this list, but with some better-than-basic flavors added for flare and to help sustain energy levels on the trail.
We've gathered 16 vegetarian backpacking meals packed with gourmet flavors, without the price tag. They have enough protein to keep you energized for heavy mileage days, but are lightweight and packable. These unique recipes require some quick pre-trip planning at home, but will be near-ready for campsite indulgences.
These Vegetarian Backpacking Meals Will Help You Go the Distance
A lot of the vegetarian backpacking meals listed below include dehydrated greens, milk, cheese and even legumes. Many of these powdered ingredients can be found online, and buying them in bulk will save you money in lieu of store-bought, freeze-dried meals. You can also opt to make your own dehydrated meals that will last you a year and are light enough to carry on thru-hikes like the PCT and the John Muir Trail.
Breakfasts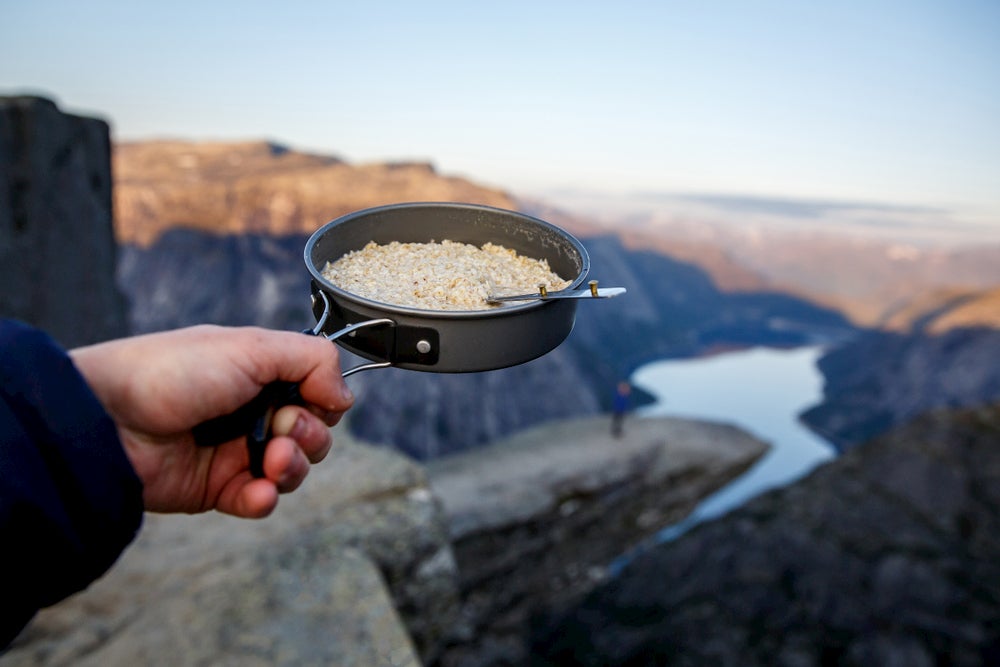 Blueberry Chocolate Smoothie
This protein-packed smoothie recipe from Trail Recipes is essential for a big mile day. Throw all of the lightweight, powdered ingredients in a bag, and combine it all at the campsite in a Nalgene; just add water and shake it up. It will satisfy your sweet tooth and give you the energy and protein you need for an active day on the trail. Agave nectar adds flavor and enhances the sweetness of the smoothie.
Cappuccino Oatmeal
This vegetarian trail recipe mixes two backcountry breakfast favorites, oatmeal and coffee. The flavor and texture is comforting, and requires minimal effort to whip up once you finally crawl out of your sleeping bag into the morning chill. This recipe only requires five ingredients, which can be mixed together at home before it's time to hit the trailhead.
Homemade Breakfast Bars
Breakfast bars are a delicious, protein rich way to start the day, whether you're too lazy to cook or not. There are dozens of recipes out there, and because they are often made from raw ingredients and usually made ahead of time, you can throw in additional ingredients at a whim and be as creative as you'd like. Check out our 6 favorite energy bar recipes that you can prepare at home and enjoy at camp for a quick, stoveless breakfast.
Pumpkin Pancakes
Fall or not, pumpkin pancakes are delectable. You can prepare the mix at home, add water, and cook on a lightweight frying pan in the backcountry. You can pack butter or ghee separately to melt in the pan. Don't forget the syrup, which you should always make room in your pack for.
Lunches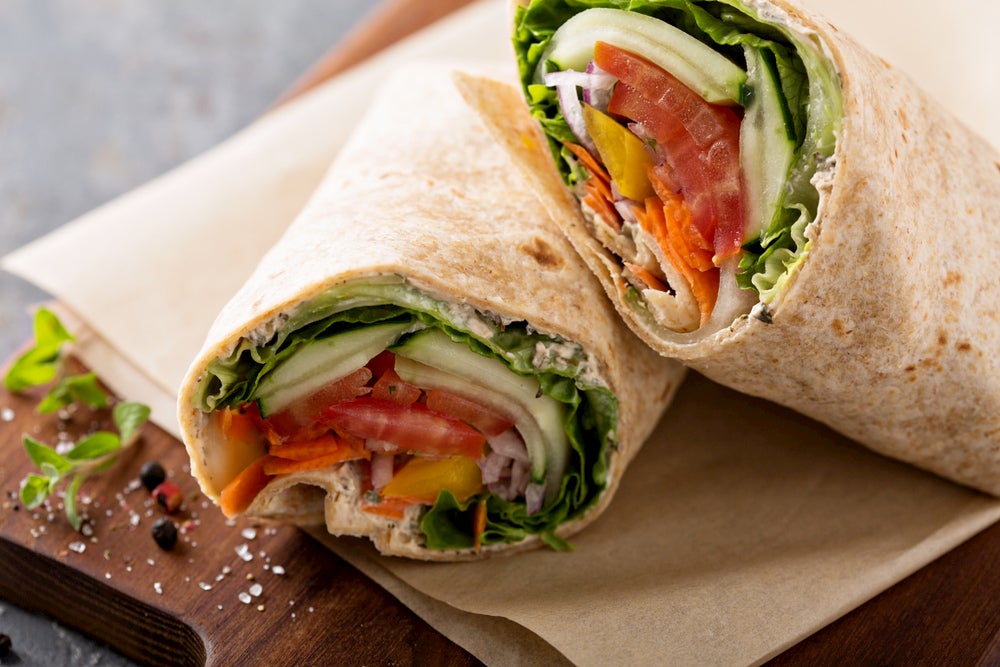 Vegetarian Charcuterie
Our recommendation for this vegetarian backpacking meal is simple; put together an assortment of cheese, peanut butter, crackers, trail mix, meat-free sausage and dehydrated fruit for a quick and easy picnic lunch. If you want to get inventive with your protein options, this apricot pistachio salami adds a kick to the mix. This vegetarian backpacking meal is simple and there are tons of ways to get creative and substitute our suggestions for your favorite ingredients.
Peanut Butter and Apple Quesadilla
This vegetarian backpacking meal is super quick for your lunch stop at an alpine lake or panoramic view (if you're doing it right). You can opt to bust out your pan to heat up the tortilla for a warm and gooey snack, or enjoy it cold. These lightweight snacks will give you energy for the rest of your mileage until you can rest your bones at the next campsite.
Veggie Wrap
This vegetarian backpacking meal is a classic, and is as simple as it sounds. Load up some hummus, sliced peppers (or other veggies), and pepper jack cheese on a whole wheat tortilla or bagel. A whole wheat tortilla or bagel combined with a hummus creates a whole protein, allowing hikers to sustain their energy. The veggies add a variety of minerals and vitamins as well as fiber to keep you healthy and regular along the trail.
Chickpea and Spinach Curry
If you're not in a hurry, this warming lunch will keep your energy up, is dairy-free and vegan for those with an entirely plant-based diet. The chickpeas and basmati rice combine to keep your energy levels high and the coconut milk and curry powder fill this vegan / vegetarian backpacking meal with flavor. It is especially enjoyable if you're backpacking on a chilly fall or winter day. All of the ingredients can be combined at home and thrown in a backpacking cooking pot while you rest your legs along the trail.
Dinners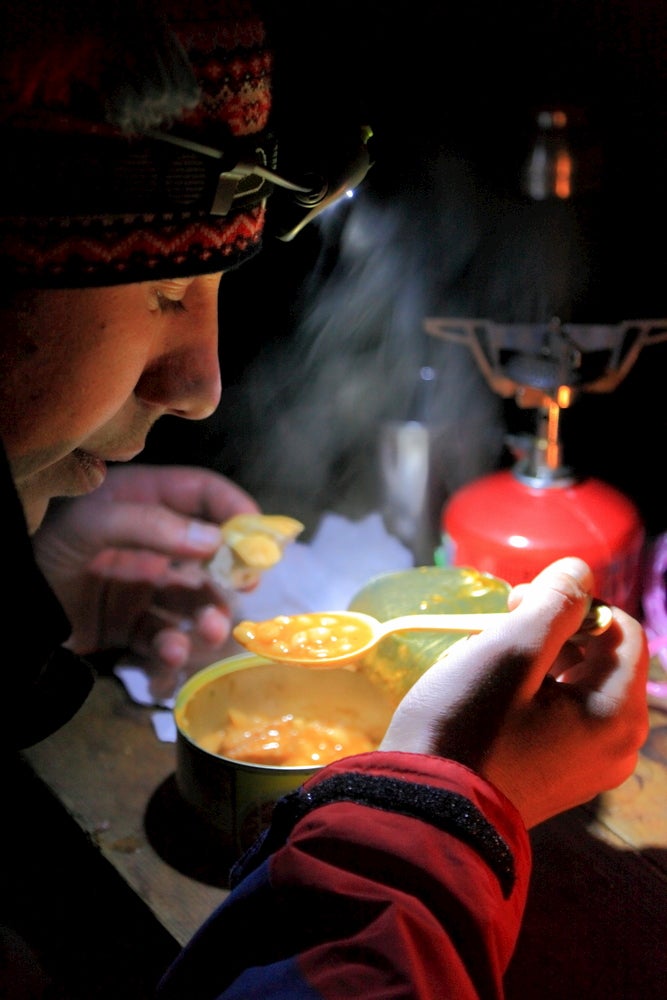 Curried Zucchini Soup
When your legs are jello and the trail is merciless on your feet, this four-ingredient soup is the perfect meal to sum up the day. This vegetarian backpacking meal can be easily prepared at home and even quicker to cook at the campsite, you'll just add hot water. Add some croutons for crunch.
Vegan "Ramen Bomb"
This recipe has a lengthy ingredient list, so it works best for lower mileage backpacking trips where a heavier pack won't feel quite as painful. If you're willing to carry a bit more for the sake of fresh vegetables, this healthy soup is a must for days in the mountains. Instead of a clear soup broth typical in a ramen bowl, this thick stew makes for a zesty spin on trail fare.
Kale Mac and Cheese
Mac and cheese is a dinner classic among backcountry folk. Add some kale powder, and this vegetarian backpacking meal comes to life. Cooking time is about 15 minutes, so it's quick to make in your backpacking stove after a long day. We recommend adding pesto.
Quinoa, Lentil and Kale Stew
This hearty stew comes packed with essential macronutrients, and is warm and filling for a chilly night on the trail. The coconut powder milk, kale powder, curry powder and freeze dried caramelized onions make for a gourmet meal without the heavy lifting.
Desserts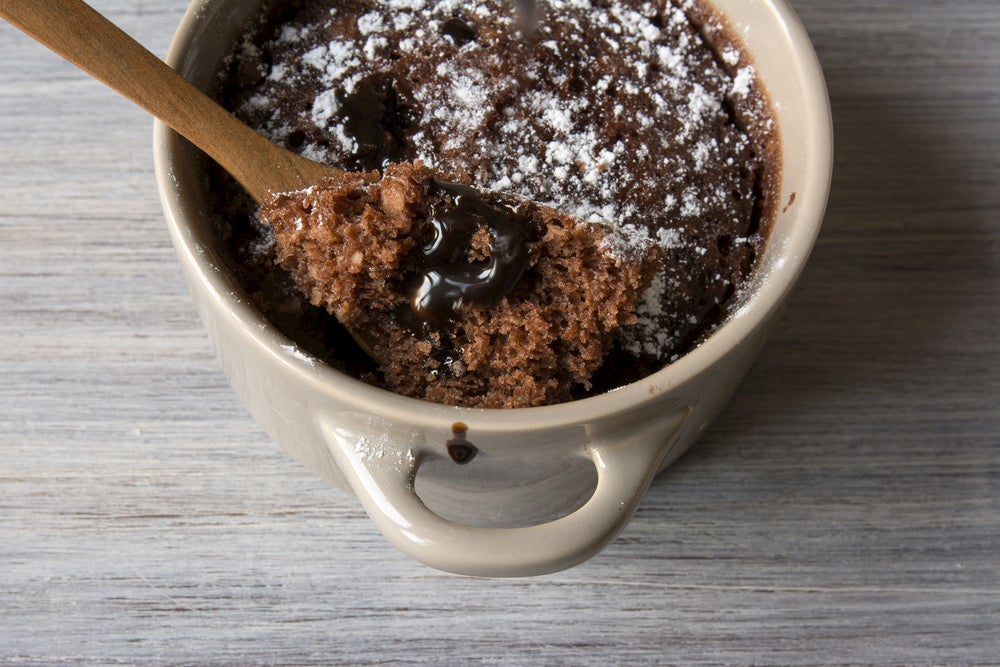 Chocolate Mug Cake
Yes, you can eat cake in the backcountry. This simple and delicious recipe has mostly dry ingredients other than coconut oil, and takes up minimal space in your pack, so it's super easy to carry on the trail. Just throw the batter into your mug at your campsite, steam bake it and it's ready to go.
Cinnamon Apple Crisp
This recipe for a cinnamon apple crisp uses lightweight ingredients and is perfect in fall or winter. The mixture of freeze dried apples, cinnamon and vanilla custard powder makes this dessert full and warming (and sweet, of course). Don't forget to bring the oatmeal cookies to crumble on top of your gooey treat.
Berry Crumble
For the berry lover, this recipe is a favorite. It is one of the most simple recipes on the list and unequivocally delicious. It only requires wild berries and crunchy granola. You can opt to buy the berries in the store, but if you are backpacking in the Pacific Northwest, the south or somewhere where berries grow in abundance, you can pick berries along the hike and easily make this dessert at camp.
---
This article about vegetarian backpacking meals was brought to you by Morsel

Morsel's spork has a unique, all-in-one design with sustainable, eco friendly materials.
Popular Articles: