These homemade energy bar recipes are brought to you by Gregory, the makers of backpacking packs that fit your needs for anything from day hikes to thru-hikes. Easily pack your favorite snacks and energy bars in many of their lightweight and durable packs.
---
If you're an athlete, getting the right amount of protein is essential to building muscle, increasing performance and recovering properly from intense exercise. Energy and protein bars have a multitude of nutritional benefits and are a great way to treat your body well before or after exercise. Making your own trail snacks from energy bar recipes adds another element of creativity, and allows you to be crafty in the kitchen with your friends or family and reap the benefits of a high protein diet with plenty of delicious flavors along the way. Bring them on a hike with the family or a camping trip with friends for everyone to enjoy.
6 Energy Bar Recipes For Your Next Big Adventure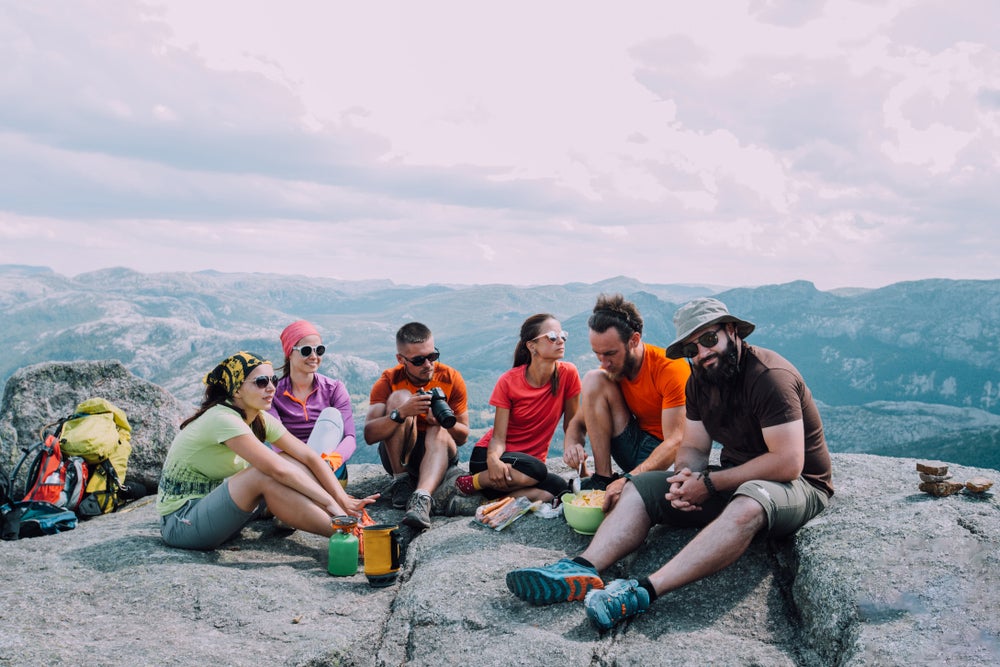 Whether you're a camper, hiker, mountain biker, climber, surfer, or a combination of it all, protein is crucial to your performance and staying energized. We've listed our six favorite energy bar recipes you can whip up at home and bring on the trail. Enjoy!
1. Raspberry Chia Breakfast Bar Recipe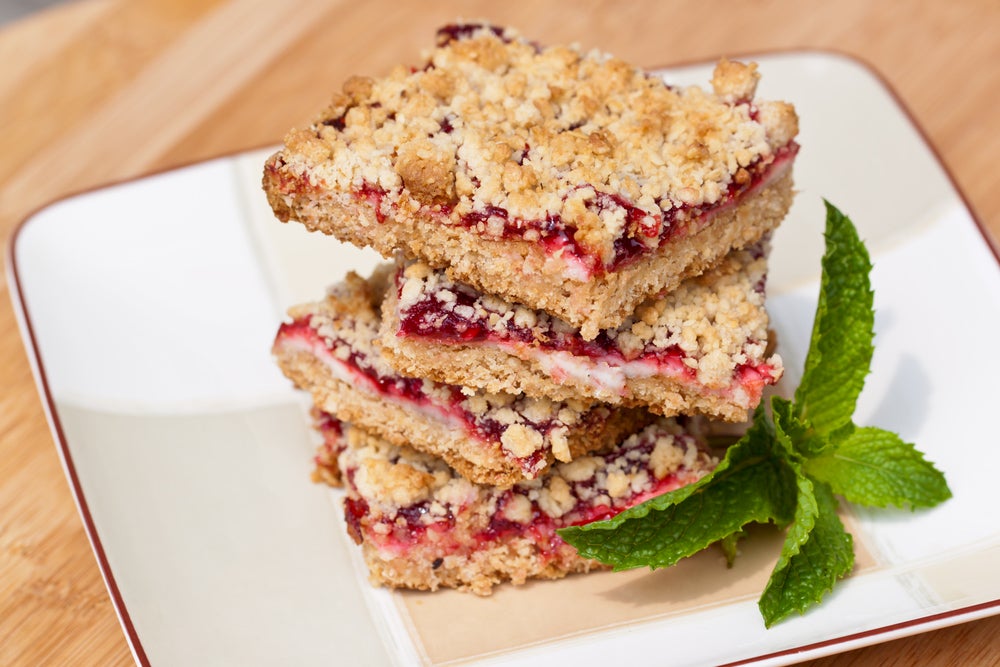 This energy bar recipe from the Daily Burn's website is perfect for a raspberry lover! It is labeled as a breakfast bar, but is packed with protein and good for any time of day, especially as a post-workout snack. Plus, it's no-bake, so it's quick to make and serve. With this recipe, you'll get a variety of nutritional benefits including omega-3 fatty acids, calcium, fiber and antioxidants.
Ingredients:
For the raspberry chia jam:

1 cup raspberries
1 teaspoon honey
1 teaspoon lemon juice
1 tablespoon of chia seeds
For the bars and crumble topping:
1 cup rolled oats
1 cup walnuts
1 1/4 cup pitted medjool dates
1 vanilla bean (or 1 teaspoon of vanilla extract)
1/2 teaspoon sea salt
Preparation:
Put ingredients for chia jam in a food processor and process until smooth.
Put the jam in a separate bowl for 15 minutes while you prepare the bars.
Clean out the food processor
Put oats food processor and process them until they have a coarse flour texture.
Add the walnuts, whole vanilla beans and salt and process.
While continuing to process, add the dates, one at a time until the mixture is uniform in texture.
Press 3/4 of the mixture in an 8-inch by 8-inch pan.
Use the other 1/4 of the mixture as the crumble topping.
Spread the chia jam over the mixture in the pan. Sprinkle with the remaining crumble topping.
Cover and refrigerate for at least one hour before cutting into bars. Store bars in the refrigerator.
2. Chocolate, Cashew and Almond Bars
This recipe from Sea Salt With Food is packed with protein—but unlike some energy bar recipes, adds in a little sugar from the cocoa powder to keep your blood sugar up during or after intensive exercise. These bars are made with raw ingredients, so what you see is what you get. Plus, they are healthy and delicious. You will need a food processor or hefty blender for this recipe.
Ingredients:
2 cups moist medjool dates, pitted and chopped
2 cups raw cashews
½ cup raw almond (without skin)
¾ cup cocoa powder
1 pinch of sea salt
½ cup unsweetened shredded coconut
2 tablespoons vanilla extract
2 to 3 tablespoons cold water
Preparation:
Combine dates, cashews, almonds, cocoa powder, and sea salt in a food processor.
Process all the ingredients together until the texture is uniform, but still course.
Add shredded coconut, pulse ingredients, add vanilla extract, pulse ingredients again, and add a little water at a time until it reaches a dry but moist dough consistency.
Scrape the dough mixture into a lined pan and press evenly.
Chill for about an hour before serving.
3. Fig and Walnut Energy Bars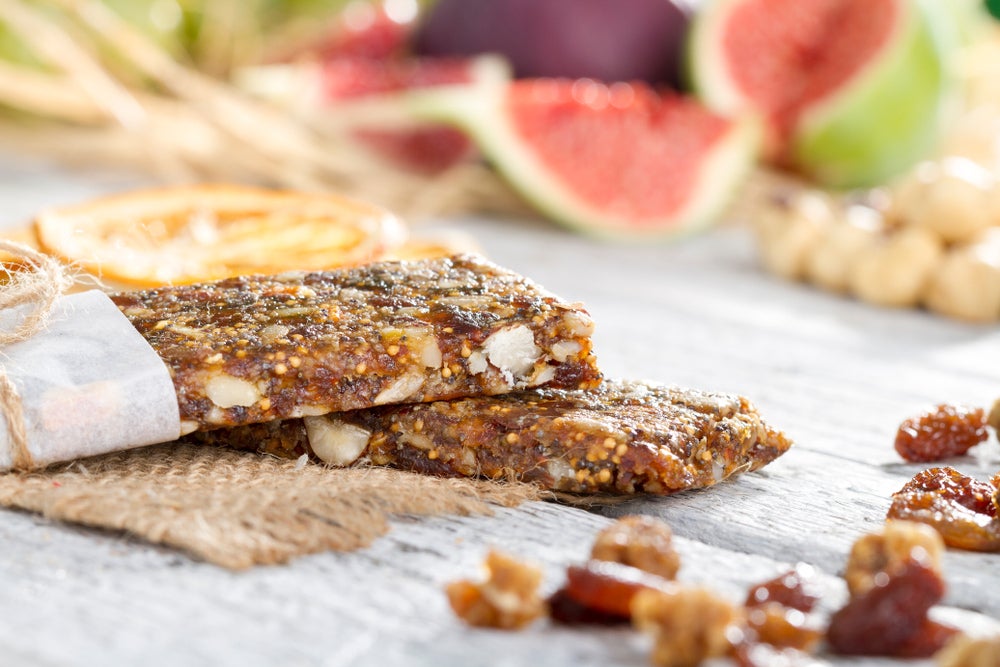 This recipe is reminiscent of Mediterranean flavors with figs, walnuts, apricots and sea salt for good measure. This energy bar recipe from Daily Burn is lengthy and requires baking, but they are worth the time and effort. These are packed with protein for a long hike and have fiber from the dried fruit. Highly fibrous food is beneficial for heart health and can reduce blood pressure.
Ingredients:
1 1/2 cups raw walnuts, chopped
1/3 cup whole-grain flour
1/8 teaspoon baking soda
1/8 teaspoon baking powder
1/4 teaspoon sea salt
1/2 teaspoon cinnamon
1/3 cup light brown sugar
1/2 cup dried cranberries
1 cup dried Turkish figs, quartered
1 cup dried apricots, chopped
1 large egg
1 teaspoon pure vanilla extract
Preparation:
Preheat oven to 325 °F and line an 8-inch by 8-inch baking pan with parchment paper
Toast the walnuts at 325 °F for 10 minutes. Remove from the oven and put in a bowl.
Blend flour, baking soda, baking powder, sugar, cinnamon, salt and half of each dried fruit in the food processor.
Put the mixture in a large bowl and mix in the walnuts and the rest of the dried fruit by hand.
Whisk the vanilla and egg together and add it to the mixture.
Mix well and spread it into the pan, packing it down until it's even.
Bake at 325 °F until golden brown, about 35-40 minutes.
Remove from the oven and transfer to a wire rack .
When cooled, use a sharp knife to cut into 12 pieces.
4. Apple Cinnamon Energy Bars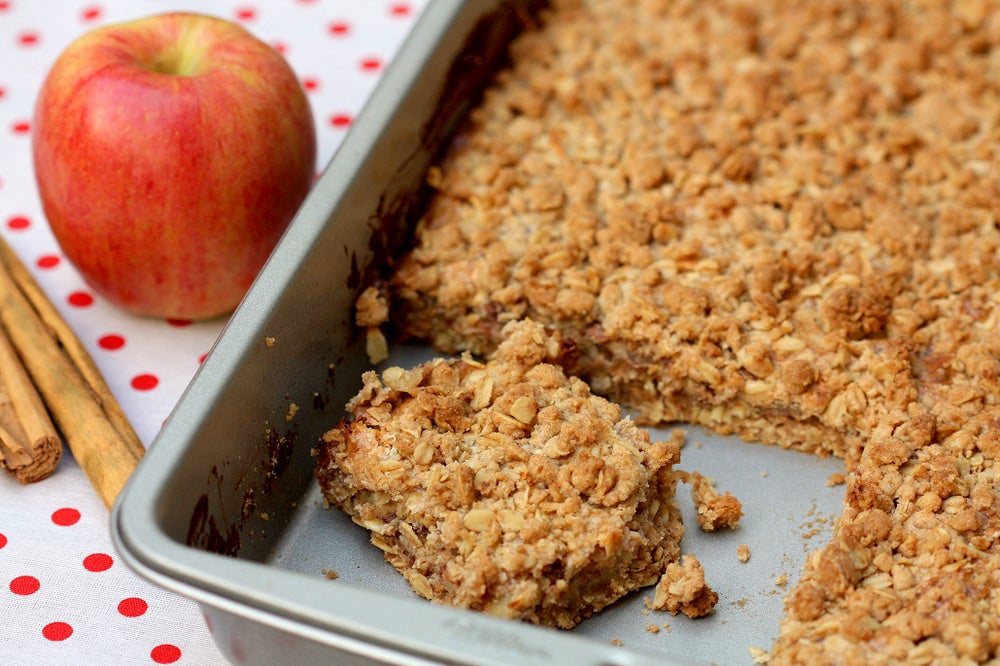 This energy bar recipe from Bright Eyed Baker is perfect for a healthy and nutrient-rich snack that has a balance of nutty, sweet, and tart flavors. The toasted pecans give it a robust flavor and the dates give you the all natural sweetness for balance with a bit of tanginess from the granny smith apple. The rolled oats and pecans provide protein while the dates and apples are rich in fiber for healthy digestion. Make sure to plan ahead before baking, because this is one of the more time-intensive energy bar recipes on this list.
Ingredients:
8 ounces pecans
5 3/4 ounces rolled oats
8 1/4 ounces pitted and halved dates
2 teaspoons cinnamon 1/4 teaspoon salt
8 ounces chopped granny smith apples
Preparation:
Preheat oven to 350 °F.
Line a baking sheet with parchment paper, and spread the pecans and oats out on it in a single flat layer. Toast them in preheated oven for 10-15 minutes
Keep the oven preheated to 350 °F.
Line an 8-inch by 8-inch pan with parchment paper
Place the toasted nuts and oats in a food processor along with the dates, cinnamon, and salt. Process until the mixture is uniform, but still coarse. Add the chopped apple and pulse until there are no large chunks.
Continue to process until everything starts to clump together.
Transfer the mixture to the prepared pan, using a spatula or fingers to pat down mixture until it is flat and compact and takes up entire space of parchment paper.
Bake the bars in the preheated oven for 20 minutes.
Let bars cool for 10-15 minutes, and then slice into bars.
5. Chocolate Chip Cookie Dough Granola Bar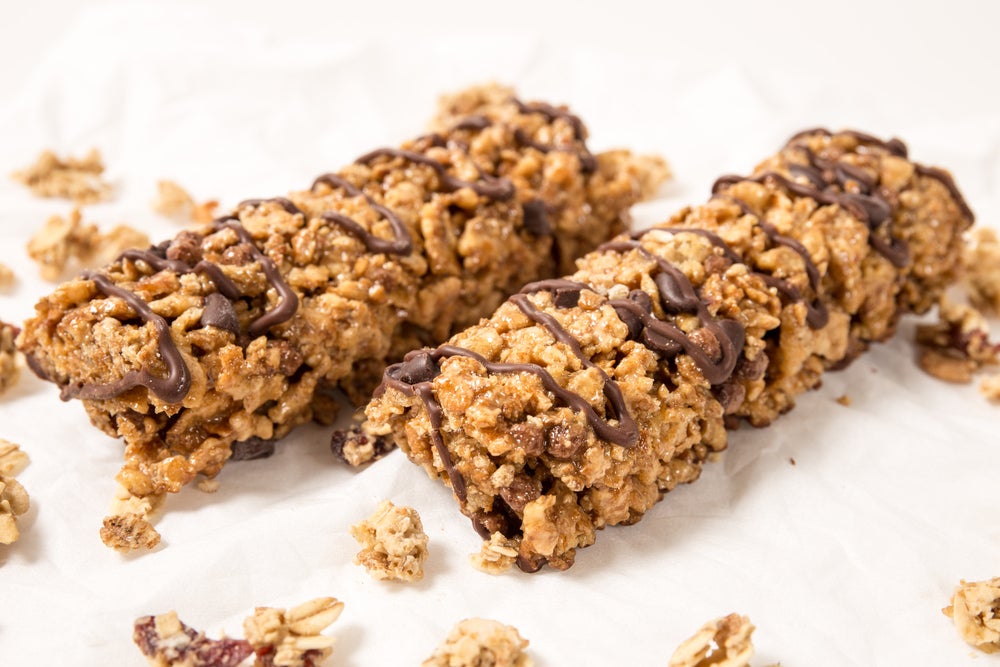 Originally from Modern Honey, this is one of many delicious energy bar recipes that uses all natural ingredients, and requires no-bake. They can be made gluten-free and dairy-free if desired. If you love cookie dough, this is the recipe for you. The rolled oats, dates, cashews, and chocolate chips give the illusion of cookie dough in texture and flavor, but are packed with protein. These are quick to make and easy to love.
Ingredients:
12 pitted dates
1 cup rolled oats
1/4 cup natural peanut butter
1/3 cup honey
2 tablespoons coconut oil, melted
1/4 teaspoon salt
1/3 cup dark chocolate chunks or chocolate chips
Peanuts (optional)
Preparation:
Combine dates, honey, nut butter, nuts, and coconut oil in a food processor.
Pulse mixture until smooth.
Place mixture into a bowl and stir in remaining ingredients.
Press into a small pan or baking dish and place into freezer to chill for 15 minutes.
Remove from freezer and cut into bars.
6. Protein Spheres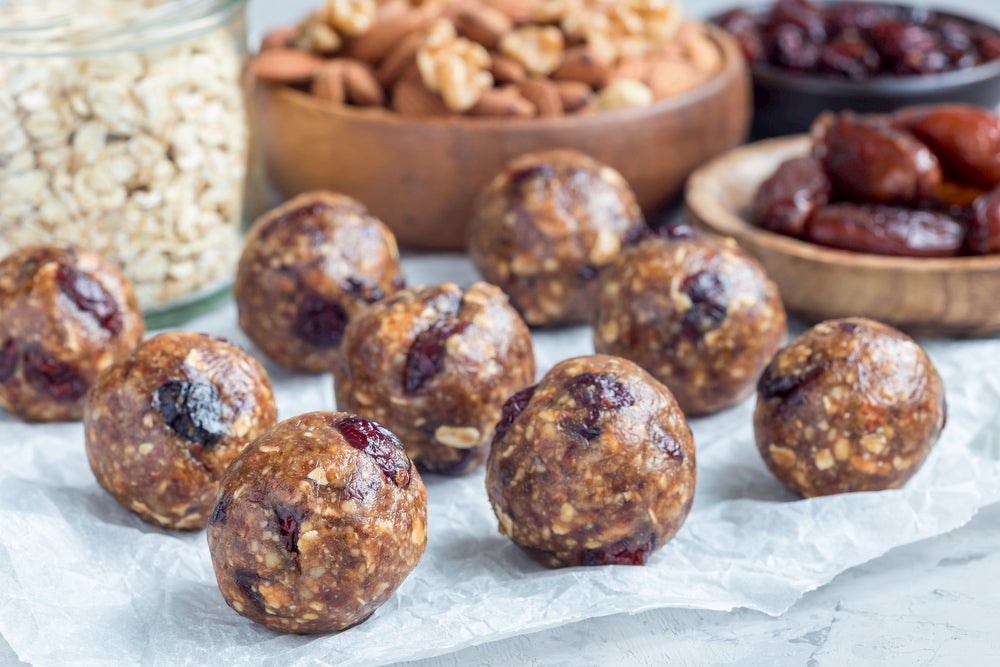 This recipe was created by one of our campers on The Dyrt, Grace B. They are rich in protein and fiber and are a fun shape too! This is one of the more flexible energy bar recipes as well, giving you the option to add extra protein powder if desired (but has lots of all natural protein from the oats, peanut butter and almonds.)
Ingredients:
1 1/2 cups of medjool dates (pits removed and packed)
1/3 cup crushed almonds (you can crush in a food processor)
1/3 cup peanut butter
1/3 cup oats
1/3 cup chocolate chips (or raisins or cranberries, etc. whatever your favorite is!)
1/4 cup honey
1 small scoop protein powder (optional)
Preparation:
In a food processor or blender, pulse pitted dates until a paste forms.
Put date paste in a large bowl, add crushed almonds, peanut butter, oats, honey, chocolate chips (or whatever you have chosen to add).
Knead ingredients together until you reach a doughy consistency. If to dry and crumbly add more peanut butter or honey. If the mixture is too wet, add more oats or almonds.
Once desired consistency is reached, roll dough into small spheres and place in fridge.
Leave in fridge for 2 hours or overnight and then enjoy. These can be enjoyed without refrigerating them too, but they stick together a little bitter if they've been refrigerated.
---
These energy bar recipes are brought to you by Gregory.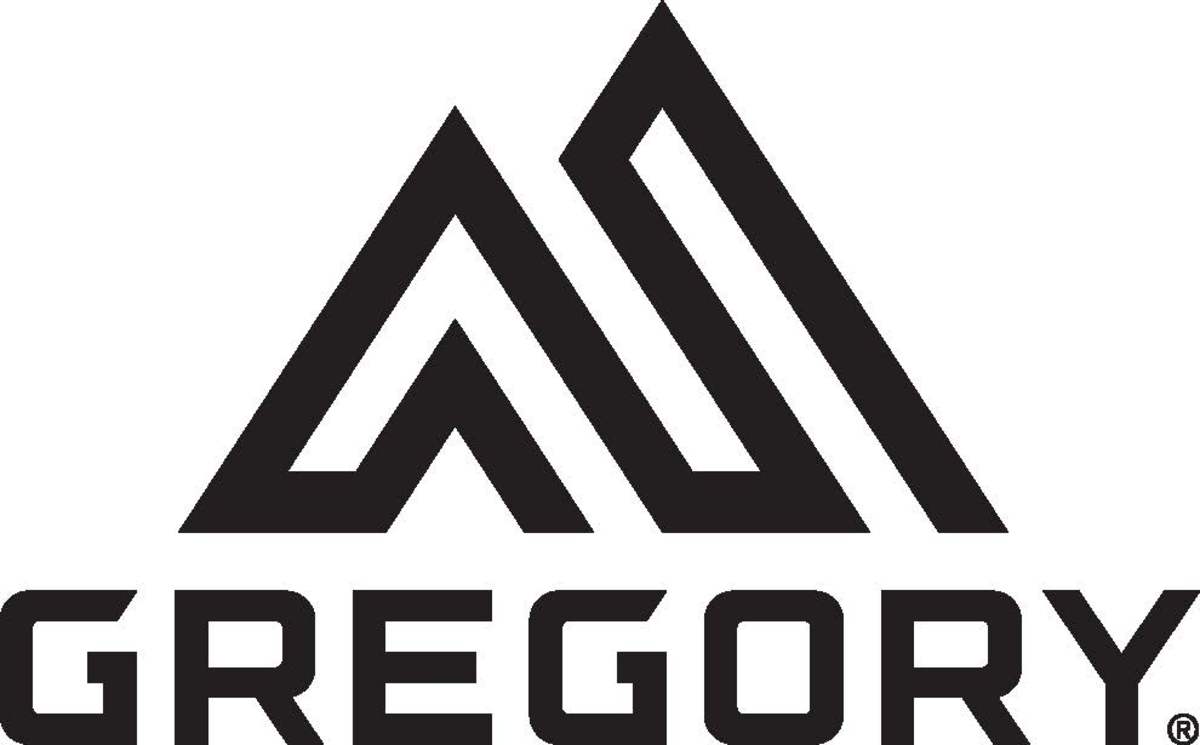 Pick up one of their hiking day packs to hold all of your favorite snacks!
Popular Articles: