This article on Fall harvest festivals is brought to you by our friends at Roanline – the East Coast's marketplace for the best outdoor clothing. We know you'll love carrying all the necessities and festival finds in your trendy KAVU rope bag.
---
In the autumn, fall harvest festivals abound, most of which celebrate the end of summer's bountiful growing season. These celebrations take place across the United States, however there is one place where they are particularly noteworthy — New England. Known for the leaves changing in the woodland forests, the rich immigrant heritage, and the abundance of farms in the region, the northeast has a lock on fall fests.
Where to Camp Near Northeastern Harvest Festivals
We've rounded up some of the best autumn festivals in the Northeast and where you can camp nearby. Throw a cold-weather sleeping bag in your pack and head out to these campsites for a weekend of all the best food, drink, and vibrancy that New England has to offer.
The Pumpkin Festival in Laconia, NH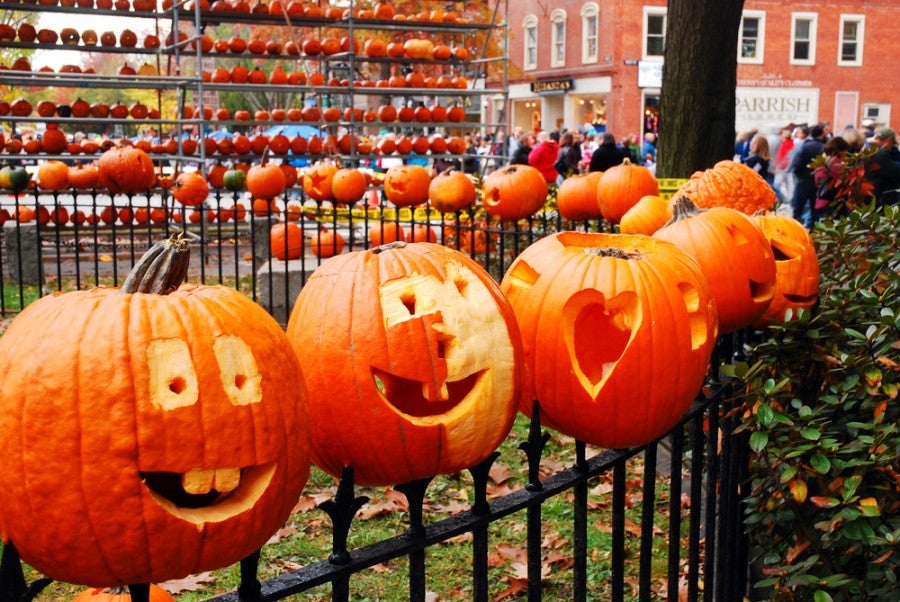 The White Mountains of New Hampshire are a hot spot for taking in fall colors as the leaves being to change. The autumn dial gets turned up to eleven, though, with the onset of the official New Hampshire Pumpkin Festival each October. The centerpiece of the whole fest is a 34′ tower of jack-o-lanterns, and you can find many other Halloween inspired thrills, such as a Zombie Walk, pumpkin bowling, hay rides and pumpkin carving stations. After enjoying some of the festivities, you can indulge at the beer garden or one of the food vendors (there are usually more than sixty to choose from).
You can camp just fifteen minutes away from the festival on the shores of Lake Winnipesaukee. Ellacoya State Park is a beach campsite that's great for tent campers, according to The Dyrt Ranger Kimberly H. She says, "The beach for the registered campers is lovely, and it has a great view of the Lake. But there is no shade or privacy between RV sites." Another option is Paugus Bay Campground, which also boasts a beach and level, roomy campsites. The Dyrt Ranger Michelle B. notes that it has a "nice size beach and pavilion, playground located at the top of the hill as well as shuffleboard. Bathrooms are very clean. Camp store is reasonable and decently stocked."
The Cranberry Harvest in Plymouth, MA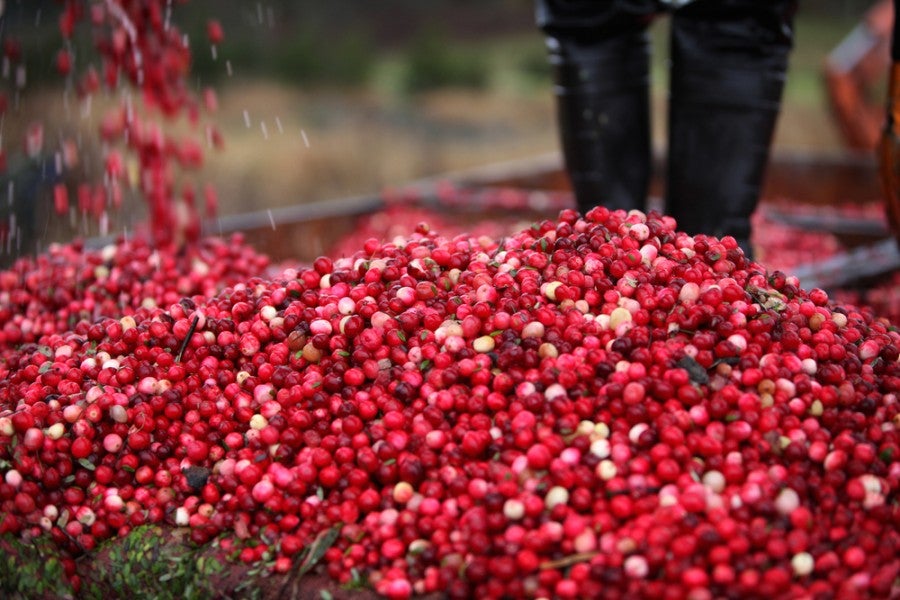 Plymouth, Massachusetts is famous not only for being the landing point of the pilgrims, but also for its cranberries. The Cranberry Harvest festivals celebrate this antioxidant rich berry each year, offering art exhibitions, helicopter tours, and cranberry cooking demonstrations. If you don't mind getting wet, you can even wade into or paddleboat through one of the local cranberry bogs yourself to get an up close look at how they are grown and harvested. Proceed from this festival go towards supporting local food pantries.
Camp at nearby Ellis Haven Campground, which gets great reviews for its well-maintained facilities and access to a local swimming pond. The Dyrt Ranger Mike K. describes it as "a nice resort campground. Lots of scheduled activities for children. Very nice beach on the pond, with lots of docks and rafts to swim out to. They also rent paddle boats." Another Ranger, Chris P., agrees, writing that the "tent sites were good sized and not right on top of other people."
Harvest on the Harbor in Portland, ME
View this post on Instagram
Lobster, oysters, artisan spirits, a pig roast, and "an epic Bloody Mary battle" are all on the menu at Harvest on the Harbor. What started off as a simple restaurant week has transformed into a demonstration of what makes Maine a culinary powerhouse and an inspiration for foodies worldwide. Maine's harbor harvest festivals showcase the best food and drink that the state has to offer. There's a competition for the best lobster chef of the year, a celebration of Maine distilleries, and oyster shucking workshops. You'll definitely need to waddle back to your tent after enjoying all of the Shipyard Beer and shellfish you can handle.
If your tent is at nearby Bayleys Camping Resort, you know for sure the fun will continue. We'll let The Dyrt Ranger Amanda D. sum it all up, as she's been going to Bayleys for the past five years. "There are so many things to do," writes Amanda. "Kayaking in the marsh, they have kayak rentals too. The pools and Jacuzzi's are clean and beautiful. Golf cart rentals make getting around the huge campground a breeze. You can purchase food and drink items at the pool area, including alcohol. They have nightly shows in the theater area. The trolley takes you to the beach and brings you back to camp. There's also a water park nearby and an amusement park."
The Apple Harvest Festival in Glastonbury, CT
View this post on Instagram
For the past 44 years, this little town near Hartford, Connecticut has been hosting a yearly Apple Harvest festival. There's live music, a 5K road race sponsored by Angry Orchard, a harvest pub, and over 100 vendors onsite. Located right on a bend in the Connecticut River, this is also a wonderful chance to take in New England autumn scenery at its finest, while savoring hard cider, and the musical stylings of some of New England's favorite Americana, and bluegrass acts.
Camp in the Meshomasic State Forest, near Lake Pocotopaug at Nelson's Family Campground. There's a pool and a recreation center onsite with activities for all ages. The only downside is that the sites are a little close together. Don't forget to visit nearby Dinosaur State Park, where thousands of early Jurassic dinosaur footprints dating back 200 million years have been found. Bring along your KAVU rope bag when you hit the visitor center instead of lugging along all your gear.
Punkin Chunkin Festival in Bald Eagle State Park, PA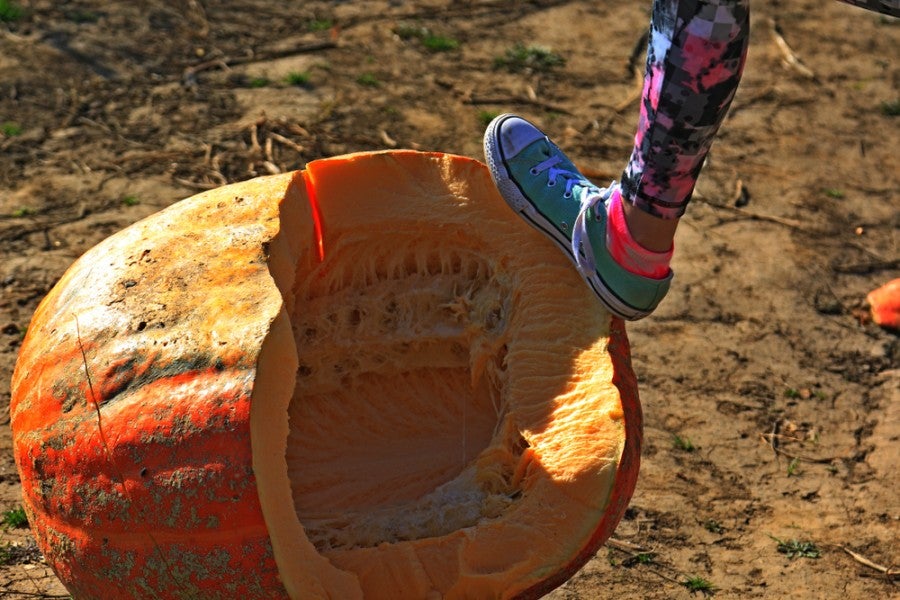 Since 1986, The Punkin Chunkin Festival has drawn catapult enthusiasts from far and wide. The festival invites home engineers and inventors to see whose catapult, trebuchets, and air cannons can shoot a pumpkin the furthest across a field. This cult classic event has inspired a few other Punkin Chunkin competitions in other states as well. Along with pumpkin chucking, the festival also features hay rides, life music, and a pie eating contest.
One of the benefits of harvest festivals being hosted at Bald Eagle State Park is that camping is readily available right onsite. There are a variety of different sites to choose from, including more primitive-style camping as well as sites suitable for hammock camping, yurts, cabins, and car camping spots. This state park has a beach, playground for the kids, warm showers, a fishing pier and a boat launch as well.
Oysterfest in Wellfleet, MA
View this post on Instagram
The Wellfleet Oysterfest is perfect for anyone who can't resist a good raw oyster bar. Top them off with cool New England ales, local wine, regional rock music, 70 arts and crafts vendors, and an intense oyster shuck-off. You can burn off some of the calories with the 5K road race or the tennis round robin. If you really want to nerd out on all things oyster, there are plenty of learning opportunities as well, including a marine-themed spelling bee and classes on merroir (the oceanic equivalent of terroir), which is basically all of the ways that you can taste a particular place in a food or drink — in this case oysters.
The closest campground is Horton's Camping Resort, which Ranger Michael C. recommends for its "great tent sites, that are well wooded and spaced far apart." Pets are welcome, and you're literally next door to the Cape Cod National Seashore. The North Truro Camping Area is also nearby, and welcomes your #DyrtDog. The real gem might be the North of Highland Camping Area, though. The Dyrt Ranger Ashlee L. calls it "by far one of the best campgrounds I've stayed at so far." She points out that it's actually been owned by the same family since the 1950s and that the staff is extremely helpful.
Enjoy the food, music, and all things autumn related at these New England harvest festivals.
---
Related Campground:
Popular Articles: