From April 20 through April 28, national parks across the country will celebrate the natural and cultural heritage of their lands with exciting events, ranger-led activities, and even free entrance.
After national parks from Yosemite to Acadia saw more than 310 million visitors in 2018, this year's National Park Week is set to be one of their largest and most interactive—every day from Saturday the 20th through Sunday the 28th of April is themed to educate visitors about the history, culture, and landscape of our parks system.
Your Guide to National Park Week 2019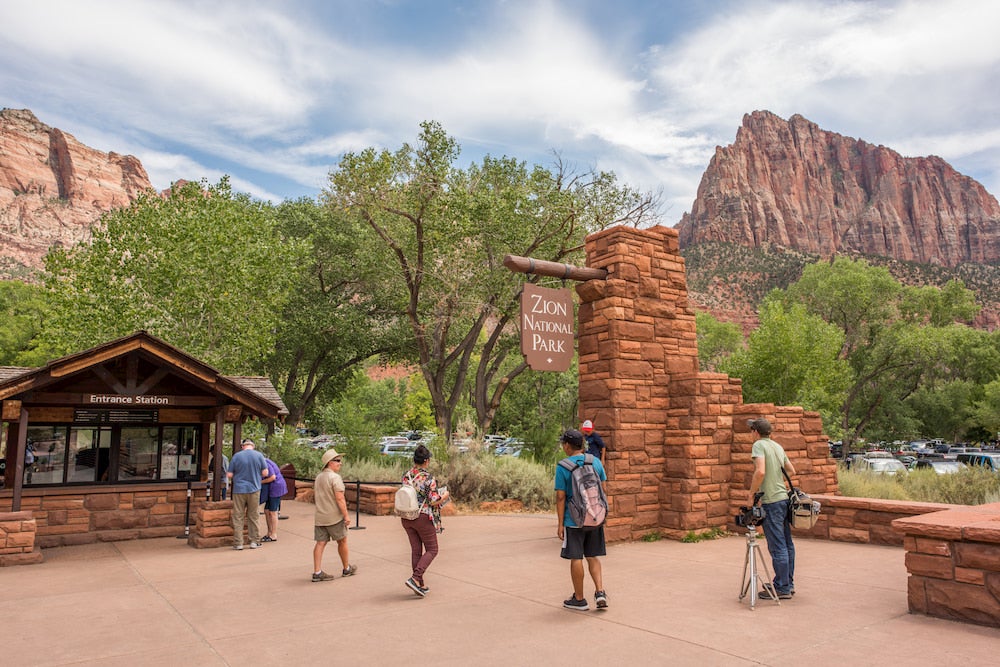 National Park Week is a partnership between the National Park Service, the National Park Foundation (the official nonprofit partner to the parks), and the Department of the Interior. After starting in 1991 to honor the NPS's 75th birthday, the week has grown to feature innovative programs and attractions to make national parks accessible to all.
"National parks are sources of inspiration, recreation, and education for everyone," said National Park Service Deputy Director P. Daniel Smith, in an NPS press release. "During National Park Week, a wide variety of creative programs and events across the country will showcase these amazing places and encourage everyone to visit a park."
Below is a day-by-day guide to the themes of National Park Week 2019. Events and activities are unique to each park, so the NPS encourages visitors to #FindYourPark by visiting your local park's website and looking for their specific events for National Park Week.
Fee-Free Day/Junior Ranger Day: Saturday, April 20
Not only will visitors of all ages be able to get in to national parks for free, kids will have the opportunity to get involved in the parks system by becoming an official Junior Ranger. The program allows kids to earn ranger badges and free gear while being introduced to the efforts to protect the natural beauty of these parks. Be sure to check in with your local park about participating in Junior Ranger Day before visiting.
Military & Veterans Recognition Day: Sunday, April 21
Military and veterans have a long history with the National Park Service, and in recognition of their service, the second day of National Park Week 2019 is dedicated to active and retired military and service members. A number of parks will be offering recreation programs and tours during National Park Week that feature the military history preserved at their parks, including a bike tour through the history of General Ulysses S. Grant at the Ulysses S. Grant National Historic Site.
Earth Day: Monday, April 22
Visiting and supporting a national park on Earth Day isn't just good for the Earth—it's good for you, too! Doing your part for the environment is easy at a number of national parks during National Park Week 2019. Activities in the parks include a beach cleanup on the Point Reyes National Seashore, an Earth Day gardening session at Indiana Dunes National Park, and guided bird watching tours at South Carolina's Congaree National Park.
Transportation Tuesday: Tuesday, April 23
From the early days of canal and railroad building to modern innovations in alternative transportation, the National Park Service has long-running ties to transportation history. On this day during National Park Week, visitors can find lessons in the history of travel and transit at sites across the country—like aviation history at the Wright Brothers National Memorial or the importance of the steam train at Steamtown National Historic Site.
Wild Wednesday: Wednesday, April 24
Embracing the wild and rugged is a large part of the appeal for many to visit national parks. During National Park Week 2019, this is more than encouraged—you can find wilderness-themes events like a guided discussion about night sky pollution at the Virgin Island National Park (if you can make it there), or sit for a talk on changing plant communities in Acadia National Park. You can also celebrate in the true wilderness by hiking or biking through the terrain of your local national park—if you're in Southern California or Texas, a hike through the blooming wildflowers is a great way to experience the beauty of untouched nature.
Throwback Thursday: Thursday, April 25
April 25 marks Throwback Thursday, where parks can show off their personal history to visitors. Parks around the country will be exhibiting portions of their history through museums and guided tours, and even events like a tour of Lower Manhattan in NYC, and a George Washington movie night at George Rogers Clark National Historical Park. Visiting your local park will give you cultural context about the formation and preservation of the nation's most scenic and important lands.
Friendship Friday: Friday, April 26
Friendship Friday during National Park Week 2019 gives a thank-you to the supporters of the NPS, including the National Park Foundation and other outdoor nonprofits that aid in preserving these important lands. Efforts to support the national parks can include donations of money or time to environmental nonprofits in the United States.
BARK Ranger Day: Saturday, April 27
While many parks allow dogs to visit regularly, on BARK Ranger Day, they are celebrated guests. BARK is an acronym standing for:
Bag your pet's waste
Always wear a leash
Respect wildlife
Know where you can go
Be sure to employ the B.A.R.K. principles so you and your canine can enjoy a safe and fun visit to a park during BARK Ranger day. Events for you and your pet at national parks include a ranger-led, dog-friendly hike at the Ozark National Scenic Riverways center in Missouri and a dog-friend activity hike and informational presentation at the Natchez Trace Parkway, where they'll be giving free dog tags to participating pups.
ParkRx Day: Sunday, April 28
The health benefits of nature and the outdoors are becoming more widely understood and acknowledged, and the country's national parks are the perfect place to fill your outdoor prescription. On this day during National Park Week, there are organized events from healthcare officials and park employees to help visitors understand the mental and physical activities possible in parks and green spaces across the country. A full list of National ParkRx Day events are available here, but some highlights include a Native herbal teas talk and tasting at Russell Cave National Monument, and a "Walk with a Doc" guided tour with a medical professional that offers insights on how to best experience wilderness therapy at the George Washington Carver National Monument.
Popular Articles: