A rare super bloom is expected this spring in California's Anza-Borrego Desert State Park. Officials at the park expect a widespread blooming of desert wildflowers in late February or early March.
A super bloom occurs when uncharacteristically rainy fall and winter seasons are followed by cold weather, which locks moisture into the ground. In the desert, the seeds of annual flowers lie dormant until enough water washes away their protective coating, allowing them to sprout. The result is an explosion of colorful wildflowers in a desert that is typically bare.
Catch the Rare Anza-Borrego Super Bloom This Spring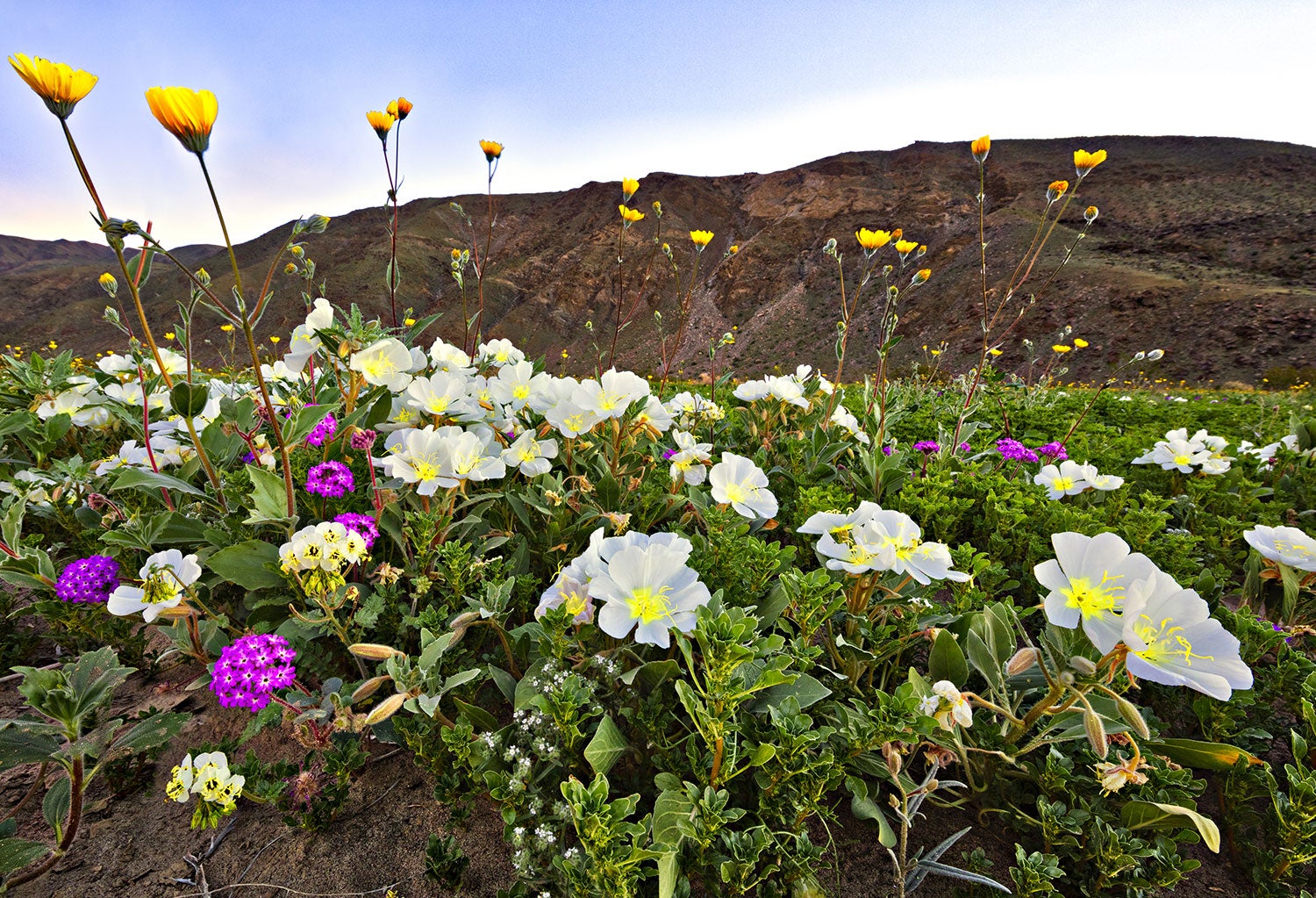 When a super bloom occurs in Anza-Borrego Desert State Park, the largest state park in California, the desert erupts with 100 different types of flowers including purple Canterbury bells, red monkey flower, sand verbena, brown-eyed evening primrose, white desert lily, and yellow California poppies.
The park's last super bloom was in 2017, when the biggest wildflower bloom in two decades caused hours-long traffic jams as 500,000 visitors descended upon the park.
Borrego Springs, the tiny town where Anza-Borrego Desert State Park is located, says they are prepared for the onslaught of wildflower viewers this time around. The town has ordered port-a-potties and dumpsters to handle waste and staffed the kitchens in the town's few restaurants to accommodate hungry guests.
View this post on Instagram
Already, eastern portions of the park are experiencing the first blooms of purple sand verbena and white desert lilies. Super blooms typically happen every five to ten years, so to have another super bloom happen so quickly after the last is a very special occasion.
Anza-Borrego State Park provides a detailed map of the park and wildflower updates on their website. They ask that wildflower viewers pull over rather than stopping in the road, and to avoid parking on any vegetation. The desert landscape is fragile, and visitors are asked to take only memories and leave no trace.
Want to make sure you time your trip to see the Anza-Borrego super bloom just right? The park has also set up a wildflower hotline at 760-767-4684 to provide bloom and traffic information.
---
Related Campgrounds:
Popular Articles: