Our national parks are reopening. But they need our help now more than ever.
The recent partial government shutdown inflicted devastating damage on our nation's national parks. Most parks remained open without staff during those 35 days, prompting reckless visitor behavior and overwhelmed facilities. Trash and toilets overflowed in beautiful, delicate places.
It's a relief to see parks resume regular operations. But they're still struggling to bounce back with limited staff, millions of dollars lost in revenue from entrance fees that weren't collected, and the reality of damage to especially delicate places like Joshua Tree, which experts say could take centuries.
The National Park Foundation, the official charity of the National Parks Service, has created a Parks Restoration Fund, which is raising money to help those parks most affected by the government shutdown. Donating to the National Parks Restoration Fund is a small way to help make a big difference in the path to recovery for these places.
"The National Park Foundation will be able to work across the National Park Service and our park partners to assess needs and provide clean up efforts once the parks are back open," says their website.
Donate to the National Park Restoration Fund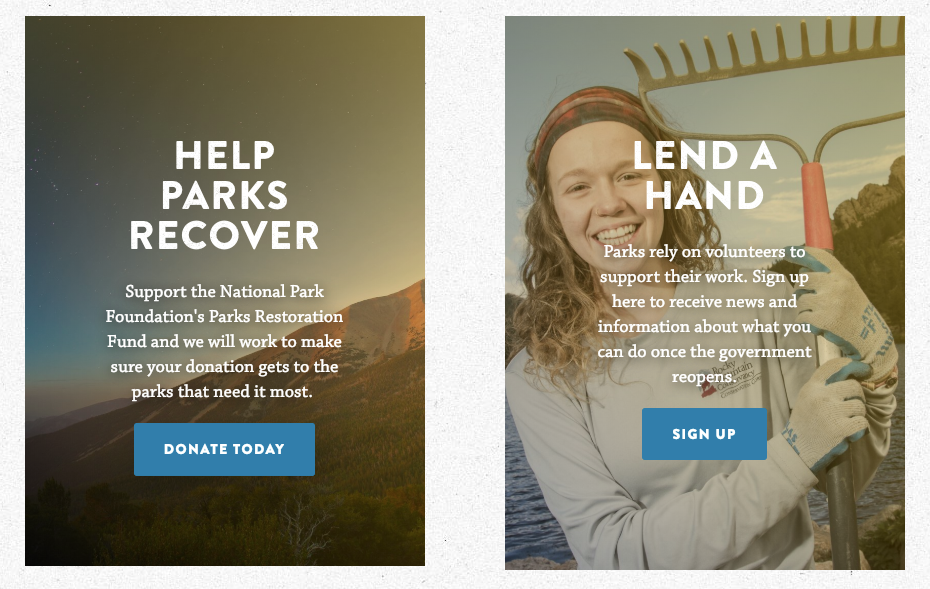 Campers come to The Dyrt to find campgrounds in national parks, state parks, private campgrounds, and wild places across the country. As part of our mission to make camping better for everyone, we encourage our users to Leave No Trace and camp responsibly. Now is an especially important time for our community to demonstrate how much they value the outdoors. And so many campers are doing just that, helping to clean up campgrounds and parks, and donating to the cause.

Do you camp in our national parks? Do you love our national parks? Donate to National Parks Restoration Fund now to support in their recovery.
Donate Now
Additionally, the National Parks Restoration Fund offers a sign-up form for anyone who wants to volunteer at national parks. Those interested in volunteer opportunities will receive updates on volunteer events and how to get involved.
As the parks continue to recover from the shutdown, it's also helpful to find national park alternatives for camping. Many parks are still short staffed and scrambling to catch up with maintenance and damage control. By camping elsewhere, like in nearby state parks or BLM land, you can help lessen the burden of more visitors during the recovery process. Find alternatives to national park campgrounds on The Dyrt.
Popular Articles: