For NASCAR fans, camping is the best way to not only stay close to the action, but spend time with fellow fans who understand the strategy and community that goes into this thrilling sport. Far more than "go fast, turn left," a good NASCAR race is a weekend event that is as much about camaraderie as it is about crashes, gas, and big victory burnouts.
"Some people go on cruises," explains Daniel Bandoly, the Director of Business Development for Speedway Motor Sports, as he gave us a personal tour of the campgrounds on site. "Some people come back to the same speedway campsite year after year. You get to know your neighbors. Your kids grow up together. It's your annual vacation."
That's why the company behind your favorite trail mix ingredient, M&Ms, decided to give a big thank you to fans by creating a unique luxury Glampground experience right on the infield of Kentucky Speedway. The three-day weekend glamping package not only includes comfortable tent accommodations, but also three catered meals a day from local restaurants, with all the M&Ms candy you can eat, access to ice-cold waters and sodas, Wi-Fi, hot showers, nice bathrooms, and convenient golf cart shuttles to help get around the speedway— all for $500 a tent.
Discovering the Thrill of Nascar Glamping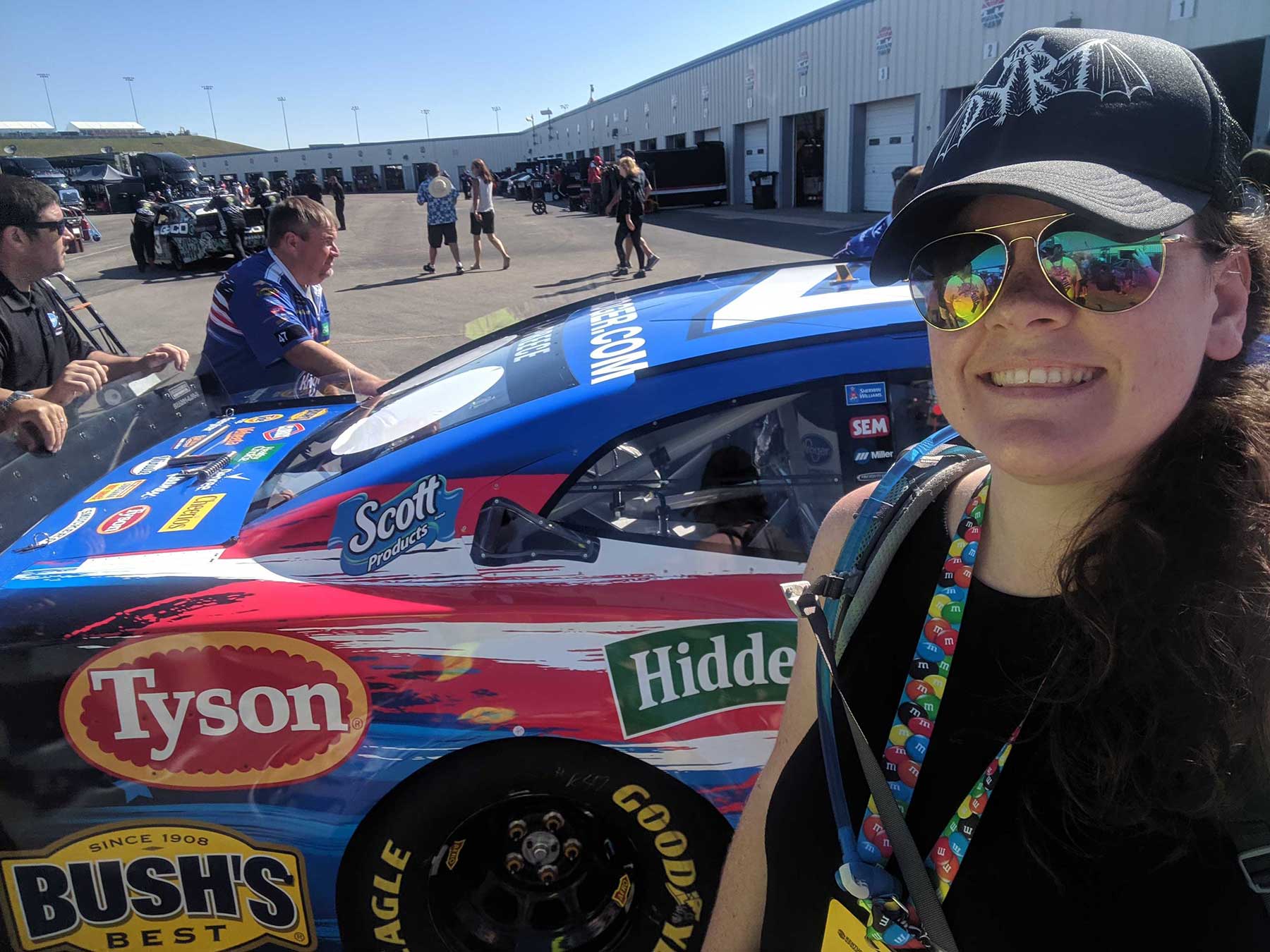 Mars Inc. invited The Dyrt to experience the new M&Ms Glampground along with 20 NASCAR fans, who snapped up all the available tents within just five hours of the event's announcement. I flew from The Dyrt's Portland office, touched down in Cincinnati, a few hours before the Buckle Up Your Truck 225 truck race, and stepped into the thick Southern summer heat. Once I arrived at the track, I received my M&Ms Glampground Badge, hot pass, and was shown to the canvas tent I'd be calling home for the next three days.
Inside was a comfortable double-size luxury air mattress, a table and chairs, bedside tables with charging station, a luggage rack, and a hanging organizer. There was a fan that doubled as a reading light, and a rug to make everything cozy. On the bed were soft blankets, and my very own Peanut M&M character plushie to keep me company the next few nights. By the table was a bag with Racing Electronics headphones and Fanvision controllers, so we could hear the moment-to-moment commentary and updates during each race, no matter where we were at the track.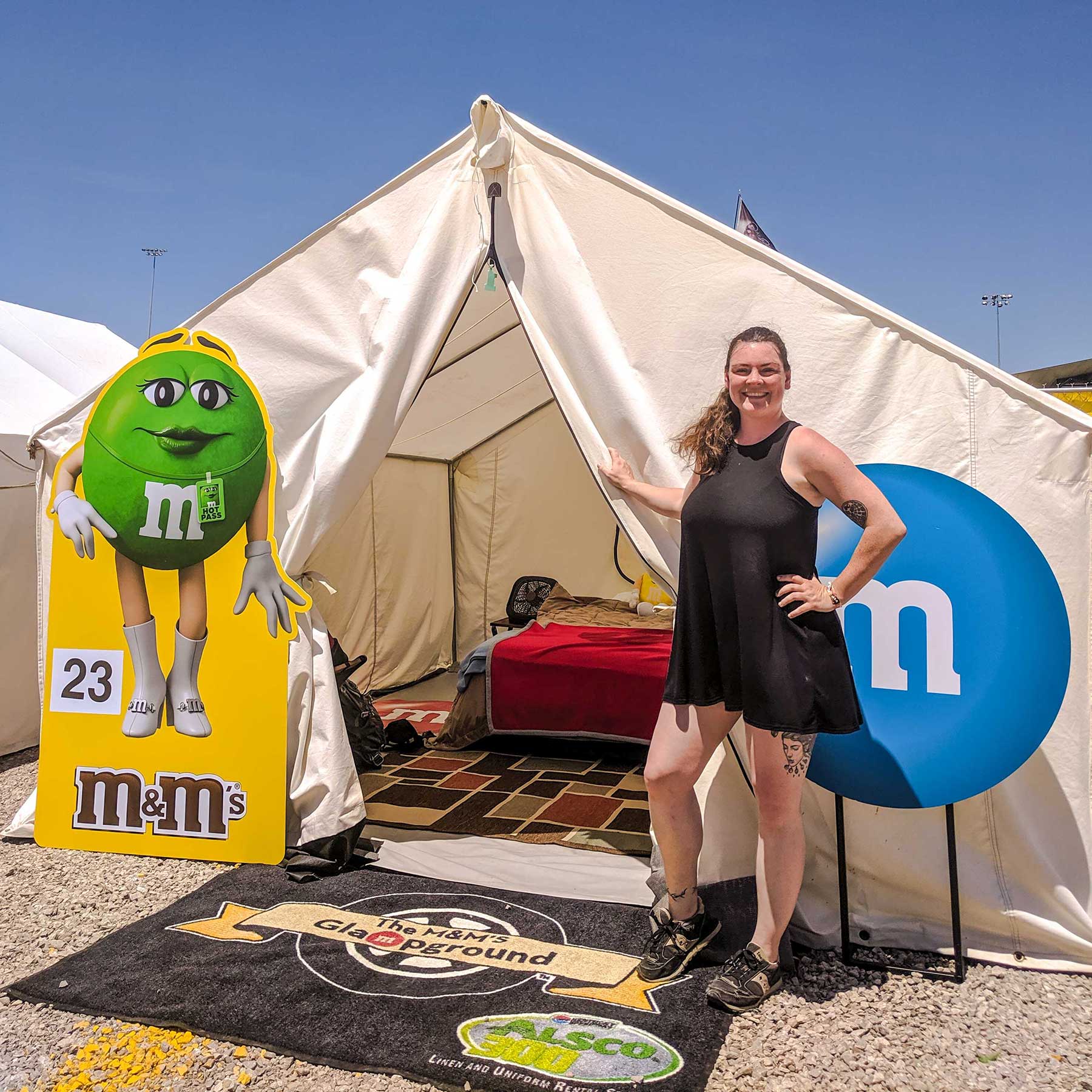 Next up was dinner, and I realized I was about to get spoiled. The weekend menu was packed with treats like baby back ribs slathered in bourbon apricot BBQ sauce, New York Strip steak served with au gratin potatoes and peach panzanella salad, and fat sandwiches spread with herbal boursin cheese. For breakfast, we were treated to danishes and pastries, breakfast burritos, potato hash, and hot coffee.
Our itinerary was packed, too, with fun events just for the lucky few who scored tickets to the first-ever M&Ms Glampground event. We got special tours of the garage as the race teams began the long prep and inspection process that takes place before each evening's showdown, storytime with racing historian Steve Shunck, a chance to Q&A with up-and-coming NASCAR stars Christopher Bell and Brandon Jones, and Riley Herbst a conversation and pre-race stretch sessions with Samantha Busch, as well as chats with Kyle Busch himself and the legendary JGR Coach Joe Gibbs.
We learned all kinds of fun tidbits, like that Riley Herbst's favorite off-track adventure vehicle is the Toyota Tundra, while the Busch family custom outfitted their RV (aka home on race weekends) to not have any windows, because Kyle likes to sleep in when he can. There's also a surprising amount of overlap between race car drivers and full-time campers. Perhaps it's no surprise the Busch family don't camp much recreationally, since they already spend so much time traveling from track to track in their RV. That said, Samantha shared that her young son is an avid hiker, and they like to find trails where they can stretch their legs while Kyle is preparing at the track.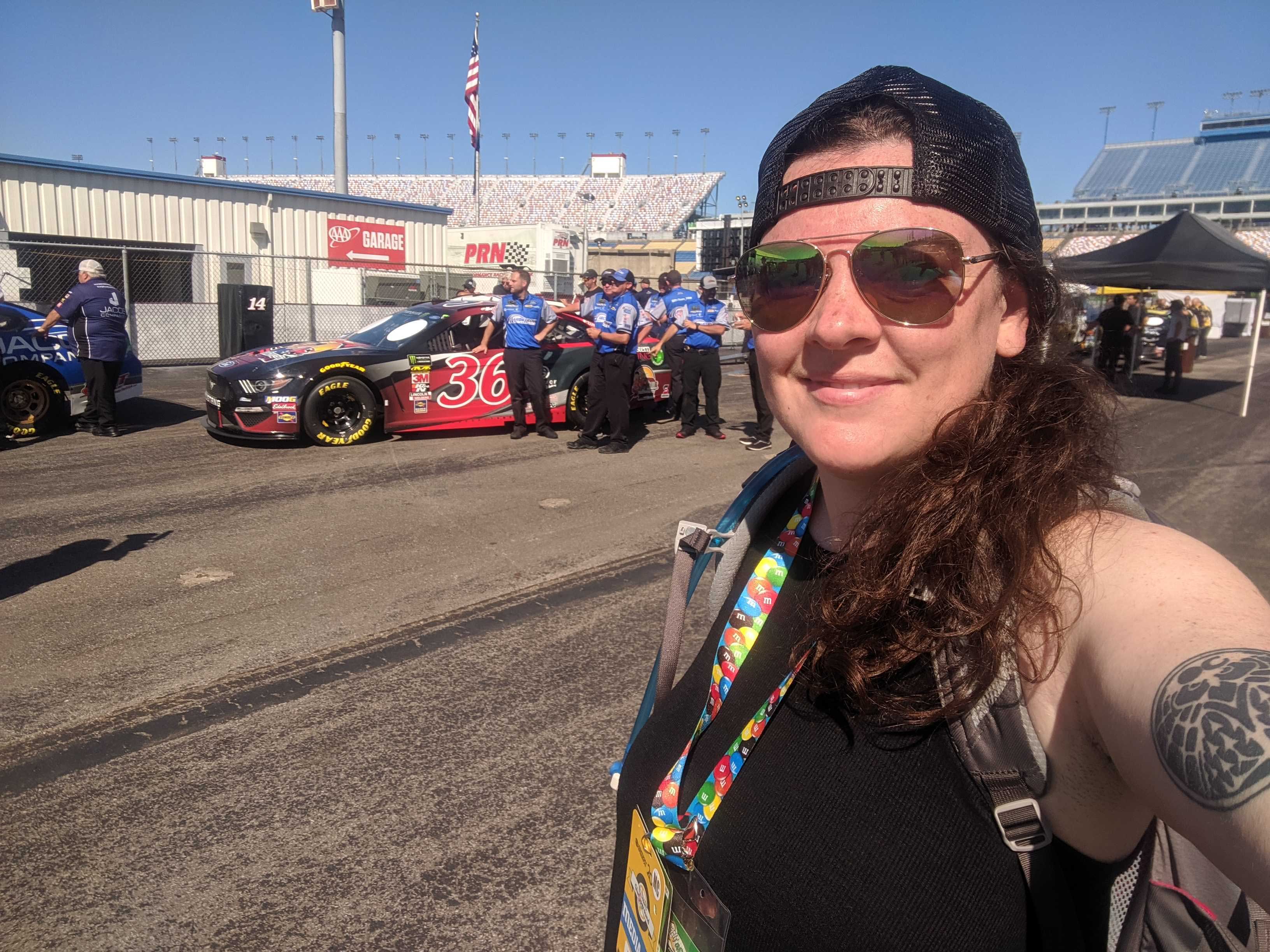 After a busy day of meeting racing royalty and an evening soaking up the race itself (not to mention ice cold beer at Fireball Alley and the Bluegrass Club), campers gathered around an inflatable screen to watch on-the-nose favorites like Smoky and the Bandit, Days of Thunder, and Talladega Nights, while snacking on M&Ms popcorn and bon bons. Soon it was time to drift off to sleep, the roar of the engines quiet until the next day.
Of course, you don't have to glamp to camp at NASCAR. Camping at the track is a long race weekend tradition coast to coast, one born of necessity since so many fans travel to see a race, and since the drivers and teams themselves travel from track to track in big rigs and RVs. At the Kentucky Speedway, for example, there are several designated camping areas surrounding the field, each with a slightly different vibe.
The Millionaire's Row and Lakeside campgrounds located outside the track feature electric service, for example, and are a fun place to scope out the features and amenities you might want when investing in your own rig. Hawks Landing and Bourbon Street are more traditional, wooded campgrounds but still a short shuttle ride away from the track. Ponderosa Campground features tent sites, in case RVing isn't your thing. And of course, you can also reserve a coveted infield campsite to be as close to the action as possible.
But the M&Ms Glampground experience does make camping at NASCAR as easy as possible. Set apart in its own little enclave, the Glampground is peaceful day and night, a place you can chill and get some rest in between action-packed activities. All you need to do is bring a suitcase with your favorite race-day outfits and show up— the rest is taken care of, right down to the cans and cans of spray-on sunscreen available to make sure you stay cool, comfortable, and unburnt. M&Ms even provided branded shower shoes and fluffy robes, proving they thought of every detail.
With lodging, food, and fun taken care of, it seemed like the only extra fans needed to bring was a small cooler for their brewskies or favorite snacks if they chose. That and the willingness to have a whole lot of fun.
The M&Ms Glampground is appearing next at Bristol Motor Speedway, near Smoky Mountains National Park. Their packages are already sold out. But if you want to get in on the action, M&Ms is hoping to expand to new tracks next year— that is, if fans say they want more of this very sweet deal.
Popular Articles: