Trail mix is popular among hikers and campers for a reason: It's a simple, tasty snack that travels well and delivers necessary macronutrients. But oftentimes, the same old trail mix gets boring, and sometimes you need specific nutrients in your calories, like protein, carbs and fiber. One great solution?
Make it yourself.
From sweet or salty to gourmet or spicy, these homemade trail mix recipes can be whipped up in minutes and offer plenty of nutrient-dense ingredients to keep you fueled on your outdoor adventures.
6 Homemade Trail Mix Recipes to Prep for Your Next Adventure
1. Wasabi Mixed Nuts Trail Mix Recipe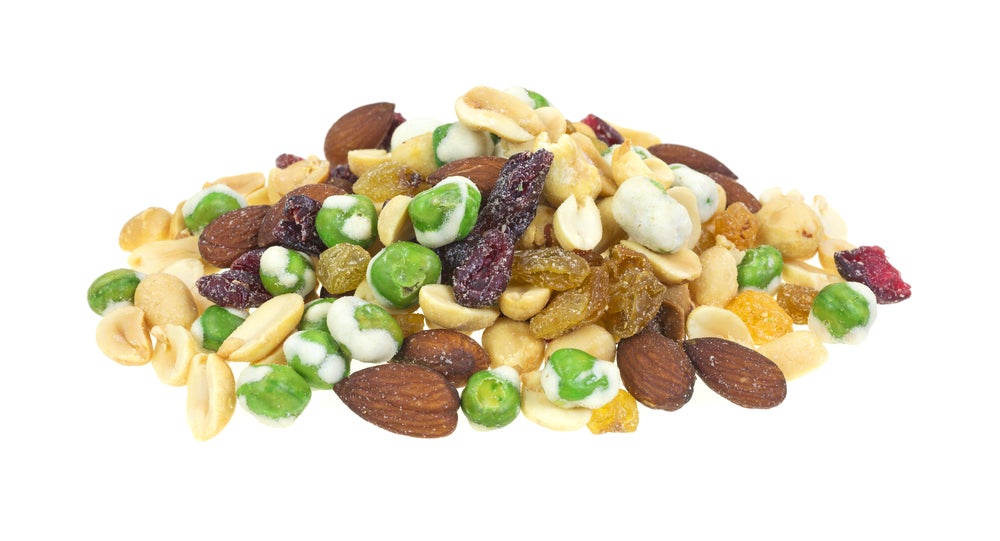 Sensitive mouths beware: This homemade trail mix packs the heat, with both wasabi and cayenne pepper. If you're a fan of extra-hot foods, add an additional half-teaspoon of cayenne to the cashews for a little more fire.
Ingredients:
1 cup dried wasabi peas
1 cup sesame sticks
1 cup roasted smoked almonds
1 cup unsalted cashews
2 tbsp honey
½ tsp cayenne pepper
½ tsp sea salt
Method:

Place the cashews in a medium saucepan and bring to medium-low heat. Drizzle the honey and sprinkle the cayenne and salt over top and mix. Leave on heat, stirring occasionally until the honey begins to bubble and caramelize. Remove from heat and let cool. Combine the cashews with the remaining ingredients in a mixing bowl.
2. Savory & Salty Trail Mix Recipe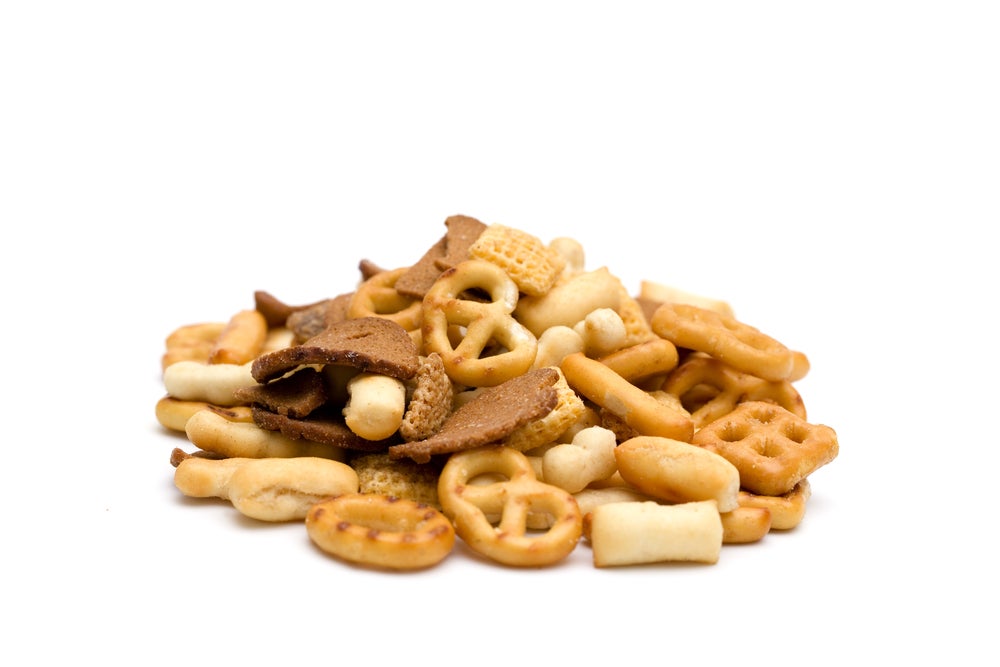 This stuff is the perfect salty and cheesy snack whether you're out on a hike or back at camp. With a mild garlic flavor, it will please both adults and kids. This homemade trail mix is perfect for hot days for two big reasons: The extra salt will help replenish what your body loses when you sweat, and there aren't any ingredients, like chocolate, to melt in the heat. The only bummer: If this mix gets smashed, it will quickly turn into crumbs.
Ingredients:
1 cup mini pretzels
1 cup roasted salted almonds
1 cup cheese crackers (like Goldfish)
1 cup roasted salted peanuts
¾ cup rye chips
¼ cup grated parmesan cheese
2 tbsp butter
1 tsp garlic powder
1 tsp dried parsley
Method:
Begin by preheating your oven to 225°F. Melt the butter and whisk in the grated parmesan and garlic powder. Place the pretzels on a baking sheet and drizzle the butter mixture over top. Bake for about 5 to10 minutes until the cheese becomes crispy. After the pretzels have cooled, mix them together with the remaining ingredients.
3. Hazelnut S'mores Trail Mix Recipe
This hazelnut s'mores homemade trail mix will satisfy any sweet tooth. It makes for the perfect on-trail snack when you need an extra burst of energy or serves as a delightful dessert at the campground. While it's delicious, it's not the best option for camping or hiking in hot temps since the chocolate will become a melted mess.
Ingredients:
1 cup dark or semi-sweet chocolate chips
1 cup mini marshmallows
2 cups cinnamon cereal (Cinnamon Toast Crunch, Cinnamon Life, etc.)
1 cup hazelnuts
1 milk chocolate bar (about 6 oz.)
1 tsp sea salt
Method:
Melt the milk chocolate bar in a saucepan or in the microwave (be careful not to burn the chocolate). Place the hazelnuts on a baking sheet and drizzle the melted chocolate evenly over them with a spoon. Sprinkle the salt over the chocolate-covered hazelnuts while the chocolate is still warm. Let cool until the chocolate has hardened again. Combine the hazelnuts with the remaining ingredients in a mixing bowl.
Pro tip: If you want to make this for your kids, but they're iffy about hazelnuts, add an extra half cup of the cereal and drizzle that with chocolate instead.
4. Granola & Oats Trail Mix Recipe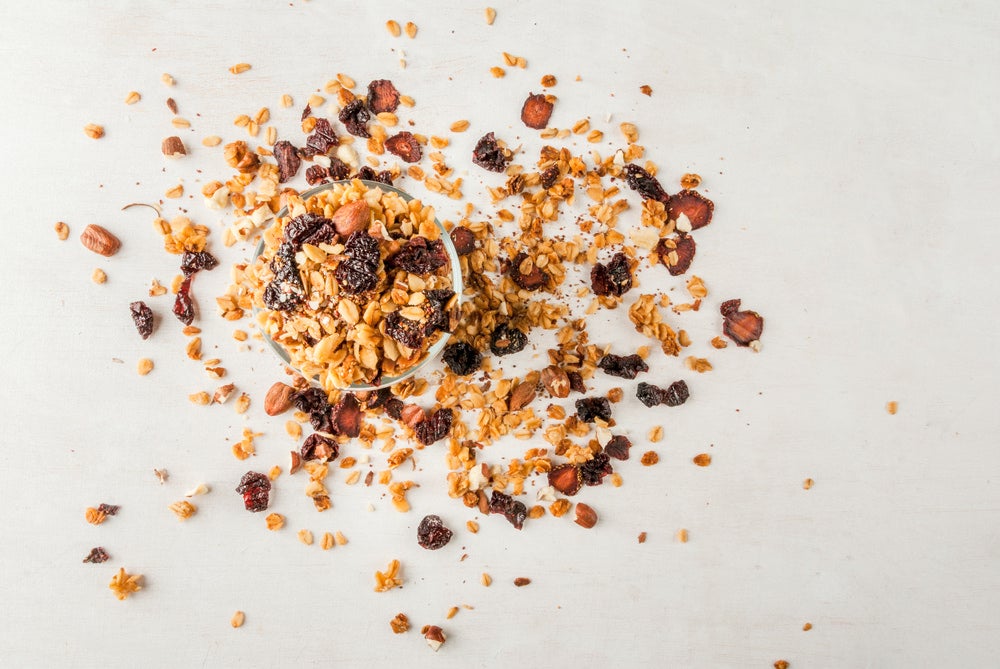 Thanks to the oats and natural sugars in this recipe, this tasty granola trail mix provides ample healthy carbs for long days on the trail. With a mix of both simple carbs (from the sugars) and complex carbs (from the oats), it'll give you quick bursts of energy for when you're feeling sluggish and sustained, slow-burning energy to keep you going for hours.
Ingredients:
3 cups whole grain oats
1 cup dried cranberries
1 cup banana chips
¼ cup neutral flavored oil (safflower, canola or peanut)
½ cup pure maple syrup
¼ cup turbinado (raw cane) sugar
½ tsp cinnamon
½ tsp nutmeg
1 tsp salt
1 tsp vanilla
Method:
Begin by preheating your oven to 350°F. In a large bowl, mix the oats with the maple syrup, oil, spices, vanilla and salt. Spread the mixed oats evenly onto a baking sheet and bake for 15-25 minutes or until oats have become crunchy and golden brown. Once the oats are out of the oven and cooled to room temperature, break them into chunks and place in a mixing bowl. Add the dried cranberries and banana chips and stir to combine.
This crunchy mix is perfect for both kids and adults, and there's nothing in the blend that will melt or go bad in the heat. But, since it's granola, it will crumble into bits if you leave it at the bottom of your backpack.
5. Protein Power Trail Mix Recipe
After big days on the trail, your body will need an extra burst of protein to replenish your hungry muscles. This trail mix will do the trick. Loaded with protein-packed nuts and a salty punch, it's the perfect thing to fill you up and help you recover. This mix doesn't have the sugar to cure a sweet tooth, so it may be more popular for adults than kids or sugar-lovers. Bonus: Nothing to melt or easily smash in this mix!
Ingredients:
1 cup almonds
1 cup peanuts
½ cup Brazil nuts
1 cup dry roasted edamame
2 cups sesame sticks
1 tsp paprika
½ tsp salt
Method:
It doesn't get much simpler than this: Use a large mixing bowl to combine all ingredients until seasoning is evenly distributed.
6. Fibrous Fruit Trail Mix Recipe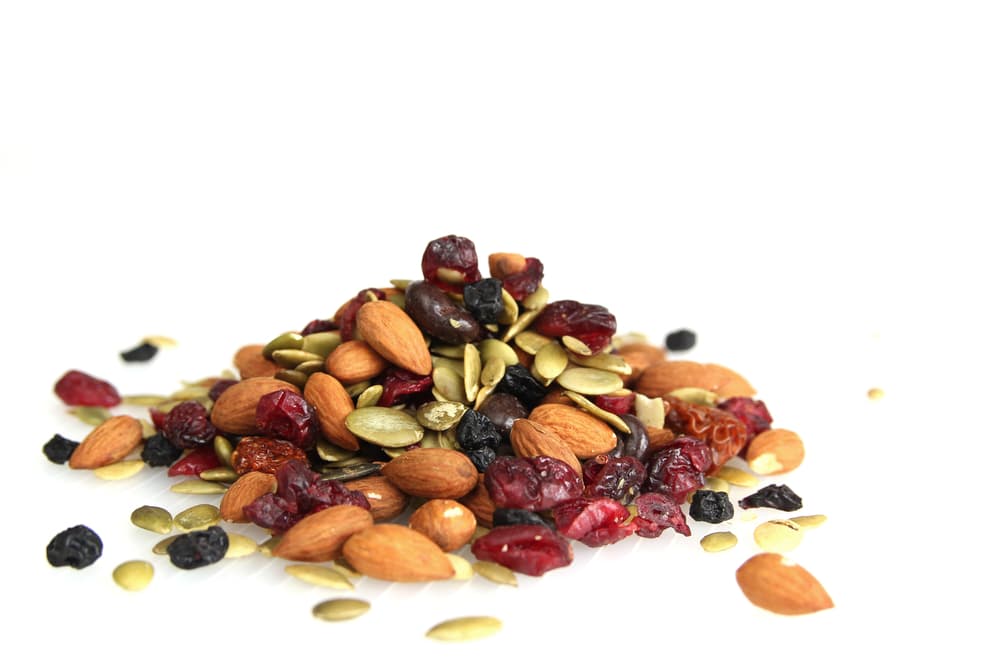 When you're out camping, hiking and backpacking, it can be harder to get fiber from the usual sources, like fresh veggies and hearty bread. This fibrous homemade trail mix is both delicious—with caramelized maple walnuts, yum!—and loaded with healthy foods like flax seeds, chia seeds and dried fruits. Bonus: With ingredients like dried figs and flaky sea salt, this mix is perfect for foodies who enjoy gourmet snacks on the trail.
Ingredients:
3 tbsp flax seeds
3 tbsp chia seeds
2 cups walnuts
½ cup raw pumpkin seeds
1 cup dried apricots
1 cup dried dates
¾ cup dried figs
½ cup pure maple syrup
1 tsp flaky sea salt (coarse sea salt also works well)
Method:
Place the walnuts in a large saucepan and bring to medium-low heat. Pour the maple syrup over the walnuts and stir so that each one is coated. Add flax seeds, chia seeds and salt and stir well. As the mixture heats up, the maple syrup should begin to caramelize and allow the flax and chia seeds to stick to the walnuts. Remove the walnuts from heat and let cool. (They shouldn't be very sticky once cooled.) Combine the walnuts with all the remaining ingredients in a mixing bowl.
Popular Articles: