This article of desert dessert recipes is brought to you by our friends at Primus—trendsetters in the propane camp stove, which are perfect for these sweet desert treats. 
---
Deserts are hot and arid, which doesn't always make them the most inviting places to go camping in or visit. But among the blistering sun and scorching sand you can find wonders that are so different from any other outdoor environment. Blooming cacti might spread across the dry valley floor, red rocks might rise out of nowhere, and an oasis might be found just beyond the trail.
Sweet Desert + Dessert Pairings
If you're still hesitant to take on the desert, we have just the thing to make it a little sweeter. Camp cooking is often a necessity, but it can be fun, too—especially when you're whipping up desserts by the campfire. Nothing beats a tasty desert dessert after a long day of adventuring in the heat.
We paired lesser known desert destinations with fun-to-make dessert pairings for your camping pleasure. The only hard part is remembering which word is which!
---
The state of Utah is known for its vast red and rocky deserts, including Bryce Canyon, Zion, and Arches National Park, as well as the popular city of Moab. The beehive state is a desert paradise, which includes the lesser-known Sevier Desert. The Sevier Desert is home to the Little Sahara Recreation Area, where you will find rolling sand dunes that were carved by the Sevier River thousands of years ago. This place is great if you like to ride all-terrain vehicles, hike, camp, and play in the sand dunes.
Little Sahara Recreation Area is easily accessible from the White Sands campground. And if you're into star gazing, this campsite is the place for you. Campground reviewer Carolynn D said, "The stars were beautiful and the sand was soft and fun to walk in."

Camp Here
Dessert Pairing
After you enjoy the sand dunes of the Little Sahara, you will want to come back to something sweet at your campsite. Campfire churros are a great desert dessert alternative to the usual campfire classic, s'mores. The ingredients are easy as long as you have a cooler: refrigerated biscuits, butter, cinnamon, and sugar. Simply wrap the biscuits around a skewer and roast it over the fire until the biscuit is golden. Then dip your cooked biscuit into melted butter, and use a paper bag to shake it in cinnamon and sugar. It's that simple and as delicious as you would expect.
Get the Recipe
---
California possesses some of the most diverse terrain in the states. From the beaches along the Pacific Ocean, to the mountains of the Sierra Nevada and the forests of the Red Woods—California has it all. And that includes deserts.
Anza-Borrego Desert State Park is the forgotten middle sibling to Death Valley and Joshua Tree National Park. Vast arid valleys, rock formations, and surrounding mountains make the Anza-Borrego desert a colorful getaway from the coastal cities. One of the most unexpected features of this desert is Palm Canyon—home to an oasis of palm trees and a babbling cold spring. It sounds like a mirage but we promise it's not.
Palm Canyon is one of the most unique desert hikes you can sweat on, and Borrego Palm Canyon campground is located right by the trailhead. During the day, you can hike to the oasis and swim and the cool spring. At night, be prepared to take in a wispy desert sunset as you make a delicious dessert.
Camp Here
Dessert Pairing
Florida might be known for their oranges, but California boasts fresh and tasty citrus fruits as well. These Campfire Brownie Oranges are a divine combination of sweet, earthy, and tangy flavors. This desert dessert recipe is incredibly easy and meant to be cooked over the campfire. You simply need: oranges, brownie mix, eggs, water, and oil for the mix. Once the oranges are filled with delicious brownie batter, cover them in foil and throw them on the campfire for about 30 minutes. These treats will be the chocolatey ending you are looking for after a day in the heat.
Get the Recipe
---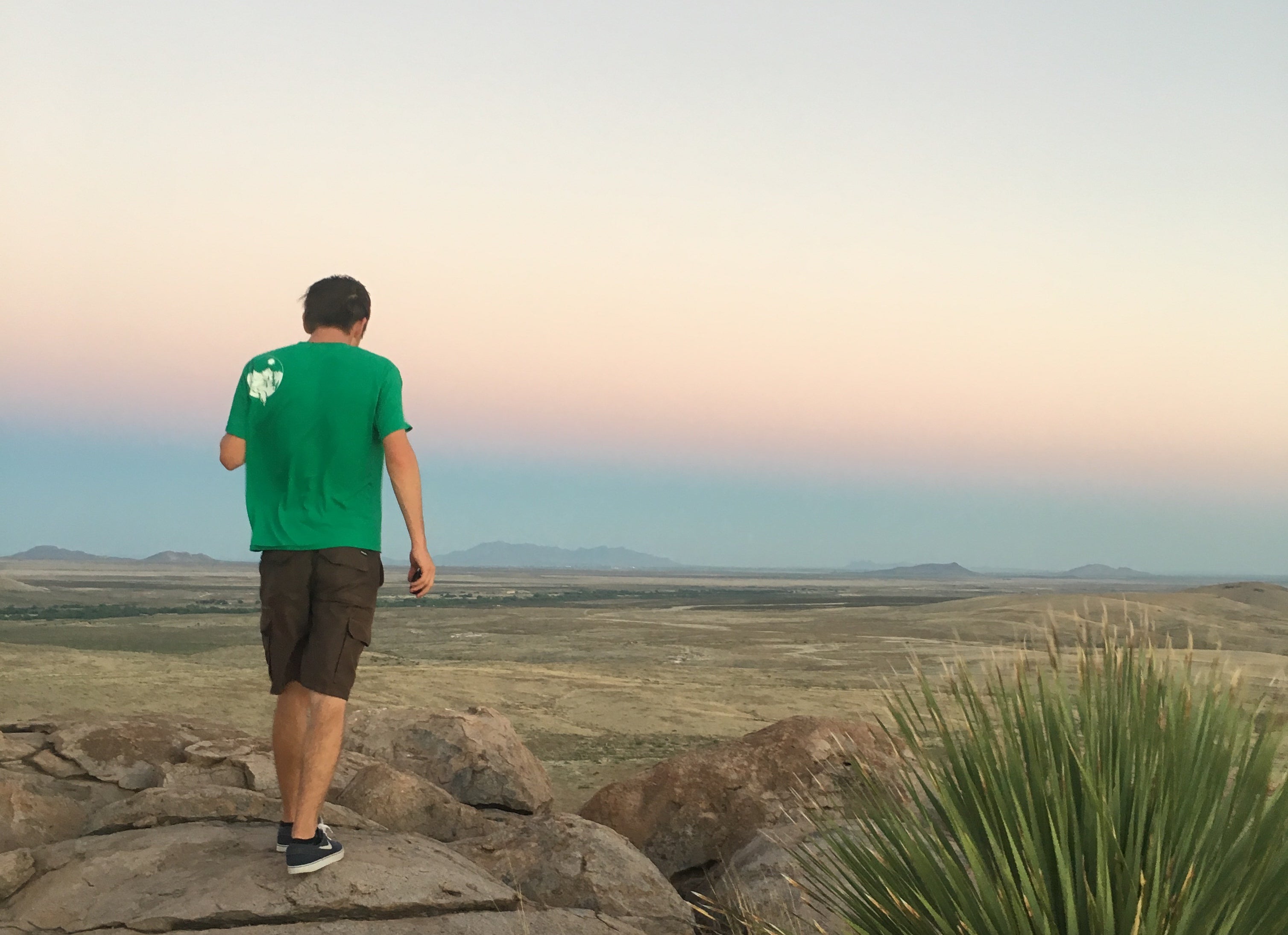 Have you ever wanted to step back in time, to say, roughly 35 million years ago? City of Rocks State Park was created from a volcanic eruption millions of years ago and its subsequent erosion. It is at this New Mexico desert park that you will find boulders that rise up to four stories in height.
If you're into rock climbing, City of Rocks State Park is a must climb. Hikers, wildlife chasers, and star gazers can also find solace in this desert paradise. There is even an onsite telescope that takes images of different planets and constellations for your viewing pleasure.
The Dyrt Camper Madeline A. camped at City of Rocks State Park Campground and said that the stars, trails, and climbs are "noteworthy" and that you will have a "great geological experience."
Camp Here
Dessert Pairing
Rock climbing, the desert, and carrot cake might not go hand-in-hand. At least not yet. This might change your mind. After a hot day on the rocks, you'll want to whip up this hearty and healthy desert dessert (carrot cake counts as a vegetable, right?).
Carrot Cake in a Bowl requires a little prep at home, which includes processing the oats and carrots before you set out on your adventure. Once you're at camp, just bring water to a boil and throw in all of your dry ingredients. It's easy, filling, and delectable—just what you need after a long day in the desert.
Get the Recipe
---
Nevada is home to Las Vegas and Red Rocks Canyon—two prominent places within a 30 minute drive of one another. Head over to the east side of the state and you'll find the grand rocks of Cathedral Gorge State Park, where you can observe red rock columns and spires. Cathedral Gorge State Park is ideal for camping because it has a more temperate climate than you will find in most desert landscapes. Even though it is the desert, it doesn't often get much hotter than 95 °F in the summer.
Cathedral Gorge State Park campground is remote and quiet, making it the ideal spot for those that want to camp in solitude. Trail hounds will find a lot to see above ground, but it's the caves and slot canyons that differentiate Cathedral Gorge from many other desert getaways. Campground reviewer Will M. described this place as gorgeous saying, "The geography here is unlike any I've seen anywhere else."
Camp Here
Dessert Pairing
We totally get it, dessert is a nice and sometimes complicated luxury when you're out camping in the desert. That's why Mountain House's freeze dried ice cream sandwich is a delectable alternative to throw in your pack. This desert dessert is ready to eat straight from the package—no added water. And you still get that creamy vanilla taste. Ice cream while camping in the desert sounds impossible, right? Well, now it's not.
Get This Treat
---
You can win a camping stove from Primus, and gear from 19 other outdoor brands, by reviewing campgrounds on The Dyrt. Share past camping experiences, photos, and videos to earn points towards monthly prizes in The 2018 Great Camping Giveaway!
Popular Articles: