This article about the best half marathons in nature was brought to by OOFOS, the makers of the best recovery sandals after finishing a long distance race in the great outdoors.
---
With a new year comes a plethora of new and exciting opportunities and experiences. Running a half marathon is a great way to stay motivated throughout the year to maintain a running routine, and check out new parts of the U.S. while you're at it. If you're a runner, there are so many incredible outdoor destinations to explore by foot.
We've listed 11 of the best half marathons coming up in 2020 with routes through iconic scenery to celebrate the diverse landscapes in the U.S. and encourage our readers to always keep exploring.
11 of the Best Half Marathons For The Outdoor Lover That Are Worth Traveling For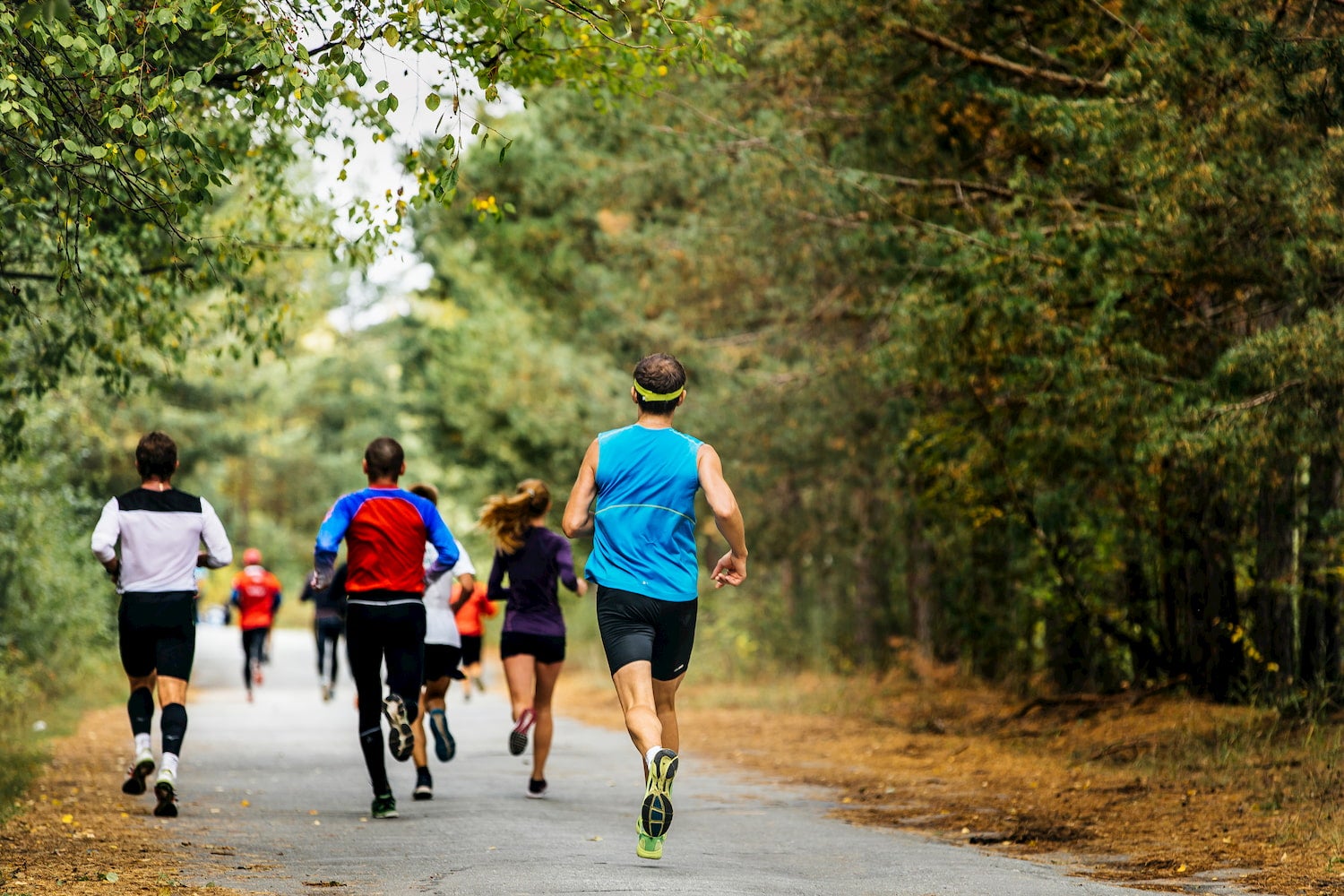 Date: February 29, 2020
Location: Springdale, Utah
Best Half Marathon For: National Park Lovers
Fees: $145
This incredibly scenic route through Zion National Park takes runners on a journey with views of of mesas, mountains, waterfalls, canyons, and red rock formations. Runners will face a challenging and hilly route that climbs 400 feet throughout the course of the race. Chase the sunset over The Watchman, a famous peak in Zion, while soaking in vibrant red cliffs surrounding the trail. This race has sold out the last 6 years, so sign up early!
Date: February 1, 2020
Location: Sedona, Arizona
Best Half Marathon For: Escaping the winter.
Fee: $55 – $90

The gorgeous red rock and sweeping valleys will keep you motivated during this hilly and challenging marathon. Sedona sits at 4,590 feet, so make sure you're trained and ready for the elevation. This is one of the best half marathons if you're looking to fly south for the winter and enjoy some of the most striking landscapes the U.S has to offer.
Date: April 18, 2020
Location: Boise, Idaho
Best Half Marathon For: Pushing your limits.
Fees: $60
This is considered the "toughest half-marathon in the Northwest" and has been a tradition among Boise runners for the past 40 years. If you're looking for a challenge and want to see how much elevation your legs can handle, this is the best half marathon for you. Over the course of 13.1 miles, you'll be climbing 2,072 feet. The course begins in the Boise foothills and ends at Aldape Summit.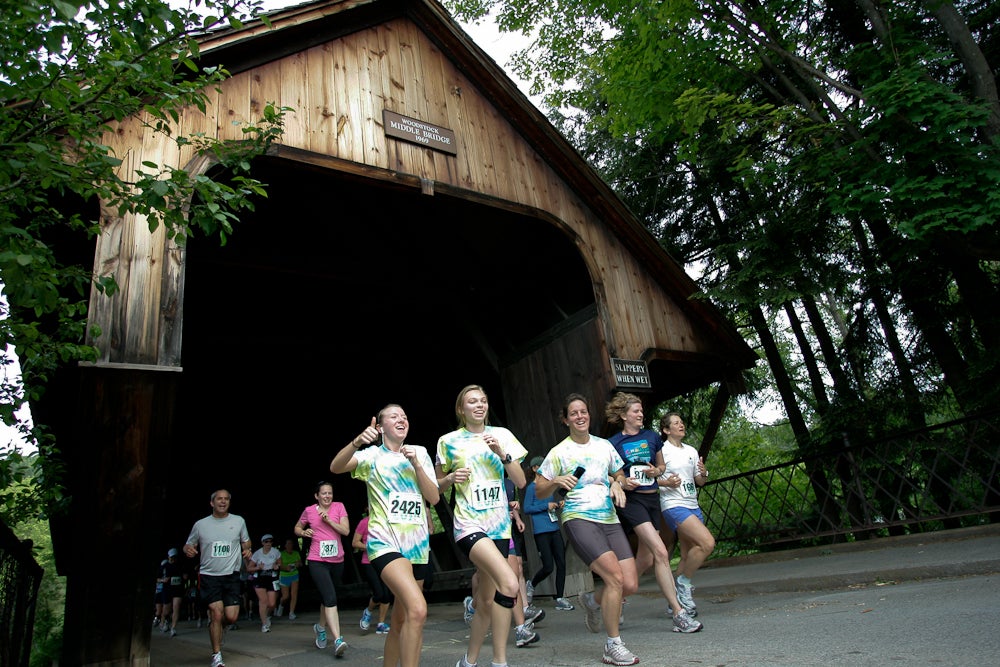 Date: June 7, 2020
Location: Woodstock, Vermont
Best Half Marathon For: Picturesque New England countryside.
Fee: $75
This northeast half marathon is so adored that it regularly sells out its 2,300 spots in just 30 minutes. Its popularity may be due to this trail winding through Vermont's scenic covered bridges and quaint countryside. The popular ski area in view, open farmland, and shimmering rivers along the way don't hurt either. Age group winners even take home Vermont maple syrup and cheese as prizes. It's a whole northeast experience.
Date: June 13, 2020
Location: Ithaca, New York
Best Half Marathon For: A Gorges weekend.
Fees: $75
This trail guides runners the Black Diamond Rail Trail and the paved Cayuga Waterfront Trail, offering a scenic run past hard-packed cinder and numerous waterfalls. The trail runs along the Cayuga Waterfront, one of western New York's famously beautiful finger lakes. The post-race party includes a catered spread of local food and beverages.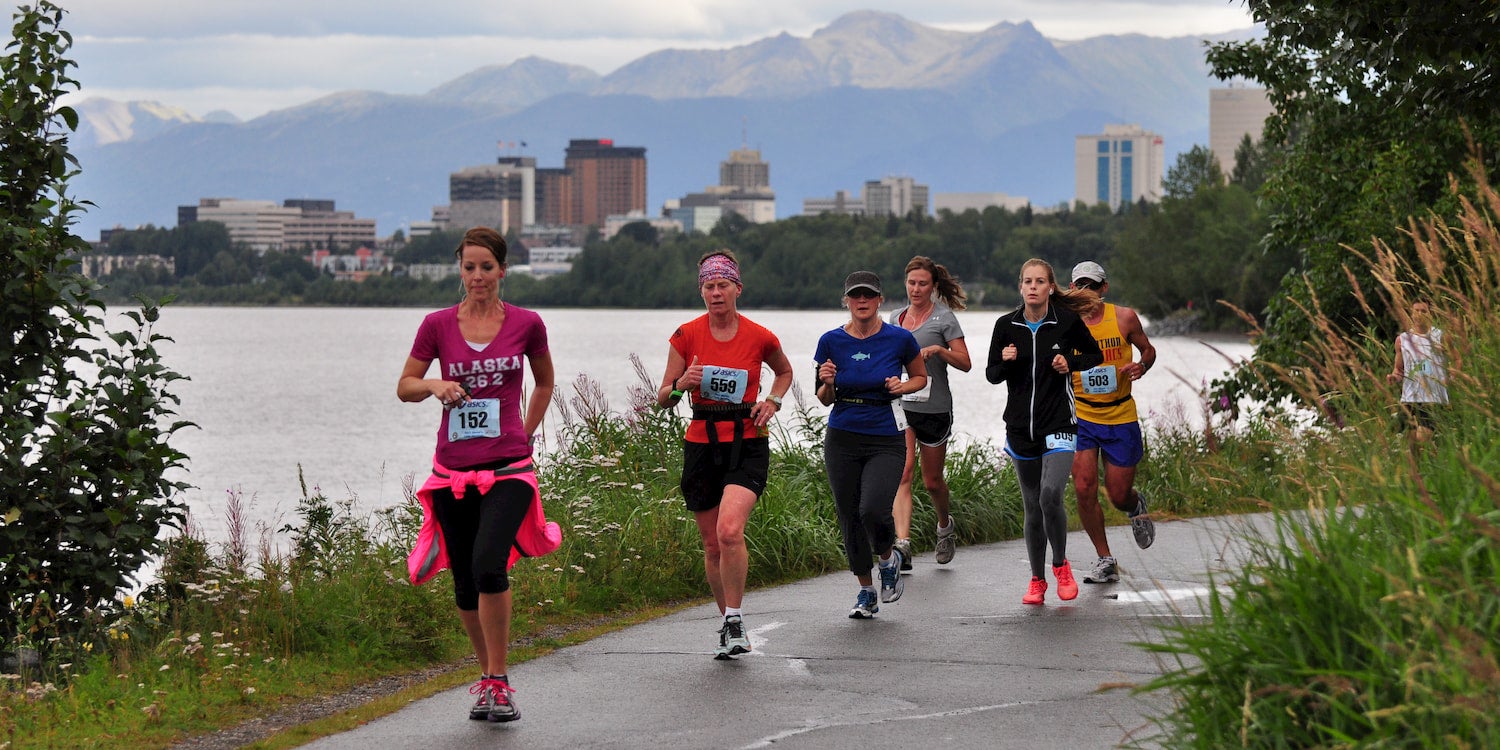 Date: June 20, 2020
Location: Anchorage, Alaska
Best Half Marathon For: Celebrating the longest day of the year.
Fee: $65-$90
The longest day of the year is worth celebrating, especially if you're from a state where the sun rises at 10am and sets at 4pm during the winter. Anchorage Mayor's Half Marathon honors the summer solstice with a 13.1 miles along the coastal trails of Anchorage's Cook Inlet. Runners can also enjoy this sunlit filled day in the Last Frontier with fantastic views of Denali on a clear day and running along forested trails with endless mountain views.
Date: June 28, 2020
Location: Missoula, Montana
Best Half Marathon For: Rocky Mountain views.
Fees: $77-$87
You'll get some fantastic views of the rockies and be able to explore the town of Missoula with this half marathon. Missoula hosts 4,000 runners on this rural, point-to-point race that travels through the countryside with views of the rockies, along the glistening Bitterroot River and finishes in downtown Missoula, a town with a strong western heritage. Be prepared for elevation–this race starts at 3,200 feet above sea level.
Date: July 18-19, 2020
Location: Napa, California
Best Half Marathon For: Wine lovers.
Fee: $180
Treating yourself with a little wine after a 13.1-mile run sounds like proper self care to me. The Napa to Sonoma half marathon is a point-to-point run through rolling vineyards in California's wine country. The run begins at Cuvaison Estate Wines and ends with tasting in Sonoma Plaza to celebrate what your legs can do. Runners experience sweeping views of Napa-Sonoma Marshes Wildlife Area, the San Pablo Bay and the Marin County hills. You'll end the race with a post-finish party with lots of opportunity for tasting.
Date: September 2020
Location: Aspen, Colorado
Best Half Marathon For: Fall colors.
Fee: $80
The Aspen Golden Leaf Half Marathon is scheduled so that runners are surrounded by the vibrant fall colors of aspen-lined trails. This is a point-to-point course starting in Snowmass Village and finishes in Aspen. It has been named by Colorado Runner and Trail Runner as one of the countries' most scenic trails. 1,000 serious runners hit this trail every year. There are major elevation changes on backcountry trails, so this is typically for trail runners looking for a heft challenge. But the brilliant colors of fall may keep you motivated.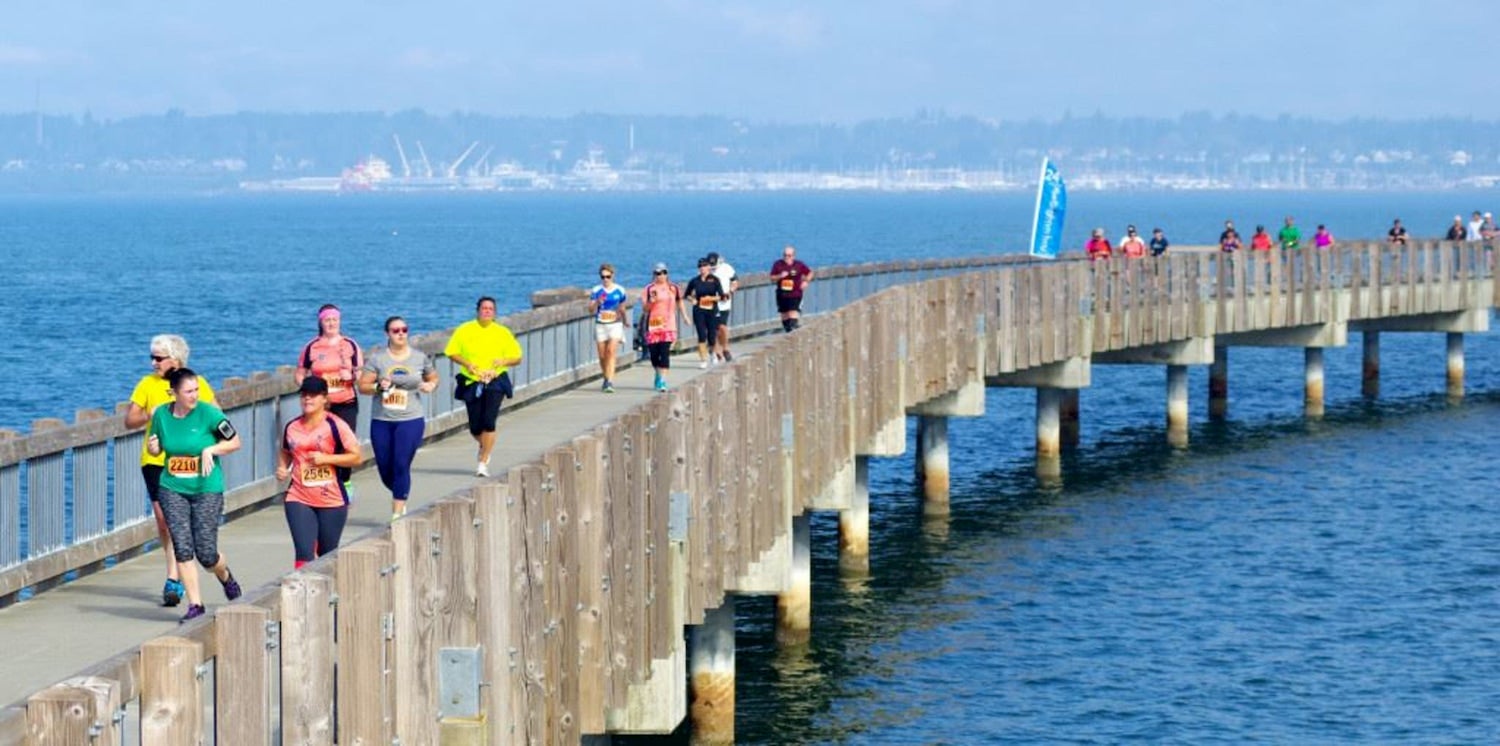 Date: September 17, 2020
Location: Bellingham, Washington
Best Half Marathon For: Northwest beauty.
Fees: $75-$115
The race travels along the scenic Bellingham Bay, making for one of the most tranquil and best half marathons in the PNW. Runners can enjoy impressive seaside, forest and mountain views, showcasing the epic trifecta that makes the Pacific Northwest so special. 2,000 runners will have the chance to see views of the nearby San Juan Islands, Mount Baker, and of course, the Bellingham Bay. The race will finish with a festival featuring live music, food, and a beer garden (runners get one free beverage).
Date: October 17, 2020
Location: Las Vegas, Nevada
Best Half Marathon For: Running under the moonlight.
Fees: $75-$100
This half marathon is majestically situated in Red Rock Canyon, the most notable natural treasure in the Las Vegas area. The race will begin just before sunset, so that runners can run through the canyon while enjoying the historically beautiful sunsets in Red Rock Canyon. The race will continue into the night, when the sun is replaced by the moon and stars. Runners will pass Joshua trees in the moonlight with views of the neon lights of Las Vegas in the distance on this scenic course. Runners are required to wear reflective clothing and wear a headlamp while running.
---
This article was brought to you by OOFOS.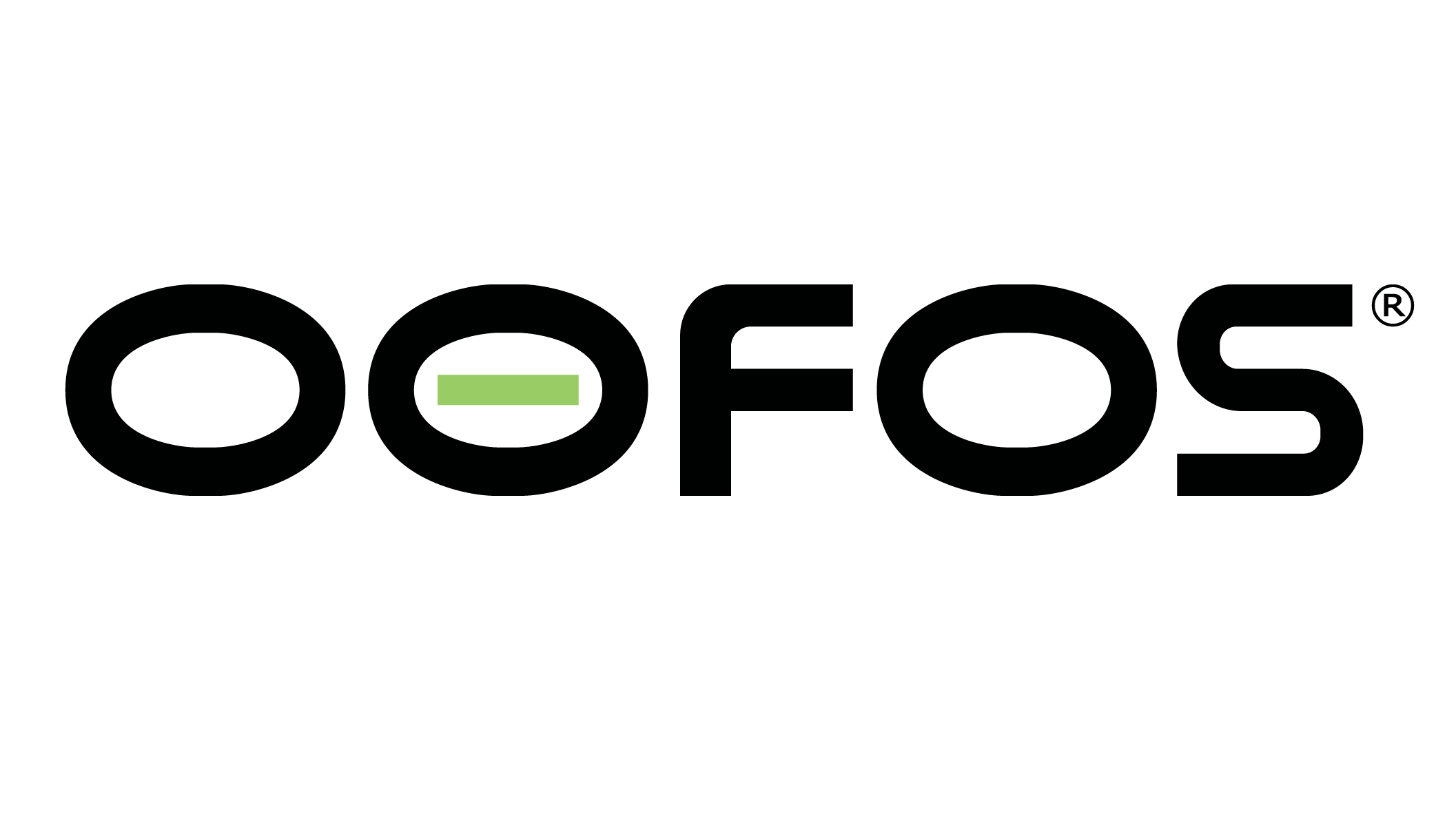 OOFOS makes therapeutic sandals to recover after a long run.
Popular Articles: