This collection of off-road trailers is brought to you by Midland, the makers of portable two-way radios to stay in touch with friends and family during big adventures. 
---
Off-road trailers not only enable you to haul your gear, but they serve as a home away from home, when you are camping, fishing, hiking or hunting. Off-road trailers are not a one-size-fits-all solution to your camping needs, though. The variance you'll find in these haulers is as great as any tool in the outdoors industry. We've compiled this list of eight incredible off-road trailers so you can find your perfect fit for outdoor adventure.
Once you decide which off-road trailer is right for you, make sure to download The Dyrt Pro. With the upgraded version of The Dyrt app, you can access campgrounds, maps, and photos for offline use during your adventures in your new rig.
The Tremor trailer by Lotus Caravan boasts a crossroads between luxury and brute strength, and it is anything but timid. With an exterior of German composite paneling and an artisan-level interior, this trailer has a fully equipped kitchen and lounge, a large bed, a 150W solar panel, and an independent suspension for the ultimate ride.
The long-lasting 120 Ah battery enables you to power all your necessities, watch movies, and listen to music even as you're exploring the backcountry. Sleek furniture and a cool, tough exterior make this a top choice for adventurers.
This is the perfect option for families of up to six people searching for an elevated trailer-top camper. With off-road tires, interior and exterior LED lighting, a 42-gallon water tank, alloy wheels, and more than 50 cubic feet of storage, it's made for braving the diverse North American landscape. The base of the trailer, just underneath the rooftop tent platform, features a fully equipped kitchen in addition to the generous, accessible storage features.
The durability and outdoor-living style of this trailer makes it ideal for desert camping. Check out camping in the Saguaro Wilderness, Arizona to enjoy this expedition trailer in its natural habitat.
The Bruder Exp-4 Off-Road Expedition Trailer is practical and rugged. The exterior has a rough and tough look featuring 17-inch alloy wheels rolled in 33-inch Mickey Thompson tires, a composite body, and a stainless-steel basin. It's built to take on harsh terrain.
Inside, it's packed with features. The sleeping area can accommodate up to three young children and two adults, and the outdoor kitchen is functional and durable, with plenty of storage space. Four internal USB charging outlets coupled with climate control gives you a taste of home comforts while you're exploring the wilderness.
This option is utterly minimalistic. While it's not for large families looking to conquer months on the road, it's perfect for individuals or couples looking for a down-to-earth, bare-bones approach to off-road exploration.
The VMI Offroad XTender Explorer gives you a tough, durable place to store extra gear and one more platform for mounting a roof top tent. Throw your extra climbing gear or surfboards in this 540-lb trailer for the weekend. It can also be an ideal camping platform where you sleep for months on the road. Head to Langohr Campground, Montana to enjoy camping, climbing, fishing, and hiking in this compact and affordable trailer.
The Taxa Tiger Moth camper is one of the most functional trailers you can find. At just 1,360 lbs., it boasts a full-size bed and couch that can house up to four adults. It has USB outlets, interior and exterior storage, a built-in kitchen, optional solar panels, and an efficient water system.
To help you enjoy your adventure's best vistas, the doors and hatches easily fold out of the way for a more panoramic view. Its stripped-down, outdoorsy design adds to the aesthetic of all your adventures.
Everyone loves a good teardrop trailer. The Colorado Teardrop Canyonland is durable, functional, and lightweight (only 1,150 lbs.). It is optimally insulated and features terrain-ready tires and a welded aluminum frame.
A 14 x 14-foot pop-up can make room for a queen-sized mattress so you can explore in comfort. The interior of the trailer is birch plywood finished with polyurethane, making the cabin easy to clean and gives it a sleek, stylish look. If you're looking for a retro throwback that will shine just as brightly on Instagram as it will in Yellowstone National Park, this is the pick for you.
---
Prepare for your next adventure in your off-road trailer by downloading maps. The Dyrt Pro lets you download maps and campgrounds without cell service. "My alternative to using pro would be to drive back out to cell service".
---
7. Air Opus—The Most Festival-Ready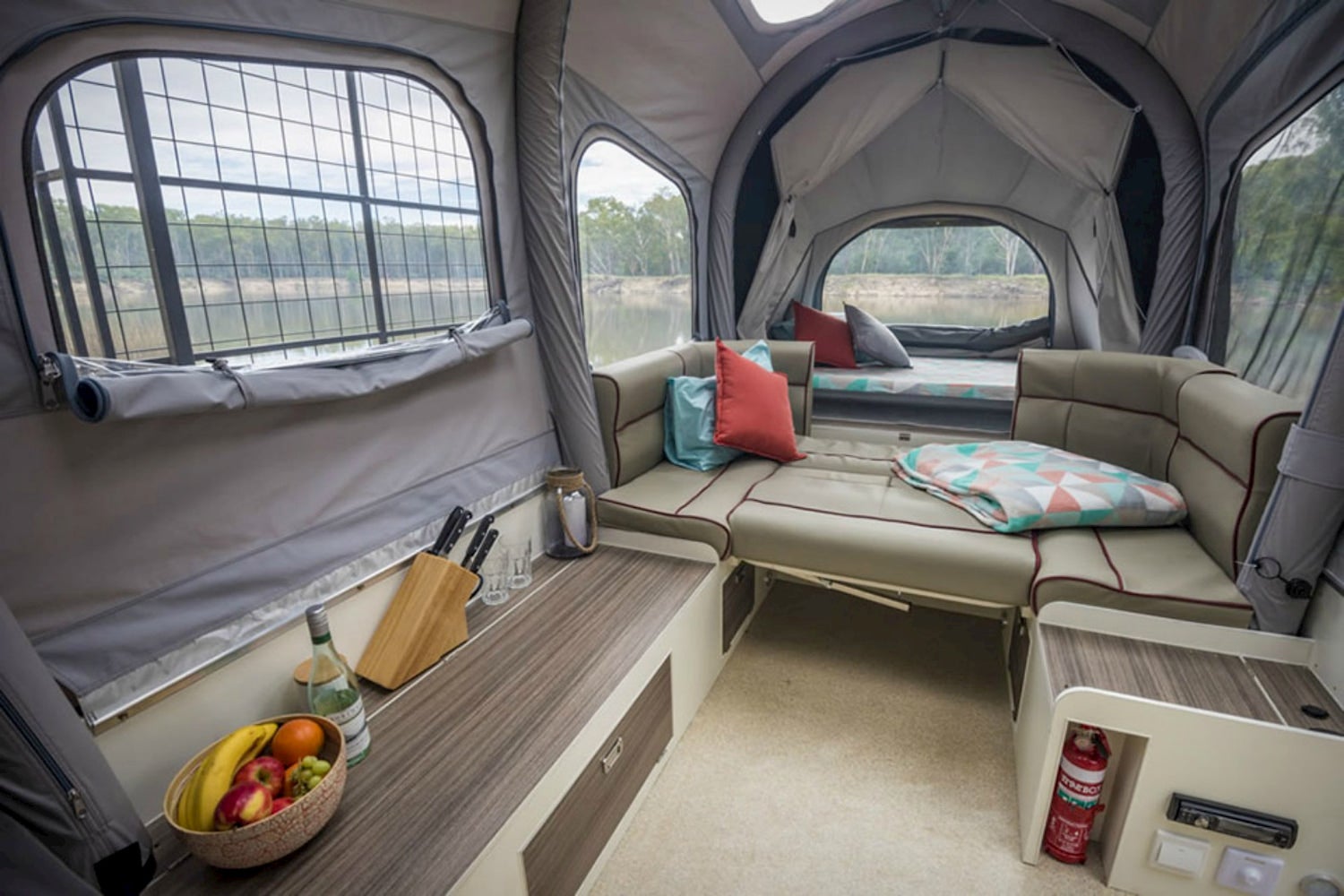 With the Air Opus, you can inflate your entire set up–tent, mattresses, and all–in under two minutes. Due to the impressive mechanics, this is a slightly heavier option, weighing in at over 2,000 lbs.
It's not for all-season use, and other options on the list are better for individuals looking to live out of a trailer or camper long-term. But if you're looking for something that will make your festival-going much easier and leave more time for exploring, this is an excellent choice.
The Moab Fort lacks the flashy features of many of our other options. However, this smaller and less costly trailer gives users plenty of options. You can store gear safely and efficiently, mount a rooftop tent, or throw a cargo rack on the back to transport camping gear and bicycles.
It also features some of the most durable construction and tires out of any of the other options on our list. The 31-inch tires and powder-coated steel frame are ready for business. With plenty of add-ons to choose from, this is arguably one of the most cost-effective, adventure-ready trailers on the list.
Final Thoughts
When it comes to off-road trailers and tough luxury, there's something for everyone. However, it's necessary to know what you're looking for. Do you need a comfortable trailer that can brave all the elements? Are you looking for a festival-ready craft? Or do you lean more toward cheaper, stripped-down trailers that allow you customize your own experience? The trailer you choose ultimately comes down to your personal preference and off grid adventure style.
---
This article is brought to you by Midland

Midland makes a high quality walkie talkie to make communication easy while exploring.
Popular Articles: