Board games play a crucial role in the brain development and growth of children, helping to strengthen logic and reasoning skills, critical thinking, and spatial reasoning (not to mention team playing, cooperation, and patience!). The best way to get children into these games is through family board games—which can boost family bonding through fun and team-building, while also aiding childhood development.
Board games aren't just for evenings around the table or weekends sprawled on the living room floor. Games can and should be taken on the road, where downtime in outdoor activities means family time around the picnic table or campfire. Another bonus to packing the family board games on your next camping trip? The inevitable rainy day.
A well-stocked "Fun Bin" for family camping trips should always include a board game or two. Here are some of our favorites.
16 of the Best Family Board Games for Your Next Group Outing
These 16 family board games will beat the inevitable "I'm bored" declaration from the kids; chances are, even you'll be itching to play, too.
1. Melissa & Doug Suspend Family Game
Age: 8+
Players: 1-4 players
Balance is key in this fun family game. Including 24 rods, a colored die, 4 frame rods, and a wooden connector, you'll be busy developing hand-eye coordination while you try and balance all of your pieces. Make it fall and you're out! Full of suspense whether you're playing this by yourself or with friends, this game requires all of your concentration. Comes in a small package that's perfectly easy to bring along your family camping trip. You'll just need a flat surface in which to place the base. Buy Now: $16.99
2. Sequence Game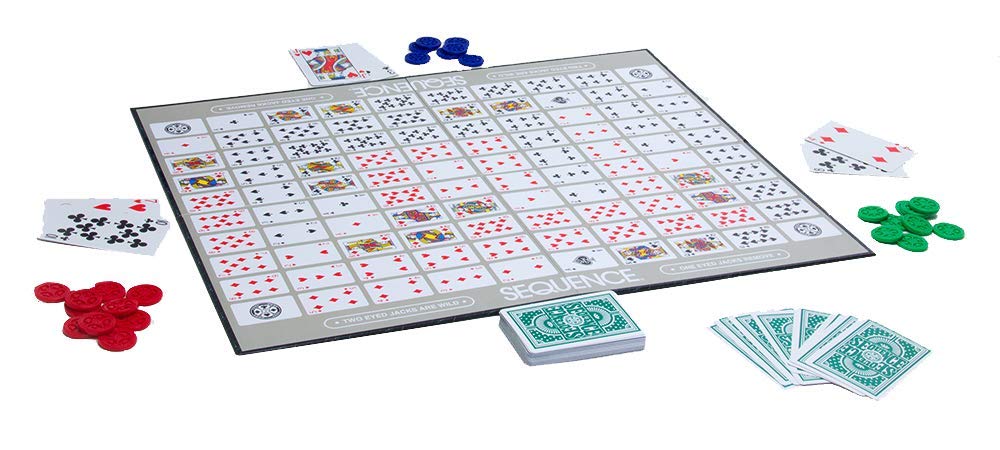 Age: 7+
Players: 2-12 players
The object of this classic family board game, is to form rows of five poker chips on the board, all of which correspond to the cards played from the player's hand. This is a challenging yet fun strategy game; the only downside to bringing it on a camping trip? There are a number of pieces you'll need to keep track of (135 chips, and playing cards as well). Buy Now: $9.99
3. The Appalachian Trail Game, Backpacking Edition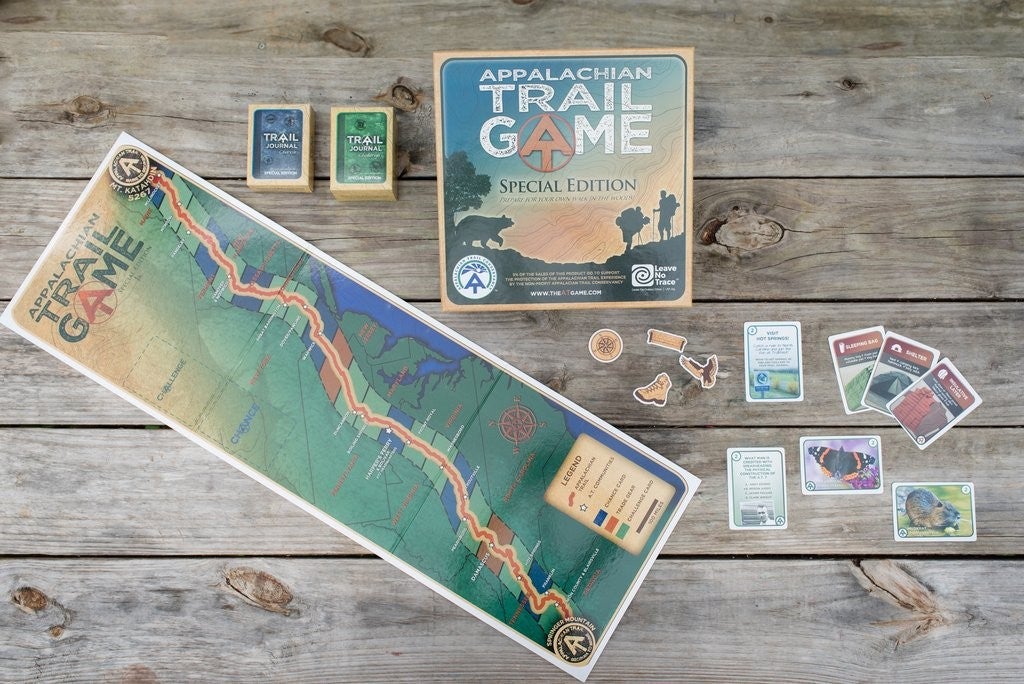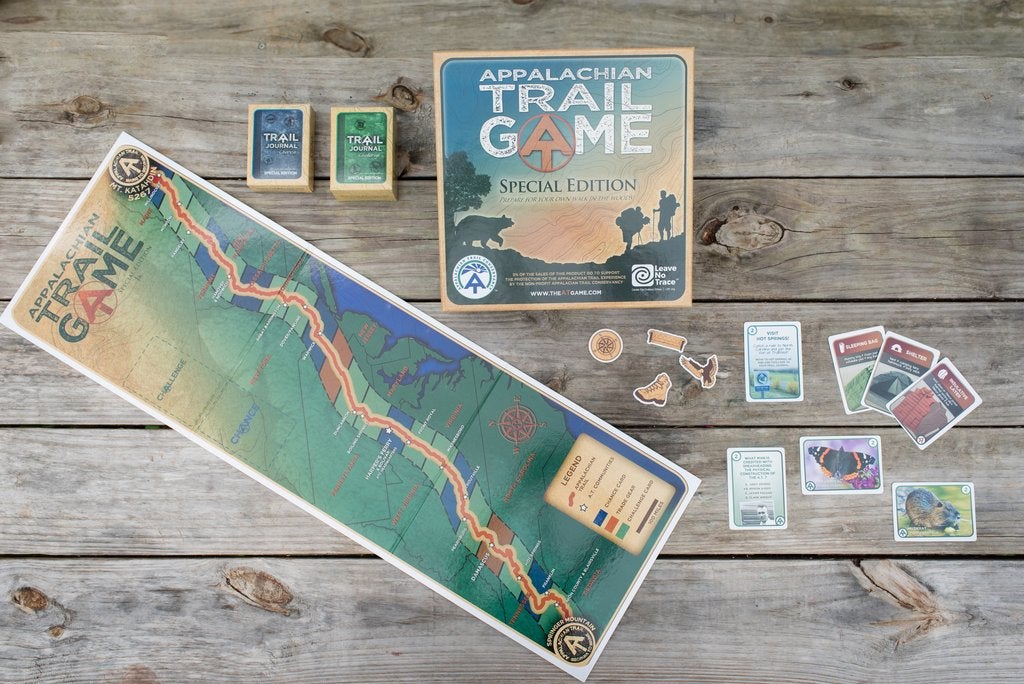 Age: 8+
Players: 2-4 players
Designed in a long rectangle with a trail that depicts the entire AT, this is the ultimate board game for families of the outdoors. With "Challenge', 'Chance', and 'Gear' cards, players must navigate the Appalachian Trail; trail trivia bring players insight into history, places, and wildlife experiences on the trail route.
There are a few options for different Appalachian Trail Game editions; The Backpacking Edition is smaller and specifically designed for camping. Buy Now: $19.99
4. Castle Panic
Age: 10+
Players: 1-6 players
If your young ones are squabbling, this is the game to break out. This light strategy game is high on group cooperation; to win, players must work together to slay all of the Monsters and leave at least one castle tower standing. This game can be played solo, as a solitaire game. Buy Now: $34.99
5. Scythe Board Game
Age: 14+
Players: 1-5 players
Set in an alternate-history of a 1920s period, this game features farming, war, revolution, and courage; each players represents a fallen leader trying to gain honor and power in Eastern Europa. Beginning with different resources, this is a game of choice. For the budding engineers in your family, this is a beautiful board game: every part of Scythe has an aspect of engine building. Buy Now: $55.99
6. Bananagrams
Age: 7+
Players: 1-8 players
The portable answer to Scrabble, one of the best family boards games ever (I might be biased here), this is a tiny-in-size game that is engaging, education, and perfect for family travel and camping trips. Inside each banana shaped pouch are letter squares. Each player must use their squares to build off of other player's words, creating a crossword-like game as it's played. Buy Now: $13.99
7. Cribbage
Age: 6+
Players: 2-4 players
Played with a deck of cards, pegs, and a wooden board, this game tests math skills and strategy. Played since the early 1600s, Cribbage is a timeless game that remains a favorite in my family. We even have a travel cribbage board that stays permanently in our camping gear bag (it has even made the cut for long backpacking trips). It's possible to play this game with youngsters learning how to count; just team them with an adult who can help out. Buy Now: $9.99
8. Yahtzee National Parks Edition
Age: 8+
Players: 1+
A portion of the proceeds go to the National Parks Foundation, making this one of the best family boards games amongst those who love both Yahtzee and the outdoors. For those familiar with traditional Yahtzee, instead of numbers, this these dice depict animals and outdoor symbols in place of the traditional dice pips (roll a hiker, pine trees, binoculars, tent, and canoe for a large straight, for example). Buy Now: $16.84
9. Catch Phrase
Age: 12+
Players: 2 teams
The only game on this list that requires batteries, Catch Phrase is a lot of fun around the campfire. Players team up to try to guess the word or phrase that appears on the screen–without saying the actual word. There are 5,000 words and phrases within a number of different categories to choose from; the first team to reach 7 points wins. Buy Now: $13.99
10. Mancala
Age: 6+
Players: 2 players
One of the oldest games known that is still played today, Mancala is a strategy-based math game that has players using logic to win. The objective? Capture all or some of your opponents stones. All that this board game requires is the wooden board itself, and they come small enough to slide into your hiking bag. Gather stones, sticks, seeds (or whatever else is handy!) for game pieces. Buy Now: $26.99
11. Telestrations Party Pack
Age: 12+
Players: 4-12 players
This is the perfect board game for big family camping trips! Combining 'Telephone' and 'Pictionary', Telestrations is an engaging family game that will have everyone laughing. Each player has their own erasable sketch book, marker, and word card. At 60 second intervals, players must pass their sketchbook, where a guess is given as to what the previous player was drawing. Another 60 seconds, and a drawing on the guess. This continues until it is back to the original owner. Buy Now: $38.96
12. Beat The Parents
Age: 8+
Players: 2+
Putting the kids and parents against each other, this is one of the best family board games for group camping trips with multiple families. Answer fun trivia questions (kids about the adults, adults about the kids), and whoever crosses the board first with both mover pieces, wins! Buy Now: $25.95
13. Hedbanz
Age: 7+
Players: 2-6 players
Asking "yes" or "no" questions to figure out the character on your head (either animal, food, or man-made object), Hedbanz is a fun game even for little ones. The first player to correctly guess their Hedbanz character, wins! With simple game pieces (a head piece and a hard), this is one of the best family board games to play around the fire. Buy Now: $15.99
14. Battleship
Age: 7+
Players: 2 players
Battleship forever reminds me of road trips to see my family in Maryland; my mom used to pack drawing pads, books, and games to play during the 10 hour drive down the coast. Battleship was a favorite between myself and one of my brothers, and we'd pass hours in the car guessing where the other had their fleet of ships set. A classic guessing game where players try to sink the ships of their opponents by correct guesses of coordinates, this classic board game was first constructed by Milton Bradley in 1967 and hasn't changed all that much since. It's a must for rainy day camping fun. Buy Now: $11.92
15. Guess Who?
Age: 6+
Players: 2 players
Another classic in the family board games genre (first manufactured by Milton Bradley in 1979), Guess Who? is a fun guessing game where opponents try to guess the other player's mystery character by process of elimination. Set-up and game pieces are simple, making this an easy campground game for sitting around the picnic table. Buy Now: $9.97
16. Googly Eyes Board Game
Age: 7+
Players: 4-16 players
One of the top-rated family board games available for its hilarious, laughter-inducing good times, Googly Eyes is all about goofing off and having fun. Player by player don vision-altering google eye glasses and begin drawing, while team members try to guess what it is that's being rendered in front of them. Everyone takes turn guessing and drawing; first team to reach Finish wins. Buy Now: $17.77
---
Our recommendations are based on providing value to campers across the country. Some articles may contain affiliate links. By purchasing through our articles, you help support this camping magazine.
---
Related Campground:
Popular Articles: