From bubbling mud pots to the towering sprays of Old Faithful, thermal activity is one of the biggest draws at Yellowstone National Park. While these attractions are perennial crowd favorites, they all fall firmly into the category of 'look, but don't touch'.
Get too close to the thermal hotspots and you risk scalding and chemical burns, if not worse. However, there are exceptions—some Yellowstone hot springs are temperate enough for soaking. The largest and most famous is known as Boiling River.
Swim in a Geothermal Spectacle at Yellowstone's Boiling River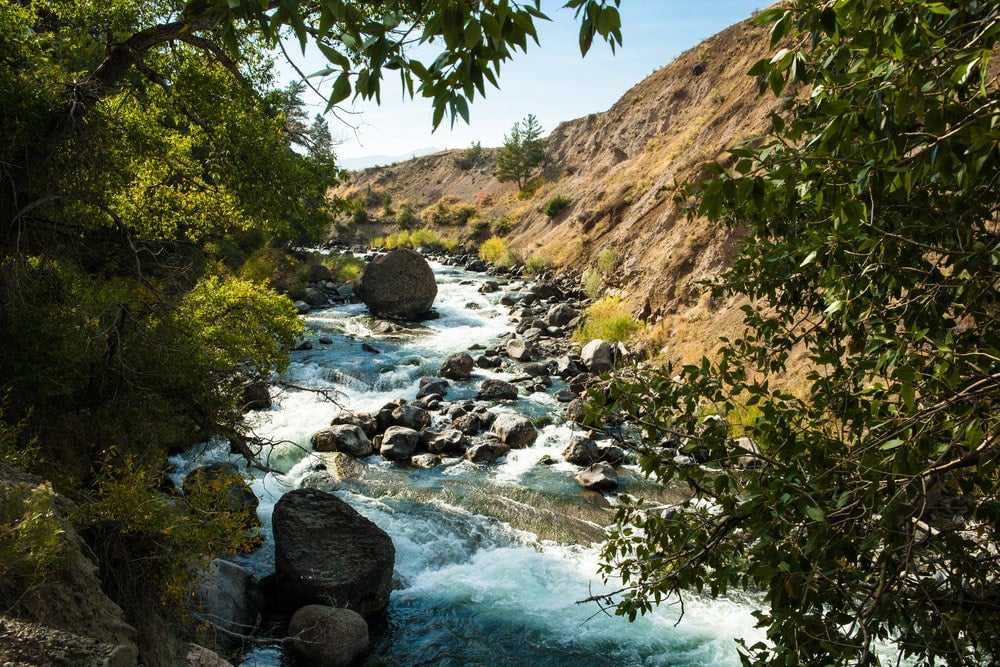 The Science Behind the Boiling River
Of the natural hot springs in the Rocky Mountain range, the Boiling River is the perfect blend of size, adaptability and accessibility for adventurers looking to take a dip. Boiling River is not an actual river, but a small section where the Gardiner River meets a large, mysterious outpouring of hot water from an underground source. When the cold river water meets the scalding hot spring flow, the result is a perfect mix of temperatures.
You can choose your temperature preference based on how close you sit to the thermal water entrance. One side of your body will feel the heat, while the other experiences the icy chill of a mountain stream. Moving a foot or two will change the temperature significantly. Some people enjoy doing the 'polar plunge' version of soaking, where they sit in the hottest water they can handle, jump in the cold river, and return quickly to the hot water.
How to Get There
The Boiling River swimming spot is not accessible during late spring and early summer, typically from May through mid-July. This closure protects people and the landscape as the Gardiner River washes out the hot springs, muddies the trail, and creates unsafe currents for visitors.
Check with the Albright Visitor Center, near Mammoth Hot Springs, to determine if the trail is open. Don't be surprised if it remains closed later than usual in years with higher snowpack and runoff. In summer, Boiling River is open from 6:00am to 8:00pm until September 15. From September 16 to late April/early May, it is open from 7:00am to 6:00pm.
Accessing the spot is not difficult, but does require a short hike. The 1.25-mile trail only has a 50-foot elevation gain and, while made of packed dirt, is wide and smooth enough for casual shoes, even sandals.
From Yellowstone's North Entrance, drive about three miles south of the Roosevelt Arch on Highway 89, but do not cross the Wyoming border. After crossing the river, there is a dirt parking area on your right. From the south, drive north along Highway 89 from Mammoth Hot Springs, cross over the Montana border, and look for the parking on the left. Parking is limited and can fill up quickly.
Travel Tips for Swimmers
On the hike in, do not be tempted to touch the flow of the actual Boiling River. This high-flow geothermal output reaches temperatures of up to 140 degrees, so while it looks like a quiet mountain stream, it is actually a third-degree burn waiting to happen.
Despite its popularity in recent years, the Boiling River is not a designated swimming spot and the park is not liable for visitor safety. There is no lifeguard on duty, and natural hazards exist. This isn't meant to be scary, but it is important to remember that you are still in a wild area, far away from definitive medical care. Along those lines of responsibility and good-decision making, Yellowstone Park has banned alcohol at this location. Visitors are also required to wear clothes or bathing suits at all times—no skinny dipping!
Pack sunscreen, large water bottles, snacks, and a small first-aid kit. Don't expect a remote, isolated experience, but instead, look forward to meeting and chatting with other people who enjoy the park's natural beauty.
Please respect this beautiful and unusual riparian area, and carefully collect all the trash and food scraps you can—following Leave No Trace rules here is a must. There are restroom facilities available at the trailhead.
Where to Camp Nearby
After a soak in the Boiling River, it's nice to not have a long drive back to camp. Below are the best campgrounds close enough to bring that delicious sense of relaxation back to your site with you—many of them located in the famous Yellowstone National Park.
Located near the northern entrance to the park, Mammoth Campground has 85 sites and is open year-round. This is a great option for anyone interested in visiting the Boiling River during the 'off season' from late fall to early spring. Large, pull-through sites for tents and RVs are all first-come, first-served, so it is a good idea to pitch the tent before visiting the hot springs. Be aware that there are no hook ups. The views stretch down a gently sloping valley, where large Douglas fir and juniper trees provide some shade.
Also a first-come, first-served campground, Indian Creek Campground is a few miles south of Mammoth Campground in Yellowstone National Park. There are 70 sites, located at 7,300 feet in elevation, with lots of shade and beautiful views of Electric Mountain. No hook ups available here, either, but the cooler temperatures and less crowds make this an ideal option for campers who want to take it easy.
Eagle Creek Campground is in Gallatin National Forest, just north of the town of Gardiner. This national forest campground has only vault toilets and does not allow reservations, but it has the unique option of a stock corral for equestrian camping. Camping here would be a great option for someone interested in day-tripping to Mammoth Hot Springs and the Boiling River.