Wildflowers don't follow the rules, which is why we love them so much. They grow where they want, like a young artist painting outside of the lines. Not to mention, they're crazy pretty, especially when they take over entire fields in a kaleidoscope of colors.
By definition, wildflowers are flowering plants that grow on their own, without human intervention. And spring is their time to shine. Remember the Leave No Trace Principles while enjoying wildflowers to preserve nature and so future visitors can enjoy them as much as you did.
Wildflowers don't need us. But arguably, we need them. Because we love them. If you time it right, you can turn your next camping trip into a celebration of these beautiful, wild bursts of color.
Wildflowers + Nearby Camping Destinations
If you belong among the wildflowers, here are 10 places across the country where you can indulge your wild side while camping—we know that you belong somewhere you feel free.
One thing before you go skipping through the fields: picking flowers from national parks is illegal, so look but don't touch!
1. Saguaro National Park, AZ
Blooming Season: April – June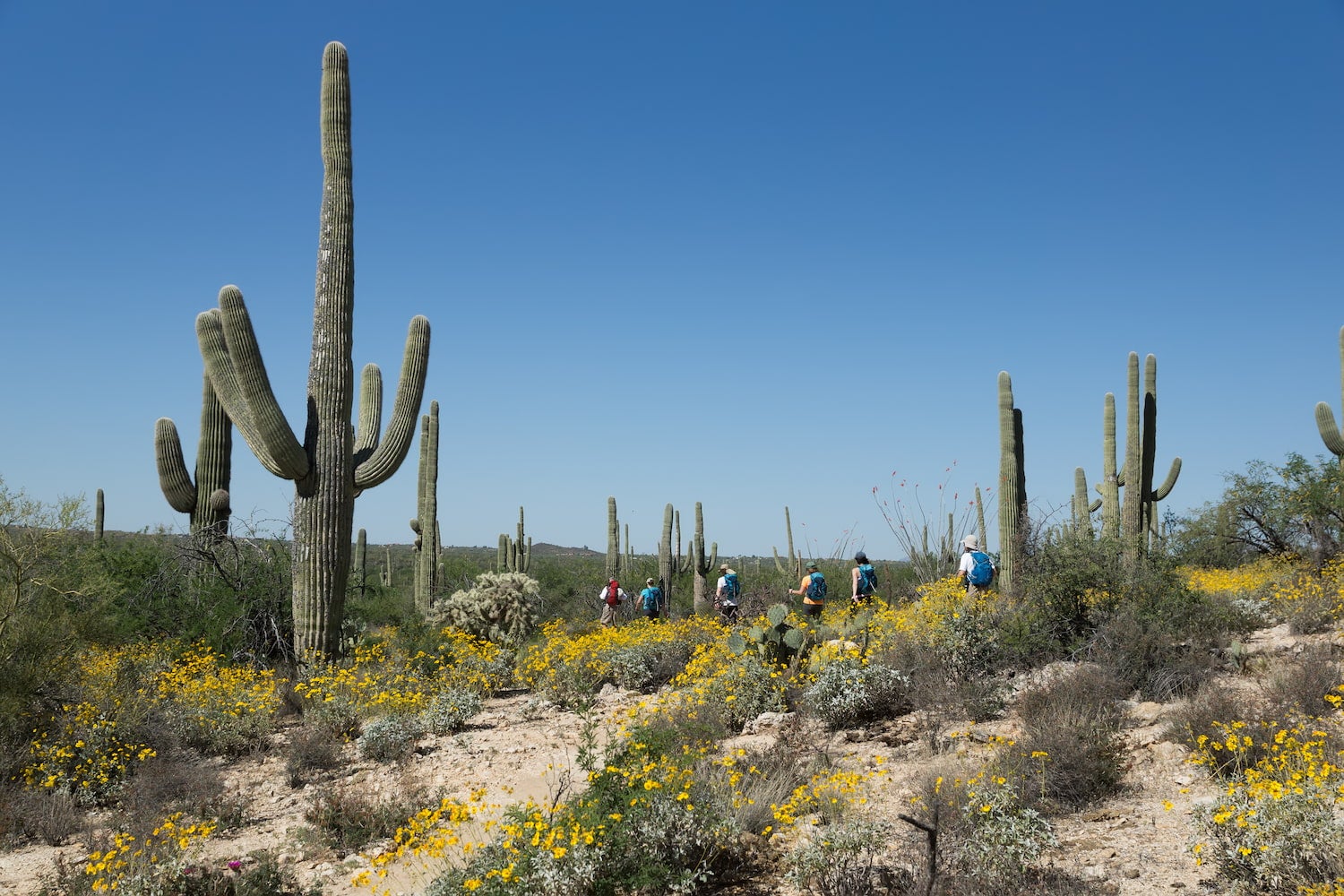 Saguaro National Park is named for the Saguaro cactus that is ubiquitous throughout the area. Each year in April through June, the saguaro cactus blossom unfurls its white petals, bringing a little softness to the spikes. Other perennials include desert marigold and sweet bush.
Where to Camp:
You can rest up after a day in the fields at Manning Camp and Spud Rock Cabin, which are close to the wildflower-laden Bajada Loop. If you have two days or more, hop over to Happy Valley Campground in the nearby Rincon Mountain District. Click here for more camping in Arizona.
---
2. Franconia Notch State Park, NH
Blooming Season: May – June

New Hampshire's White Mountains blossom into rolling meadows of purple, pink, blue, and white as the lupines burst to life each June. If you want to see them, you've got a small window; like cherry blossoms, they are only at their peak for a few weeks!
Where to Camp:
Lafayette Place campground is an excellent base for exploring the region, with hikes like the Franconia Notch Loop trail accessible from camp. Click here for more camping in New Hampshire.
"This whole area is bursting with things to do and this is a nice place to stay while exploring the region." – The Dyrt Camper Harry H.
---
3. Wichita Mountains Wildlife Refuge, OK
Blooming Season: May – September
From March through September, the prairies of Southwestern Oklahoma erupt with wildflowers. The Wichita Mountains Wildlife Refuge is a perfect place to see the Baptisia, tiny yellow coreopsis, and the Oklahoma state flower, the Indian Blanket.
Where to Camp:
Flowers can be seen along the easy Jed Johnson Trail or more difficult Charons Garden Mountains Trail, and you may even see some bison, elk, or prairie dogs. Find clean, quiet camping at Dora Campground. Click here for more camping in Oklahoma
"The Wichitas are (in my humble opinion), by far the best place to be in Oklahoma." – The Dyrt Camper Katie K.
---
4. Gunnison National Forest, CO
Blooming Season: June – August
When the snow melts in the Wildflower Capital of Colorado, high-elevation wildflowers come out to play. Visit from June to August for bright red fairy trumpets, golden sunflowers, and colorful delphiniums.
Where to Camp:
Camp near Crested Butte at Lake Irwin Campground, but make a booking so you don't miss out. Campers report that this campground is in great shape and pet-friendly, so bring your four-legged friends along too. Click here for more camping in Colorado.
"Dyke Trailhead was right next to our tent. 13+ mile beautiful mountain biking/hiking trail. Definitely suggest going wildflower season. Get there early to make sure you have a spot though!!" – Katelyn M.
---
5. Shenandoah National Park, VA
Blooming Season: April – August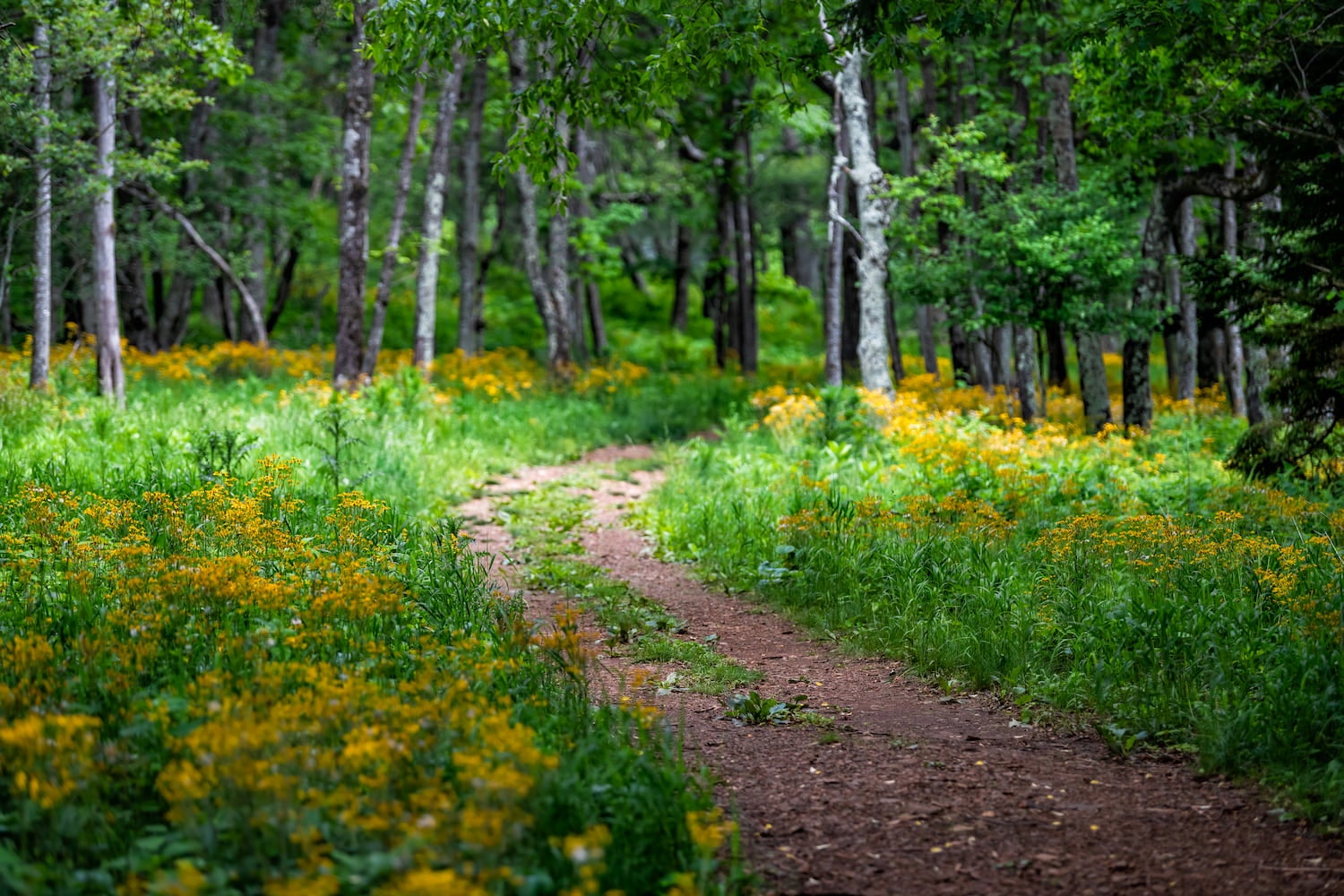 Wildflower enthusiasts, rejoice! Shenandoah National Park has more than 850 species of wildflowers to identify. Look for vibrant flowers like columbines, bluets, Quaker ladies, touch-me-nots, and hundreds more. The season runs from late spring to early summer, with different varieties blooming throughout.
Where to Camp:
Set up camp at grassy Big Meadows campground, which has around 200 sites. It's busy, but sites are spaced out and comfortable. Click here for more camping in Virginia.
"Even in the middle of the season with all the spots full you never feel like you are on top of everyone." – Rachel A.
---
6. Lyndon B. Johnson State Park, TX
Blooming Season: March – June
Get up close and personal with Texas bluebonnets at Lyndon B. Johnson State Park. If those don't impress, there are roughly 449 other types of wildflower out there, so something's sure to catch your eye. Visit in the spring (March to early June) for the best viewing.
Where to Camp:
The park is near the Johnson City airport, and camping is available six miles to the west at the family-friendly Texas Wine Country Jellystone Park Camp-Resort. For more of a rustic nature getaway, head 25 miles east and camp at Pedernales Falls State Park. Click here for more camping in Texas.
---
7. Fort Pierre National Grassland, SD
Blooming Season: April – September

Central South Dakota might bring to mind vast prairies, not wildflowers—but at the right time of year, it's both. During the late spring and into the summer you'll find purple coneflowers, prickly pear, and other varieties native to the Great Plains.
Where to Camp:
Get a free map from the Fort Pierre Ranger District to plot your wildflower viewing route: Forest Service Route 227 is a good place to start. The closest camping to the grassland is in Fort Pierre. Try Lilly Park campground and Farm Island State Rec Area. Click here for more camping in South Dakota.
---
8. Great Smoky Mountains National Park, NC
Blooming Season: April – August
For wildflower diversity there's no better place in North America than the Smokies. Visit from Mid April to August and be amazed by the plant life in the Southern Appalachians. From squirrel corn (yep, that's a real flower) to bleeding heart, this is an education in wildflowers.
Where to Camp:
The Smokies straddle Tennessee and North Carolina, so you have your choice of two states. Smokemont Campground on the NC side is a good option for wildflower-seekers, and it's near other attractions like Gatlinburg and Mingo Falls. Click here for more camping in North Carolina.
"Smokemont is a nice option for camping deep into the Smokies. There's still good proximity to area towns if you need something, and you're right around the corner from Mingo Falls – a must-see spot." – Gretchen N.
---
9. Carrizo Plains National Monument, CA
Blooming Season: March – May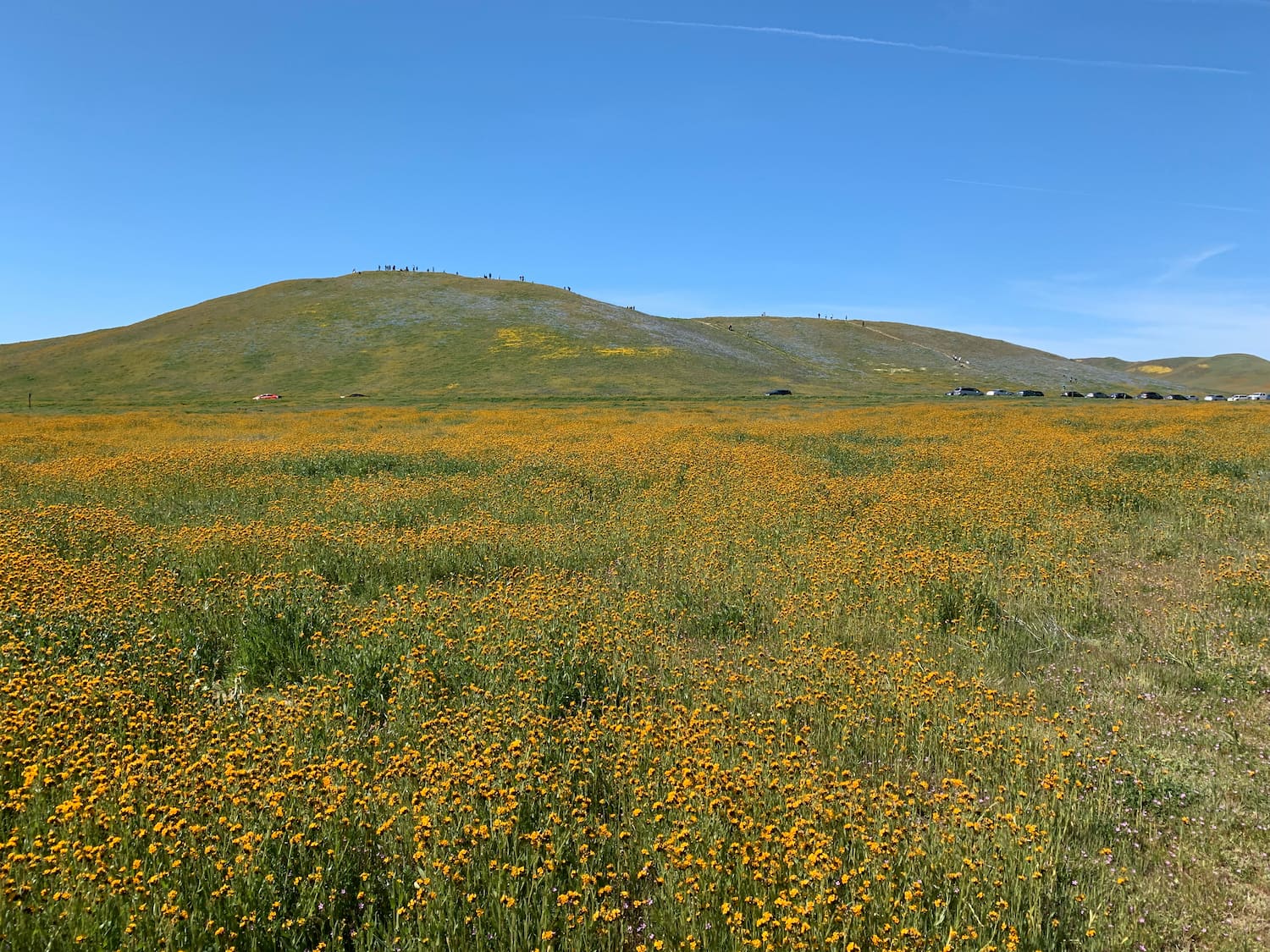 Carrizo Plains is one of the best sites to view southern California's legendary "superblooms", where rare weather conditions allow for thousands of flowers to bloom simultaneously.
Where to Camp:
Carrizo Plains National Monument also boasts tons of free dispersed camping, making this an essential spring destination. If you'd like a few amenities KCL Campground is a great first-come first-served option. Click here for more camping in California.
"This place is so beautiful in the Spring. Day and nighttime temps were very comfortable. The hills were still green from recent rains, and the wildflower blooms were showing off their amazing carpets of colors." – Albert S.
---
10. Mount Rainier National Park, WA
Blooming Season: June – September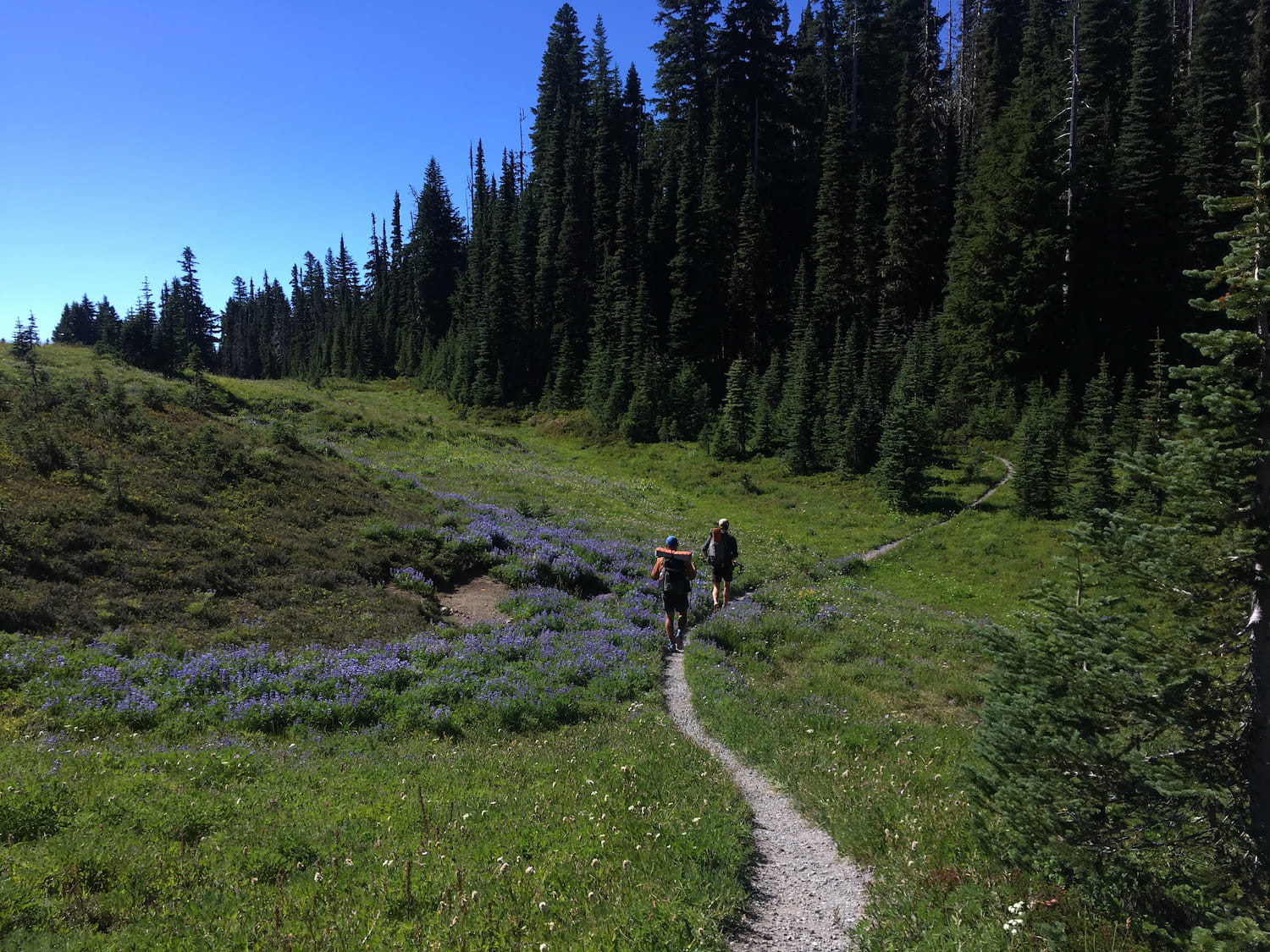 Mount Rainier National Park is famous for its dangerous mountaineering, but you don't have to gear up to enjoy it's wildflowers. This gigantic volcano is covered in snow for much of the year, leaving the wildflower window to be rather short, so get out there and enjoy the wildflowers while you have the chance.
Between June and September you can enjoy aster, lupin, tiger lilies and dozens of other varieties of wildflower, but be sure to get there in August for peak season.
Where to Camp:
Mount Rainier National Park boasts dozens of campgrounds, both primitive and accessorized. Cougar Rock Campground is a popular option. Click here for more camping in Washington.
---
Want to blaze your own trail? Upgrade to The Dyrt PRO here to unlock camping road trips and free camping public land map overlays.
---
Original Author: Lauren Fitzpatrick
Updated March 2021: Taylor Kalsey