This article is brought to you by Banner & Oak, a company with deep expertise in headwear. Their ladies hats are the perfect addition to your next camping trip. 
---
The sunshine state is serious about its outdoor recreation, and campgrounds in Florida allow outdoor lovers to access all of its wild variety. With more than 12 million acres of public lands, around 1,300 miles of coastline, Atlantic to Gulf coast beaches, as well as inland prairies, forests, and rivers, camping in Florida the pinnacle of outdoor recreation in the south.
There are countless outdoor attractions unique to Florida, including a prehistoric swimming hole you can camp near (Devil's Den Spring) and a national park where the best views can be seen from underwater. Wherever you feel like pitching a tent, campgrounds in Florida will keep you busy.
But in case you need some advice on where to catch the best Florida rays, The Dyrt reviewers are revealing their most treasured campgrounds in Florida.
The Dyrt Campers Share Their 7 Favorite Campgrounds in Florida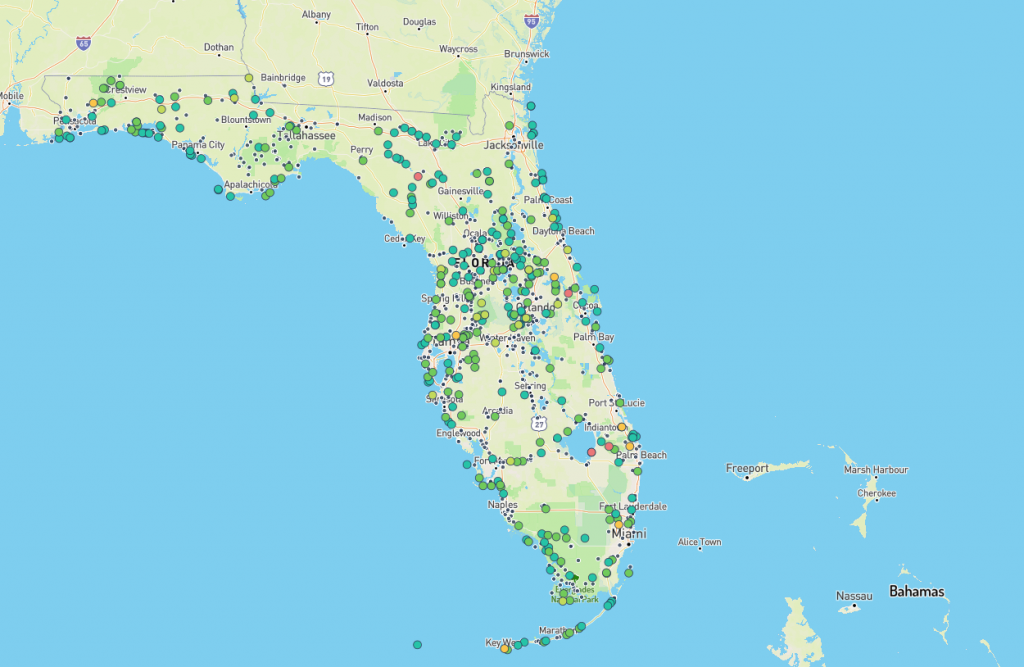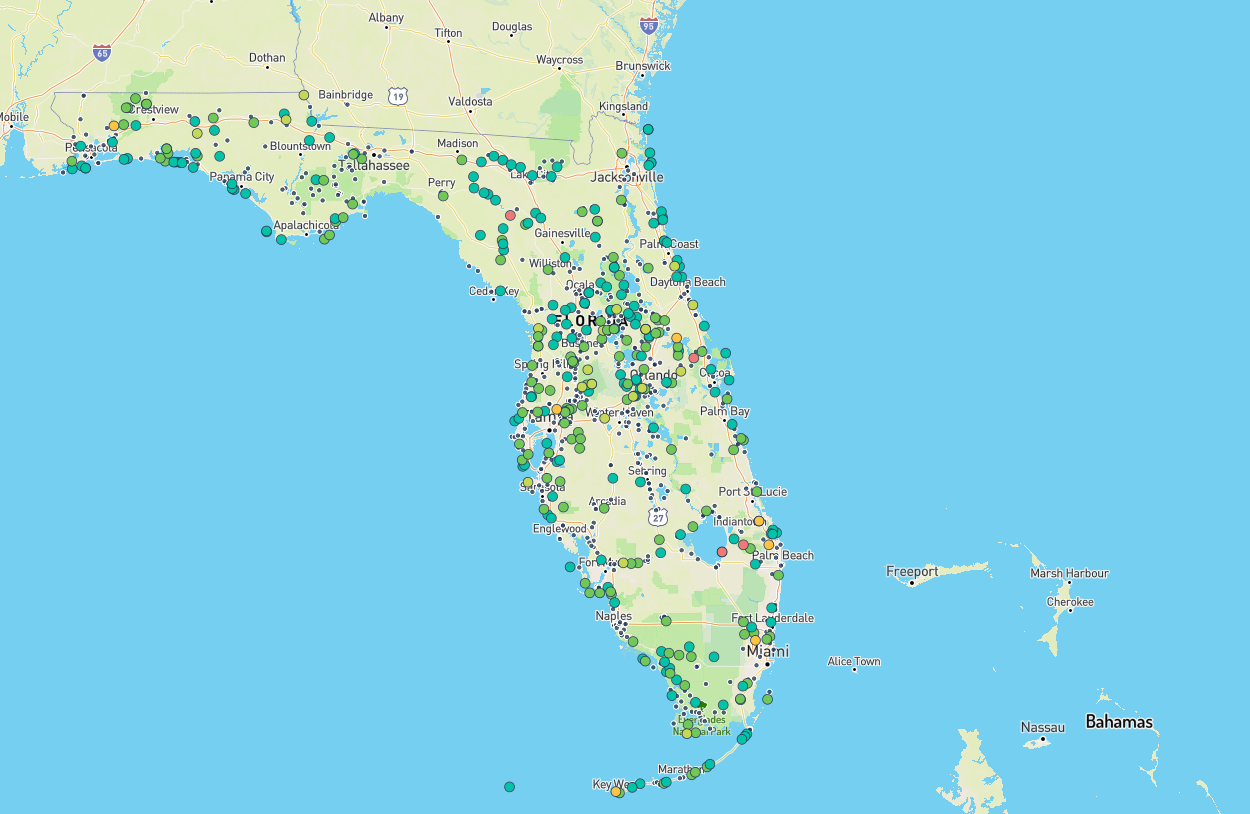 This list will help you find the best Florida camping from the locals and pros who review campgrounds on The Dyrt. These 7 campgrounds have been reviewed and revered from The Dyrt campers' first-hand experiences.
If you're looking for Florida's natural beauty distilled, you'll find it at Myakka River State Park. Myakka River, one of Florida's oldest and largest state parks, is home to panthers, gators, turkey, herons, and egrets as well as their diverse habitats, from prairies to wetlands.
With the abundance of animals, wildlife viewing is a popular activity while Myakka State Park camping. Hikers can tread along 38.9 miles of loop trial, and if you'd rather cruise on the water, there are daily boat tours available so you can focus on photography. If you're especially keen on seeing the gators, make sure to stop by "the deep hole."
There are 90 campsites in the park, and you can expect to find electrical service, water, a fire ring, and a bathroom within 40 yards of each one. Hammock camping is permitted on six of those sites. Six spots along the hiking trail are designated for primitive campers, but be prepared to supply your own water, as it's not guaranteed.
"I stayed in the primitive grounds so it was about a 5 mile hike in with a pack. We set up camp and could not wait for the sun to go down for stargazing. This park is epic, at the entrance are there is a huge bouldering rock as well which is fun."  —The Dyrt camper Jennifer T. Camp Here
---
The fact that Jonathan Dickinson State Park is just north of the late Burt Reynolds' estate should be enough of a draw for any visitor. But if not, maybe the park's stunning 16 natural communities will get to you. The Loxahatchee River, so named from the Seminole phrase for "river of turtles," winds through the park, shaded by cypress trees and edged by mangroves, making kayaking and canoeing here a popular pastime. Be careful though, alligators take to the waters just as much as the turtles.
The park offers two campgrounds available for reservation. Pine Grove is located on the east side of the park and The River Campground is located about four miles from the park entrance. At either campground, you'll have access to water, electricity, a table, and a grill, but sewer hookups are only offered at Pine Grove. If you have an equestrian camping companion, there are five campsites that can accommodate your horse.
There are only two primitive backpacking campsites off the Florida Trail, which are also available for reservation. Just make sure to pack a stove, as firewood collecting is prohibited in Florida state parks.
"This is an awesome campground for families. Tons to do. We love the mountain biking trails. Perfect for all levels and ages."  —The Dyrt camper Edward R. Camp Here
---
White sand beach camping is plentiful along the five keys of Fort De Soto Campground. Off the coast of west Florida, the campground offers 238 camping sites, seven miles of paved trail, and a 2,200-foot, barrier-free nature trail that makes the natural wonder of Fort De Soto accessible to everyone, regardless of ability. And the park is pet-friendly, featuring a dog park for canine camping companions.
If you take to the waters in a canoe or kayak, watch out for wildlife. Shark and manatee sightings are common around De Soto.
"I saved the best for last (in my opinion) there is a TOTALLY AWESOME DOG BEACH which was definitely the main reason I picked the park to visit. A nice stretch of beach where my dogs had an excellent time playing in the water, weeds and sand."  –The Dyrt camper Shelly S. Camp Here
---
Anastasia State Park is a campground laced with deep history. Located in northeast Florida, the park allows campers to hike their way back to antiquity along The Ancient Dunes Nature Trail loop. Not to worry though, 80 of the 123 campsites will bring you back to the modern era with RV-friendly hookups.
Anastasia State Park is also home to important Florida history. Near the entrance of the park is a U.S. National Register of Historic Places site, the Coquina Quarry. Centuries ago, the coquina quarries provided valuable rocks that would literally become the foundation of the town of St. Augustine.
"Campsites are wooded with lots of privacy and a short bike ride to beautiful beaches with no crowds. Short drive (less than 10 minutes) to the historic area of St. Augustine. The only negative to the campground is that the sites are dirt and when it rains it's very muddy."  –The Dyrt camper Connie B. Camp Here
---
The intensity of Blackwater River State Park is apparent when you see the park's namesake waterway. You might not know that Blackwater River is one of the purest sandbottom rivers worldwide, but one glance at it and you'll know it's unique. Inky black waters gently touch the white sand shoreline in a dramatic juxtaposition. But Blackwater River isn't the only distinctive geographical feature; the park forest also nurtures one of the largest and oldest Atlantic white cedars.
Float, canoe, tube, or kayak down the river's dark tannic waters, or camp along the shorelines white sand beaches at one of the 27 available plots, 26 of which accommodate RVs.
"This is one of my favorites! There are bugs and normal FL stuff, but the river is awesome! If you love trees especially pines….this is the spot. Also GREAT tubing and canoeing!"  –The Dyrt camper Tessa M. Camp Here
---
If you camp at Rainbow Springs State Park, you'll have the opportunity to take a deep dive into Florida history, so make sure you bring your snorkeling gear. Humans first visited Rainbow Springs State Park over 10,000 years ago.
Today, the Rainbow River draws people in for its near constant year-round temperature of 72 degrees. But this is nothing new, evidence supports that the river has supported human life for 10,000 years.
The campsite offers three RV or trailer-only sites, seven tent-only sites, and 44 plots that welcome RV or tents. A tip for the tent campers  —  the sites are gravel, so your back will thank you if you bring a ground tarp. Campers at the tent or RV sites can expect a fire ring, picnic table, and hookups for water and electric.
"I've been here several times – alone, with tour groups, on my honeymoon.On the way back down to the docks, just float beside the canoe instead of sitting in it." -The Dyrt camper Dr. David P. Camp Here
---
View this post on Instagram
Enveloped in a forest of pine, magnolia, hickory, and oak, privacy is the essence of the Crooked River primitive campsites. A nature trail and boardwalk are cradled by the Withlacoochee Forest. River canoe trails, which range from 3 to 14.4 miles in distance, are also accessible from the campground.
Each site has a fire ring and a gate or grill, access to restrooms and showers, and a picnic table. As all the sites are primitive, campers should bring all the food, water, and any other supplies they'll need for the duration of the trip.
"I love this place! Even though you can't bring your dogs here (Cypress Glenn you can - it's just down the road, but not as secluded and more for RVs). There are a few group campsites here and some side by side, but most of the sites are secluded with dense forest in between each site." –The Dyrt camper Kim S. Camp Here
---
Related Campgrounds:
Popular Articles: