This article about RV camping in San Diego was brought to you by Midland. Midland's portable power station makes it easy to stay on the road longer.
---
San Diego has the perfect blend of beaches and tourist attractions, especially if you love the year-round sunny weather. Of course, the beaches are popular in the summer, but by parking your RV near them, you'll have easy access and won't have to fight as much traffic.
It's important to check the RV maximum lengths for each site. San Diego is a crowded city, even in the northern suburbs, so space is premium at almost every RV park. However, with enough research, you'll be in for a pleasant and memorable stay, even during peak tourist season. Here are 7 spots for beachside RV camping in San Diego.
Silver Strand State Beach is only designed for self-contained recreational vehicles, motorhomes, or trailers and relies on a pumper truck for plumbing. RVs must have an enclosed drain system and a portable toilet with a holding tank. If your vehicle meets these requirements, you're in for a comfortable stay with plenty of other families around to keep you company.
Not all sites are beachfront, but ones further away from the beach give you easier biking or walking access to nearby businesses.
"Lots of kids and families bike and ride within the loops. No curfew that I'm aware of, so occasionally it can be loud at night (if you have little ones)." – Nicole.
Price: $58-73
Number of sites: 130
RV sites: Yes
Fires allowed: Yes
Pets allowed: Yes
The Chula Vista RV Resort has earned its title as a true resort. It has room for RVs up to 60 feet long, so it's the ideal choice for serious RV enthusiasts. In addition, there's ample room for cycling, kayaking, and other activities on and around the beach, and an assortment of greenery surrounds the amenities.
The resort is just south of downtown, inside the San Diego Bay area, so it's close to local attractions like the San Diego Zoo and Aquatica San Diego.
"Beautiful wildlife, sunsets, sculptures, beach, marina, bike paths. The staff is well organized, prepared and professional." – Sherrie R.
Campground Details:
Price: $105-150
Number of sites: 236
RV sites: Yes
Fires allowed: Yes
Pets allowed: Yes
Because it's part of the state park system, South Carlsbad State Beach Campground and the surrounding amenities offer plenty of activities for all ages. Nature programs are a popular option for youth and adults alike, especially in the summer.
The campground offers a decent amount of privacy due to the spacing and plant life between sites. Amenities are clean and well-maintained, and the beach is pristine enough for everything from paddleboarding to building sandcastles.
"The campground is small, which means everyone is fairly close together, but everything is nearby." – Jonathan G.
Price: $43-58
Number of sites: 223
RV sites: Yes
Fires allowed: Yes
Pets allowed: Yes
Paradise by the Sea is open to monthly and daily rentals year-round. Although the park is a 45-minute drive north of San Diego, it's worth the haul for the beautiful family-friendly setting. The sites are within walking distance from the water, with a free parking lot available next to the beach for anyone who wants to drive their equipment over.
There are also nature trails along the creek, which are especially nice on days when the beach is crowded.
"They really made the most of what is essentially a parking lot, and I can see why someone would want to stay for a while or return year after year." – Corinna B.
Campground Details:
Price: $70-190
Number of sites: 102
RV sites: Yes
Fires allowed: Yes
Pets allowed: Yes
---
This article about RV camping in San Diego was brought to you by Midland.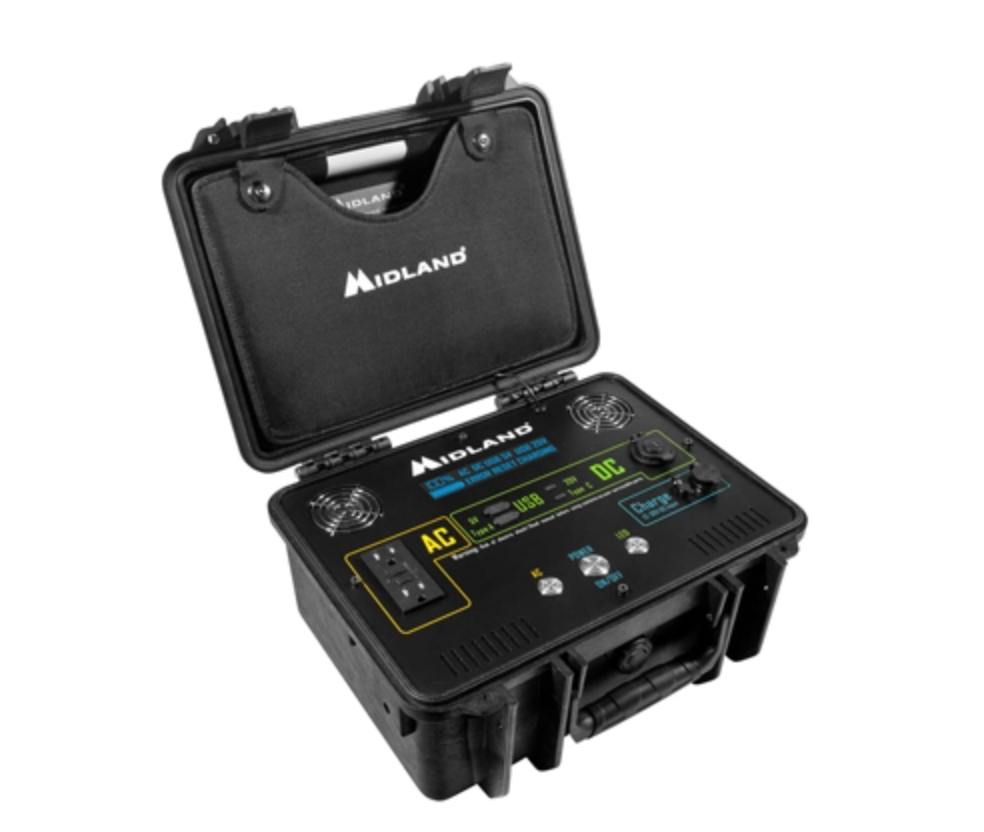 Whether you are RVing through So Cal or Overlanding in Utah this portable power station will make charging easy with up to 15 hours of laptop charging Midland's PPG1000 Portable Power Station makes it easy to work from the road.
---
San Elijo State Beach has beautiful, clean beaches and a coral reef nearby that's fun to snorkel around. You can rent boogie boards and buy basic amenities from the camp store open March through December. RV spots are limited to 35 feet in length, but if you can manage a small space, you'll find this spot relaxing and somewhat quieter than campsites closer to the city.
The beachside bluffs provide a great view of the ocean, especially if you have a prime spot right above the beach.
"The campsites are located atop a beachside bluff for some spectacular sunsets, checking the surf and people watching. The rangers are awesome and super friendly." – Sam O.
Campground Details:
Price: $43-68
Number of sites: 171
RV sites: Yes
Fires allowed: Yes
Pets allowed: Yes
The massive number of campsites available at Campland makes it a top destination for RV campers who like to party. However, it's a popular site, so you'll need to book well in advance despite the many spots inside the park.
Its proximity to Mission Bay means that even if you don't get a prime beachside location, you'll at least be within comfortable walking distance to haul your kayaks and other equipment to the water.
The 45-foot max RV length is longer than many RV parks in the area.
"I call this place the Woodstock for kids. It is a huge area directly on the bay, so no matter where your spot is, you are near water." – Brandy La Shea S.
Campground Details:
Price: $55-$73
Number of sites: 500+
RV sites: Yes
Fires allowed: Yes
Pets allowed: Yes
Although its beach space is somewhat limited, Mission Beach RV Resort makes up for it by being near a golf course and a boat launch. The waters of De Anza Cove are calm and easy to play in, and the resort is just a few minutes from the highway for easy access to San Diego's tourist attractions.
They also have an agreement with nearby Campland to allow guests to use all of Campland's amenities. The management team has fair but family-friendly policies to make the popular tourist area comfortable for all guests.
"Definitely not your typical camping experience… more of a parking lot beach party vibe. There is a bike path nearby that is awesome for young kids." – Raf A.
Campground Details:
Price: $75-125
Number of sites: 260
RV sites: Yes
Fires allowed: Yes
Pets allowed: Yes
---
Since San Diego has so much to offer, take advantage of the reasonable RV rental rates and make your trip as long as possible. Check out The Dyrt's complete list of sites for year-round RV camping in San Diego.
Popular Articles: