This article about Monterey camping is brought to you by WigWam. Their wool socks are perfect for any adventure you throw at them.
---
The crystal blue waters and enchanting bay mists attract thousands of visitors to Monterey every year. Just south of the water are the stunning Santa Lucia Mountains covered in ancient redwood trees and home to the Big Sur River. Choose from spending your day relaxing and swimming at the beach or hiking through the magical wilderness. When you head out on a Monterey camping trip, you get the best of both worlds.
Conveniently located just off Highway 1, Riverside Campground and Cabins offer a shaded getaway on the Big Sur River. The campground is a spacious 16 acres with majestic Redwood trees towering over the campsites. It's only a 10-minute walk away from the beach or hiking trails. The river runs right through camp, and the main cabin offers tubes for rent to enjoy a slow trip downstream. The campground has basic amenities but no sewer hookups for RV campers.
"Really great spot and super friendly and helpful camp hosts!" –Dennis V.
Campground Details:
Price: $70-85
Number of sites: 34
RV sites: Yes
Fires allowed: Yes
Pets allowed: Yes
---
Stay in downtown Monterey where endless activities are just a short walk away. The Monterey Country Fair and Events Center RV Park is located just off highways 1 and 68, close to the Monterey airport. During the day, the airport can cause a bit of noise pollution, but this settles down at night.
The park has modern amenities and some shaded sites from trees located around the edges of the green space.
"It's centrally located and allows for easy access to the town. The staff has been really friendly." –Burton M.
Campground Details:
Price: $65-75
Number of sites: 56
RV sites: Yes
Fires allowed: No
Pets allowed: Yes
---
Located just one mile from Andrew Molera Beach, Pfeiffer Big Sur State Park is an excellent Monterey camping destination. This popular campground's reservations can fill up 6 months in advance for the busy summer months.
Campers here will enjoy a range of sites, from sunny meadow spots near the river to more shaded sites tucked in close to the mountain. Located on the western slope of the mountains, this campground offers the potential for some fabulous sunsets over the water.
"Beautiful place and so much to do nearby. Staff was helpful and very friendly!" – Jennifer O.
Campground Details:
Price: $35-50
Number of sites: 189
RV sites: Yes
Fires allowed: Yes
Pets allowed: Yes
---
Fernwood Campground & Resort has everything you need for the perfect Monterey camping experience. They offer cabins, adventure tents, tent campsites with electric hookups, and fully equipped RV sites.
You'll enjoy a peaceful camp on the river hidden among the trees. The shade can make the campground quite cool during some months of the year, but you can always warm up by the fire. The resort has a general store, cafe, and tavern to cover all your needs during the trip.
"A little slice of babbling brook heaven with delightful showers." – Heather C.
Campground Details:
Price: $70-100
Number of sites: 76
RV sites: Yes
Fires allowed: Yes
Pets allowed: Yes
---
This article is brought to you by Wigwam.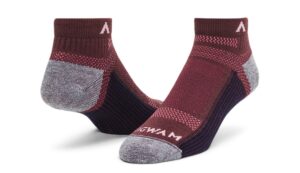 Their Ultra Cool-Light Low socks' breathability help keep your feet cool while adventuring around Monterey.
---
Disconnect from the world at Big Sur Campground and Cabins. Located just south of Monterey, this campground appears to be a dead spot for cell service. While away you'll be forced offline to enjoy the lazy Big Sur River and giant redwood trees that encompass the campground.
The facilities are quaint but adequate, including laundry, a camp store, and a playground for the kids. Just a few minute's drive from the campsite, you'll have access to even more outdoor activities on the beach or the many fabulous hiking trails.
"We cannot wait to return! Our favorite place so far." – The Lopez F.
Campground Details:
Price: $70-140
Number of sites: 109
RV sites: Yes
Fires allowed: Yes
Pets allowed: Yes
---
Situated in a 40-acre redwood canyon, Ventana Campground offers tent-only camping just 30 miles south from Monterey. Each site comes with its own fire ring and picnic table.
Campers can enjoy two modern bath houses to relax after a long day of hiking the numerous trails located a short distance from camp. Campsites are placed along the valley, with some requiring a decent hike to access.
"All of the sites are under beautiful big Redwood trees, which gave it a magical feel!" – Carolyn W.
Campground Details:
Price: $85-105
Number of sites: 75
RV sites: No
Fires allowed: Yes
Pets allowed: Yes
---
Get away from the crowds in Monterey Bay and head to Little Sur Campground. The campsites are dispersed, so you feel like you are staying alone in the incredible redwood forest.
Recent road closures due to fire damage have made this campground accessible only by trail, so plan accordingly. You'll need to pack your own food and water since there aren't any amenities on site.
"To be in one of the prettiest parts of the country at a solo site was phenomenal." – Mary D.
Campground Details:
Price: $20-30
Number of sites: 8
RV sites: No
Fires allowed: Yes
Pets allowed: Yes
---
If you're looking to disconnect from modern society and take a trip into the ancient forest, these Monterey camping sites are a great place to start. You'll have easy access to the attractions in downtown Monterey, the many state beaches, and the numerous hiking trails in the Santa Lucia Mountains. However, this list is only the beginning of the fantastic campsites available. For more information, head over to The Dyrt to see the complete list of Monterey camping sites.
---