Clusters of gleaming RV's, vans, and motorhomes flash into view, catching the light of the dry Arizona landscape as we pull into Quartzsite, Arizona.
Some vehicles are arranged in tight clusters, others are spread out across solitary distances, offering respectful space between their desert neighbors. These free-spirited mobile neighborhoods, scattered across an abundance of Bureau of Land Management (BLM) land in Quartzsite offer a totally different vibe than your standard RV parks.
Quartzsite, AZ: Where Home is Where You Park
The traditional notion of "home" has little meaning here in Quartzsite, AZ. During January and February, homes on wheels outnumber permanent houses by about 500 to 1. The sleepy town of less than 4,000 year-round residents receives a winter migration of nearly 2 million humans and their mobile dwellings each year.
Quartzsite is cut into quadrants by Interstate 10 and Route 95. It is a shrine to modern transportation; a place where everything mobile, gas-powered, and impermanent finds a patron. Indeed, every kind of mobile home and driver is welcome and celebrated in some corner of this open-air cathedral; their rigs, in every size, shape, age, condition, and tax bracket, are anointed by the same desert dust.
Well-appointed luxury liners share space with flashy vintage campers and tricked out van conversions. Bus conversions park next to resilient remnants from RV's past, eeking out just a few more seasons on the road.
Why Come to Quartzsite, AZ?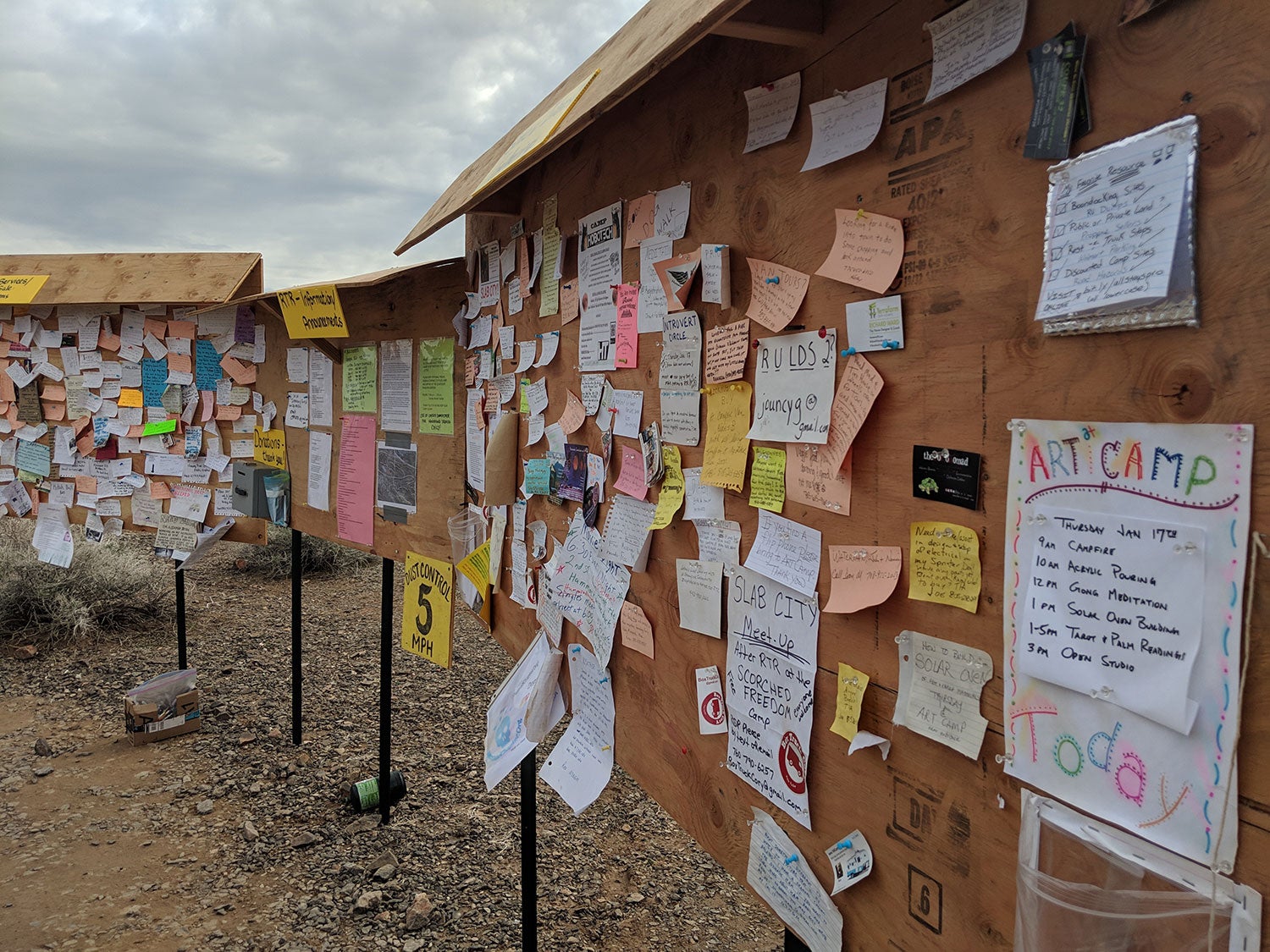 The winter climate is moderate and dry, with rain an irregular (but welcomed) visitor. Free or low-cost camping in the region's multi-million acres of public land, all within 6 miles of downtown Quartzsite, is an RVer's dream. Add lots of local events and friends to the mix, and it becomes a huge attraction for mobile dwellers from all over.
We arrive two days before the largest RV show in the country, known locally as "The Big Tent." Delighted to find space in the RV park across the road in the "dry camping" (non-hook ups) area, we curl up next to the park's only Saguaro cactus and Palo Verde tree.
There are over 50 RV parks in Quartzsite, and they all approach capacity on winter weekends, some with neat rows and manicured medians, others a simple grid, possessing all the charm of a dusty parking lot. Yet the esprit de corps of the place seems to rise above the cramped quarters.
Our neighbors comprise the "Over the Hump RV Club" from Parump, Nevada; 10 couples who pick a new destination each month and spend a week traveling. We're invited to join their casually organized meals at their long folding table where dinner spills over to the fire ring as the sky darkens.
It isn't full of tourist attractions. It isn't next to a national park. It's in the middle of nowhere, really. But RV campers visit Quartzsite, AZ year after year.
It's hard to list off reasons to why. But if you visit, you'll get it.
The History of this RV Mecca
Pre-Columbian petroglyphs and grain grinding holes found throughout the area speak to the long history of human habitation in Quartzsite, at least seasonally. The giant geoglyphs in the region made long before European contact continue to challenge our understanding of pre-history and are best viewed from the air.
U.S. expansion across the continent in the 19th century forced local Chemehuevi, Mohave, Hopi and Navajo tribes into the nearby Colorado River Reservation, which lies along the life-giving waterway. The reservation celebrates the unique ethnic cultures of each tribe while forging new paths of collaboration in the 21st century.
Like many western towns, Quartzsite, AZ grew around a watering hole stop on the trail from Phoenix to southern California. Originally known as Tyson Wells, it changed its name when the abundant mineral (quartzsite) drew mining interest in the late 19th century.
The Quartzsite Camel
Among the quirky bits of history still celebrated is the connection to Hadji Ali, or "Hi Jolly" as he became known. A Turkish man of Greek-Syrian parentage, he cared for the animals in the U.S. Army experimental Camel Corps. The Camels were well adapted to the hot dry environment and thrived under Ali, though the experiment was abandoned when the Civil War broke out in the east.
Ali stayed, as did the camels, both finding ways to survive in their adopted home. Ali's burial monument remains a local attraction and his legacy is celebrated annually with the Hi Jolly Daze parade in January. The camels remain the local mascot and symbolize the spirit of this industrious little desert town.
In 1983 the inaugural "Big Tent" RV show began to serve and capitalize on the growing trend of migratory snowbirds visiting the area in mobile homes. Over the last 36 years, the show has become the largest of its kind, attracting almost 200,000 attendees.
Flocking to Quartzsite, AZ for Warm Winters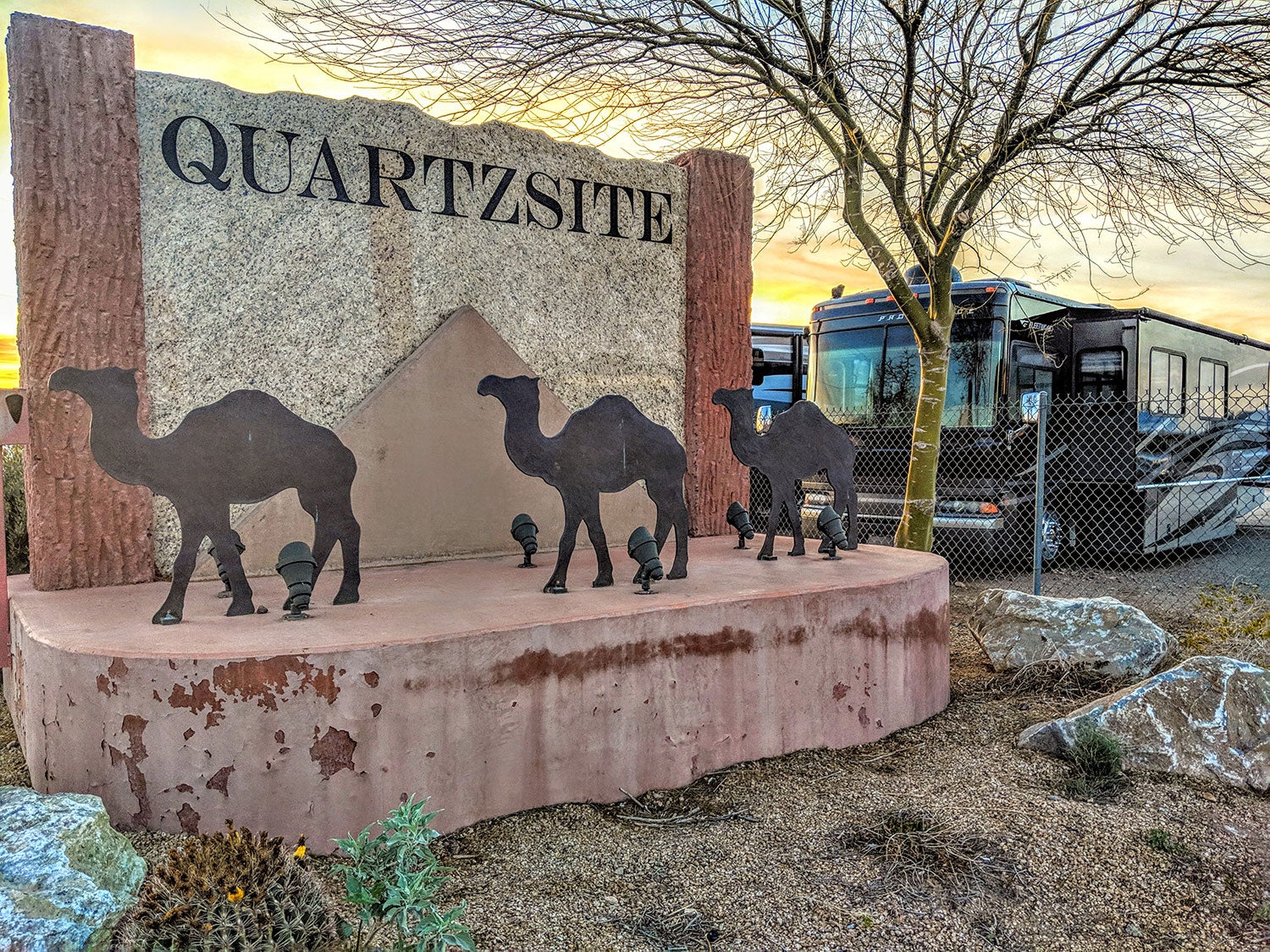 Winter weather in Quartzsite is mild and arid—always with a chance of beautiful. Every so often, it dips down into the 50's, but most days hover in the 60-70's. We've worn everything from shorts and flip-flops to puffy jackets and wool hats within the span of 10 days, so come prepared for winter camping in Arizona.
The summer is another beast entirely. "I put on all my winter weight in the summer!" says our RV campground host.
He and his family live and operate their park year-round; "In the summer, I pretty much sit inside and wait for the sun to go down. I can't do anything outside after 10:30 am. So, I just wait it out."
Quartzsite, AZ is one of the hottest places in the US in the summer with daily highs of around 120 degrees. The few hearty, year-round, residents stay here with no small degree of pride and hefty air-conditioning bills.
Where to Camp in Quartzsite, AZ
The area surrounding Quartzsite and much of western Arizona is federally-operated BLM land. The BLM dispersed areas are beautiful, plentiful, and well-marked. All are within 3-6 miles of town and can be used by tents and RVs of all kinds. For all areas, you must register with a BLM volunteer or staff member.
The five free BLM areas (Plomosa Rd, Hi Jolly, Dome Rock Rd, Scaddan Wash, and Road Runner) offer no facilities or services – just register with the campground host on site. Free camping areas are limited to 14 days within each 28-day period; after this time, you must move at least 25 miles away.
The La Posa Long Term Visitor Area is a huge BLM dispersed camping area which begins on the edge of town and extends for 5 miles south. Split into 3 separate areas, La Posa North, South, and West.
LTVAs offer camping, potable water, trash collection, and holding tank dump in addition to pit toilets for a nominal fee ($40 for 14 days or $180 for 7 months, from Sept 15 to April 15). During your permit window, you can move camp or stay put as you like. Most folks use solar panels for power, while a few still chug along using gas-powered generators.
Prefer traditional RV parks? You're not alone! You can view information and read reviews about RV campgrounds in Quartzsite, AZ on The Dyrt.  If you're road-tripping to these RV shows and need to plan, download The Dyrt PRO and use offline maps.
What To Do in Quartzsite, AZ
This organic gathering of nomadic van, camper, and car dwellers first met with 45 attendees in January 2010, before #vanlife began its domination of Instagram. Found on the east side of town and the south side of I-10, the RTR gathers about 3 miles out in the Scaddan Wash BLM area.
Follow Dome Rock Rd. East until it turns to dirt and bends sharply south. Go slowly, because the rough road will demand it. The community vibe at the gathering rewards the patient, enthusiastic, and free-spirited.
Unlike music festivals with their ever-present agenda of stages and performances, this gathering seems to celebrate just being, while unselfishly sharing resources via a loose schedule of talks and nerding out over each other's rigs. Spontaneous conversations, yoga sessions, desert hikes, movie nights, art camp, and jam sessions (in the designated music camping area only) spring to life throughout until the final ceremonial burning of a small wooden van effigy, "The Burning Van." Come for the whole two weeks, or just the afternoon.
We caught up with the event for the last two days, and attendees still numbered in the thousands. Early reports seemed to suggest attendance around 7,000, more than double last year, thanks in part to Jessica Bruder's 2018 book "Nomadland," a popular New York Times article, and creator Bob Well's vast online following.
Held near Bouse, AZ for four days, just prior to the regular RTR in 2019, is a separate women's gathering in its second year. "Women are awesome!" one attendee exclaimed when we inquired about her most important takeaways.
Nods to the obvious aside, the gathering included large pre-planned sessions and smaller organic conversations which anyone could suggest and lead. The event focuses on developing community, empowering women to build the skills and resources for life on the road, all wrapped in a strong Leave No Trace package.
RTR spin-offs form afterward, sorting the faithful into separate congregations in various places around the region: Skooliepalooza, the Bus Rally, Escapees, Fiberglass Rally, and the VW Bus Rally, among others. Everyone with a passion for a specific home on wheels can find their people here.
---
Prepare for your RV trip by downloading maps. The Dyrt PRO lets you download maps and campgrounds without cell service. "My alternative to using pro would be to drive back out to cell service."
---
"The Big Tent" show is the most popular Quartzsite RV show. We caught up with Kenny King, founder of the show to give us the inside scoop.
During the 70's, Kenny specialized selling awnings and other RV parts, and found immense success as one of the largest distributors of awnings in Southern California. It wasn't until a brilliant idea a little later that this career path would change.
In 1983, on his way home from another RV show, Kenny asked a simple question: "What if I put a big tent in Quartzsite and made my own RV Show?" And he didn't waste any time trying to answer it. "By the time I returned home, I already had completed the full business plan." says Kenny.
Starting small, today the Quartzsite Sports, Vacation, and RV Show has grown to be the largest consumer attended RV show in the USA. Kenny has plans to step away within the next 7-10 years, however his Daughter Kimmy King (who's name is often confused over the phone for her Dad's) and her Husband Bryan are learning the ropes to take over the show.
That said, they're going to be in for a huge responsibility! That's because Kenny has plans underway to start another show specifically for Off-Highway-Vehicles (OHV's).
The 1st Annual Quartzsite OHV Expo
The new 30,000 sq. ft event, The 1st Annual Quartzsite OHV Expo – "THE GREATEST SHOW ON DIRT", is set to happen over MLK weekend, the opening weekend of, prior to the RV show.
Kenny wanted to start this new show thanks to his own passion for off-roading. "Quartzsite has some of the best off-roading anywhere in the country. I love getting out on the trails, even though I haven't made it that far out. Because of that, I wanted to make a show that brought everyone together to experience the trails and terrain nearby"  he explained.  
If you're interested in attending either of these, you better come prepared. Kenny tells us that during event week, the show gets so huge that "Quartzsite becomes the third largest population of Arizona, right behind Tuscon."  I
n fact, it goes in full swing before the Burning Van festival is even in ashes. People from all over the world flock to see the hundreds of RV product vendors, innovations, and much more. If there is some way that a vendor can creatively connect their product to life in an RV, they have done it, and brought along the funnel cake and corn dog wagon for good measure.
Even better, the show is free, so the aisles and booths are packed from the moment it opens, trailing off only slightly throughout the week as inventory and stamina dwindle.
Over 9 major Gem & Mineral shows attract rock hounds from all over the world during the winter months. Offering 1 of only 5 Gem Showcases in the country, Quartzsite earns its name.
And More!
If getting away from the crowds is what you're after, drive about 3 miles from the town center. With so much history and vast public lands nearby, the opportunity to get out into the desert is abundant. Hiking and all kinds of off-roading fun, as well as the nudist bookstore owner in town will keep you entertained.
Be sure to visit local petro/geoglyph sites, Palm Canyon, and the various wildlife refuges in the area. Complete descriptions of these points of interest can be found on the town's Chamber of Commerce website.
Helpful Things to Know Before You Come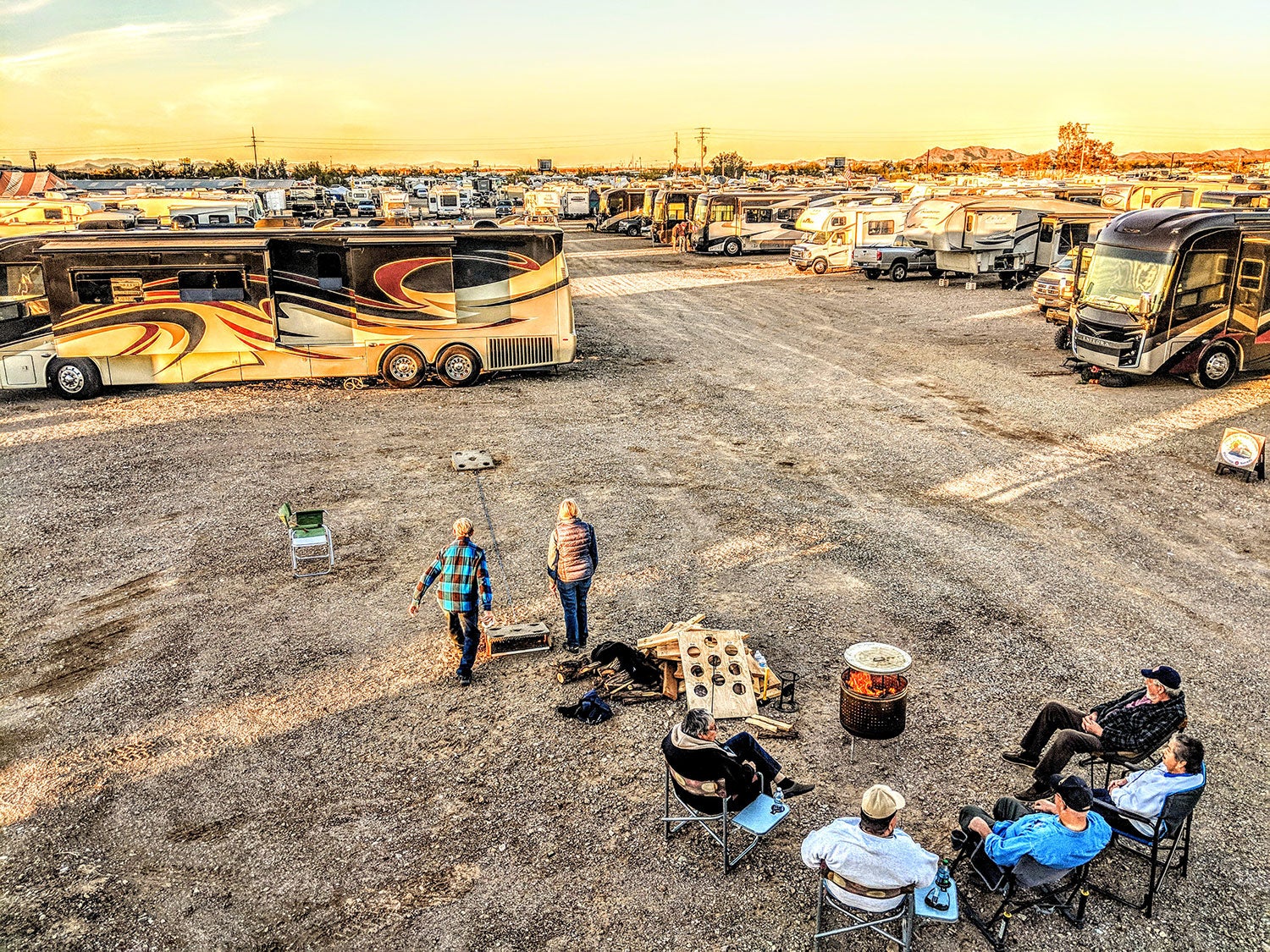 RV Needs
Quartzsite, AZ has risen to meet the demand of its temporary residents. Mobile services cater to nearly every RV need, including water delivery, holding tank disposal, propane refill, windshield repair, solar installation, satellite installation, and even mobile pressure-washing and waxing will all come to your rig for an appropriate fee. One business, the RV Pit Stop, does much of the above in one convenient drive-through location. Quartzsite is what America would look like if we all drove our homes.
Food
The local grocery stores are small and busy places. We found the best selection in town at the Roadrunner Market on Main Street – it's got a little bit of everything, but not much more. Other options are Coyote Market (even smaller) and Family Dollar, both on Main Street.
Your best bet is to stock up before you arrive in one of the larger towns nearby (Blythe, CA and Parker or Yuma, AZ are good options). The closest Walmart is in downtown Parker.
"Quartzsite is what America would look like if we all drove our homes."
Water and Ice
Available at nearly every store in the area. You'll find convenient water vending machines with reverse osmosis by the gallon, so bring your jugs.
Laundry and Showers
There are three laundromats, with the largest and busiest being the Main Street Laundromat, just across from Roadrunner Market. Two others are located on Central Avenue, just north of Main Street.
The Main Street Laundromat is a traveler's dream combining showers, laundry, and a restaurant in one convenient location. Eight dollars per person buys a 20-minute shower complete with towel, soap, and shampoo if you need it. This is the only place in the country we've seen like this, and the showers are cleaned and wiped down between users!
Another (less impressive) pay-by-the-shower option can be found at Rose's RV Park on Kuehn Street, but be sure to bring your own everything, including toilet paper and patience.
Nightlife
Official nightlife is slim in this little desert town. Most places (like many residents) open and close early. A few local haunts keep things going into the darkness. Silly Al's Pizza is pretty good pizza with friendly service, a spirited sports bar, and live music.
The Quartzsite Yacht Club is a typical bar serving meat-heavy meals and attracting an over-60 crowd for drinks and pool tables. Taco Mio's is some of the better order at the counter/sit-down Mexican food in town with real margaritas. Plenty of chain-style fast food options hover around the interstate exit just west of downtown.
Mail
Receiving mail while in Quartzsite requires some creativity. Many Quartzsite RV veterans advise us not to bother with the local post office for general delivery as they are simply overwhelmed by the demand. They only take general delivery customers from 12-1pm and "the line can be out the door and around the building."
Another option is Quiet Times on Main Street, open weekdays from 10am-4pm. They are your typical small-town fax/printing/mail and shipping/receiving center for UPS, Fed Ex, and more.
Healthcare
You can find Healthcare services in Quartzsite, but the facilities are likewise overwhelmed during January and February. If you know you need to see a medical professional, do it before you come.
La Paz Medical Clinic, just north of town, might squeeze you in. The nearest Urgent Care/Emergency Room is in Parker, AZ, 40 miles away. They are also very busy during the winter.
Trash and Recycling
If you are not staying in an area with dumpsters, take your trash to the Quartzsite Refuse Transfer Station, just off Hwy 95, about 3 miles north of town. Free of charge, open 7:30am-2:30pm, Sunday-Wednesday.
Mobile Connection
The LTE signal is strong everywhere around Quartzsite, AZ, but with so many people on the network, mobile data was quite slow when the Big Tent was up. As the crowd thinned, the data speed responded accordingly. WiFi is available at the public library on Plymouth Road. You won't find a Starbucks here.
Will we return to Quartzsite? No doubt.
We assumed this week would be the Lollapalooza of RV's, the Woodstock of Winnebagos. But even within the high-season, we found enough space to move around. For all we'd read, the warnings of traffic and crowds, it still didn't feel as packed as the last Phish show.
With the average age of seasonal residents over 70, the roads and sidewalks clear away as the sun drops down behind Dome Rock. This is the time to be out, when the beauty of the area shines above the concrete and sandy soil. Walking to the grocery store, a local eatery, or just a stroll down the block during sunset is a fleeting moment of the fantastic, when the dessert and the sky reveal their stunning beauty.
The rawness of this place, despite the number of motorhomes costing more than the average three-bedroom house, cannot be ignored. The influx of sunbirds creates a city of impermanence, slapped together for the season of plenty with white tarps and duct tape. There are those who will move on, those who will return for next season, and those who will stick it out through the perilous summer. Perhaps the season of plenty in Quartzsite, Arizona is not unlike the sunset – beautiful, stunning, but most of all fleeting.
---
Related Articles:
Related Campgrounds:
Popular Articles: