Shari and Hutch live on the road full-time in their vintage "canned ham" trailer. Every week, they're bringing us stories from the road. This week, they're sharing their tips for making Walmart camping feel just like home.
---
For many, Walmart is a cheap place to buy toilet paper and potato chips. For a smaller population — mostly seasoned campers or nomadic folk — Walmart is a last resort camping option for their RV or campervan. For the latter, there's lots of advice out there about how NOT to sleep at Walmarts.  If you want to avoid the last resort option, use The Dyrt PRO to download campgrounds and maps before you leave.
But we actually look forward to the occasional night in a Walmart RV parking spot. Staying here overnight means the following: A free night's parking space where we can sleep in relative safety, a clean bathroom that is typically open all night, and a convenient place to pick up some essentials.
Overnight Parking for RVs at Walmart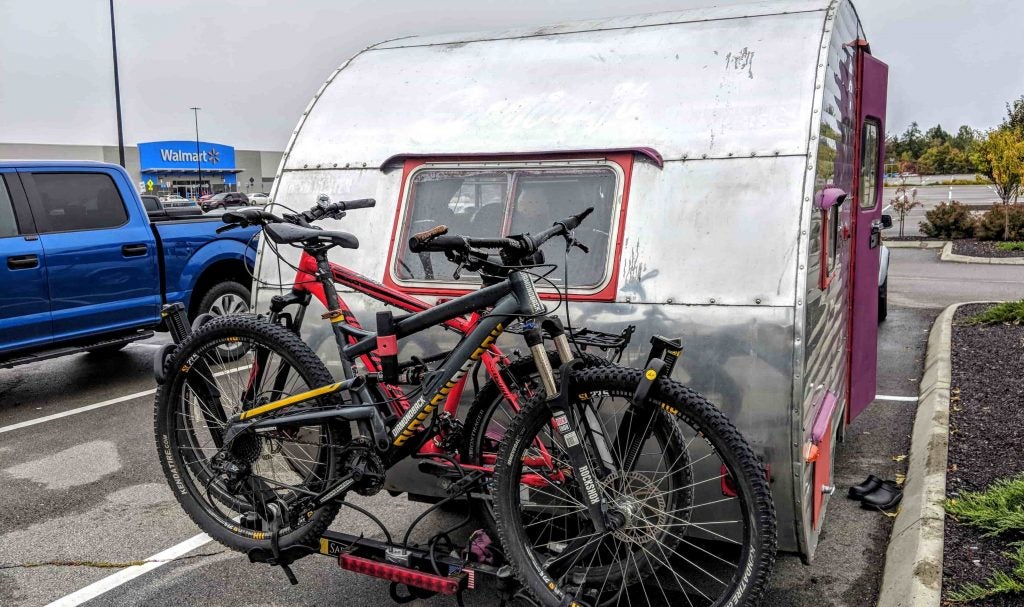 Before we began living full-time in our little camper, we weren't really Walmart shoppers. In our little university town, with two health food stores, four major groceries, and our weekly CSA box of organic vegetables, we could easily avoid shopping there. So, we fully understand when some people look at us sideways or crinkle up their nose when we tell them that we frequently spend the night parked outside at "Camp Wally".
But what they don't understand is what we mean when we say, "we stay at Walmart." You've got to put aside thoughts about setting up a proper campsite, setting out the chairs, making S'mores on the campfire, and watching the sun go down. This isn't camping, oh no, this is sleeping for free, in the very same bed we always sleep.
Our home, like us, just happens to be somewhere on the way to somewhere else when it's time to go to bed. We've gotten this transition from driving to sleeping down to within 15 minutes.

We must admit that we were reticent and uncomfortable at first; the prospect of spending the night sleeping in a parking lot can bring worries. But we had stayed the night at rest stops, so why was this any different? Our need for frugality finally overcame our fears.
Why pay for a night's campsite if we're arriving in the dark and leaving right after breakfast? When we go to a campground, we want to stay and enjoy it. When we are just driving through, we just need a place to sleep. Walmart RV parking options allow us to do just that.
How to Easily Find Walmart RV Parking Near You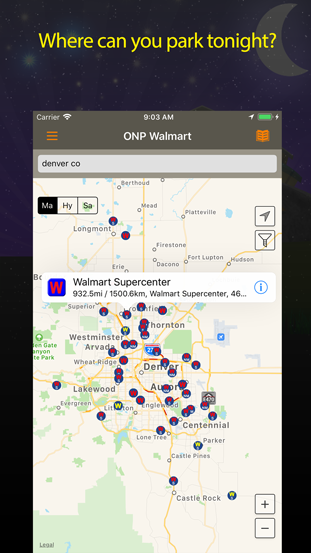 Open the Walmart app. Yes, believe it or not, there's an app for this!
Search for a Walmart with "Possible Parking" along your route within an appropriate distance relative to your fatigue.
Read the user reviews of that parking experience and select the desired destination.
Locate the other RVs in the Walmart parking lot (if any), pull in, and set up!
What about when the app says yes, but the parking lot signs say no parking? Remember, the app is maintained by users, but the parking lot is maintained by the store. If you are ever concerned, just go talk to the manager on duty. Many places that have "no parking" signs up will let you park, but be sure to give thanks by purchasing something.
Tips for a Good Experience Walmart Camping
Don't park close to the store's door; typically that's where all the customers who aren't staying the night want to park.
Check out the traffic pattern in the lot; there's usually a place where most people drive in or around. Park away from this area for a better night's sleep.
Park far away from any tractor-trailers as they often idle their engine all night to power their own units. Park near the other RVers, but not too close.
Choose RV parking near a street light; use blackout curtains or a sleeping mask if the light bothers you.
The store's Garden Center is typically a good place to park, unless it is near the loading dock. In that case, avoid it. Walmart trucks arrive at all hours of the day/night.
Lock everything up and don't leave anything of value in sight that might tempt a break-in.
If you have generator, don't run it after 9pm. Consider not running it all and go solar! Even Walmart has been working toward using renewable energy over the past decade.
Don't stay for more than a couple nights, and never leave your trailer there unless you've gotten approval from the manager.
Go in and buy something; if you're going to use the bathroom, grab a bag of ice, do a propane tank exchange, an avocado…something.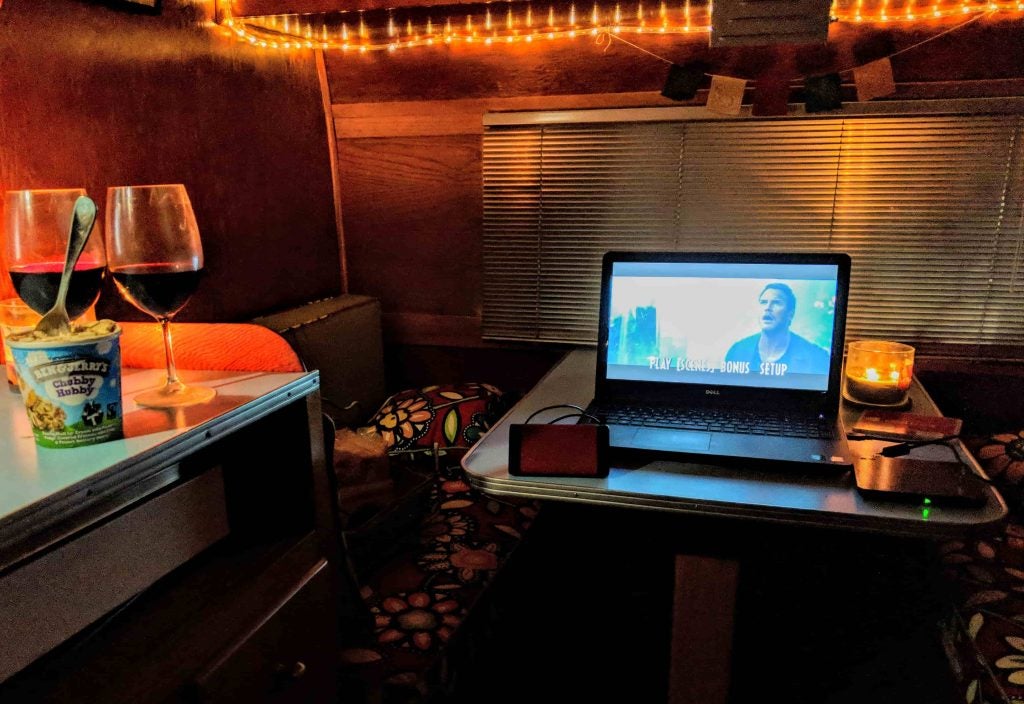 Lately, we've turned our Walmart camping nights into a treat. We grab a pint of Ben & Jerry's, rent a DVD from Red Box, set up the laptop and kick back for our home theater experience. With neither a freezer nor regular WiFi, these are among our guilty pleasures. With curtains down and our movie playing, we can easily shut out the rest of the world; we could be just about anywhere.
Some nights, it's possible to pay for it in disrupted sleep from noisy vehicles, or the random staff member cleaning the parking lot with a leaf blower at 3am. But how can you complain about it when you're parking for free? Be sure to use ear plugs. Guess where you can buy some?
---
Prepare for your trip by downloading maps. The Dyrt PRO lets you download maps and campgrounds without cell service. "My alternative to using pro would be to drive back out to cell service."
---
But is Walmart Camping Safe?
Everyone has different comfort levels and definitions of safety, and Walmarts are located in all kinds of areas. We have parked in over 100 different Walmart parking lots over the past six years, and only had one incident — sorry Coos Bay, Oregon, we're not sleeping over anytime soon. All stores have extensive security cameras, lots of lights, and many have night-time roving security. But, if you are ever in doubt of your safety, find another place.
Needless to say, our relationship with Walmart has improved over the last six years, but it didn't happen (pardon the pun) overnight.
Popular Articles: