This article about exploring Rocky Mountain National Park in winter was brought to you by Mountain House, the makers of easy camping meals for year-round adventures.
---
Rocky Mountain National Park is arguably the crown jewel of Colorado, but is most often experienced in summer and fall. We'll let you in on a secret, though: winter is one of the best times to visit the park. Come the off-season, the park transitions into a snow-blanketed, high-elevation winter wonderland seen by far fewer people than other seasons. In 2018, for example, RMNP saw 931,929 visitors in the month of August, but only 84,245 in February; a 91% drop in the number of visitors.
This disparity is understandable; winter in the Rocky Mountains seem like a daunting time to visit the national park, especially if you're navigating a blizzard or driving on icy roads. Although seemingly intimidating, Rocky Mountain National Park in winter is bursting with recreation and a great place to find rare solitude in one of the most visited U.S. national parks.
We'll also include info and things to do in Estes Park in winter. Estes Park is a charming and bustling town known as "the gateway to the Rockies"–fitting, as it is nestled against the border of the epic playground of a park.
Experience Rocky Mountain National Park in Winter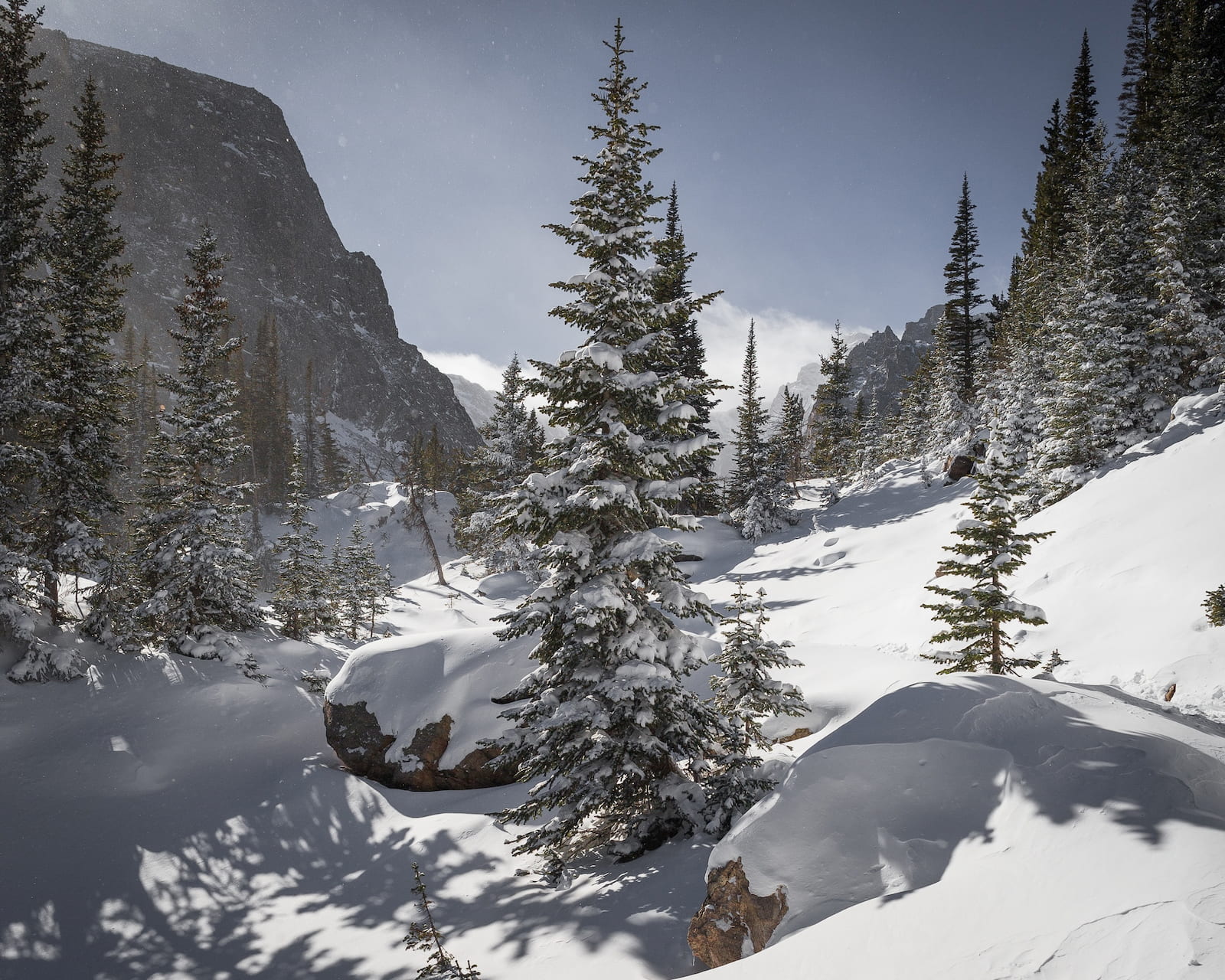 Rocky Mountain National Park is open year-round. The best time to visit is between November and April. Snow is typically present during those seven months, though with 300 days of sunshine, and wild weather patterns caused by the Rockies, it may blizzard and feel like summer all in one day, you never know exactly what you're going to get.
Below you'll find a myriad of things to do. This includes outdoor activities in the bounds of the national park, as well as restaurants to sample and places to relax or spend a night in Estes Park (the small town next to the park, endearingly called "the gateway to the Rockies") that fit a variety of tastes and budgets. Feel free to mix and match the suggestions to create your perfect Rocky Mountain National Park winter itinerary.
Wintertime Activities in Rocky Mountain National Park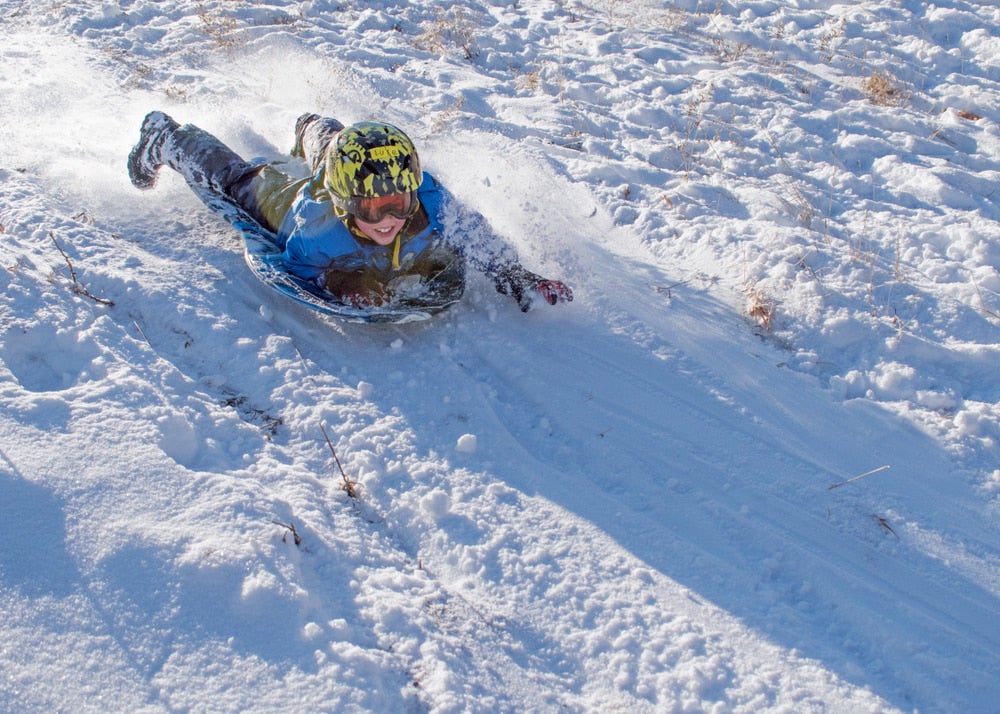 Maybe you're the type to drink a hot toddy in a soaking pool while watching the snow cover high peaks, or the type to strap on some skis or snowshoes and catch a glimpse of a lynx or elk bouncing among the crystal-like glistening snow. Either way, there's something for everyone planning a Rocky Mountain National Park winter weekend.
This former ski resort is located inside Rocky Mountain National Park, and ensures an adrenaline-pumping day of sledding or tubing that kids and adults will love. The old bunny hill has been repurposed into play park for the whole family. You can rent sleds or tubes in Estes Park at the Estes Park Mountain Shop or at The Warming House. Enjoy the warming hut to defrost frozen toes after a long day of fun in the snow. The sledding hill is open from 10 a.m. to 4 p.m. every day.
To get to Hidden Valley, take the Beaver Meadows entrance from Estes Park and pay the park entrance fee. Drive along Trail Ridge Road (closed November – May) to the Hidden Valley parking lot.
Wildlife Watching
Rocky Mountain National Park in winter provides an epic backdrop for wildlife photography. Elk come down from the high country to rendezvous in the park's meadows and in the town of Estes Park. Kawuneeche Valley, on the west side of the park, is famous for being a stomping grounds for massive moose meandering through snow, and along Fall River Road, you may see bighorn sheep.
Snowshoeing or Skiing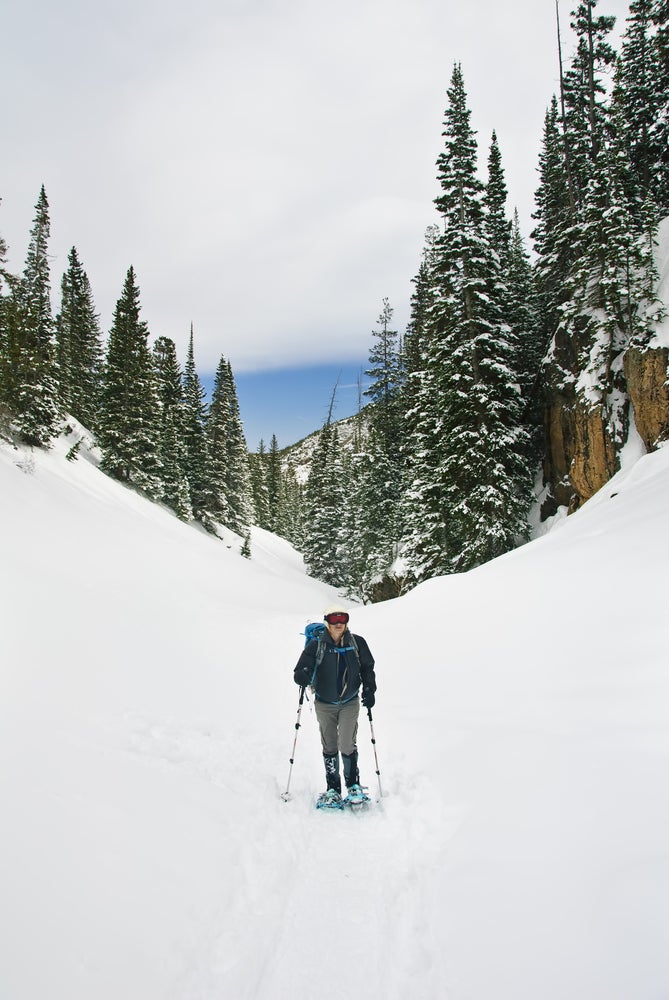 If you're interested in hitting Rocky Mountain National Park's trails while they're covered in snow, we recommend snowshoeing or cross-country skiing.
While snowshoeing may sound strenuous, remember that if you can hike, you can snowshoe. Tromp around on top of fresh powder surrounded by evergreen forests and visit frozen waterfalls flanked by towering peaks. Some of the best snowshoe destinations are Cub Lake, Mills Lake, Bear Lake Loop and Glacier Gorge, but we recommend talking to ranger to find a trail that best suits your abilities and goals. Rentals are available in Estes Park and Grand Lake.
You can also step in to a pair of cross-country or Nordic skis and break your own trails. The west side of the park has more flat terrain and ski-friendly valleys, and the east side offers challenging trails to alpine lakes or mountain panoramas. We recommend Tonahutu Creek Trail to Grand Lake and Bierstadt Lake Trail from Bear Lake Road. Be wary of avalanche dangers and make sure to discuss your plans with a ranger.
Spa Day
If you're looking to relax on your Rocky Mountain National Park winter getaway, head to one of three massage, wellness and spa centers located in Estes Park, just outside the park: Affinity Massage, On the River Massage and Riverspointe Spa. A massage or other form of body therapy is a great way to recover from a long day of snowshoeing or to take a break from the frigid temperatures of the rockies. The professionals at any of these spas can provide therapeutic massages for everyday relaxation, as well as Swedish massage, neuromuscular therapy, and deep tissue therapy. Some offer Reiki healing and Raindrop therapy as well. Estes Park in winter is a great way to find some creature comforts after a long adventure-filled winter day.
Attend an Estes Park Winter Festival
Estes Park in winter is filled with cheer in winter, as it hosts two festivals that light the charming streets of this mountain village.
The Catch The Glow Parade on November 29, 2019, includes a full day of activities including free hayrides or a visit with Santa Claus. Holiday music fills the streets and animal characters stroll around singing Christmas carols.
Estes Park's Winter Festival in mid-January is well worth a trip to Rocky Mountain National Park this winter. The festival includes a multitude of fun activities including a toboggan run, ice skating, tasting award-winning chili, and the chance to sip a variety of local beers and wines. Or enjoy some live music happening throughout the weekend. The festival takes place on January 19th and 20th, 2019.
Sleigh Ride
You can also dash through the woods of Rocky Mountain National Park in winter on a sleigh ride with your family, partner or friends with the help Dao House. Kids will love the campfire sleigh ride and couples can enjoy a romantic sleigh ride with champagne or hot chocolate.
Where to Eat and Drink
After a long day in the park, the eateries in Estes Park will pull you in without a struggle. We've listed some of our favorites for you to sample during your Rocky Mountain National Park winter visit.
For breakfast, head to Claire's Restaurant . It is an all-time favorite for visitors and locals alike. Claire's partners with local organic farmers and bakeries to provide fresh ingredients and a seasonal menu. Their benedicts and omelets are famously delicious. If you're looking for a light breakfast, like a muffin or croissant paired with espresso, check out Kind Coffee, an eclectic and artsy cafe with views of a nearby creek.
Lunch time already!? Time to hop off the mountain and grab a snack. We recommend either Poppy's Pizza and Grill or Smokin Dave's BBQ. Poppy's Pizza offers artisan pizza with unique flavors like a polynesian style pizza and a Rocky Mountain pizza with capers and smoked trout. Smokin' Dave's BBQ offers classics of the wild west like aged rib-eye, as well as unique rocky mountain flavors like pecan crusted trout and chicken marsala.
After a long day of snowshoeing or skiing, you've probably worked up an appetite. There are so many great places for dinner in Estes Park after a snowy day in Rocky Mountain, it's hard to choose only a couple. Bird and Jim is a great place to start. It's pricier, but the burgers and cast iron medleys are exquisite. The wine and cocktail menu is extensive and ordering one (or a few) will have you warmed up in no time. For a budget-friendly option, head to Rock Inn for a steak or pizza, and enjoy one of their live bluegrass shows that happen almost nightly.
After dinner, make sure to hit the best bars and breweries in town. Check out Rock Cutting Brewery to sample both unique and classic flavors. For whiskey fans, Estes Park is the whiskey capitol of Colorado. Colorado's largest selection of whiskey is at the Stanley Hotel. We also recommend local distillery Elkins Distilling Co, which offers a cozy ambiance to escape the chilly outside temperatures.
Where to Stay in Estes Park in Winter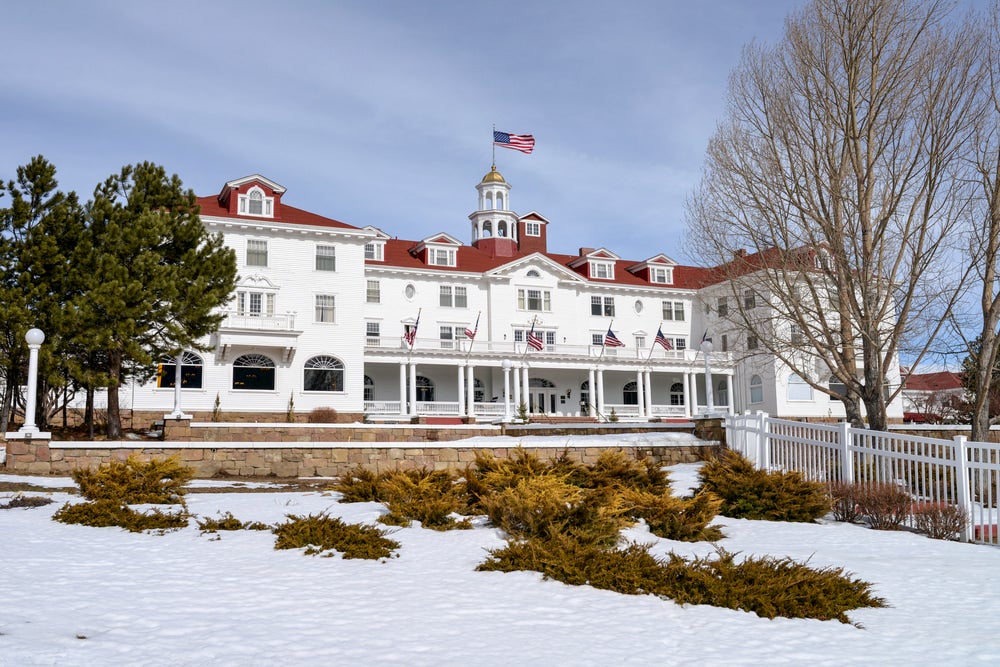 Estes park in winter is dashing and offers a series of cozy accommodations to snuggle up post skiing, snowshoeing and site-seeing. The Stanley Hotel is renowned as the inspiration for the Overlook Hotel in Stanley Kubrick's The Shining. Although it has an eerie perception, staying in the hotel offers a fantastic and comfortable visit to Rocky Mountain National Park in winter. The hotel features historic hotel rooms, a courtyard with views of the Rocky Mountains, live shows, and four different restaurants with gourmet cuisine. Rates vary between $180 to $500 per night depending on the accommodation.
For a more affordable Estes Park winter getaway with a group, we recommend River Spruce Cabins. Open year-round (but particularly popular during the winter months), these cabins are well endowed with home-like comforts including fully-equipped kitchens, a gas fireplace, and cable television. There's even a hot tub on some of the cabin decks to soak amongst the glistening snow. Rates for the off-season are $185/night for up to four people per cabin and $205/night for 6 people.
If your RV or teardrop is equipped to take on winter, or you're just hardore and want to tent camp in winter, we recommend Glacier Basin Campground, nestled between Estes Park and Rocky Mountain. The stunning scenery is endless here, with vantage points of craggy peaks and alpine lakes.
---
Related Articles:
---
This guide to Rocky Mountain National Park in winter and exploring the nearby town of Estes Park in winter was brought to you by Mountain House.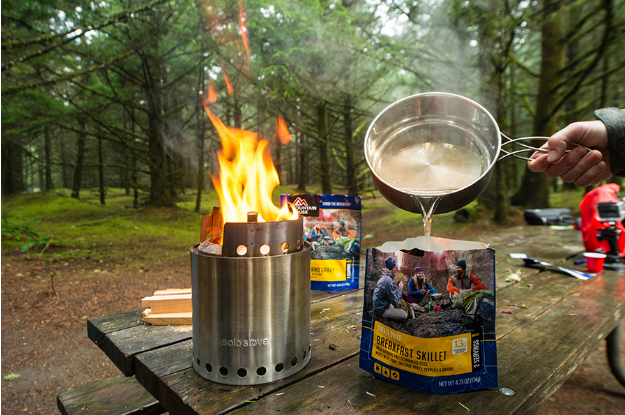 Mountain House makes freeze dried camping dinners that are convenient and delicious.
---
Related Campgrounds:
Popular Articles: