Have no fear; fall camping in Florida on the coasts is still on, in spite of the lingering red tide in coastal waters bordering the state's western beaches. Monitored off the coast since November 2017, the longevity of this year's red tide makes it unique. But, for those of you who might need a little more convincing before you head down the path towards your next sandy excursion, let's address some common questions:
What is a "Red Tide?"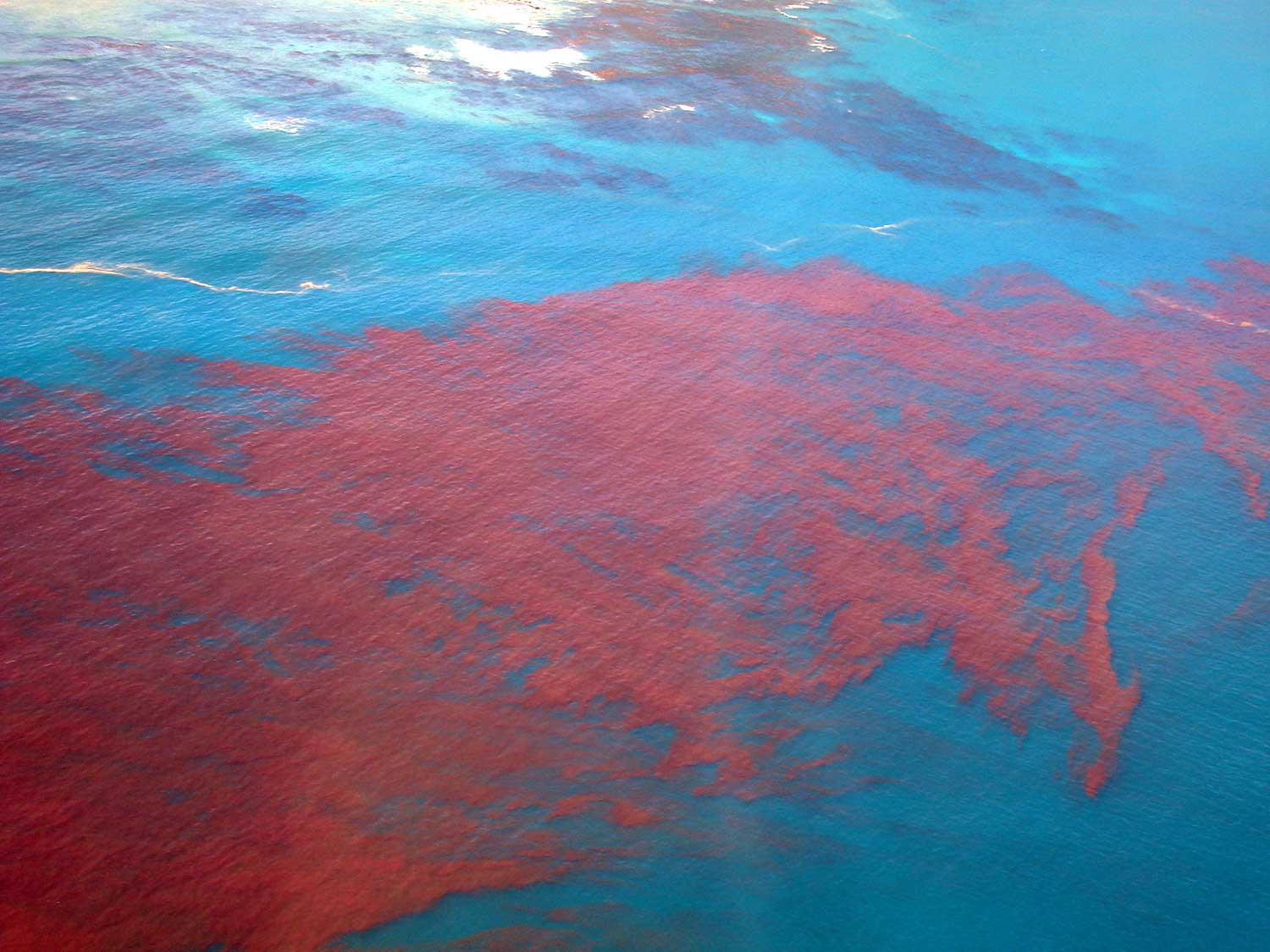 Recorded on Florida's Gulf Coast since the 1840's, the red tide is made up of a specific species of algae, called Karenia Brevis, according to the Florida Fish and Wildlife Conservation Commission. As the name suggests, this algal bloom can turn seawater a reddish color. Problems for marine life and possible problems for humans occur when there is an over-accumulation of the microscopic algae.
A cluster of algae is known as a "bloom." A severely harmful bloom is one that has grown in size to one million microscopic algae cells per liter of water. Fortunately, the FWC offers a detailed rating system for various sizes of algae clusters on it's "red tide status" page. The page utilizes a color-coded system to keep you stay informed as to which areas have the highest concentration of red tide.
But where does red tide come from, you ask? Well, the algae originates about 10 to 40 miles off the coast of Florida in the Gulf of Mexico. The hazardous blooms are pushed towards shore by varying winds and currents, according to Michelle Kerr, an avid camper, and the Public Information Specialist for the FWC's Fish and Wildlife Research Institute.
Could the Red Tide Ruin My Camping Trip?
Rest easy campers, red tide areas around beach camping sites should cause you minimal to no harm. Typically, you want to avoid swimming in areas where there is a high amount of red tide, which we touch on below, but overall you shouldn't worry about changing your Florida camping plans.
First, Karenia Brevis algae can't grow legs and creep around your campsite. Red tide is exclusively made up of water dependent microscopic algae and is not an alien creature from a Ridley Scott film.
That makes red tide largely a killer of marine life, because of a pesky neurotoxin produced by the algae. Animals like filter feeding fish absorb the neurotoxin from the algae through the water. The build up of toxins in their systems ultimately leads to their deaths. So, unless you're a filter-feeding fish, or other such aquatic life your life is not in terrible danger.
One thing you will have to cancel is your plan to go fishing. If you eat fish exposed to red tide you ingest the toxins which have the potential to make you extremely sick.
Also, pay attention to your surroundings if you're camping close to the water.
"Definitely try not to camp or swim in or around areas where there are lots of dead fish especially, as that could be a sign of an affected area. We update the tide status on our site regularly every Wednesday and Friday afternoon so that people can have a better idea where not to go," said Kerr.
Now you might ask, "But what if we want to get in the water? I mean that's the reason why I camp by the beach — hello!"
It might be best to stay out of the water, however being exposed to red tide is not imminently dangerous to most people. What exposure to the algae can do is irritate the skin wherever the skin is exposed. It can also cause eye, nose, and throat irritation. According to Kerr, the people most at risk from red tide exposure are those with preexisting respiratory conditions, as the toxins produced by the algae have the potential to irritate the body's respiratory system. However, those irritations and those that could potentially cause respiratory problems are "usually temporary," she adds.
"It's not that people can't do those activities at all," said Kerr referring to camping in and around beach waters. "I think, to avoid some hazards, people should check our 'Red Tide Status Update page on our website and use a little common sense before getting in the water – if the 'bloom' (of algae) is too high in that area, it might not be safe."
Red Tide Effect on Wildlife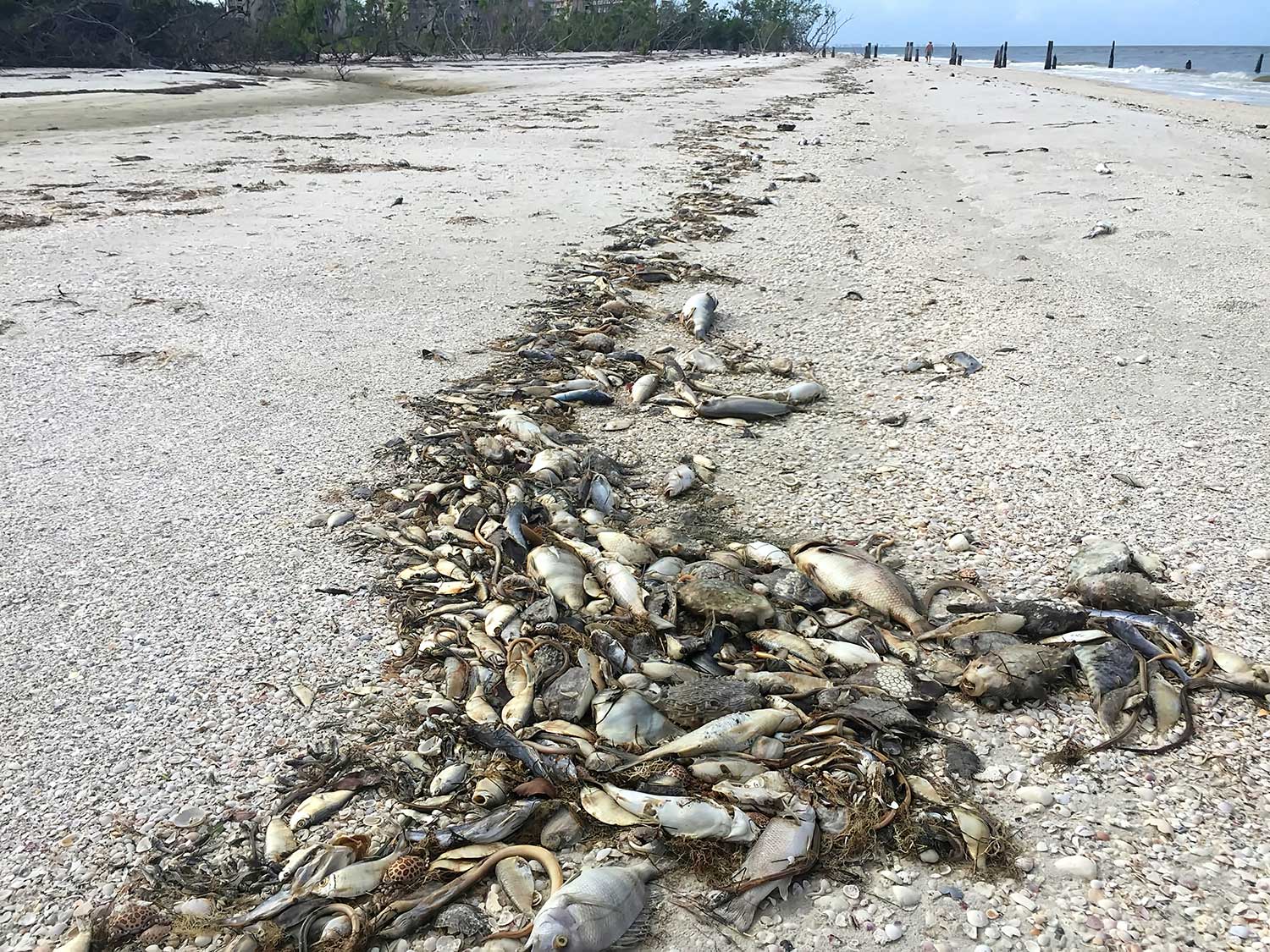 FWC officials claim that this year's red tide is responsible for the death of almost 600 fish in no less than seven coastal counties. The commission establishes the severity of the tide each year by "routinely" monitoring more than 100 locations around the state to detect harmful algae blooms.
In an online interview with ABC News, posted August 12, Bob Weisberg, a professor of physical oceanography at the University of South Florida's College of Marine Science, cited leftover algae blooms from last year as the reason for why the tide is so prominent this year.
Additionally, other climatology and marine biology experts speculate that increasing greenhouse gases trapped in the earth's atmosphere are simultaneously driving up the temperatures of both the earth and her oceans. The increased water temperature combined with the rich nitrogen levels of fertilizer run-off from local farms in the area have made coastal salt waters the perfect breeding ground for the Karenia Brevis algae. The recent conditions are potentially adding to the frustrations of FWC officials attempting to control and monitor the spread of red tide.
Outside of the many dead fish reported, other species of marine life have been severely affected along the coast by the red tide, prompting clean-up efforts up and down Florida's western beaches. Nine bottlenose dolphins were discovered dead in Sarasota County within 36 hours, and at least 60 sea turtles have been found sick according to a report released by ABC Tampa affiliate WFTS.
Florida Governor, Rick Scott, announced via Twitter on Aug 7 that he would pledge additional financial support to some of the hardest hit coastal communities affected by the algae saying, "Today I'm using my authority as Governor to provide an additional $400,000 to help Lee County clean up from impacts related to red tide."
"Again, this happens every year, but people need to stay informed," Kerr said. "If they stay informed then they have a better chance of staying safe out there."
What You Can Do to Combat Red Tide:
Report deaths to the Florida Fish and Wildlife Commission (FWC) at 1-800-636-0511
Report sick, injured or dead wildlife to FWC at 1-888-404-3922
Volunteer to sample water through FWC's Volunteer Program
Help minimize algal blooms by reducing or eliminating fertilizer use
Support the use of artificial wetlands and retention ponds that capture runoff and remove nutrients
Red Tide Recap:
Red tide is caused by overgrowth or accumulation or microscopic algae, which can discolor the water
Red tides are also called Harmful Algae Blooms or HABs
Along Florida's Gulf Coast most red tides are caused by Karenia Brevis
Karenia Brevis is found in marine and brackish water but not fresh water
Karenia Brevis produces toxins that can sicken or kill fish, seabirds, turtles and marine mammals