After a cougar attacked two mountain bikers and killed one of them just east of Seattle last spring, the second deadly cougar attack has likely occurred in the Pacific Northwest — the first in Oregon.
Last weekend, sheriff's deputies found the car of 55-year-old Diane Bober from Gresham, Oregon, at the Zigzag Ranger Station in Mount Hood National Forest. She had been reported missing since August 29, and on Monday, September 10, her body was discovered off the Hunchback Trail, about two miles from the ranger station.
An autopsy by a medical examiner revealed the injuries on her body suggest a wild animal attack.
Craig Roberts, Sheriff of Clackamas County notes: "Her injuries are indicative of what experts believe to be that of a cougar." Authorities are still waiting for final DNA confirmation.
This is the first fatal cougar attack in Oregon. Brian Wolfer from the Oregon Department of Fish and Wildlife (ODFW) explained in a press conference that, "This is an unprecedented event in Oregon, we are asking people to avoid this area while we attempt to remove the cougar. We don't know what risk it poses to the public."
The ODFW has closed the Hunchback Trail until further notice. In the meantime, wildlife managers continue to scour the area in search of the cougar responsible for the attack.
Cougar Safety Tips
Every cougar attack is scary and unsettling, but it's important to remember that they are also extremely rare.
Mr. Wolfer also said during a press conference that, "Because this is an unprecedented event in Oregon, we don't believe that the threat to the public that's posed by cougars is any greater today than it was yesterday."
He goes on: "Oregon has never had, until this incident, a confirmed attack of a person by a cougar, either fatal or non-fatal. So, this is very rare. There have been instances in other states around us and so we know that there is a risk, as small as that risk may be. And that's part of the reason why we advise people to be aware of what they would do if they encounter a cougar while recreating in Oregon's forests and woods."
Where Do Cougars Live in Oregon?
According to the ODFW, there are about 6,600 cougars in Oregon. Most of them live in the state's old-growth forests, but some might venture out and explore farmlands and even towns. The densest populations are in the Blue Mountains in northeastern Oregon and in the Cascade Mountains in Southern Oregon.
The ODFW keeps track of cougar encounters in Oregon. In the last several years, there have been around 400 complaints annually about situations in which cougars kill livestock or pets or are perceived to be a threat to human safety.
So while attacks are unlikely, cougars are present in Oregon and it's important to be aware of them.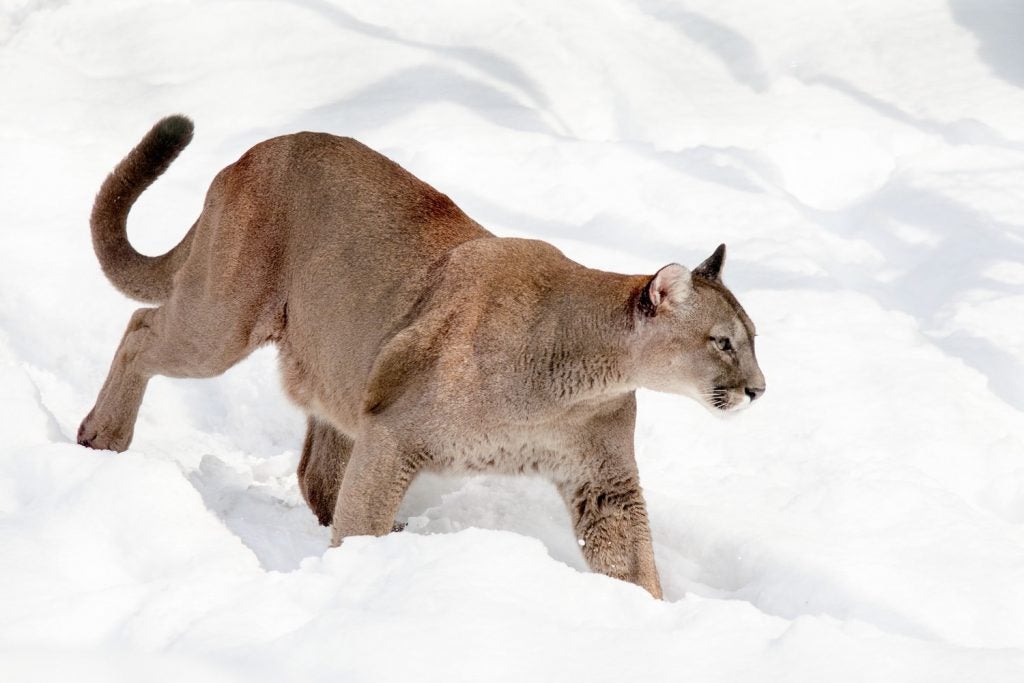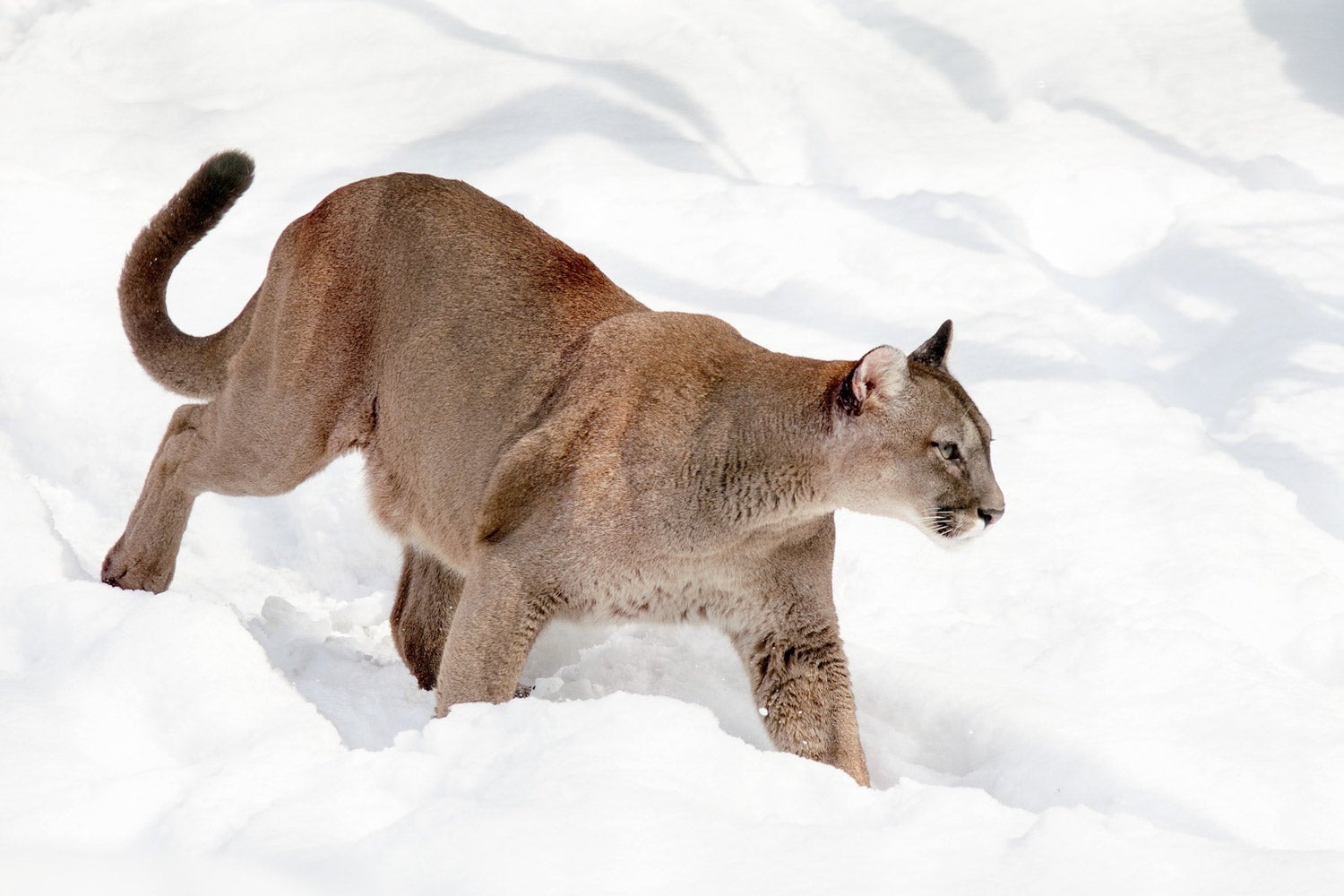 How to Avoid a Cougar Attack
When you're hiking in cougar-inhabited areas, keep the following best practices in mind:
Know where you are. Be aware that you're in cougar territory and that animals like the convenience of traveling on trails as much as people do.
Pay close attention to your surroundings.
Don't hike alone. Hike with a buddy, partner or in a group.
Keep children and pets close by.
If you're hiking with a dog, keep them on a leash. Don't let your dog run off; it may bring a stalking cougar back to you.
Alert wildlife in the area of your presence by making noise. Using a whistle works, but sometimes animals don't associate that sound with humans. The most effective sound is always the human voice. Talk to each other while hiking, preferably loudly. Make each other laugh by telling jokes or singing.
If you're hiking at dawn or dusk, pay extra attention. This is when cougars are most active.
What to Do When Encountering a Cougar
Oftentimes, people think they're seeing a cougar while it's actually a coyote or even a dog. You can identify a cougar by its catlike appearance, large size and consistent tan or brown color. Arguably its most defining feature, though, is its remarkably long tail, almost three feet long and making up a third to half of the animal's total length.
If you happen to encounter a cougar on the trail, this is what you should do:
Make and maintain direct eye contact with the animal to let it know that you've seen it.
Stay calm and stand your ground. Back away slowly, never turning your back to the animal.
Pick up children, but don't bend down.
Do NOT run away. This triggers a cougar's instinct to chase you, which may lead to an attack. You can not outrun a cougar.
Talk loudly, firmly and calmly to the cougar.
Make yourself as large as possible by raising your arms and clapping your hands or lifting your backpack over your head.
Bear spray could be effective, but don't count on it as a deterrent. Since cougars will stalk their prey, you might not see them in time to use spray. But keeping bear spray accessible on your bike or on your hip is wise.
In the unlikely event that a cougar does attack you, fight back with all available resources; rocks, sticks, knives, etc.
---
Related Campgrounds:
Popular Articles: