The Black Hills region of South Dakota is famous for monumental sites like Mt. Rushmore and Crazy Horse Memorial. These are iconic places that most campers are eager to check off their list. But those ticket lines stand in stark contrast to the expansive, rolling hills painted with dark evergreens that dominate your view as travel through. To really experience the Black Hills, camping on land that's owned and loved by locals is the way to go.
Plenty Star Ranch offers a nice balance of amenities and simplicity, inviting campers to embrace the wild west vibes. And you'll be surrounded by a working horse ranch. (Guests with horses are invited to bring their own.) Plenty Star Ranch is set among willow and aspen trees, and it couldn't be more convenient as a basecamp for days filled with all there is to see in the Black Hills. Although nights here might be even more special; the owners named it for the dramatic starry skies.
What You Get with Camping Reservations at Plenty Star Ranch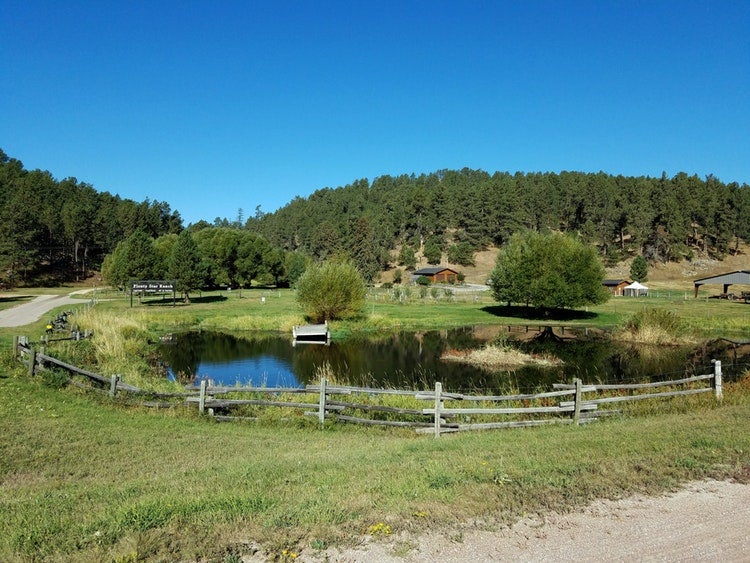 This full-service, private guest ranch and campground is ideally located on the doorstep of the Black Hills National Forest, in sight of the town of Custer. The campground is relatively large, with 35 total sites (four RV hook-ups). Since this area is a tourist magnet, we recommend making reservations at Plenty Star Ranch early.
The Plenty Star Ranch is owned by Jack and Isa Kirk, who offer a guest room for up to two people in their home and a camping log cabin that sleeps three. For less of an investment, the campground provides 35 sites for tents or RVs. This campground has virtually every amenity: sewer, water and electrical, plus wifi and flush toilets. Every site has drinking water and a picnic table. Showers with hot water are also part of the package.
Plenty Star Ranch is ADA accessible, has phone service, and sells firewood for the large pit fire area (otherwise, no campfires allowed). Pets and alcohol are permitted.
Start the day with free coffee or tea each morning on the ranch house front porch. Then saddle up if you brought your own horse. There are plenty of nearby hiking and equestrian trails.

Prices range from $12 for tent camping in the meadows to $69 for cabin rental.
Book Now
What To Do Around Plenty Star Ranch
This area has more outdoor activities than you can shake a stick at: Nearby Wind Cave is one of the largest caves in the nation, but don't forget enormous Jewel Cave, either. Both offer daily tours and cool getaways from the summer sun. Hikers and equestrians can explore the beautiful hiking in the nearby Black Hills National Forest.
For a taste of history, there's Mt. Rushmore and Crazy Horse Memorial. Soak up even more knowledge about the history of the region at the Dinosaur Museum or the High Plains Western Heritage Center.
Badlands National Park is about 100 miles away, where you'll find a dramatic, rocky landscape carved into buttes and spires by ruthless wind and water.
---
Related Campgrounds:
Popular Articles: