There is a saying among locals that New Hampshire is the "West of the East." The White Mountains are jagged in their high peaks, reminiscent of the Rockies, and the wilderness areas stretch for acres upon acres, competing with the large wilderness areas of the West. Alpine lakes rest at the base of these ancient mountains, fed by winding tributaries from high above. Among outdoor enthusiasts, it's New Hampshire's mountainous region in the north that draws the most visitors. But camping in New Hampshire's Lakes Region is favored among those that live for peaceful lakeside wilderness camping.
The Lakes Region in New Hampshire consists of the area primarily surrounding four lakes—Lake Winnipesaukee, Winnisquam Lake, Squam Lake, and Newfound Lake—all located in the mid-state band of New Hampshire. Resting to the south of the White Mountains and the west of the seacoast, the region has made a name for itself as a premier camping destination, regardless of the tough competition surrounding it.
These Four Lakes Offer Camping Perfection in New Hampshire
On or near each lake, there are a number of campgrounds and parks. It's hard to choose a favorite, but we've managed to narrow it down to these four, for their access and high reviews from campers on The Dyrt. This guide is divided by the region's four lakes, each known for their outstanding beauty, adventure, and camping in New Hampshire's lakes region.
1. Lake Winnipesaukee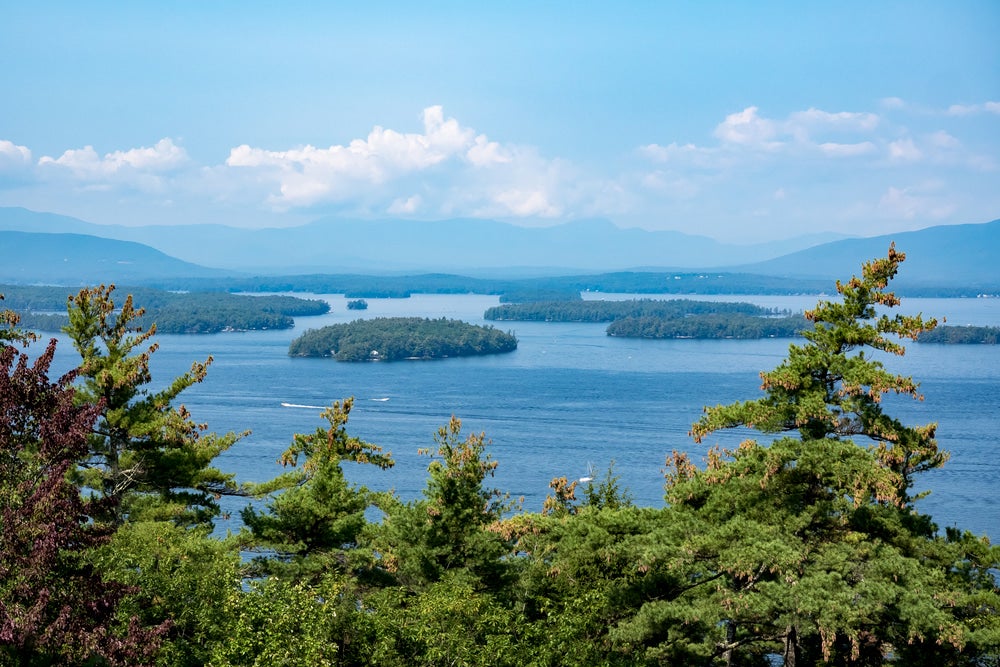 On a map of New Hampshire, Lake Winnipesaukee rests in the direct center of the state. It's the largest lake in New Hampshire, and its waters are intensely blue and beautiful, framed by mountains and spotted with over 250 islands. Its name, coming from the Winnipesaukee Indians that first inhabited this area, means "beautiful water in a high place." It's an appropriate name.
Lake Winnipesaukee is a popular summer haunt; there are a plethora of summer homes, summer shops, and tourist attractions that are only open between Memorial Day and Labor Day. While enjoying the bustling, small towns of this area are enticing and enjoyable, for sure, camping in New Hampshire's Lakes Region is not complete without unplugging and unwinding in the serene wilderness of each lake's surrounding area. Kayaking and canoeing on the lake are popular for this very reason.
With 55 wooded acres on the shores of Lake Winnipesaukee, the Harbor Hill Camping Area has a swimming pool, recreational hall, and a large athletic field for pick-up games and outdoor fun.

Popular amongst group tenters, this campground on Lake Winnipesaukee is a great basecamp for exploring both the nearby towns as well as the lake itself. There are showers, well-kept bathrooms, and well water all available. Rates start at $37/night.
"This campsite is ideal for more social campers, but may not be as isolated or woodsie for those looking to be able to stay up late talking or be alone with the trees."—The Dyrt camper Kyle R.
2. Lake Winnisquam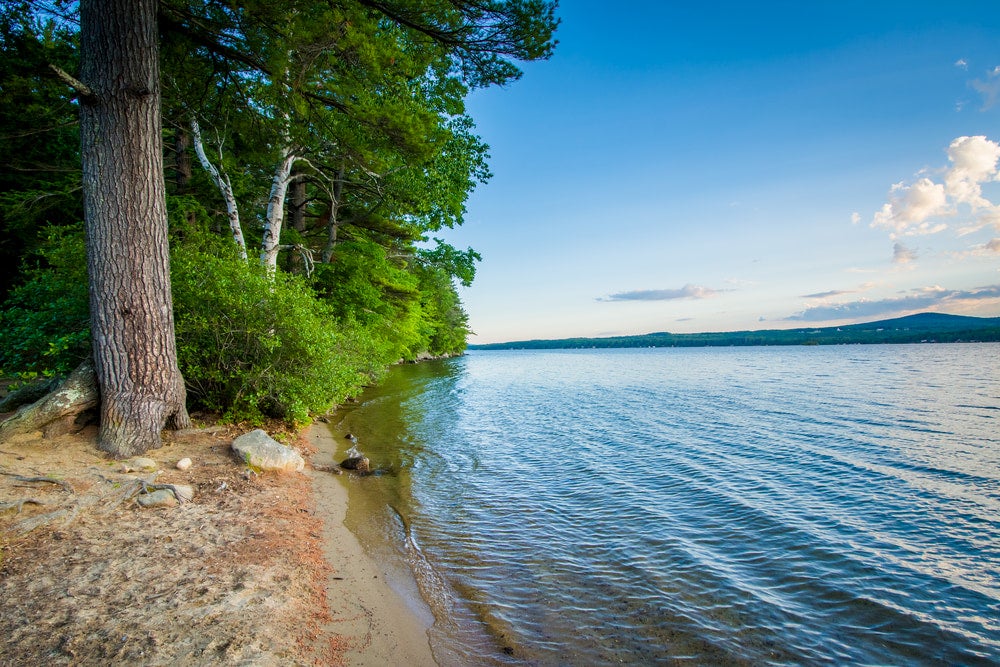 Lake Winnisquam is the fourth largest lake entirely in New Hampshire's borders. There are small islands on the lake that are popular for exploring: Loon Island, Three Islands, Pot Islands, Hog Island, and Mohawk Island. Catching site of local wildlife is a popular activity for kayakers and canoers.
Boating, swimming, and fishing are popular on the lake's day-use areas and public beaches. While there are no campgrounds located on the majority of Lake Winnisquam's shores, camping nearby can still provide visitors all the beauty and access of camping in New Hampshire's Lakes Region, without the summer crowds.
The nearest campground to a majority of Lake Winnisquam—Silver Lake Park Campground—rests on the southern end of the lake, and provides nearby access to the lake's day-use areas. A small, private campground with a family-friendly atmosphere, Silver Lake Park has a wonderful 600-foot beach with calm, warm waters that are perfect for young campers.
Silver Lake Park Campground features full-service RV hookups (many are seasonal campers that return year after year), as well as welcome tent campers. Additionally, there are fully-furnished cabin rentals available.
3. Squam Lake
With abundant wildlife, epic views of over 30 scenic islands and islets, and a quieter atmosphere than the nearby Lake Winnipesaukee, Squam Lake is a favorite among those seeking peace while camping in New Hampshire's Lakes region.
Squam Lake is a nesting site for loons, bald eagles, and great blue herons; consequently, it remains a popular place for birders seeking to spot these elusive, protected species. The lake is also home to a variety of fish, including salmon, trout, and perch. Nearby hikes offer sweeping views of the lake, its islands, and its surrounding mountains.
The Squam Lake Association's campground is a pricey place to camp, but for a good cause: the fees support the preservation and conservation of the lake, via the Squam Lake Association. Sites fill quickly, and reservations are open to the public beginning in February.
Sites are considered primitive, accessible by hiking in or by waterway. Fees start at $60/night. Toilets are provided at each camping area. There is no water, so come prepared.
4. Newfound Lake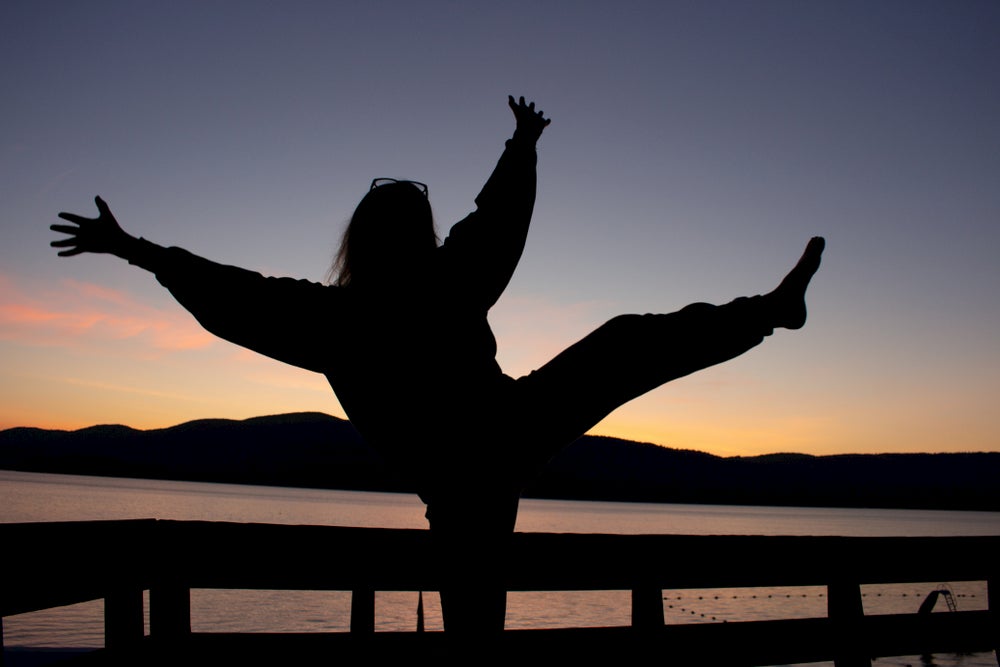 With 22 miles of lake shoreline, Newfound Lake has New Hampshire's largest freshwater swimming beach within the state park system of the entire Granite State. Visitors to this area can enjoy both the mountains region as well as the lakes region of New Hampshire, as Newfound Lake is at the intersection of both. Like most lakes of this region, mountains frame the water in the distance, creating a stunning landscape in which to swim, fish, and otherwise enjoy Newfound Lake activities.
Fishing is excellent on Newfound Lake; there are 22 species of fish found in the regional watershed, including bass, trout, and salmon. Fishing in New Hampshire is regulated by the state, and a wildlife fishing permit is required to start angling on any of the lakes when fishing and camping in New Hampshire's Lakes Region. Apply for one on the New Hampshire Fish and Game Department's website.
Located in Bridgewater, New Hampshire, Newfound RV Park welcomes both tent campers and RVers. Their camping season runs from May 1st to October 31st, but phone reservations can be made in advance even in the off-season.
Newfound RV Park features a large playground with a sandbox, an enclosed dog park (this campground is very pup friendly), laundry room, and a well-stocked convenience store. There is a recreational hall, with indoor games, and a tiny library. All RV sites offer full-hookups, including TV, Wifi, and 20, 30, or 50 amp service. There are 38 gravel sites and 6 brookside sites. Prices start at $33/night.
"We enjoyed our stay at Newfound RV Park thanks to their laundry facilities, rec room, and quirky owner. It was a great place to explore Newfound lake from, as well as the Mill Fudge Factory." —The Dyrt camper Laura L.
---
Related Campground:
Popular Articles: