About
McDill Point Backcountry Campground
Start hiking at Cheaha Trailhead, located at the far end of a parking area just before you get to Cheaha State Park on Highway 281. Follow the Cave Creek Trail until you reach the Pinhoti connector, and hang a right to take the Pinhoti Trail northbound. Look for a sign that points to McDill overlook, and follow a side trail for the last quarter mile. Along this side trail you'll pass the wreckage of a small plane that supposedly crashed back in 1972. Look for blue and white pieces of the plane off the trail to your right. Keep going and you'll eventually come to a campsite that would comfortably fit 3 or 4 tents, only about 100 yards shy of the overlook. Camping in this area is a great option because you're close to the cliffs, but protected from the wind. There are also a few spots right at the cliffs that are big enough for a small tent or hammocks and have better views, but are a bit breezier. The boulder cliffs are an awesome place to hang out at sunset or for stargazing, just remember to keep a headlamp on you! The next day, backtrack the quarter mile and continue on the Pinhoti back towards Cheaha State Park. Several rocky outcroppings provide some good views along the way.
Location
McDill Point Backcountry Campground
is located in
Alabama
2 Reviews of McDill Point Backcountry Campground
Amazing site and great views!
This is the nicest of all the campsites at Cheaha by far! While it definitely is a bit of a trek to get to, I promise you it is worth it! The views from this campsite are truly incredible, especially if you are lucky enough to have a clear sky for sunrise/sunset. The site is pretty primitive and doesn't have any hookups but it is fairly large and has plenty of space to cook. There are some premade rock fire pits that are perfect for an evening cook out. There is ample space to set up several tents and hammocks and it is perfect for a large group. Be sure to check out the crashed plane on the way up which you find just off the trail about a quarter mile before the site. This site is a must see if you ever are camping in Alabama!
Ranger Review: Gregory Paragon Pack at McDill Point Backcountry Campground, AL
Campground Review:
This is one of my favorite places to camp in all of Alabama. If you take the short route in it is about a 2 mile trip and can take anywhere from 1 to 1.5 hours. Park at the Cheaha trailhead directly off of highway 281 and there find the beautifully built entry way. Hike in about 1 min then turn right and head up the hill. When you hit a fork in the road take a left and continue following the trail. After climbing for a little while you will hit another trail sign that directs you out towards the cliff for McDill point. It can be a little challenging to find so make sure to put the coordinates in your phone and that should help you figure out which trail to take. On your way out to the lookout/campground you will pass an old plane wreckage that helps you know you are going the right way.
The camping area itself is pretty large and flat and has several fire pits you can use. It is a great space to bring a group and there are plenty of trees for hammocks as well. Make sure to carry in water though since there are no good streams nearby to get water from. If it has rained heavy recently there is a small stream that you hit if you continue down the trail another half mile but it is often dried up. There is also a campground space out near the cliff that is pretty incredible but really only has space for one tent. Make sure to go out there for sunset if you camp on the shaded site though. Overall this can be a good starter backpacking trip with a great camping site and amazing views.
……………………….
Product Review:
As a Ranger for The Dyrt, I get to test products. At this campground, I tested the Gregory Paragon 68 Pack. I have been in need of an upgrade recently from my old backpacking pack that is full of holes and weighs twice as much as this new pack. Some of the things I really loved about the Gregory pack are:
Weight: First and foremost the best part about this pack is how lightweight it is. When carrying all my gear up to the top of this hike I really noticed how much easier it was with this pack. It was also really nice to have the option of making the pack even lighter by removing the top compartment and taking out the summit pack. I was also impressed at how they were able to bring the weight of the pack down without sacrificing any comfort or structure of the pack. It was super comfortable to hike with and fit really well on my back.
Compartments: You can tell they really thought through how to make the pack most efficient and have good access for your hiking tools. The stretchy compartment in the back makes it easy to store and access things like snacks and maps or you can open up a snap and fit things like rain jackets or sweaters in there. The hip belt has pockets that are big enough for a large iPhone and are really easy to open and close. They even built a cool design in the water bottle holder on the side where you can either access it from the top or side.
Rainfly: This is a major necessity when doing any sort of hiking/backpacking in the southeast. They have a built in rainfly and pocket in the back of the pack and it was really easy to access and put on when it started raining on us on the trail.
Add a Review
CAMPGROUND REVIEW CONTEST
South
GA, AL, LA, MS
Review Campgrounds.
Win Prizes.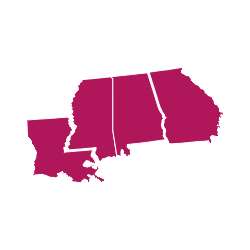 GRAND PRIZE $150 to Gregory Packs
4 RUNNERS UP WIN $50 to Backcountry