We've published several articles on super blooms this year, and each one has garnered hundreds of likes, shares, and comments. They're irresistible, these fields of Texas bluebonnets, California poppies, and cracked desert floors coming to life with color. But the temptation to go frolic in a field of wildflowers is inspiring some unfortunate behavior. We realize it's time to take a step back from our super bloom fever.
Last year, the Wildflower Trail at Diamond Valley Lake in Riverside, California had to be closed after so many hikers ventured off trail and trampled the flowers. Just yesterday, the city of Lake Elsinore had to shut down Walker Canyon after California poppy hype caused traffic jams and local facilities couldn't keep up.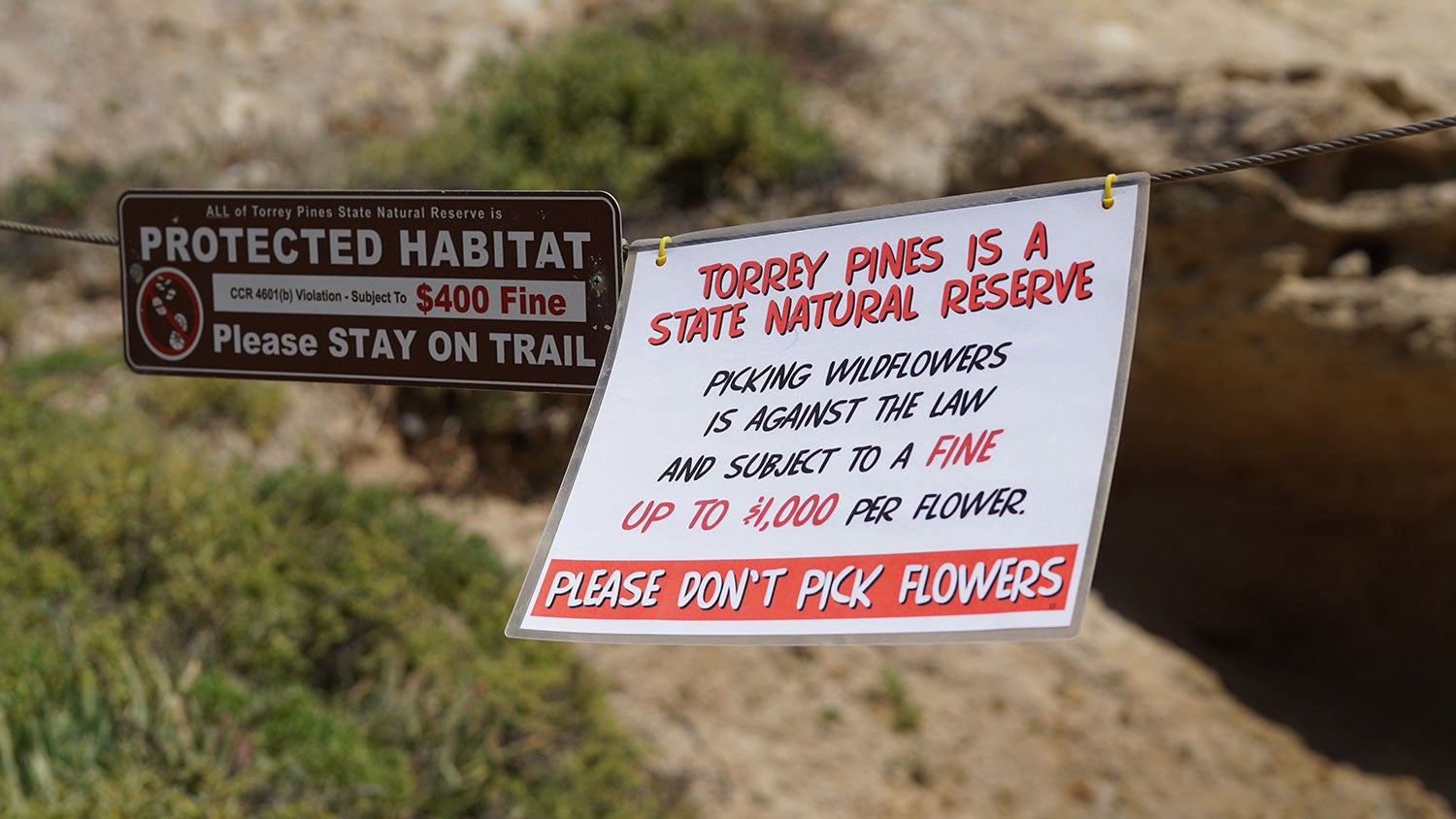 This year it seems more and more photos on social media show people laying down in fields of flowers and picking them to put in their hair. Visitors are going off trail and trampling delicate habitats. Not only does that behavior harm these places and ruin the view of blooming flowers for future visitors, it's also illegal on public lands in California, where several of these super blooms have taken place.
Instagram and #superbloom hashtags are a big part of the problem. But Casey Schreiner of Modern Hiker is using a new hashtag to help educate people about more responsible super bloom viewing.
#NoWildFlowersWereHarmed Shows Us How to Responsibly View A Super Bloom
"A lot of these people who show up to super blooms just don't know any better," Casey Schreiner tells The Dyrt. Schreiner lives in Southern California and has been writing about hiking on Modern Hiker since 2006, before social media was inspiring hordes of people to descend on specific destinations for viral events like these.
"They're not necessarily outdoorsy people who understand the ethics of Leave No Trace. They just see an article in the L.A. Times about all these beautiful wildflowers, and they go out there to see it."

Schreiner started seeing more and more photos of bad behavior at super blooms on social media. He finds it particularly troubling when those photos come from influencers with massive followings who are signaling to their audience that rolling around in a field of poppies is acceptable behavior. He's aiming to set a more responsible example.
Grown in L.A., an initiative promoting native species nurseries in Los Angeles, reached out to Modern Hiker with an idea: using the hashtag #NoWildFlowersWereHarmed to educate people on how to responsibly view super blooms.
View this post on Instagram
Schreiner worked with Grown in L.A. to lay out four basic guidelines for ensuring that your super bloom experience is one that won't damage these wild places:
You didn't go off-trail.
You left the flowers as you found them.
You didn't damage any other trails or habitat to get the image.
Ideally, you're sharing this philosophy in the text of your photo, too.
By tagging your super bloom photos with #nowildflowerswereharmed, we can remind everyone on social media to abide by these super bloom viewing standards, along with Leave No Trace ethics.
"You can still go have your Sound of Music moment without harming any flowers," said Schreiner.
But he also points out that you don't need to visit one of these highly trafficked super blooms to experience the stunning beauty that nature provides. "We go outside to feel recharged," said Schreiner. "Do you really want to feel like you're fighting over a flatscreen TV at a Black Friday sale when you get there?"
Instead of visiting one of the popular super blooms, Schreiner recommends just getting outside in your own backyard, where you might be surprised by the hashtag-worthy beauty.
If you are looking to embrace the phenomena of the most impressive super blooms as they continue to blanket hills with color across the country this spring, we don't blame you. But watch where you're stepping and how you're sharing.
Popular Articles: