RV camping in a travel trailer, fifth wheel or motor home differs from tent camping because you have the pleasure of many  comforts: air conditioning, running water and electricity, just to start. Each of these systems come with their own responsibility however, and it's important to maintain them to sustainably enjoy life in an RV. For example, surge protectors protect your RVs electrical system by controlling the amount of electricity that goes into your RV.
Everything You Need to Know About RV Surge Protectors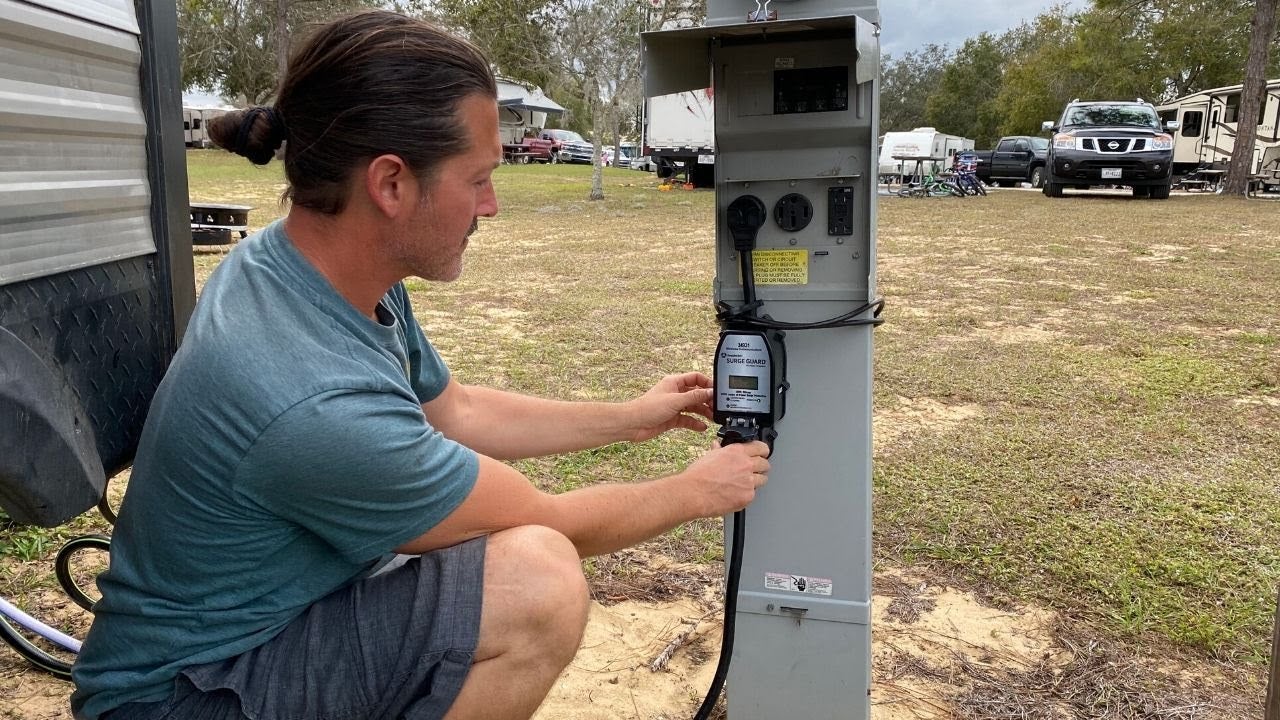 When you plug in your RV to an electrical outlet, the correct amount of electricity would ideally go into your RV, so you can use the lights and your electronics. But that's not always how it works out. Sometimes there are power surges or the voltage is too low. This can cause major problems for your RV. Surge protectors are a must-have for your RV, but we'll explain why and how they work.
What Exactly Does a Surge Protector Do?
Surge protectors plug into the outlet at the campground, and then your RV electrical plug goes into the surge protector. The surge protector serves as a buffer between the electrical outlet and your RV incase of any power surges that could be caused by lightning or other factors. This ensures that the electricity going into your RV is monitored so your vehicle isn't harmed.
Types of Surge Protectors
There are two major types of surge protectors: regular surge protectors and electronic management systems. Both protect your RV's electronics, but they differ slightly.
Surge protectors offer protection from high voltage. An electrical management system however, is more robust and protects your RV from high voltage, low voltage, reverse polarity, open neutral, open ground, and other common electrical system issues.
Best Surge Protectors on The Market
These are the best surge protectors on the market, according to RV enthusiasts.
1. Progressive Industries 313.1168 SSP30X Smart Surge Protector
This 30 amp surge protector is fantastic to protect your vehicle. This model is built with a polarity tester. It's also useful for open ground, open neutral and reverse polarity detection of any surges. It also comes with an indicator that displays details about its current conditions. The compact design make it easy to store.
2. Surge Guard 44260 Entry Level Portable Surge Protector
The Surge Guard 44260 is extremely reliable and durable. This model has a 6500A max spike current, so it can detect any power supply fault quickly and instantly. It is also weather resistant, and won't fail in even extreme weather conditions.
3.  Camco 55306 50 AMP Power Defender Voltage Protector
This is one of the best surge protectors you'll find. It is high quality and durable. This surge protector has low and high voltage protection. It also includes an automatic disconnection feature in the event of power outages. The surge protector will  automatically reconnect when power stabilizes.
Popular Articles: