Long known as the "Cave State," Missouri is a popular destination for cave tours and spelunking. From early Native American artifacts to astoundingly old rock formations, caves in Missouri are filled with impressive history and geology.
Thanks to the abundance of dolomite and limestone in the area, caves in Missouri are formed quite easily. As rainwater seeps through the ground, it dissolves the rock underneath and creates small gaps. These gaps become larger over time, eventually forming caves. As water continues to drip into the newly formed caves, eerie yet beautiful stalagmites and stalactites form.
But it's hard to understand the beauty of these caves without visiting for yourself. With almost 6,400 caves—many of them resting in public lands—there's an opportunity for scenic spelunking just around the corner from almost any Missouri camping trip.
Find Scenic Spelunking at these 6 Caves in Missouri
The caves in many of Missouri's state parks aren't just tourist attractions; while some have walkways and tours available, there are numerous wild caves in the state park system that are habitats for a number of animals, including bats.
Before entering any of the public or wild caves in Missouri, be aware of the Missouri Cave Advisory, which warns visitors of the dangers of spreading White Nose Syndrome to bats in wild caves. A fungus that is fatal to bats but does not affect humans, White Nose Syndrome can be carried in by cave tourists and has resulted in a majority of cave closures since 2010.
The Missouri State Parks system advises visitors against wearing the same clothing, footwear, accessories or equipment that has been in any other cave before exploring caves in Missouri.
Between riveting folklore and geologic wonder, caves in Missouri are a great way to spark the imagination and escape the summer heat. Whether you're interested in guided cave tours or a rogue exploration, you're sure to be wowed by the unsurpassed natural beauty each cave has to offer.
1. Fisher Cave—Meramec State Park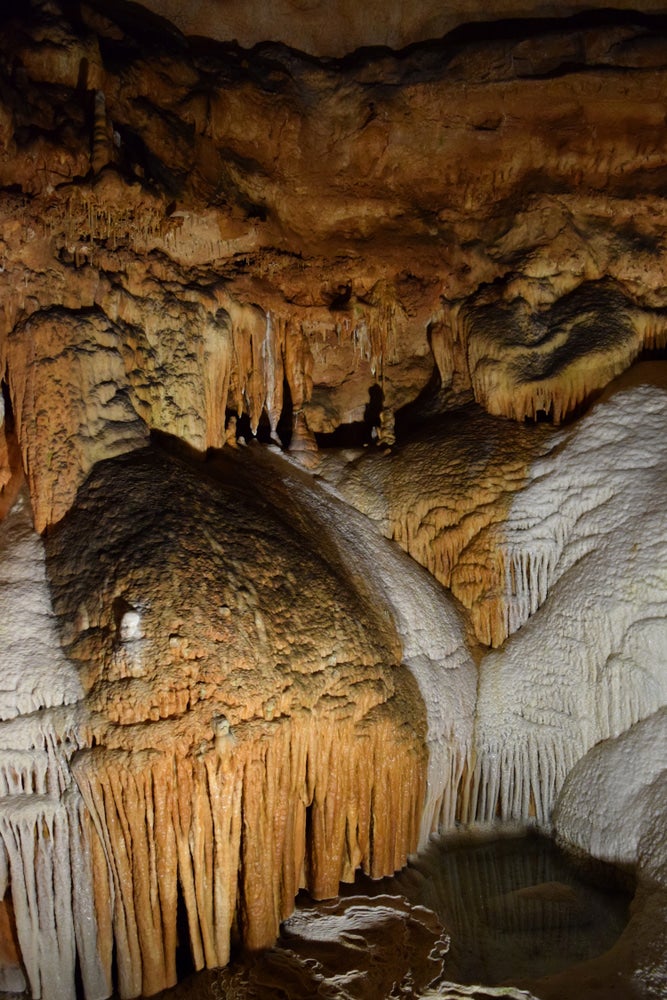 Buried in Missouri's Ozarks, Fisher Cave offers a wide array of cave scenery perfect for first-time explorers. Walking from room to room through the cave, you'll see low, narrow stream-side passages that lead to huge rooms filled with calcite deposits reaching 30 feet high. Along the way, well-preserved claw marks and wildlife can be spotted on the walls and ceilings if you look closely. Guided tours are available from park rangers during the cave's open months, from mid-May to mid-September.
If you're looking for some more luxury in your cave tour, the Meramec Caverns are an interconnected system of some of the largest caves in Missouri, just a few minutes north of Fisher Cave. Stretching 4.6 miles long, these caves formed over the course of 400 million years. The cave served as a shelter to early Native Americans, then a saltpeter plant during the Civil War era, and is now a massive tourist attraction with a Wine Room, Mirror Room, and Ballroom.
Visitors can camp near these Missouri caves at Meramec State Park. Fisher Cave is located on site, while the Meramec Caverns are just north. The park offers basic, water, and electric campsites as well as group tent areas. Visitors can reserve campsites online, though many campsites are also available on a first-come-first-serve basis.
"Nice campground. Spots are a little cramped but there is running water and decent toilets. Absolutely beautiful area and the park rangers did a great job describing its history and landscape. Highly recommend taking a cave tour of Fisher Cave! So neat!" —The Dyrt camper Loren G.
2. Bridal Cave—Camdenton, MO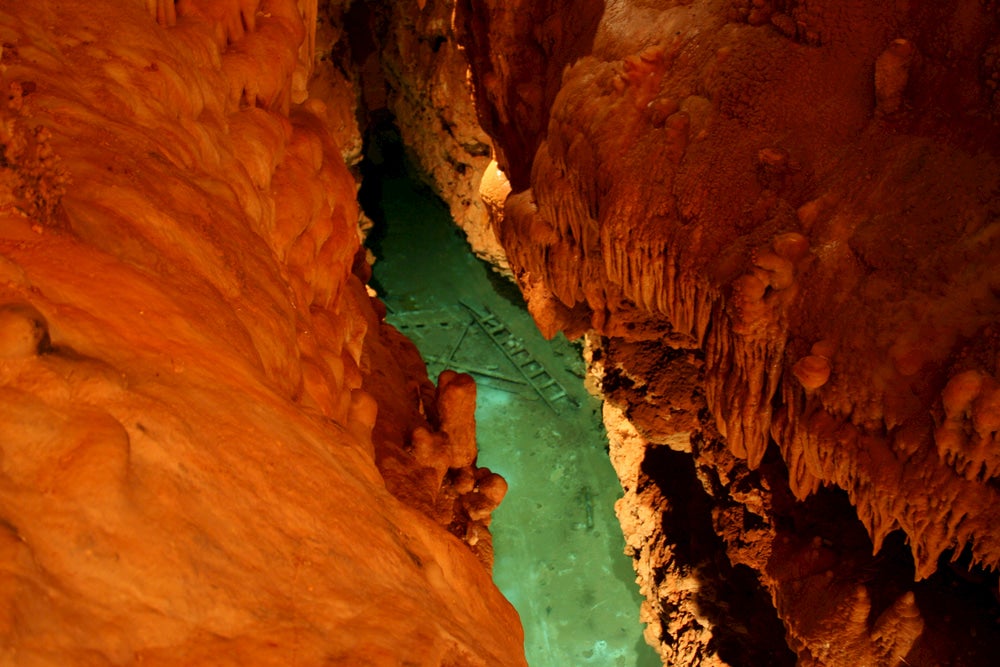 Near the Camdenton Towersite State Wildlife Management Area rests the legendary Bridal Cave. As the name implies, this is a near-perfect setting for a camping wedding.
Native Americans first discovered the beautiful stalactite-studded cave and used it to hold wedding ceremonies in the early 1800s. Keeping with tradition, Bridal Cave can now be reserved for weddings. Over 3,000 couples have exchanged vows in Bridal Cave.
Rated one of the most scenic caves in the states, visitors can embark on hour-long cave tours. Park interpreters will walk you along giant columns and delicate soda straws (tiny, sparkling cylinders of calcium carbonate) throughout the cave, as well as the infamous Mystery Lake, filled with crystal clear water.
The closest campground to Bridal Cave is at the Lake of the Ozarks State Park. With basic and electric sites, group camping options, and a camper store on-site, the Lake of the Ozarks State Park is convenient for cave explorers looking for a place to rest their head. Plus, the reservable campsites offer lake views and showers.
"Loved waking up to coffee and the beautiful view of the lake from our campsite… Very hard to get cell service, but that's ok because we weren't there to be on our phones. We didn't fish but watched as others pulled large catfish from the lake. There were a lot of Trails and even a herd of deer that would come right into the campgrounds. If you have a chance make sure you stop and see some caves and Ha Ha Tonka Castle Ruins." —The Dyrt camper Shannon G.
3. Island Cave—Ha Ha Tonka State Park
See nature and history come together at Ha Ha Tonka State Park. While the formations within the park's Island Cave are spectacular on their own, your experience isn't complete until exploring the surrounding area.
Visitors can traverse a natural stone bridge, a massive spring, and even fields of "karst" (rock formations resembling above-ground stalagmites)—the rich geologic history this park has to offer is immeasurable. Though many of the caves here are now permanently closed, Island Cave is open to the public from June through September. Just be sure to obtain a permit at the park office before visiting.
While there aren't any designated camping options in Ha Ha Tonka State Park, head to the nearby Little Niangua Campground to stay near these geological oddities. Offering cabins, RV camping, and tent sites, this comfy place for campers to set up by the water and build a cozy fire if they wish. With easy water access, visitors can rent canoes and kayaks to enjoy the Niangua river as well.
"I love coming here, It's a great place to lay back and let loose a little… Gets a little rowdy if you go during busy weekends. Don't bring glass anything!!!" —The Dyrt camper Janelle M.
4. Little Grand Canyon—Grand Gulf State Park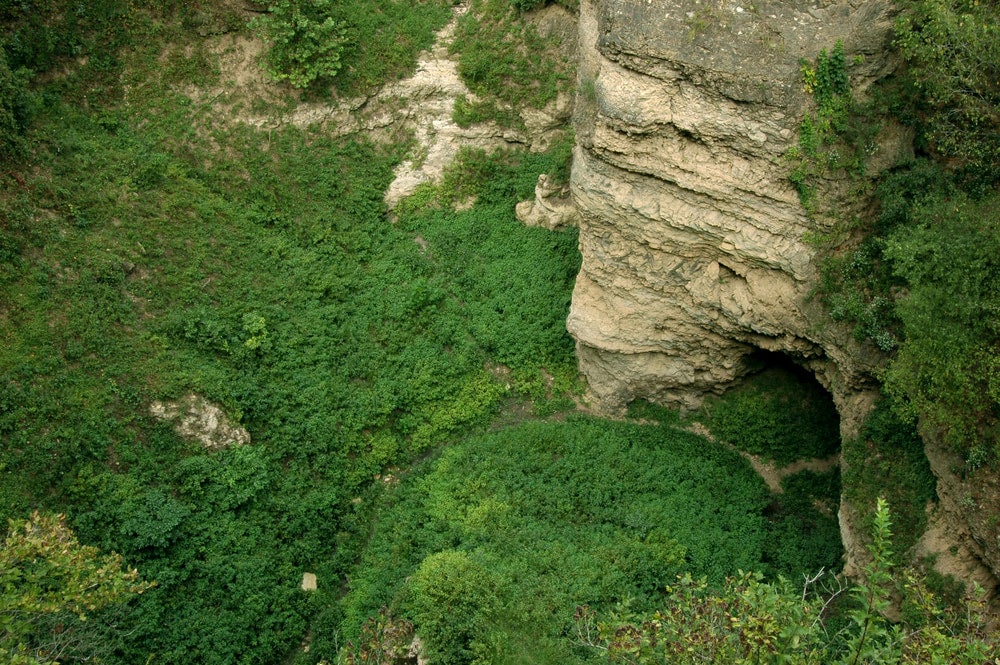 Sometimes known as the "Little Grand Canyon," Grand Gulf State Park isn't just home to a number of caves—the majority of the park was at one point a cave. The park rests on an ancient collapsed cave system in southern Missouri, creating the iconic and eponymous gulf.
The Grand Gulf stretches for over a mile, and park visitors can view the gulf from above, or follow trails on the floor where they can walk under a massive natural bridge. However, there is no official ending to the trail, so hikers should use extreme caution during their trek.
Like other state parks with Missouri caves, there aren't any camping options within the Grand Gulf State Park. Folks looking for a secluded spot to set up camp nearby can head to the White Ranch Conservation Area. While this state-owned land is primarily for hunting, there are numerous dispersed sites across the 6,703 acres, just 16 miles from Grand Gulf State Park. The area offers a handful of primitive sites with fire rings, plenty of shade and easy access to the area's shooting range and other hunting hotspots.
5. Onondaga Cave—Onondaga Cave State Park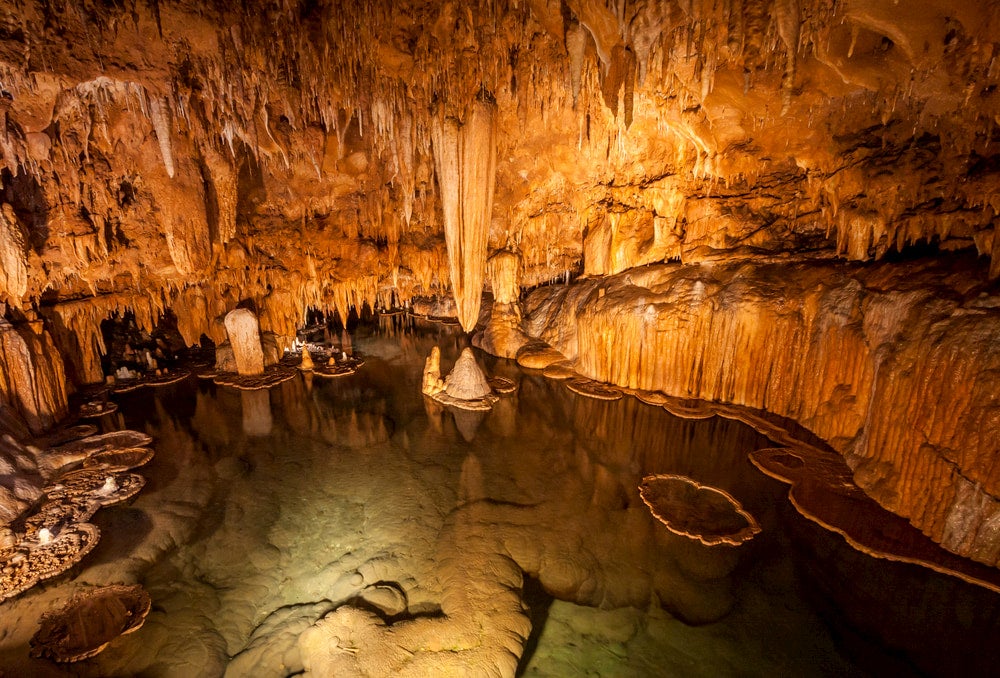 Cave enthusiasts have a chance to camp and explore caves in Missouri at the Onondaga Cave State Park. Visitors can find cave tours through the park's titular cave with trained guides who can lead you along well-lit, paved walkways as well as provide information about the geologic wonders all around you. With a long, rich history and a river flowing through the Onondaga Cave, it's registered as a National Natural Landmark.
The campgrounds at Onondaga Cave State Park offer basic, electric, and water sites. Campers can also enjoy a playground, an amphitheater, and purchase supplies at the park store. Guests are also able to build campfires, bring pets, and use the on-site showers and toilets.
"The cave was absolutely amazing! … Our tour guide was fantastic and so knowledgeable. I have never seen so much wildlife in a cave tour before, and I have been in caves not normally open to the public. This park is very protective of its cave and takes many measures to ensure the health of its wildlife. Well staffed and everyone is very friendly, helpful and informed." —The Dyrt camper Leah H.
6. Devil's Kitchen—Roaring River State Park
Campers looking to explore the many gorgeous caves in Missouri can't miss Roaring River State Park. Home to the rugged Devil's Kitchen Trail, which takes hikers to an old cave formation rumored to have been a hideout by Civil War guerrillas. In addition to the Devil's Kitchen hideout, hikers can find a number of caves along the trail with the help of an interpretive brochure from the nature center.
Experienced hikers will love Roaring River State Park's variety of rugged and moderate-level trails with challenging inclines, rough terrain, and occasional water crossings.
In addition to fantastic trail and cave options, the park offers cabins, tent sites, and RV hookups at multiple campgrounds. Many sites sit river side, making for a relaxing paddling opportunity after a day of spelunking. Plus, it's dog and campfire-friendly.
"I love this campground. They have camping next to the bluff so it makes for a more serene experience. In the fall you can see bald eagles and they have some beautiful hiking along with good trout fishing." —The Dyrt camper Jessica W.
---
Related Campgrounds:
Popular Articles: