This article is brought to you by Banner & Oak. Any one of their best-selling hats would be a great addition to your go-to hiking outfit.
---
The Mark Twain National Forest is indeed Missouri's only national forest; but there's much more to the story than that. What is one expansive forest in the southern half of the state on paper is actually made up of nine separate tracts of forest that are spread across the southern half of the state. In total, those nine forests cover just over 1.5 million acres of public land.
Explore Missouri's Only National Forest at These 8 Campgrounds
The Mark Twain National Forest is renowned for its waterways, including some 3,000 natural springs that cover more than 350 miles of the forest in pristine, crystal-clear water. The Ozark Trail is another famous resident of this national forest; the ever-expanding trail is at least 400 miles long and lies mostly within the boundaries of Mark Twain National Forest. Thanks to the unique layout of the forest tracts, there are plenty of camping options available. Out of the numerous options for camping in the Mark Twain National Forest listed on The Dyrt, we've assembled a diverse collection of some of the best you can find.
The forested surroundings of Alley Spring Campground hide two crystal clear, spring-fed rivers. Together, these rivers make up the Ozark National Scenic Riverways. Alley Spring Campground is a great homebase for visitors, with easy access to the national forest and the 130+ miles of water trails in the area.
Visitors to Mark Twain National Forest can choose from more than 150 campsites at Alley Spring, all of which are open year-round. This campground also offers 26 reservable RV sites with electrical and water hook-ups, three group sites, fourteen cluster sites, and plenty of other on-site amenities.
Huzzah Valley Resort and Campground is a very popular overnight spot, which sits in the northwest corner of the Potosi branch of Mark Twain National Forest. The year-round campground is situated along a two and a half mile stretch of Huzzah River waterfront. During the day the river is the go-to gathering spot for groups of swimmers, tubers, boaters, and fishermen. And if being on the riverfront inside the national forest hasn't sold you already, then maybe the amenities list will; guests at Huzzah Valley are spoiled with an on-site grocery store, a large hot tub, electrical hookups galore, a playground area, and even a designated loud (aka "Zoo") area for the night owls. This is a great campground option for all types of visitors, but make sure to reserve your spot ahead of time because they go quickly, especially during the summer.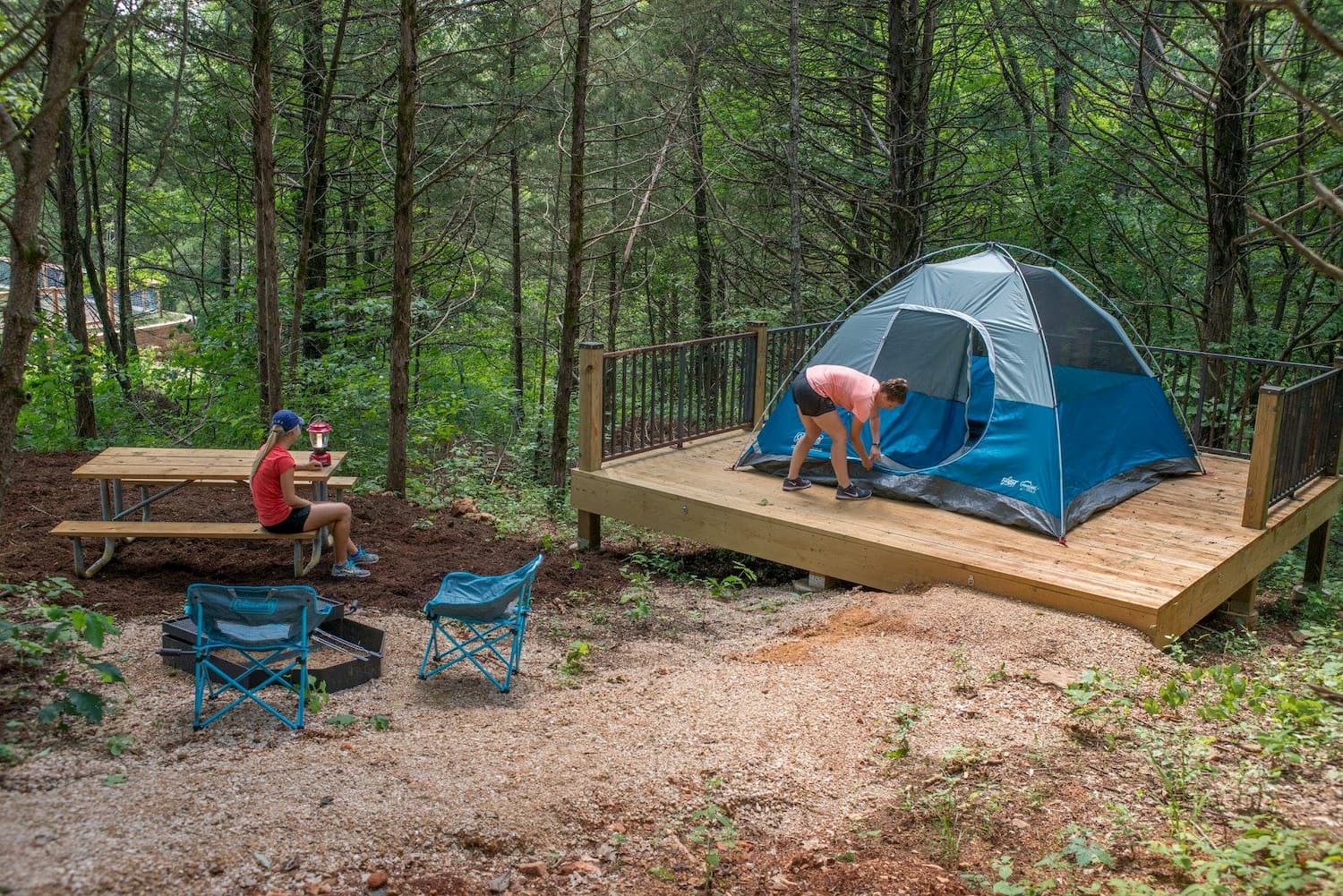 Originally known as Camp Zoe, this area was a summer youth camp when it opened to the public 90 years ago. The area's tumultuous history involved popular music festivals and a takeover by the federal government (but those are stories for another time).Ultimately, Echo Bluff was bought by the state of Missouri at auction. The state then added an additional 100 acres of land to the existing property, and started investing heavily in projects to update, upgrade, and add on some top-of-the-line modern amenities.
Today, visitors are gushing over the brand new Timbuktu Campground within Echo Bluff State Park. The campground is open year-round, and boasts a total of 62 manicured tent & RV sites, plus 13 full-service cabins, and even a sprawling lodge with 20 guest rooms to choose from. It's also centrally located between the main branches of Mark Twain National Forest. There may be no other campground in the area that offers this level of comfort to their guests. But fair warning, it's highly recommended that you reserve your spot as far in advance as possible. These desirable sites disappear quickly!
Perched on the edge of Huzzah Creek, Red Bluff Campground is a great place to make camp while you explore the surrounding waterways and national forest. Both tent sites and RV sites are available, as well as three extra-large group sites, and even a few day-use picnic sites. Guests at Red Bluff Campground only need to venture just 100 yards from their tents to enjoy some swimming or tubing in Huzzah Creek. There's also the 1.2-mile Red Bluff Trail loop, which lies within the campground. The 30-minute trail takes you by the impressive red bluffs that overlook the creek, and earned this campground its name. The immediate access to hiking, swimming, and fishing, make this an enticing overnight spot for any visitor to Mark Twain National Forest.
This state park's name was inspired by the area's numerous "shut-ins." A shut-in isn't what it sounds like; it's a natural 'wading pool'-like area, formed by the flow of a river being forced to wind over and around large, erosion resistant rocks. In other words, there are swimming holes, rocks slides, and crystal clear ponds spread all over this area, for campers to enjoy.
This state park's campground, resting on the edge of the Mark Twain National Forest, is open year-round and offers some nice amenities for their RV & tent camping guests. There are also six log cabins that can accommodate up to four adults and two children, each of which has electricity, heating, and air conditioning. In addition to the surrounding swimming hole shut-ins, this campground is also flanked by equestrian trails, hiking trails, biking trails, and great fishing opportunities. With all the amenities and activities to choose from at this campground, you'll be hard pressed to find a better landing spot after a day of exploring Mark Twain National Forest.
Admittedly, most other campgrounds on this list offer quicker access to Mark Twain National Forest. However, Hawn State Park Campground is just a one-hour drive south of St. Louis, making it the most convenient destination for big city dwellers. The campground itself has 50 total tent and RV sites, half of which have electrical hookups, and all but five of the sites are available by reservation. Campers can walk the 150 feet to Pickle Creek to cool off and enjoy the calm waterfront setting. There is also immediate access to a 10-mile backpacking trail that winds through Hawn State Park. And when the time comes to explore the national forest, you're still just a half an hour drive away from the Fredericktown branch of the forest.
Taum Sauk Mountain State Park covers 7,500 acres of the state's most mountainous landscape within the Mark Twain National Forest. And while the Taum Sauk Mountain campground is relatively basic on it's own, the draw for visitors isn't about the amenities. In fact, it's the lack of modern features that many campers site as one of its main assets. Instead, visitors praise the campground for it's tranquility, scenery, hiking, on-site access to the Ozark Trail, and it's close proximity to Taum Sauk Peak.
All twelve of the available tent sites go for just $12 or $13 per night. Each campsite is equipped with a picnic table and a fire pit, plus shared access to the campground's drinking water spouts and vault toilets. But once again, Taum Sauk campground really earned a spot on this list thanks to it's lush setting and ideal location. Guests are just a short hike away from taking in the views at the highest point in all of Missouri, as well as being less than a mile from the state's tallest waterfall. And last but not least, venturing all of 5-10 miles from camp can land you at the shores of several different lakes, multiple rivers, or the heart of Mark Twain National Forest.
Montauk State Park covers nearly 3,000 acres of land within the Mark Twain National Forest, and is home to seven natural springs, which together form the headwaters of the Current River. The campground within Montauk State Park is a very popular destination for tourists and locals alike. It stays open year-round and offers more than 150 tent and RV sites in total; 125 of which have electrical hookups. All sites have a paved pad, fire pit with grill, picnic table, and lantern post. There are also two large and well-equipped restrooms on-site with flushing toilets, hot showers, and laundry facilities.
The consistent stocking of rainbow trout in the surrounding rivers make this a well-known fishing spot. Fisherman flock here during trout season to get in on the action. But it's really the amenities that make this campground so popular with families, RVers, and tourists. Features like an on-site restaurant, a market/gift store, a playground area, extra large family sites, and wi-fi availability make this a pretty luxurious landing spot after a day of getting lost in Mark Twain National Forest.
---
This article was brought to you by our friends at Banner & Oak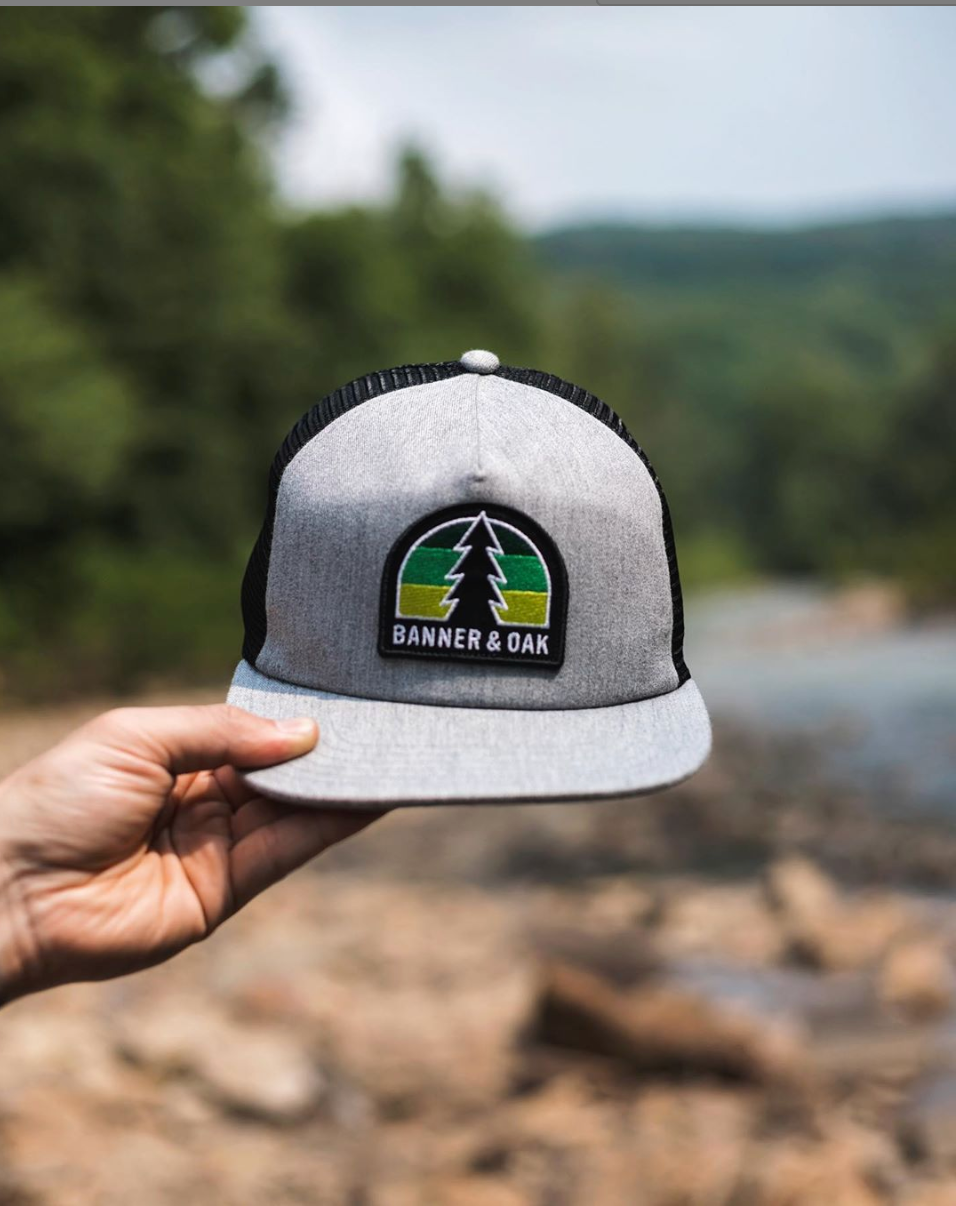 ---
Related Campgrounds:
Popular Articles: