This article about camping near Inyo National Forest is brought to you by Midland. Read their article about the best walkie talkies to gear up before you head out to any of these campgrounds.
---
One of the most breathtaking spots in the United States, Inyo National Forest is filled with alpine meadows, glacially cold, clear lakes, and thick, bristly pine forests. These seven Inyo National Forest camping spots belong on every camper's bucket list.
The Best Inyo National Forest Camping Spots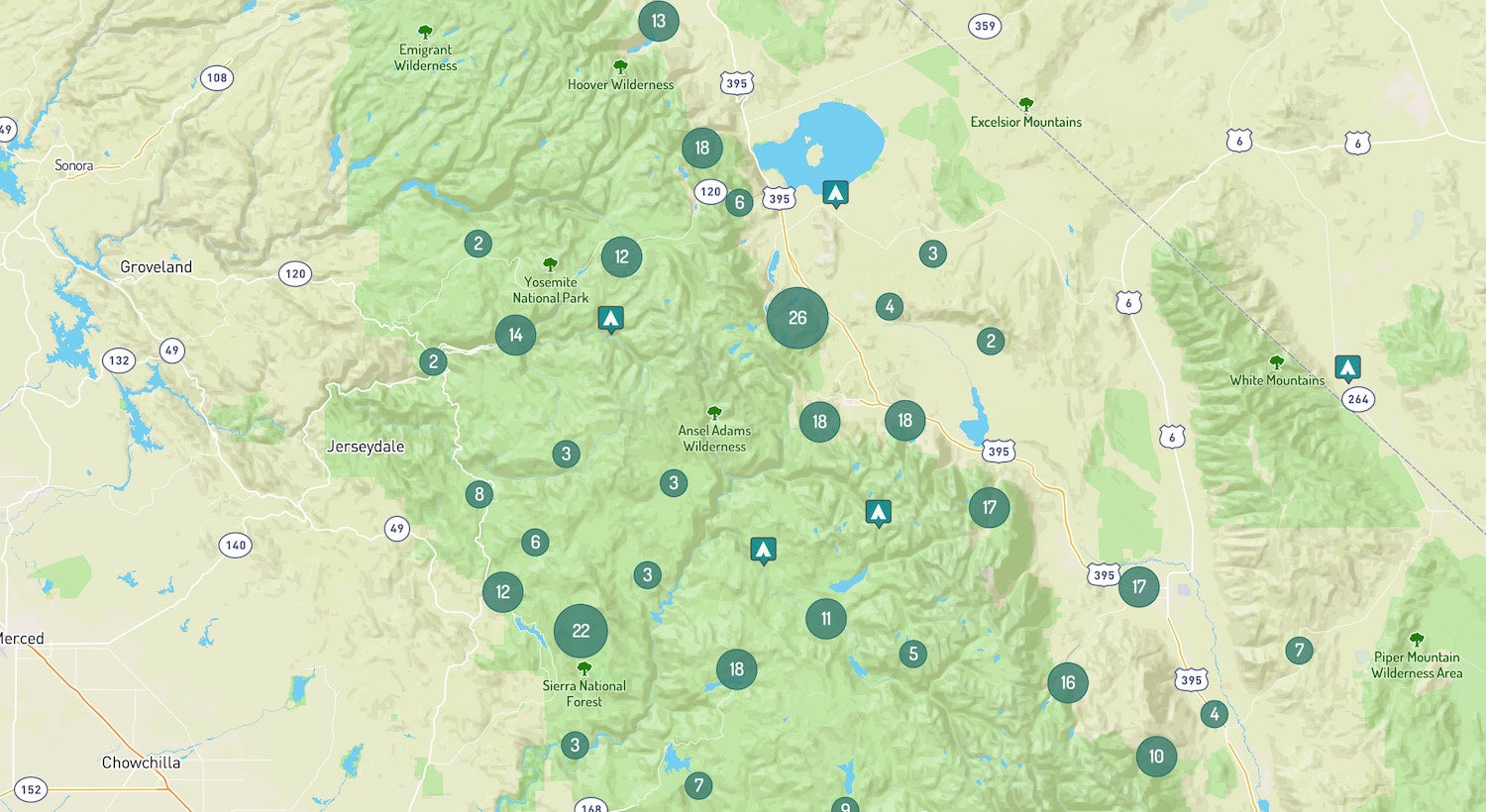 You can find a hub from which to fish, kayak, ski, snowboard, and rock climb in this alpine resort. If your recreational tastes sway toward a more relaxed environment, you can enjoy the breathtaking views from the comforts of your campsite.
You can even head to town to explore the adorable nooks and crannies of Mammoth Lake. Mammoth Mountain RV Park & Campground offers full and partial hookups, tent sites, group sites, and cabins.
"Do yourself a favor and if available, get the full hook-up sites!" – Nick B.
Campground Details:
Price: $35-80
Number of sites: 179
RV sites: Yes
Fires allowed: Yes
Pets allowed: Yes
---
Close to the community of Mammoth Lakes, Sherwin Creek is a medium-sized campground with limited hookups for RVs (only water). Sherwin Creek is tucked away in a stand of Jeffrey pine, bordering a stream prized by many anglers. Access to off-road trails for ATVs and plenty of fishing are two main attractions at this wooded campground. If you visit Inyo National Forest in mid-July, time your trip to coincide with Mammoth Lakes Jazz Jubilee, a wonderful gathering of musicians and nature lovers in one of the most breathtaking backdrops in the country.
"So beautiful. We love climbing in the Ravine." – Taylor
Campground Details:
Price: $23
Number of sites: 85
RV sites: Yes
Fires allowed: Yes
Pets allowed: Yes
---
Secluded within a grove of trees, mostly aspen and poplar, yet imminently close to downtown attractions, June Lake is one of several campgrounds in the June Lake loop of Inyo National Forest.
Gorgeous views of the towering peaks that spike up to 11,000' and 12,000' and an array of watersports or outdoor adventures await you in June Lake. Take in the same views that Ansel Adams photographed in Ansel Adams Wilderness.
This is a smaller campground with hookups for RVs and drinking water, showers, and bear boxes.
"Perfect time of year to go to June Lake is when the snow is melting and running off into the lake. Some of the clearest water I have ever seen." – Valerie G.
Campground Details:
Price: $22
Number of sites: 28
RV sites: Yes
Fires allowed: Yes
Pets allowed: Yes
---
This campground nestles up to Convict Lake in Inyo National Forest; all of the sites are within walking distance from the lake, and many have beautiful water views. Hot showers, bear boxes, and paved roads, and parking pads make this an accessible campground to get in and out of, even for the big rigs.
There is a market on-site at Convict Lake Campground, and more extensive amenities are only minutes away. This campground is also close to the Mammoth Airport, between Bishop, California, and the charming town of Mammoth Lakes. Don't miss the Lake Trail, which meanders on the shoreline for 3.5 miles, or many other attractions in the John Muir Wilderness.
"You have a large mountain lake surrounded on three sides by beautiful mountain peaks. They have a great 3- or 4-mile trail around the lake and lots of fishing opportunities." – Steve & Ashley G.
Campground Details:
Price: $29
Number of sites: 86
RV sites: Yes
Fires allowed: Yes
Pets allowed: Yes
---
Anglers, backpackers, and naturelovers are drawn to this campground for its picture-perfect view of Minaret Falls. Minaret Falls Campground is a smaller campground located in the Reds Meadow Valley. Reservations are not accepted, and you can only access the campground by the single dirt road in the summer months.
"Plenty of shade and spacious campsites. Restrooms and water were also available." – Erin M.
Campground Details:
Price: $15-40
Number of sites: 27
RV sites: Yes
Fires allowed: Yes
Pets allowed: Yes
---
The top billing of this campground is its extraordinary views and proximity to some of the most memorable locales in the area. No electric or sewer hookups and vault toilets round out the amenities. This campground is just west of Mammoth Lakes in the Red Valley section of the Sierra Nevada.
Agnew Meadows Group Camp can accommodate RVs, but only those that are under 30'. Although you may be unable to bring your big rig, you can bring your horses as this campground has equestrian camping. You get a great sense of privacy when you're tucked into the woodsy environs at this lovely spot in Inyo National Forest.
"The drive-in features great views of the mountains in the distance." – Spencer L.
Campground Details:
Price: $20-75
Number of sites: 21
RV sites: Yes
Fires allowed: Yes
Pets allowed: Yes
---
The stunning Silver Lake Campground joins with Bucks Lake Wilderness Area to provide quiet, shading spots for tent camping, along with space for RVs. The perfect spot for campers who love hiking, swimming, or fishing, this campground is located just 50 minutes from Lake Tahoe.
Enjoy the sunset over the water, or explore the rocky terrain with smooth surfaces that this region has to offer. Take advantage of the facilities and experience California like never before.
"Excellent location for lake and swimming hole access. Kirkwood right down the road provides groceries as needed." – Melissa D.
Campground Details:
Price: $26
Number of sites: 63
RV sites: Yes
Fires allowed: Yes
Pets allowed: Yes
---
You will never forget a trip to these seven Inyo National Forest camping spots. Whether you're hiking, biking, or reading in a hammock, the views and memories you create in Inyo will last a lifetime. For dozens of more options, visit The Dyrt's complete compilation of the best camping near Inyo National Forest.
---
This article about camping near Inyo National Forest was brought to you Midland. Check out Midland's NOAA Weather Radio guide to keep yourself safe while out in nature.
Popular Articles:
---

---