I submerge my sore, aching body into the turquoise blue water. Steam from the pool coats my skin as I feel my muscles loosen and relax. I lay my head back to rest against the slick granite stones, staring up at the old-growth forest that stands against a golden summer sky.
My last visit to these Oregon hot springs was not so zenful. Instead, I remember a loud group blaring music from their speakers and leaving behind cases of empty beer cans and junk food wrappers.
Luckily, I have this pool to myself during a sunrise soak. As the steamy air mingles with a cool river breeze, I am reminded once again how blissful and beautiful Oregon's hot springs can be when they are properly taken care of and responsibility visited.
Hot Springs in Oregon: What You Need to Know
Oregon has an incredible chain of 19 volcanoes stretching across the state. Many of the mountains, including Mount Hood and Three Sisters, are still active and provide geothermal heat to create a scattering of hot springs throughout the region. Native Americans are rumored to have a long history with Oregon's hot springs as sacred healing places, and they remain places of historical and cultural importance.
Hot springs in Oregon are categorized in two ways: public and private. The public springs are somewhat rustic, usually free except for parking passes, and maintained mostly by users or volunteers. Stewardship, Leave No Trace practices, and respectful use are very important when visiting public hot springs.
Additionally, be aware that some public hot springs in Oregon are clothing optional. You may see a few moons during your visit.
Private hot springs are normally commercialized and located on private land. Typically, these springs have been modified or upgraded in some way (with man-made pools or bath houses), and a day use fee is required. They're generally well-kept, easy to access, safe, clean, and they can be less crowded, thanks to the entry fee. Some private springs also offer on-site camping or accommodation, along with other amenities like showers and stores.

---
Prepare for your next adventure by downloading maps. The Dyrt PRO lets you download maps and campgrounds without cell service. "My alternative to using pro would be to drive back out to cell service".
---
How to Pack and Prep for Your Oregon Hot Springs Trip
Hot springs in Oregon span across a geographically diverse state. Each region comes with its own climate and landscape that should be considered when deciding what to bring. If you're heading to higher elevations, pack warm clothes, even in the summer months.
No matter which Oregon hot springs you're headed for, pack a swimsuit and your own towel, as most of the hot springs are public locations and will not provide any services. It's always a good idea to bring water-friendly shoes to wear both in and out of the pools because, unfortunately, glass from littering is a possibility, and the rocks can get super slick, too.
Summer is the most popular season to visit hot springs in Oregon, so be aware that, especially at public springs, overcrowding can occur. Always be respectful about sharing the place with other visitors. Most likely, the hot springs will be most busy on weekends and holidays from early May until the snow starts to fall in early November.
The busy time of year also impacts camping in Oregon, with most of the popular Oregon campgrounds booking weeks (or months) in advance, so plan accordingly.
(If all the popular campgrounds are booked, check out our guide to free camping in Oregon!)
If you're looking for more solitude, opt for weekdays or try for early morning sunrise soaks. Or, try to go during the tail-end of the season. Even as the weather begins to cool, the springs stay nice and toasty.
11 Hot Springs in Oregon with Camping Nearby
1. Bagby Hot Springs
Location: Off Highway 24 less than 2hrs southeast from Portland
Type: Public
Hot Springs Fee: $5 day use fee for soaking
First discovered in 1880 by Jim Bagby, today's Bagby Hot Springs are one of the most popular in the state. After a short mile and a half hike following the Collawash River through a towering old-growth forest of fir and cedar trees, the hot springs structures emerge.
A variety of pools and bathing rooms are available to choose from including three rustic bath houses, one containing five cedar tubs, a second containing four wooden tubs, and a third containing a single large tub. Additionally, two primitive toilets are available.
Currently, the overuse and irresponsible visitors to the facilities have resulted in a private company taking over management of the site. A $5 fee per person is payable at the Ripplebrook Ranger Station, to the parking area attendant (if present) or at the self-service pay booth at the trailhead. Alcohol is not allowed.
If you really want to get the most soak-time during your visit, stay at the nearby Bagby Campground. Sites are $17 per night and do not include the additional fee for soaking in the hot springs. With no additional water service besides the nearby river, be sure to bring extra to keep you hydrated during your adventure.
2. Breitenbush Hot Springs
Location: Off Highway-22 in the town of Breitenbush
Type: Private
Hot Springs Fee: $15-28/per day
If you're looking for a less primitive soaking experience, Breitenbush is going to be your spot. The hot springs are maintained by a private working cooperative called the Breitenbush Community.
The organization manages the Retreat and Conference Center along with the three main soaking pools. Each pool is engineered to be kept at specific temperatures, one is at 108, one at 105, and one at 101. The Center also has a sauna, showers, restrooms, dining, lodging, and healing workshops at the facility.
Breitenbush Lake Campground is the nearest option for pitching a tent by the hot springs. With 20 no-fee sites, it is best to get to the campground early and claim your spot, especially on weekends and holidays. Located north of the Mount Jefferson Wilderness, the campground also provides nearby access to the Pacific Crest Trail for hiking.
The campground has limited facilities with no garbage service so be prepared to pack-out all your trash.
3. Bigalow Hot Springs
Location: Off Highway-126 just north of Belknap Springs
Type: Public
Hot Springs Fee: Free
Known by locals as the Deer Creek Hot Springs, this moderately warm pool is located near the confluence of Deer Creek and the McKenzie River. Instead of being out in the open, Bigalow is partially positioned inside a cave. A gorgeous backdrop of dripping rocks, the quiet babbling of the river, and overgrown ferns immerse you in a tranquil, natural experience.
Keep in mind that since Bigalow is only one pool, sharing with other soakers is almost a guarantee.
Olallie Campground is a short drive along Highway 126 from the hot springs and offers easy access to taking a cool dip in the McKenzie River. There are 16 sites ranging from $17-33 per night depending on the size and proximity to the water. Olallie's amenities include vaulted toilets, fire pit rings, drinking water, and picnic tables.
4. Belknap Hot Springs
Location: Along Highway-126
Type: Private
Hot Springs Fee: $8 per hour/$15 per day
Drive further north along Highway-126 and you'll find Belknap Hot Springs Resort. Developed as a "Mineral Spa" in the 1870s, Belknap was a popular stop for stagecoach travelers during the 1920s and 1930s. Nowadays, the pools offer a reprieve for adventurers and locals alike.
Two pools exist on the property and stay around a consistent temperature of 185-195 degrees. One of the pools is reserved for overnight guests only, while the second pool is open to guests as well as day-use visitors.
If you don't want to splurge for a night at the resort, head over to Paradise Campground. Located a short drive south on Highway 126, the campground is nestled against the McKenzie River so you can still be lulled to sleep at night by its calming waters.
Operated by the USDA Forest Service, the campground is $20 per night and features amenities such as vaulted toilets, drinking water, trash service, and picnic tables.
5. Terwilliger Hot Springs
Location: Willamette National Forest, south off of Highway 126
Type: Public
Hot Springs Fee: $6 (pay the attendant at the trailhead)
Also known as Cougar Hot Springs, these are some of the most popular soaking pools and hot springs in Oregon. Terwilliger Hot Springs features a six-tier collection of pools with a cave at the top trickling hot water down to feed each pool. Therefore, the lower pools are cooler and they get warmer closer to the cave source.
The springs are roughly a ¼ mile hike from the parking lot at Cougar Reservoir along a well-maintained trail. Clothing is optional at these springs and birthday suit bathing is a common occurrence!
(Love soaking in the nude? Check out these nude campgrounds!)
The pools are drained and cleaned weekly, typically on Thursdays from 11am-1pm and are not available for soaking.
Cougar Crossing Campground is one of the closest places to pitch a tent near Terwilliger Hot Springs. There are 11 sites which can accommodate tents or RVs, and the campground has vaulted toilets along with firewood for purchase. Note: There is no drinking water service at this campground so prepare accordingly.
6. Umpqua Hot Springs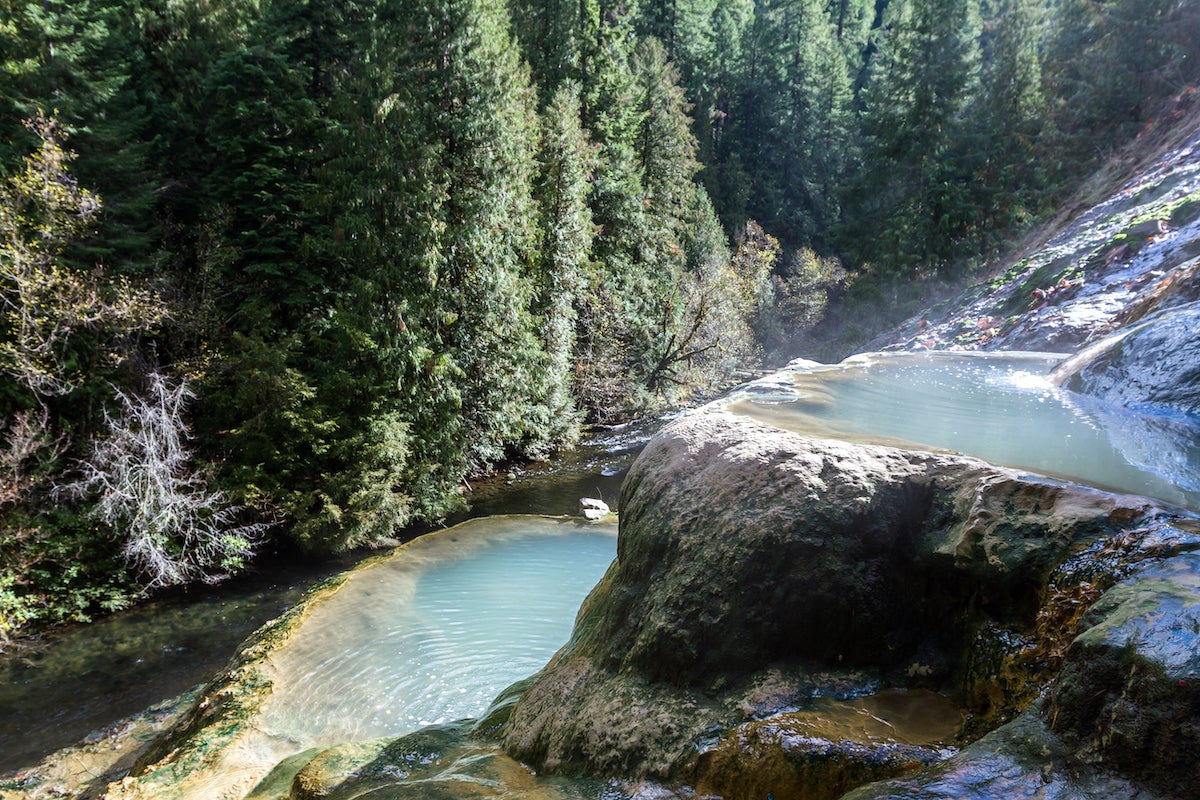 Location: Just off of NF-3401
Type: Public
Hot Springs Fee: Free (NW Forest Pass required for parking)
There are two options for reaching Umpqua Hot Springs. You can either hike a quick uphill offshoot along the 80-mile-long North Umpqua Trail or you can do a much shorter hiker from the day use parking area. Whichever path you choose, you'll eventually see a wooden shelter which protects the hot springs.
A total of seven pools now exist at Umpqua, each around 108-degrees. The pools are fed by a hose system which feeds hot water from the source underneath the hillside. As you soak, you'll be able to enjoy a view of the North Umpqua River and may even see a glimpse of Surprise Falls.
Backcountry camping was once allowed, but was banned in 2016 due to irresponsible use. The Forest Service says, among many factors, that campers were leaving behind excessive amounts of garbage and human waste.
Boulder Flat Campground is nearby for easy access to the day-use trailhead. At $10 a night, plus $5 for parking, the campground offers an abundance of activities including hiking, mountain biking, and fishing! Additionally, there is a concrete raft launch so many white water enthusiasts use the area.
All nine of the campsites have picnic tables and fire rings, and are reservable online. Any remaining sites are issued on a first-come, first-served basis. Amenities include vault toilets but no water service so come prepared!
7. East Lake Hot Springs
Location: Along the shoreline of East Lake off of FS-21
Type: Public
Hot Springs Fee: Free (NW Forest Pass required for parking)
Smell that potent sulfur air? That probably means you're close to East Lake Hot Springs. Located a short 0.3-mile hike along the shore of East Lake, these pools present the option to control the temperature based upon how much lake water you allow to mingle with the hot spring source. The pools range in temperature from 100-120 degrees and tend to be less busy than the neighboring Paulina Lake Hot Springs.
East Lake Resort offers the easiest access to the hot springs hike and accommodation options ranging from wooden cabins to tent sites and RV parking. There are six primitive lakeside tent spots which allow two tents and two cars per site and cost $25 per night. Potable water is available, along with porta-potties near the camping area.
Pay showers and flushable toilets are located at the nearby RV sites, roughly a 5-min walk. East Lake offers online reservations for tent sites and welcomes walk-ins during the months of May, June, and September.
8. Paulina Lake Hot Springs
Location: Along the shore of Paulina Lake off of FS-21
Type: Public
Hot Springs Fee: Free (NW Forest Pass required for parking)
Similar to Crater Lake, Paulina Lake neighbors the 5-mile Newberry Volcano's caldera. It is believed that when the original volcano's core collapsed, it filled a singular body of water. After subsequent eruptions, relatively recent lava has filled the caldera and separated the body of water into two lakes, Paulina and East Lake.
The hot springs at Paulina Lake are located along the shoreline about a 1.2 mile hike in. Visitors may likely describe the water as "warm" as opposed to "hot" since the pools stay around 95-degrees in temperature. Yet the benefit is, unlike the neighboring East Lake pools, Paulina Lake's hot springs are virtually free of the smell of sulfur.
Little Crater Campground is the popular camping site with easy access to Paulina Lake hot springs. There are 50 sites available which are spacious and can accommodate RVs and cost $18 per night. Additionally, the campground has vaulted toilets and drinking water available. Situated along the shoreline, Little Crater is a gorgeous spot to watch the sunset after a nice hot springs soak.
9. Summer Lake Hot Springs
Location: Off Oregon Highway-31
Type: Private
Hot Springs Fee: $10 day use fee
Escape the classic Pacific Northwest forests to soak in the Oregon hot springs of the arid high desert. Located on a 145-acre Healing Resort, Summer Lake Hot Springs is arguably one of the most secluded spots to visit in the state.
The mineral water ranges in temperature from 108-118 degrees and features two outdoor soaking options, as well as one indoor pool. The indoor pool is a popular spot for photos as it is housed inside a rustic, metal-clad barn from the 1920's.
The Summer Lake Hot Springs resort offers accommodation options, or you can camp at Marster Spring Campground. With ten rustic, spacious sites available for $6 a night on a first come, first serve basis, Marster is an ideal spot for outdoor seclusion. The campground has two vaulted toilets and a hand pump for potable water, but there is no trash service. So remember: Pack it in, pack it out!
10. Barnes Warm Springs
Location: South of Frenchglen off of BLM-8244 (Steens Mountain Loop)
Type: Public
Hot Springs Fee: Free
Located near the Steens Mountain gateway town of Frenchglen, Barnes Warm Springs is a secluded post-hiking day paradise. Walk past the gate and follow the gravel road roughly 0.8 miles to the warming pools hidden in grass and boulders near an abandoned homestead. Neighboring the Malheur National Wildlife Refuge, you may encounter furry friends such as deer, antelope, and a variety of birds during your visit.
Page Springs Campground is located just three miles from Frenchglen and is one of the ideal camping areas near the hot springs. There are thirty-six roomy sites shaded by cottonwood and juniper trees, each costing $8 per night and available on a first-come, first-served basis. The campground offers vaulted toilets and drinking water, as well as easy access to the Donner und Blitzen River. Be aware: Ticks, mosquitoes, and rattlesnakes are common in the area.
11. Alvord Hot Springs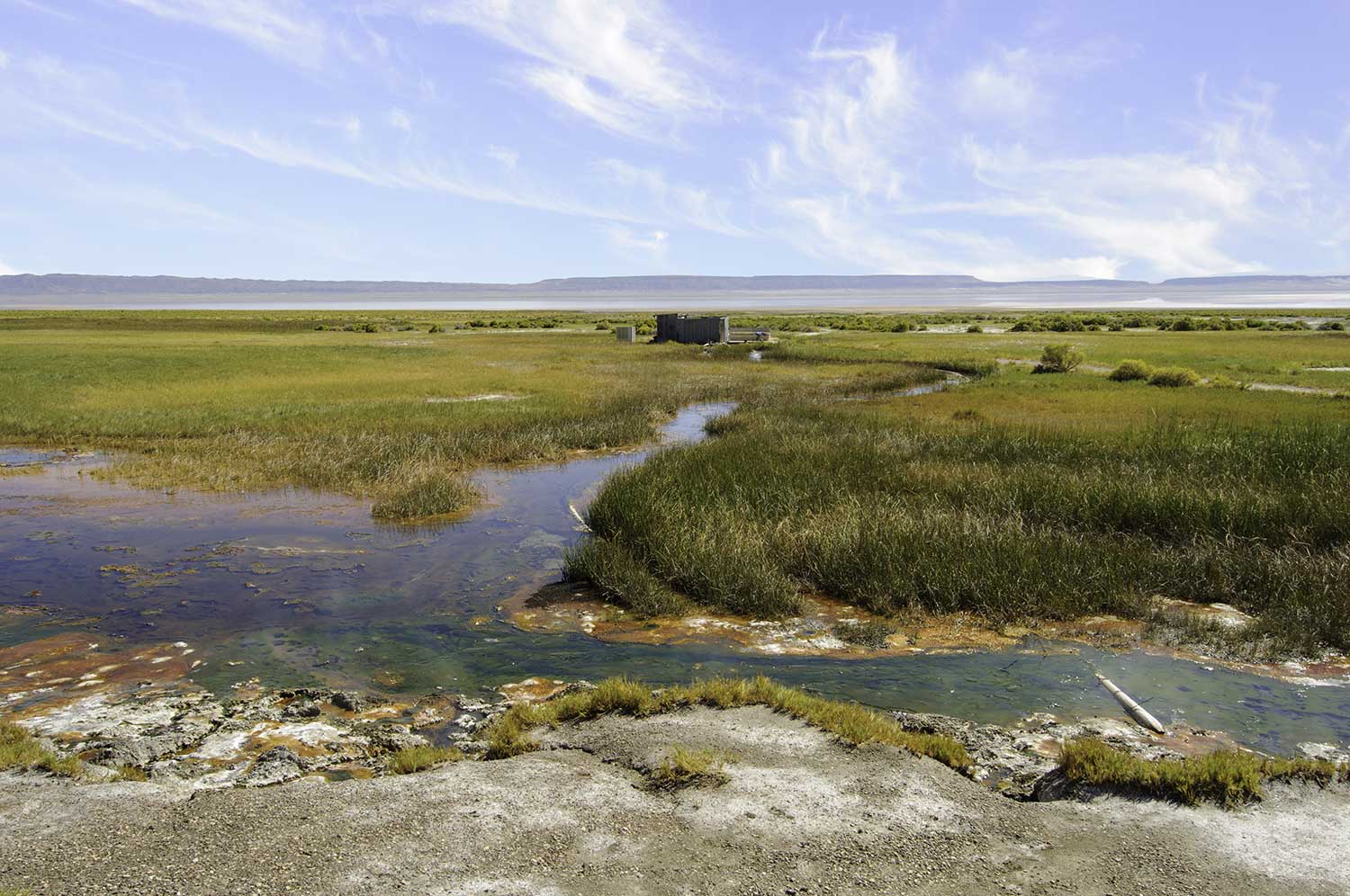 Location: Off of CR-201 (East Steens Road)
Type: Public
Hot Springs Fee: $5 day use fee
Cross over to the eastern base of the Steens Mountains and you'll find yourself in the picturesque landscape of Alvord Hot Springs. The water feeding these Oregon hot springs is 184-degrees, yet the hot springs have been engineered to maintain a lower temperature between 100-110 degrees. The soaking pools offer expansive views, crisp desert air, and a rustic structure with a wooden deck for lounging.
The pools are located on the private property of Alvord Ranch, but they can also be accessed with the small day-use fee. Next to the visitors office, there is a small restroom and changing area.
Overnight parking and car camping are allowed at Alvord Ranch for an additional fee, or you can head to South Steens Campground to pitch your tent and have a more private sleep. Located in the heart of the Steens Mountains, the campground offers thirty-six sites at $6 per night and includes vault restrooms and drinking water. Sites are available on a first-come, first-served basis.
Please note: Gas stations are scarce in the Steens Mountains and Alvord Desert area. The gas station in Frenchglen is only open in the summer months. Year-round gas is available in Burns and Fields, Oregon. Plan accordingly!
The Importance of "Leaving No Trace" at Oregon Hot Springs
Oregon hot springs are facing many issues from overuse, overcrowding, and irresponsible visitors. Managing entities are concerned about the future of these natural areas if guests do not behave in a more sustainable manner. These hot springs are in very fragile environments and it lands on us as recreators to take care of them.
No matter where in the country you're soaking, those geothermal pools are a delicate balance of minerals and underwater flora that are all connected to a watershed. Overuse can affect the chemistry of the watershed, health of the region's wildlife, and has ripple effects downstream.
Those who do not follow "Leave No Trace" practices, such as "pack it in, pack it out" are forcing land management to close some hot springs (such as Umpqua a few times) and begin restricting backcountry camping in the areas.
Hot Springs Etiquette
Observe all Leave No Trace principles
Don't use soap. Yes, it's called "bathing" but the spring and the bodies of water downstream can't handle those suds—even the biodegradable soaps and natural shampoos.
Stay on trails or designated walkways.
Follow instructions on showering before soaking/swimming.
Be respectful of other people. You might love a loud and rowdy hot spring adventure, but respect visitors who are there for a quiet, relaxing soak.
Pack out what you pack in.
Leave it better than you found it. We are all in this together and if we pitch in to help, we will have a better experience in the future, too! If you see litter from previous guests, pack it out with you.
By no means is this list comprehensive. There are many other hot springs in Oregon, and even some that you may find off the beaten path. However, when exploring and uncovering new secrets in the state, consider the impact that sharing those natural areas has on the environment—particularly on social media. Overuse and overcrowding are real issues, especially in the Pacific Northwest.
Go have an amazing adventure, but do so responsibly. We've focused on well-known hot springs here, so keep in mind that sharing your secret hot springs spots on social media could make them the next overcrowded destination.
---
Related Articles:
---
Related Campgrounds:
Popular Articles: