You probably love summer camping. We love it, too. And if you're camping for the first time this summer? We really hope you enjoy it.
But there are some things we don't always love, like excessive heat, persistent mosquitos, and fully booked campsites.
Camping in the summer months does require specific preparation and care. It's crucial to be aware of the risks presented by the summer sun. Cars and tents can become unbearably hot. Sunburns can be uncomfortable at best, and dangerous at worst. And heat can drain you of energy, faster than you can suck down a bottle of water.  If you're traveling to popular summer camping spots, you'll need to plan well in advance. Some especially popular camping destinations require permits. But summer is the season when most people have time off, and it's a beautiful time to get outside, so don't let these hurdles stop you.
These hacks, tips, and tricks will make summer camping a breeze.
33 Summer Camping Tips from Expert Campers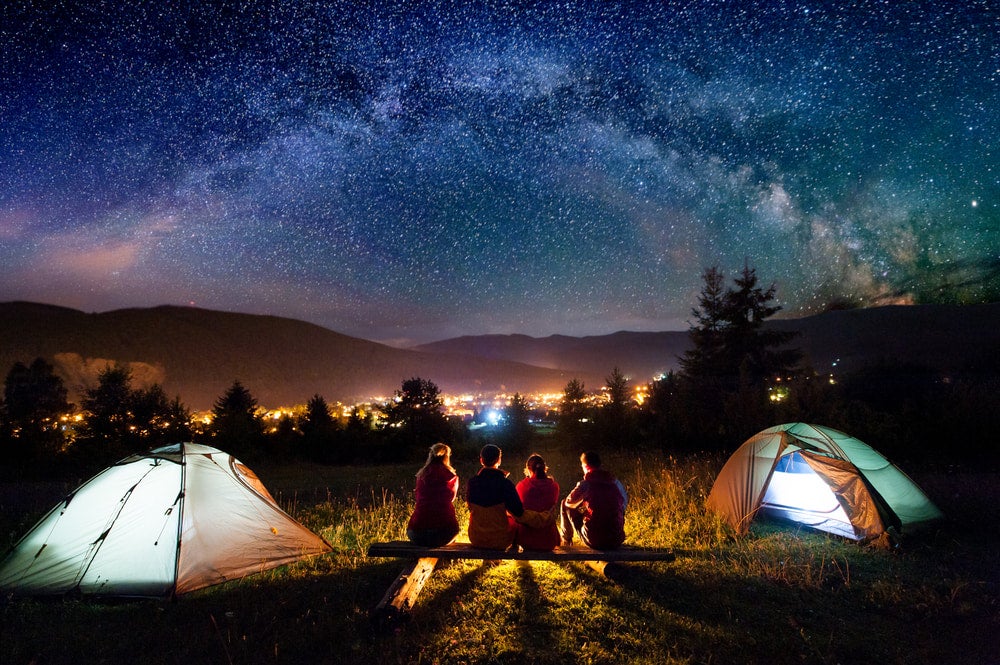 The Dyrt's community of enthusiastic campers has you covered with the following tips on surviving the heat and making the most of your summer camping adventures.
1. Tarps are the ultimate multitool
"Bring a big tarp along – it works as ground cover, or as a tent city if rainy." — The Dyrt Ranger Audrey P.
The most-mentioned summer camping tip from rangers was to pack tarps. Like, a lot of them. Tarps aren't just for keeping rain off your tent or draping a picnic table; you can use tarps as sun protection, too. They keep the body from overheating and dehydrating.
2. Keep your gear organized
"Collapsable crates for storing stuff in your vehicle. Nice on longer trips because as you use up non-perishable foods or other items, you can collapse and get some space back in your car." — The Dyrt Ranger Steve V.
Experts usually suggest storing your adventure gear and supplies in the same place. This is true while on trips, but most importantly at home. Just look at the fire department or military. It's essential to their missions to label every storage container or bag. So, when you get home, return your supplies to the same cases, bags, etc.
When your camping gear is organized, you're less likely to forget essential summer survival items, like sunblock and bug spray.
3. Wear clothing that protects from the sun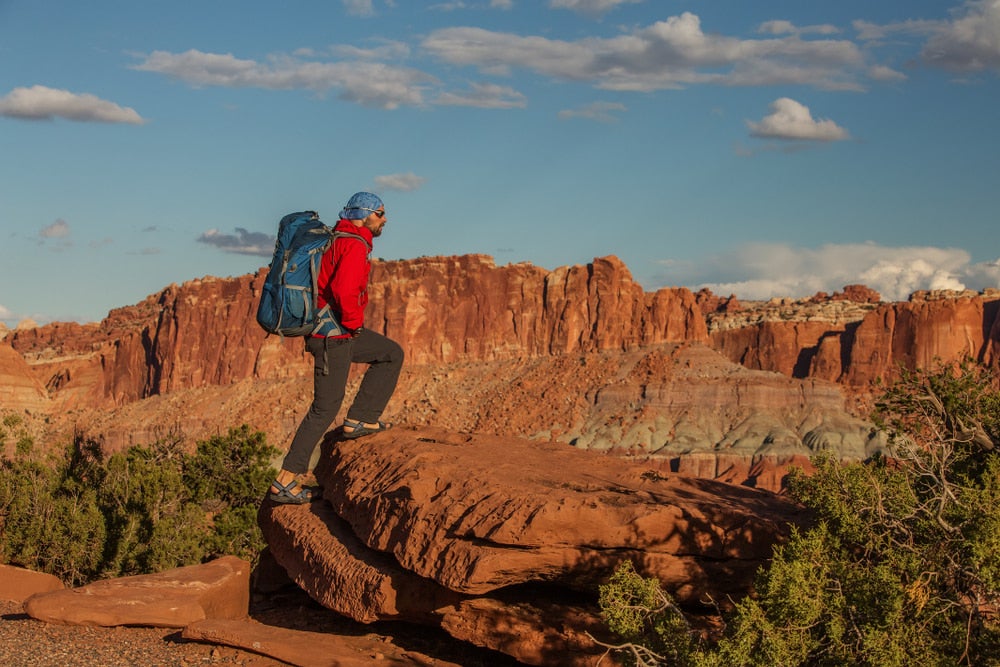 Just as a tarp protects you from the wind, so will layered clothing. Dressing in layers is more than a tip. It's necessary when you're exposed to a variety of climates and conditions.
In arid climates, it may be 100-F during the day and drop to half that temp at night. Best to be prepared. Layering is also more comfortable, and if you get one article dirty you only need to wash that one layer. Drying time is faster with layers, and you can be suited up sooner and back into your kayak or car.
4. Condense your ice chest
"Freeze water bottles to use for ice in your cooler so it doesn't waste space or make a soggy mess.  Keep cooler ice in sealed baggies for ice-cold drinking/bandana soaking water when it melts." — The Dyrt Ranger Cathy S.
Speaking of keeping cool, your frustration with leftover liquid in your trusty ice chest doesn't have to rear its head this summer. A tip from our campers is to replace the big bags of ice with plenty of water bottles, frozen beforehand. They keep the water where it should be, and once they've melted you have drinking water ready to go!
A leisurely hike can turn dangerous quickly if you run out of water or lose your way. Every year, thousands of adventurists go missing. Some never return. True survivalists don't take chances and always bring a detection device such as a satellite GPS messenger. They let you share GPS coordinates, track your adventures, reach emergency responders and check-in with family or friends — all from the push of a button.
6. Clean-up essentials keep you comfortable at the campground
"Baby wet wipes for all kinds of clean up and zipper plastic bags for packing it out." — The Dyrt Ranger Carrie C.
Summer camping, to many, is as much about keeping clean as it is about keeping cool. Whether you're with a bunch of kids who manage to find something sticky, or with adults who act like those kids, personal hygiene and clean up at the campground will keep your trip running smooth and stain-free.
7.  Location, location, location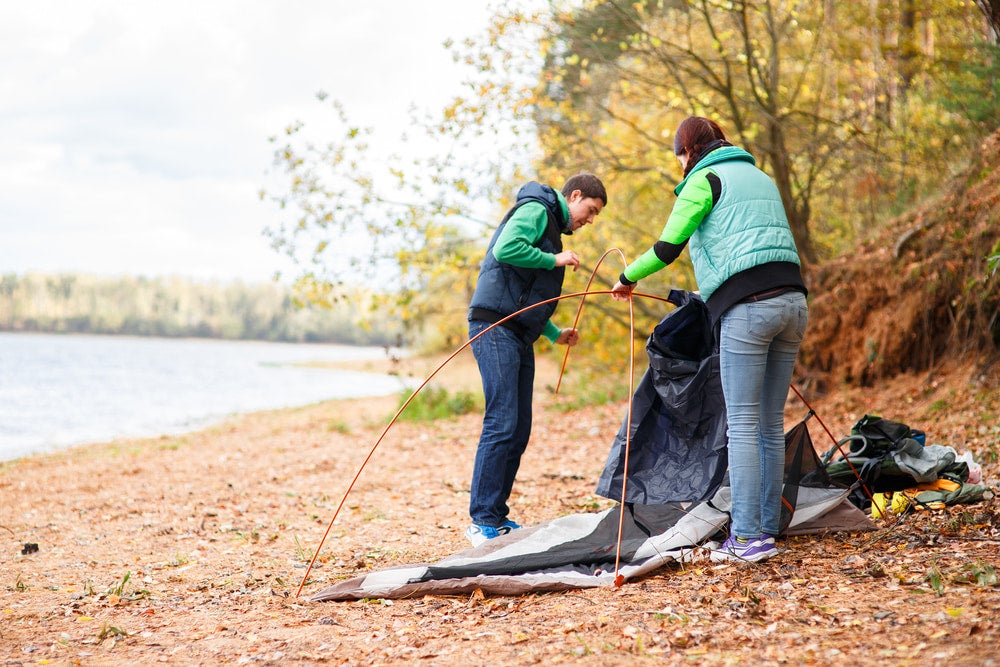 "Find a site with shade! If you are camping in an RV or TT, pick a north or east facing site so you have warmth in the morning and shade in the afternoon." — The Dyrt Ranger
Sleeping with your tent cover off and stargazing as you drift off to sleep is one of the most enjoyable summer camping activities — until you wake up baking alive in your tent from the morning sun. Finding a shady site will help with daytime heat exhaustion, but it doesn't just stop with tent campers. RV campers can adjust their parking job to get some extra warmth on those brisk mornings.
8. Stay informed of your surroundings
Being informed means more than just checking the weather, though looking up the weather forecast is a great place to start. It's also important to know as much information about your camping destination as possible. Are there campground hosts who can offer advice and information? Do you have a map of the surrounding area so you can explore without worrying about getting lost? How far will you need to drive between gas stations in more remote destinations?
9. Utilize hanging storage for campground clutter
"A cardboard shell collapsible closet organizer to hang off the canopy. A place for kitchen stuff… Paper towels, plates, matches, napkins, etc, nothing too heavy that would compromise the integrity of the canopy frame." — The Dyrt Ranger Ellen B.
While every camper has their own methods for organizing their camping gear, one trick our rangers continued to share was the use of a closet organizer for storage on-site. A hanging organizer at the campground, whether hung from a tree or the RV, can keep clutter off the picnic table and make packing back up a breeze.
Are you an RV camper? Check out even more tips for camper trailer storage.
10. Bring recovery tools for post-hike bliss
"Bring some self-massage tools with you. A lacrosse ball to roll under your feet after a long hike would be great. In case you sleep wrong or carried a heavy hiking pack it would be nice to have a foam roller if you have the tent floor space for it or a trigger point shepherds hook if you don't." — The Dyrt Ranger Krista T.
Who says summer camping tips can't also be self-care tips? Whether you're post-hike and exhausted or just wiped from wrangling the kids throughout the day, packing a few recovery tools will make your evening winding down that much more comfortable.
11. Take your time setting up your campsite
"If you can't arrive and setup in the cool morning, make sure you give yourself enough time and take enough breaks that you don't slowly die inside." — The Dyrt Ranger Sonyia W.
Regardless of how choice your campsite is, the heat of the summer sun will make basic activities much harder than they should be. Consider setting up your tent in the evening to avoid letting your tent bake all day, or bright and early when you'll feel more comfortable fumbling with tent poles.
12. Get adventurous with your camping meals
"Try making pizza on a grill. Its my favorite go to meal during the summer, you can buy the pillsbury pizza dough and lay it out on an oiled grill, let it cook for a little, flip it once, then load it up like a normal pizza with all your favorite toppings!" — The Dyrt Ranger Sonja O.
Since you won't be suffering in the shoulder season while camping in the summer, why not elevate your meals at the campground? One camper suggests trying different camping recipes beyond just sausages and burgers; a whole pizza. At best you'll enjoy a taste of luxury, and at worst an intricate camping meal will be a fun family activity!
13. Plan for wet weather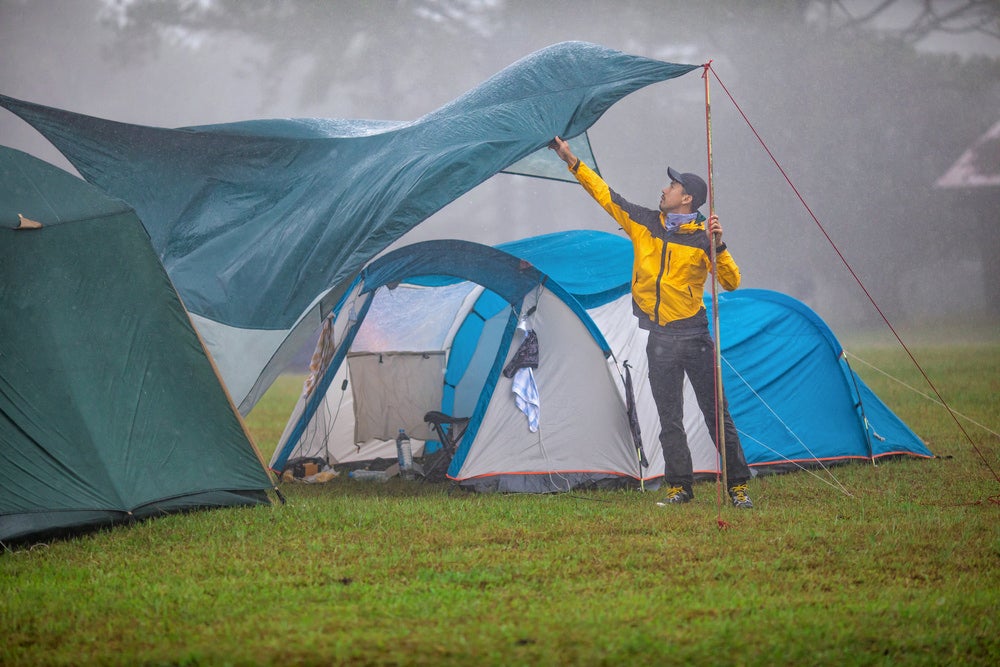 "Line your backpack with a garbage bag for extra rain protection … waterproof your matches by dipping them in shellac or polyurethane." — The Dyrt Ranger Myron C.
To some, a summer rain is a refreshing break from the heat. To others, it ruins your entire camping experience. If you want to avoid the headache when the eventual downpour hits, consider waterproofing your gear and equipment to make sure you're covered while it passes.
14. Your pup should cool off, too
"If you're an animal owner, get your pup a wet vest. We have a bulldog and he gets very hot very easily, especially while hiking. He loves his wet vest." — The Dyrt Ranger Sammi H.
If your dog goes everywhere with you, they should be as protected as you are from the punishing heat. Ranger Sammi H. recommends a wet vest to lower your pet's body temperature whether on the trail or at the campsite. (You might want to bring a first aid kit for your pet, too.)
15. Campground Fans are pretty great
"Battery-operated personal fans for summer which can fold up and pack away in small places …. I use mine on muggy sticky nights down south and they make even hot humid nights tolerable!!" — The Dyrt Ranger
We've all been there —it's 2 a.m., the sleeping bag is far too warm, and there's no way you're getting back to bed without a couple ice packs. An easier solution? Bring a battery powered fan that either hooks on your tent or that you can position at your campsite. You might feel a little lame at first, but you'll thank yourself in the long run.
16. Be aware of fire safety warnings
"In many of our national and state parks during the summer there are burn bans due to the dry conditions. My tips for campfire alternatives are; go for a night hike & use a propane campfire pit." — The Dyrt Ranger Troy W.
With 85 percent of wildland fires caused by humans, the risk of starting the next massive, damaging fire is too high not to pay attention to warnings. Always listen to fire warnings, check the fire level with your campground host/online, and acquire the proper permits beforehand. If there is a restriction during your next trip, make like Ranger Troy W. and find some campfire alternatives.
17. Keep the kids engaged with nature
"If you are taking young children, be prepared with outdoor games and activities. DO NOT let them stay on their electronic devices, or you will be robbing them of what the outdoors has to offer." — The Dyrt Ranger Myron C.
There's no better way to keep the kids occupied while they're out of school than a summer camping trip. But if you're worried about keeping them off their electronic devices, be sure to pack a couple scavenger hunts or other games for camping with kids — they'll be thankful you did.
18. Make your own organic bug repellent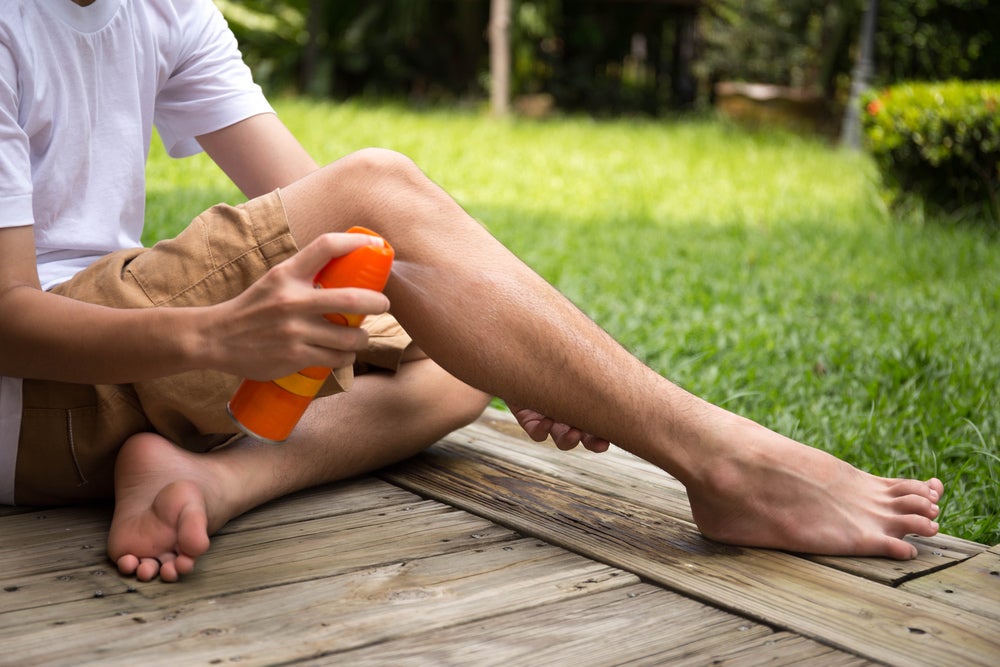 Our rangers gave a variety of creative answers to getting rid of bugs from your campsite — everything from dryer sheets to garlic-stuffed olives allegedly will do the trick. Our favorite solution is a natural spray that can be made simply at home.
19. Water bladders can pull double duty
"Bring a water filter!! And a bladder. This way you always have clean water AND a possible shower." — The Dyrt Ranger Aimee M.
Planning for water in the outdoors is never an easy task. Water bladders are often the most environmentally-friendly options for carrying a great deal of water into the backcountry, and if you're looking to bring less, a water filter (or water filter bottle) is the way to go.
20. Consider natural additions to your first aid kit
"Lavender essential oil for your first aid kit. Triple whammie! 1. Relieves pain of burns. 2. Natural antibiotic for cuts, burns and bites. 3. Natural antihistamine!!! Itchy eyes be gone!!! (Diluted in coconut oil around your eyes… Be careful!)" — The Dyrt Ranger Amy G.
While most first aid kits will include your basic emergency supplies (and maybe a couple extra items for your pet), adding in natural remedies to common minor ailments can keep you going in the outdoors for longer.
21. Skip the crowds with mid-week camping
"Camp during the week! Around Portland many campsites are crazy on Friday and Sat nights — but they're empty starting Sunday afternoons." — The Dyrt Ranger Stephanie Z.
While it's the perfect time to get outdoors, the largest downside of summer camping is the crowds. If you can, try to plan your trip round weeknights, where many families and urbanites are absent, and you'll have all the fun to yourself.
22. Plan your Activities Around Severe Heat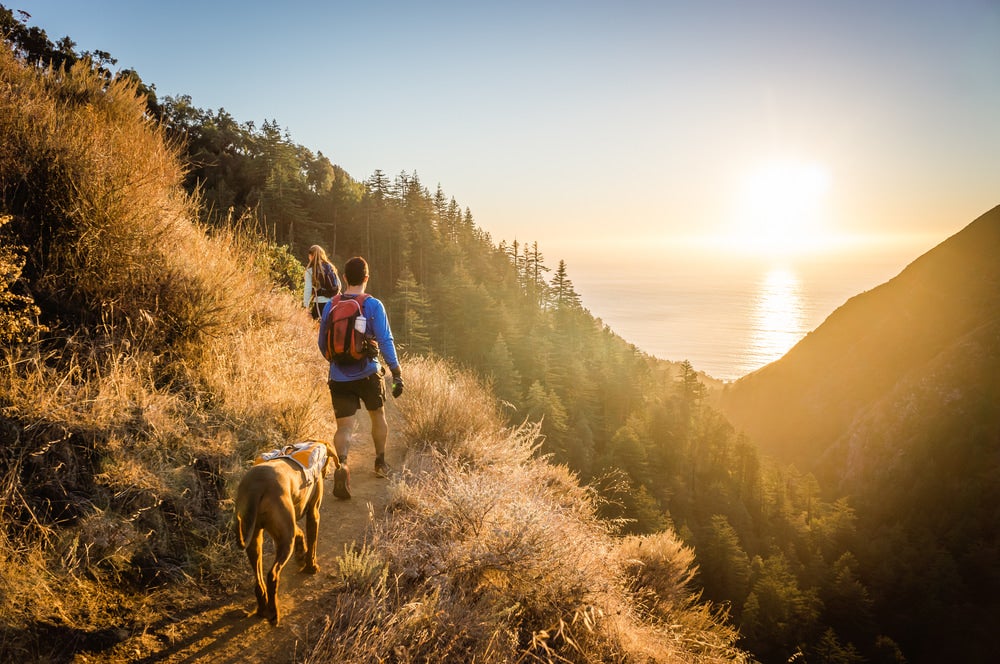 "If you're in the southern states, get up and knock those hikes out early before the heat hits. Have brunch after the hike." — The Dyrt Ranger Steve V.
Exploring your surroundings is one of the best parts of camping, but nothing ruins that more than the unbearable heat. This summer camping tip suggests shuffling your plans around to make sure the heat works in your favor, not against.
23. Condense your food into easy-carry forms
"Crack eggs into an empty bottle so you don't have to bring the carton or worry about accidentally cracking them in the cooler." — The Dyrt Ranger Siobhan R.
Even if you don't realize it, most food isn't packaged with the campsite in mind. Bringing whole eggs, meat and other delicate ingredients to the outdoors can be done better — our rangers recommend repacking the food you buy at the store into more durable, easy to carry containers.
"Hang fairy lights . . . pass out glow bracelets" — The Dyrt Ranger Troy W.
Whether you find that ambiance really helps the campsite feel more like home, or there's a fire warning and your planned campfire is a no-go, portable lights for outdoors can be a camper's best friends. The kids will also love glow sticks around the campsite at night!
25. Cool down your tent in a pinch
"Buy 3-4 solar emergency blankets and tuck them somewhere in your camping transport vehicle (I prefer the reflective side and high vis orange side). In a pinch you can cover your canopy, Tent, Popup, or Picnic area and with the reflective side up reduce the amount of heat underneath or reflective side down and stay warmer in the cold." — The Dyrt Ranger Josh S.
Borrowing a page from emergency rescue squads and firefighters alike, bringing along a solar emergency blanket is a surprising summer camping hack that allows you to control the weather (kind of). This method would work well in desert camping situations.
26. Book popular campgrounds in advance or look elsewhere
The most popular campgrounds in the country often book out months in advance—particularly those in national parks. Check availability before you head out. If your first option is no longer an option, don't worry. There are plenty of unique camping options if you're willing to do your research. Try to find "first-come, first-served" campgrounds which can not be reserved in advance, and arrive early to claim your spot.
27. Know when to fold (up your tent)
"Over plan and over budget…always have a contingency plan and be willing to walk away if conditions border dangerous." — The Dyrt Ranger Dave V.
Everyone wants every camping trip to be a success, but statistically, that might not be the case. Whether it's a serious storm, some wandering wildlife or just general unease, you should plan for everything, either with a contingency campground or by packing up and heading home. The Dyrt is a useful tool for finding last-minute camping with reliable, updated reviews that show camping options in your area.
28. Pack smarter, not harder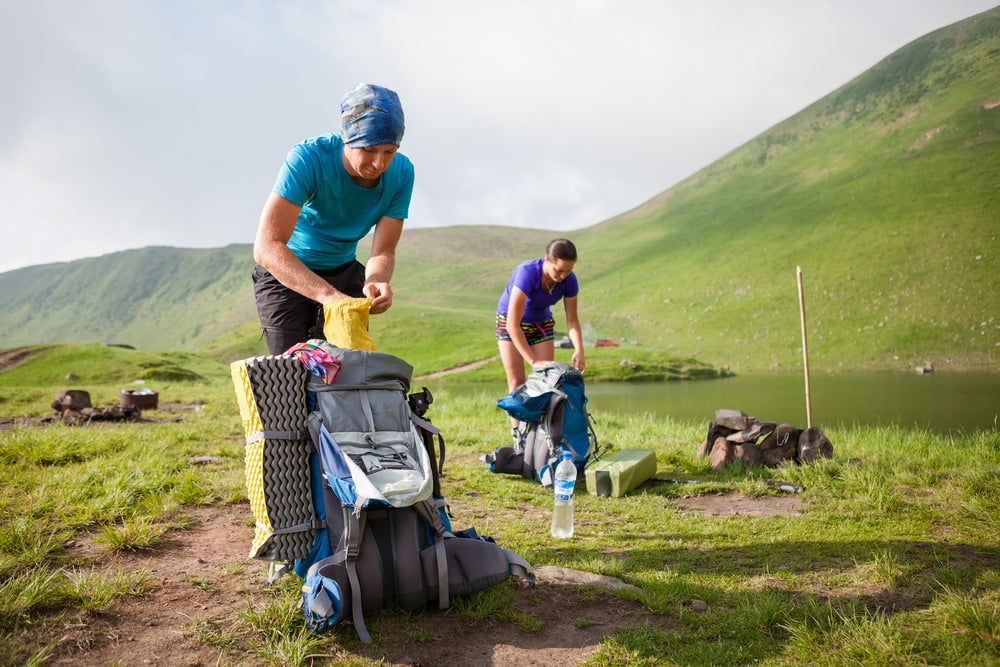 "Pack your gear. Then unpack all the stuff you know you really won't use. And then put the extra headlamp back in." — The Dyrt Ranger Annie C.
Avoid bringing the things that you've barely touched in your camping bin. Before hitting the road, pack what you'd normally bring, and then unpack the items you know you won't touch—you'll be surprised when you find yourself forgetting all about that extra camping pillow.
29. Save your energy (and time) with meal prep
"Do as much pre-prep as possible for food. The longer you spend assembling a complicated meal and cooking/tending to it over something hot, the more miserable you'll get." — The Dyrt Ranger Sonyia W.
Since cooking in the outdoors already isn't for everyone, cooking in the midday heat of the summer while camping makes it that much harder. Our Rangers suggest doing some meal pre-prep at home before you hit the road, where you can pack along pre-sliced vegetables and fruit, and even some ready-to-go burritos if need be.
"SNACKS!! camp snacks, trail snacks, that special snack that keeps the kids motivated to reach a trail destination (ours is a dehydrated ice cream sandwich) they go anywhere and weigh nothing! Our kids eat a ton while camping so snacks is definitely #1!" — The Dyrt Ranger Erin M.
Snacks like granola and trail mix give hikers and outdoors people the energy to keep going throughout the day; it's no different with children. Bringing along some motivational snacks on your next camping trip will make the whole family rest easier and make it through those more strenuous activities.
31. Make your list and check it more than twice
"Always, always, always use a checklist. If you do not, you WILL forget something." — The Dyrt Ranger Myron C.
Packing is the first thing you do for a camping trip, and no matter how much time you spend on it, there's something you're bound to forget. Get past the inevitable forgetfulness and rely on a packing checklist —whether you're backpacking or car camping, holding yourself accountable for the items you bring will assure that you have what you need.
32. If campgrounds are full, consider dispersed camping
National forests are treasure troves of free camping, if you know how to find it and come prepared. "Dispersed camping," refers to camping that's not within a designated campground, so you'll need to bring water and pack out everything you pack in. And don't expect a toilet. (Do you know how to use a wag bag?) Dispersed camping can be done just about anywhere in a national forest, unless posted otherwise. It's best to camp in a spot other campers have used before. Sometimes these clearings are obvious, and it helps minimize the impact of campers in the wilderness. Read up on additional guidelines for dispersed camping in national forests.
33. Download The Dyrt app
The Dyrt app is a great camping companion, no matter where you roam this summer. Search our 42,000 campgrounds (while you still have service), read reviews from campers who have been before, save your list of favorite campgrounds, and write reviews for a chance to win free camping gear. The Dyrt is free for both iOS and Android devices.
Popular Articles: