This article about Minnesota's Boundary Waters is brought to you by Liquid IV. Their hydration multiplier packets are a perfect travel companion, offering you great-tasting electrolyte drink mix that will keep you hydrated and energized for the whole day.   
---
Minnesota's Boundary Waters Canoe Area Wilderness sits within Superior National Forest and along the US-Canada border. It is 1,090,000 acres of pristine lakes, rivers, streams, and vast woods, interconnected by portage points and best accessed by canoe or kayak.
No human being lives in Minnesota's Boundary Waters, and passing through this wilderness is a seriously breathtaking experience. The area's beauty has earned it a spot on National Geographic Traveler's "50 Places of a Lifetime" list, making it a must-see for all lovers of woods and water.
Natural Features of The Boundary Waters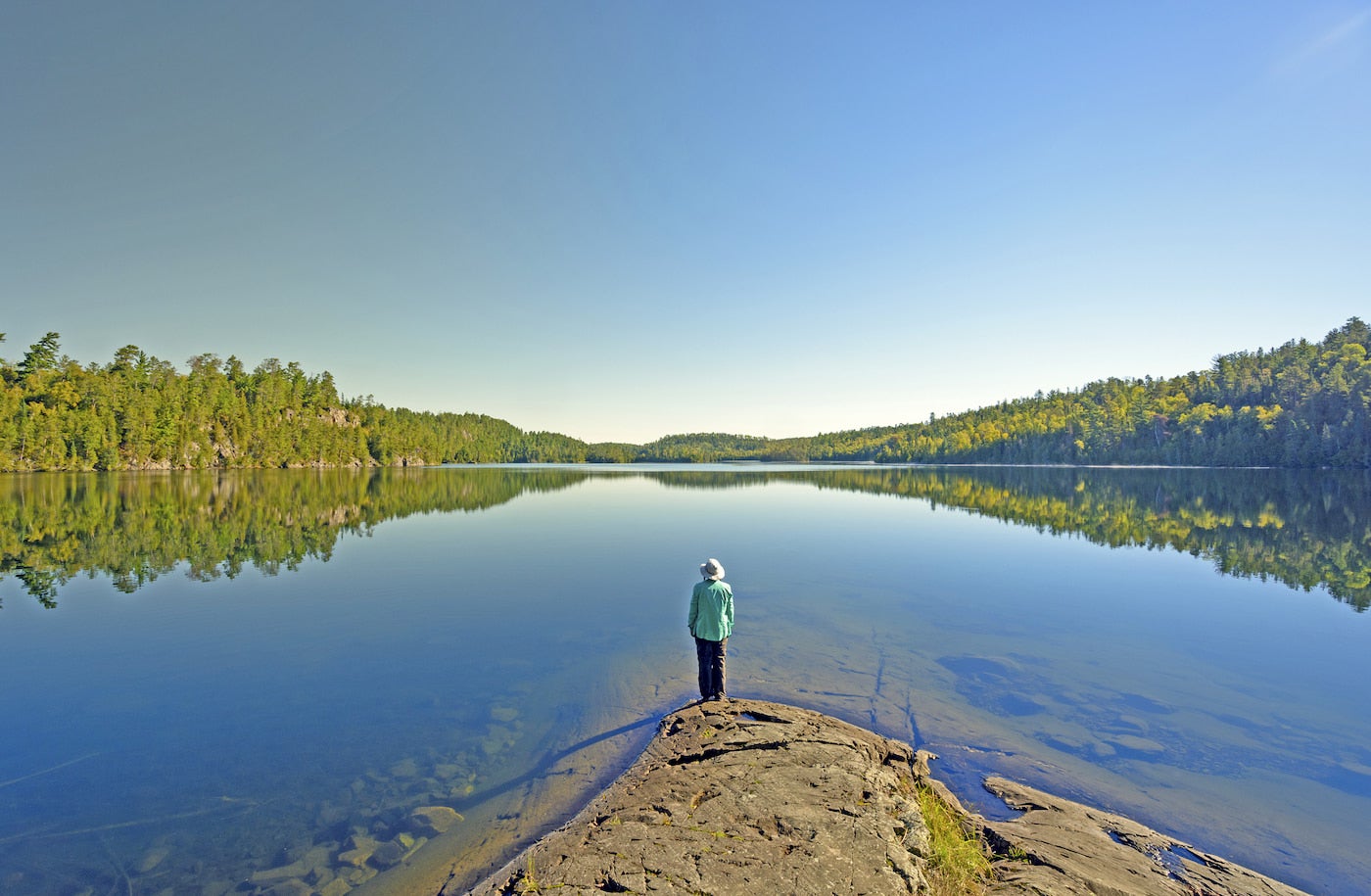 The beauty and peace of the Boundary Waters and the Superior National Forest area belie the region's intricate historical narrative. The longue durée, or long historical timeline, provides visitors with a way to appreciate the complexity of the area.
Geologically, the region is part of the Canadian Shield, which extends from the far north of Canada down into the Adirondacks and, of course, Superior National Forest. The Canadian Shield is the largest mass of exposed Precambrian Rock on the planet.
The Boundary Waters landscape is situated towards the tail-end of the Canadian Shield and has been scoured by glaciers and sheets of ice for the past two million years, creating depressions in the landscape. These depressions became the more than 1,100 lakes and hundreds of miles of rivers and streams that we recreationally enjoy today. It also provided the indigenous Ojibwe with a bountiful home for centuries.
Human History in The Boundary Waters Area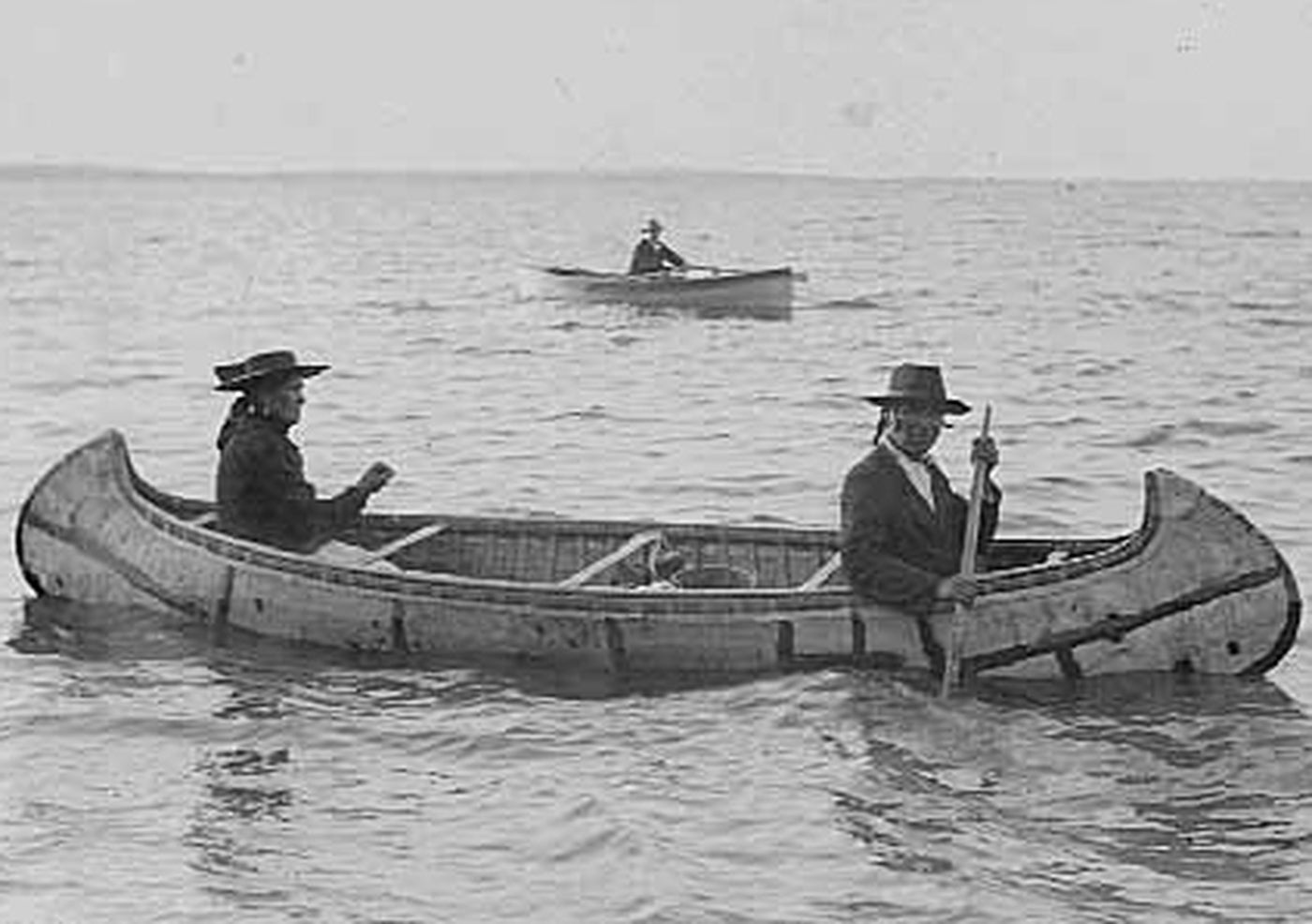 This stunning, ancient landscape was home to the Ojibwe people for approximately 1,500 years. The Ojibwe hunted and fished in the Boundary Waters, enjoyed an extensive trade network centered around gift-giving and reciprocity, harvested wild rice, and made maple syrup. Their primary alliance was with the Dakota to the west, with whom they traded for fur goods, shared religious practices, and often hunted in tandem.
When white settlers began to push the Ojibwe from their homeland, their good relationship with the Dakota enabled them to migrate further westward. Unfortunately, this was followed by further land dispossession and ruptured treaties with the U.S. Government.
Decades after the dispossession of the Ojibwe, the environmental and conservation movement began to take hold in the US. In 1902, Minnesota Forest Commissioner Christopher C. Andrews saved the Boundary Waters area from aggressive logging practices, and so began a series of legal actions that protected the area's natural beauty.
In 1949, President Truman signed an Executive Order that prohibited low-flying aircraft above the region, and in 1978, Boundary Waters Canoe Area Wilderness became what we know today: A wilderness preserved for future generations.
The Wildlife of Boundary Waters
Although no humans currently reside within the Boundary Waters Canoe Area Wilderness, the region brims with life. Otters, moose, black bears, timberwolves, beavers, mink, bobcats, lynx, ospreys, loons, blue herons, and bald eagles all call the area home.
With over 50 mammal species and 200 species of birds, you're likely to encounter a plethora of new faces, distinctive calls, and seasonal species' behaviors in this wilderness area.
How to Explore Boundary Waters Canoe Area
The area is perhaps best explored and appreciated by water. With thousands of miles of waterways to explore, kayaks and canoes reign supreme. The area also boasts excellent fishing, with Fall Lake providing an ideal base camp for swimmers, bird watchers, and walleye anglers.
Other popular Boundary Waters activities include hiking, snowshoeing, cross-country skiing, winter camping, and dogsledding. Miles upon miles of trails enable weeks of exploration on foot. Sawbill Lake BWCA is an excellent campground that provides direct access to Boundary Waters. It is a perfect base for adventures, be they on land or water.
The BWCAW website has extensive information for the 70+ hiking and canoe entry points. The site provides details for each of the individual entry points concerning access, preferred method of travel, and who to contact with any questions.
Permits are required for full-day and overnight visitors, anytime from May 1-September 30. For some entry points (Fall Lake D & 24, Moose Lake F, G, & 25), there is an online permit lottery system. For all other entry points, there's an online reservation system on a first-come, first-serve basis.
Between October and April, reservations are unnecessary. You'll be able to pick up a day permit either on the day of, or the day before, at a designated issuing station. Overnight permits are also unnecessary between October and April.
The nearby town of Ely, Minnesota, is considered the gateway to the wilderness. This town provides visitors with a watersport hub, independent pubs and bars, dogsledding guides, cross country ski rentals, fish houses, snowshoe rentals, and snowmobile trails.
Visit The Trail's End Campground
A 2011 lightning strike started a bog fire that burned for days, approximately 13 miles east of Ely. After smoldering undetected for weeks, it ballooned to historic proportions and ravaged over 92,000 acres. This became known as the Pagami Creek Fire.
Although it caused significant destruction, the fire also made way for regeneration in subsequent years. Trail's End Campground, situated right along the Seagull River within the Superior National Forest, and right next to Boundary Waters Canoe Area Wilderness, provides campers with a unique opportunity to observe the aftermath of the Pagami Creek Fire.
In the campground area, the fire burned in a mosaic pattern, leaving some areas unscathed while reducing others to cinders. This means that campers can witness a forest in post-fire recovery right alongside forests untouched by the recent fire.
Of course, Trail's End Campground also provides entry points to the BWCAW. The wildlife viewing at the campground itself is exceptional—visitors report spotting moose, loons, bald eagles, and ospreys. The Seagull River provides anglers with opportunities to catch lake trout, smallmouth bass, walleye, and northern pike.
Close to the campground, the Chik-Wauk Museum and Nature Center provides visitors with an insight into the region's past. It introduces visitors to the history of human travel through the Superior National Forest and Boundary Waters area, telling the stories of Native Americans, loggers, modern resort owners, old miners, and voyageurs.
The museum's exhibits help visitors to understand the area in context, from prehistoric times to the paving of Cook Country Road 12.
Final Thoughts
The Boundary Waters Canoe Area Wilderness is a spot that simply shouldn't be missed. It provides adventurers and lovers of natural beauty with a chance to escape not only the rush of modernity, but also an opportunity to step into a world steeped in geological and human history.
Full of wildlife, natural wonders, islands, rivers, lakes, and streams, the Boundary Waters asks the traveler to forget many of the boundaries and limitations of everyday life and to instead plunge into the heart of the North Woods.
---
This article was brought to you by Liquid IV.

Popular Articles: