Looking for cabins near Seattle? These top-rated cabins are available your your next wilderness getaway. Book on The Dyrt today!
---
There's something about a pitched pine ceiling and patchwork quilts that make us so excited for winter. Luckily, you can book these gorgeous Mt. Baker cabins year-round.
Mount Baker is a popular destination for skiing, hiking, fishing, rock climbing, camping, and curling up on a couch with a good book. The Cascadian stratovolcano and its glaciated peak make a dramatic mark on the skyline, attracting all kinds of outdoor lovers. It's an outdoor destination, for sure. But it's also a place to escape the chaos of Seattle (just three hours away), or wherever you come from, to do nothing but bask in the luxury of the indoors. We can't help but dream of cocktails by a crackling fire and a view of the starry sky from a hot tub.
Mt. Baker Cabins You Can Rent Right Now
These Mt. Baker cabins offer a range of amenities, from fire pits and wifi to hot tubs and big living spaces for entertaining family and friends. Each one of them are a little different, with design elements ranging from country to modern. Check them out and start dreaming about your Mount Baker vacation.
Mount Baker Rim Cabins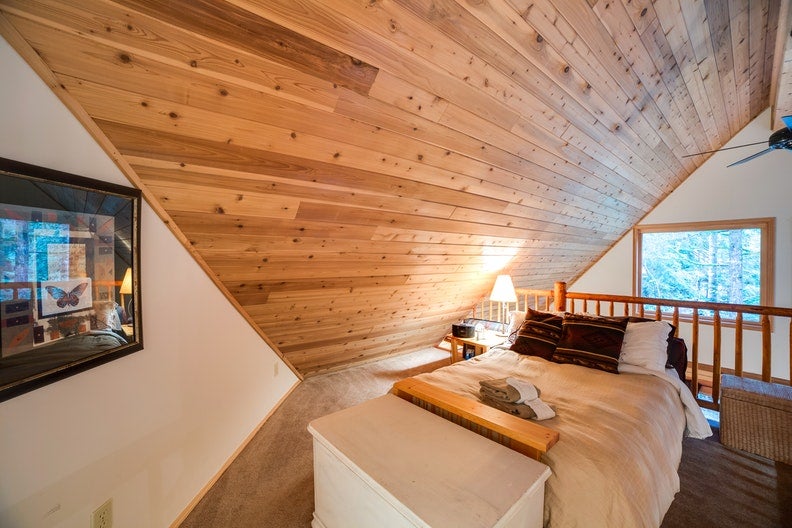 An open floor plan makes for easy entertaining at this Mt. Baker cabin. It's everything you'd hope for in a log cabin in the woods, including retro ski lodge posters and a massive deck to enjoy your summertime meals outside.
Sleeps: 8
Price: $302/night Book Now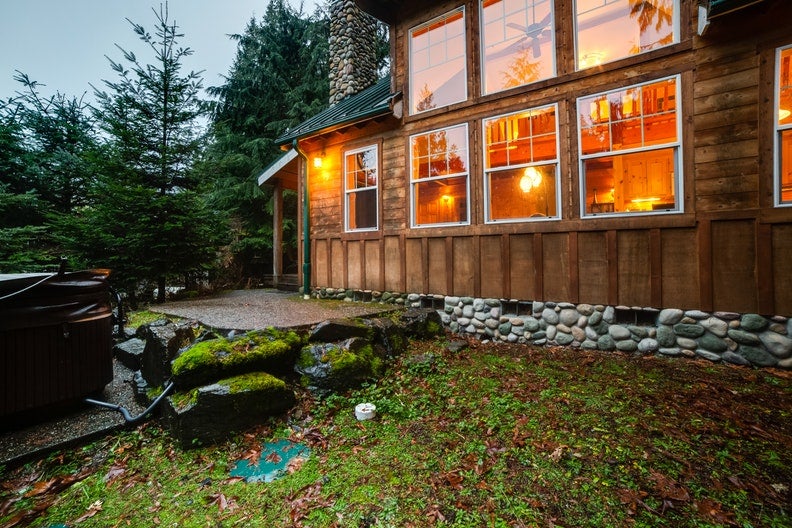 This two-story cedar cabin is surrounded by the lush, moss-covered landscape that draws people to the Mt. Baker region. And the hot tub makes it easy to soak it all in.
Sleeps: 6
Price: $226/night Book Now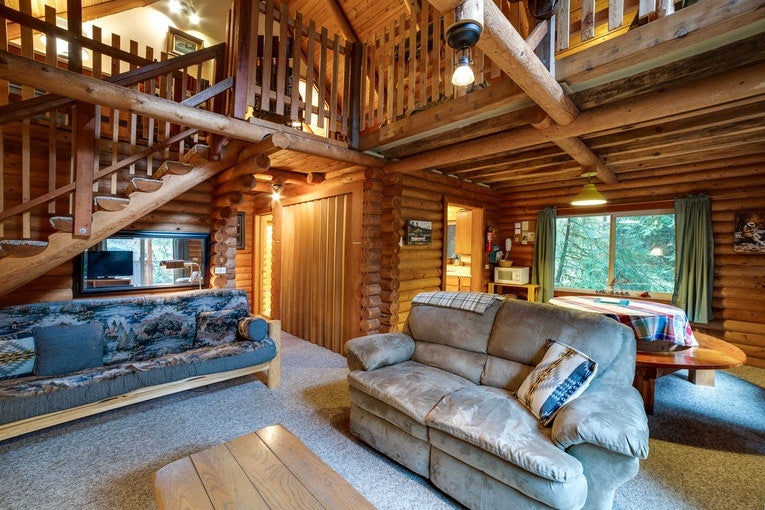 The whole family can spread out or gather around the freestanding fireplace in this charming country cabin. The kids will love the twin-sized log beds.
Size: 1,500 square feet
Sleeps: 8
Price: $205/night Book Now
Last one to the hot tub is a rotten egg! It's right outside on the deck so it might be a tight race. This cabin boasts a mid-century vibe with lots of cozy extras, including a grill, picnic area, and a four-person sauna. And of course, the hot tub.
Sleeps: 8-10
Price: $291/night Book Now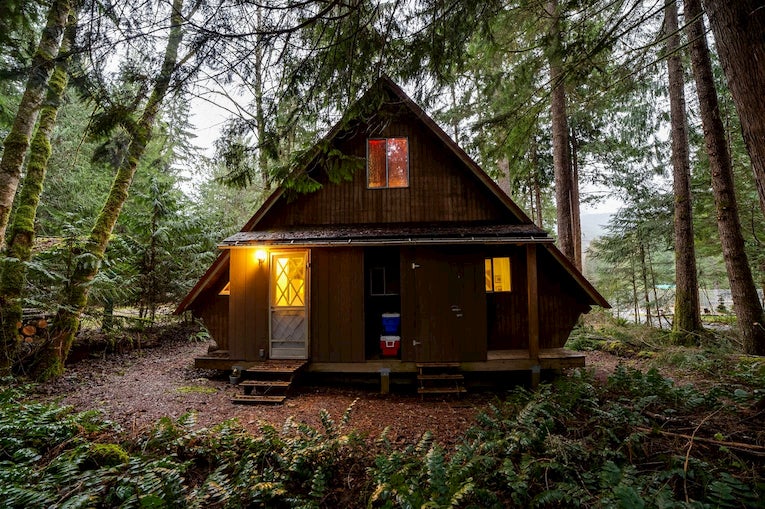 Enjoy a peaceful escape to this A-frame cabin nestled in the Baker Wilderness. The spiral staircase and lofted ceilings will enchant you while the full length deck and BBQ will make you feel right at home.
Sleeps: 4
Price: $172/night Book Now
Glacier Springs Cabins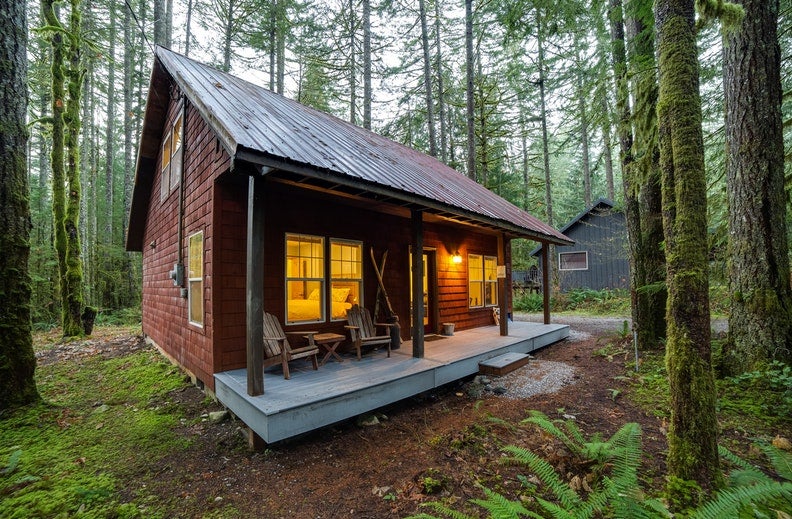 This newly refurbished cabin features a covered porch and a lofted sitting area. It's cute and cozy with plenty of room for a family of four.
Sleeps: 4
Price: $172/night Book Now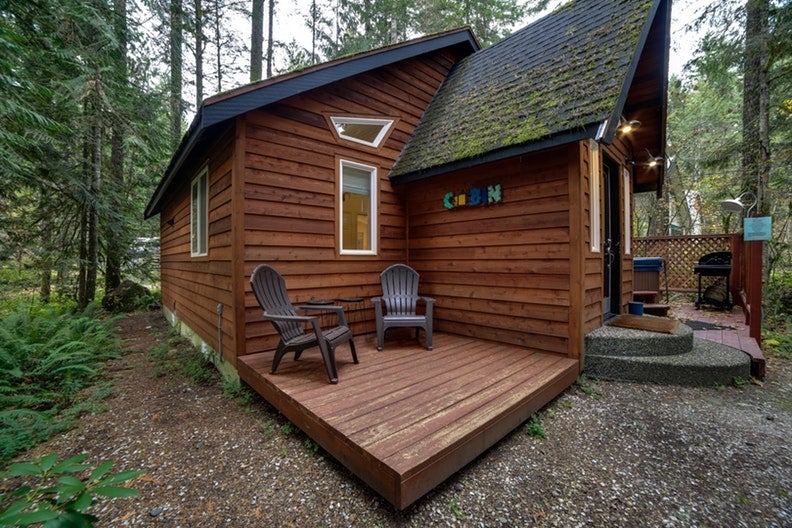 This pet-friendly "Gingerbread Cottage" really makes you feel like you're sleeping amongst the trees. A corner deck is just the place for your morning cup for coffee as dew sparkles in the early sun.
Sleeps: 2-4
Price: $172/night Book Now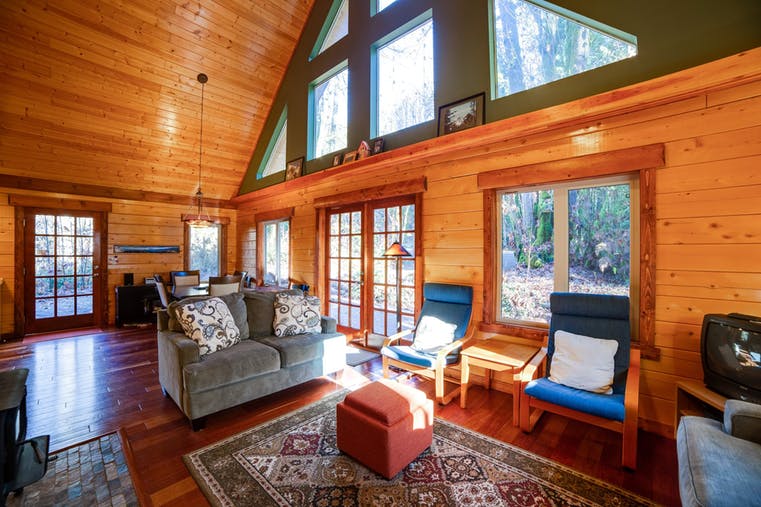 Enjoy a weekend escape with your family or friends at this 2-story, pine-interior cabin with lots of natural light. It's kind of  place for a lazy afternoon of reading on the wrap-around deck.
Sleeps: 6
Price: $226/night Book Now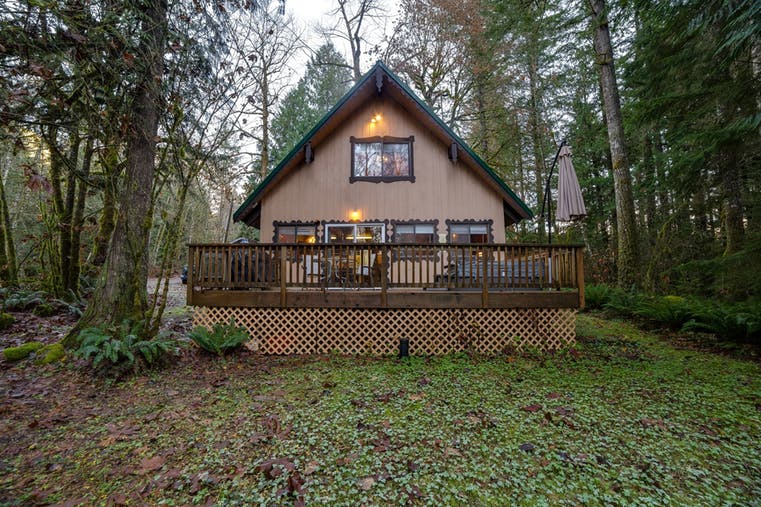 This pet-friendly cabin is perfect for a cozy winter getaway. Snuggle up with a book by the wood burning stove or enjoy a soak in the hot tub after a long day on the slopes.
Sleeps: 6-8
Price: $247/night Book Now
Mt. Baker Highway Cabins

This large lodge is fantastic for a family reunion or multiple-family getaway. Sitting on its own acreage, the lodge includes three floors, 12 bedrooms and a spacious bathroom great for hosting events.
Sleeps: 26
Price: $993/night Book Now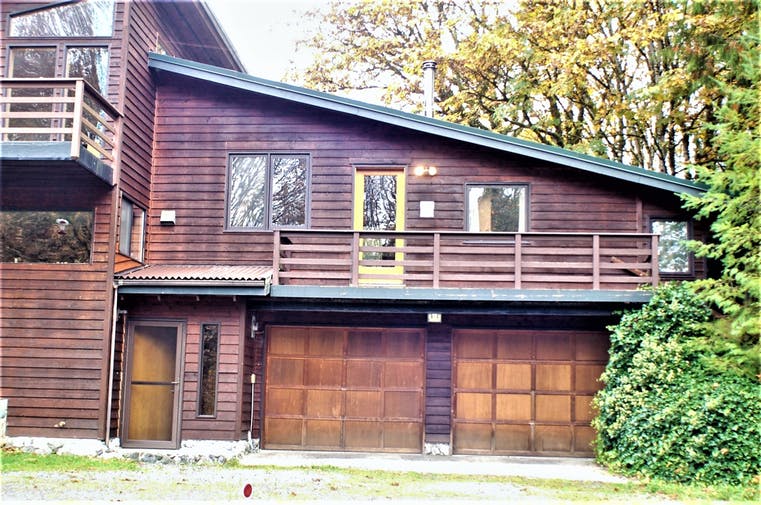 Take a stroll along the river that winds behind this private 2nd-story, 2 bedroom suite. The European-style kitchen with a full range stove will have you feeling like you're enjoying a fancy ski vacation in the Alps.
Sleeps: 4
Price: $150/night Book Now
Snowater Condos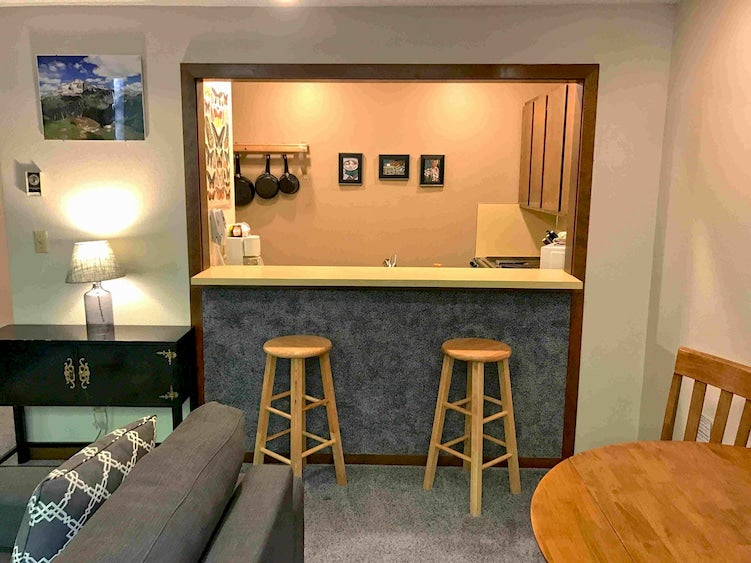 Located on 20 acres of emerald forest on the banks of the Nooksack River, this 2-story condo has everything a family of 4 needs for a weekend away. Cook your favorite dinner on the full range gas stove and cozy up by the gas fireplace.
Sleeps: 4
Price: $150/night Book Now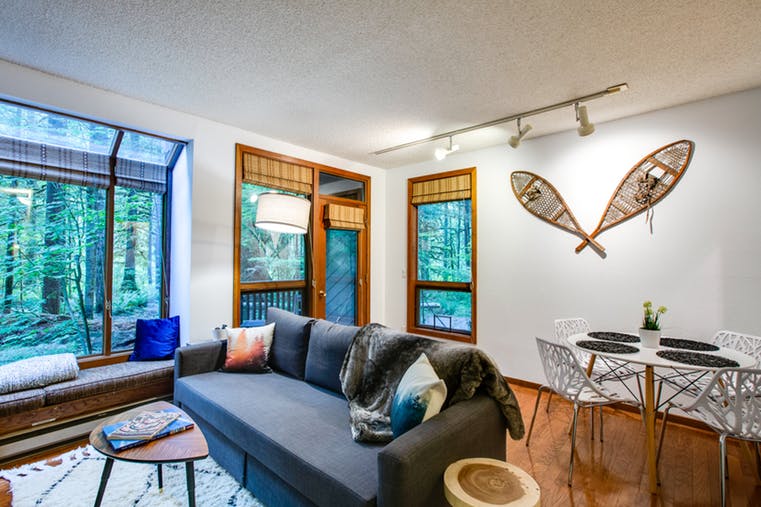 This 1-story, 1-bedroom condo is great for a romantic weekend getaway. There are plenty of recreational amenities nearby, but the condo is tucked away from the hustle and bustle.
Sleeps: 2-4
Price: $161/night Book Now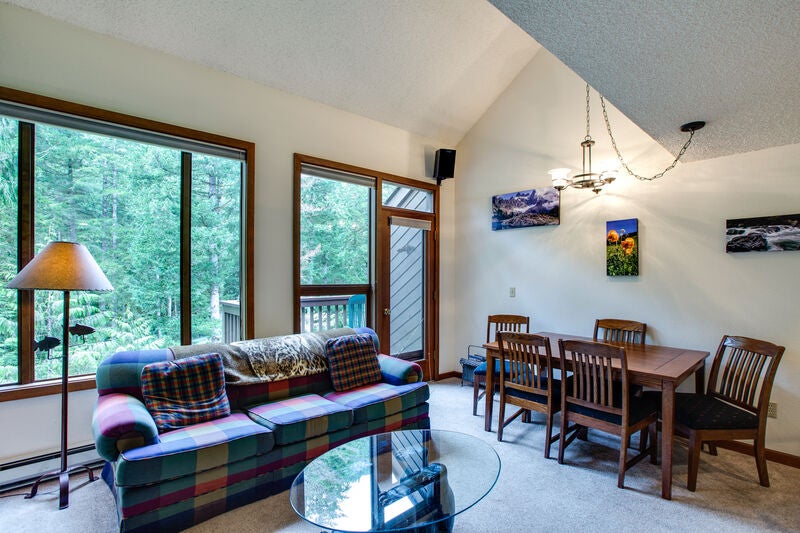 The whole family will love this rustic, cabin-style lodge. There are recreational buildings nearby with two heated swimming pools, hot tubs, a sauna, four tennis courts and more. There are a lot of opportunities for play at Snowater Condos.
Sleeps: 6
Price: $193/night Book Now
Snowline Cabins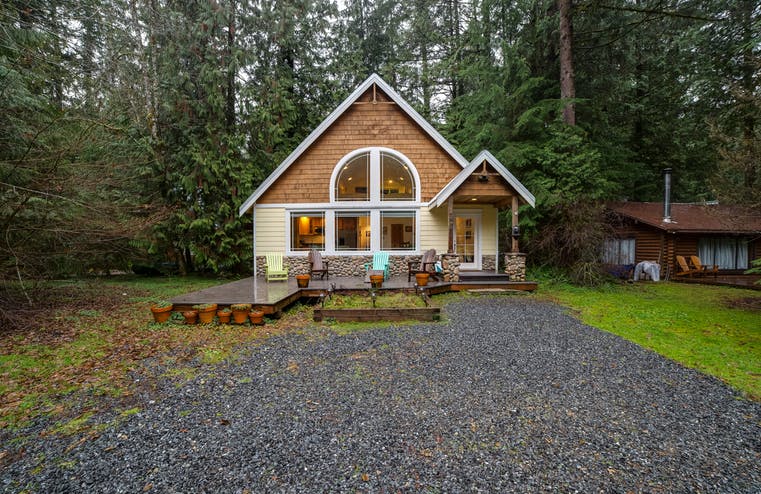 Wander along the Nooksack River on one of several trails nearby this contemporary, 2-story cabin. The gourmet kitchen is equipped with upscale appliances and granite countertops so you can cook with ease.
Sleeps: 6-8
Price: $258/night Book Now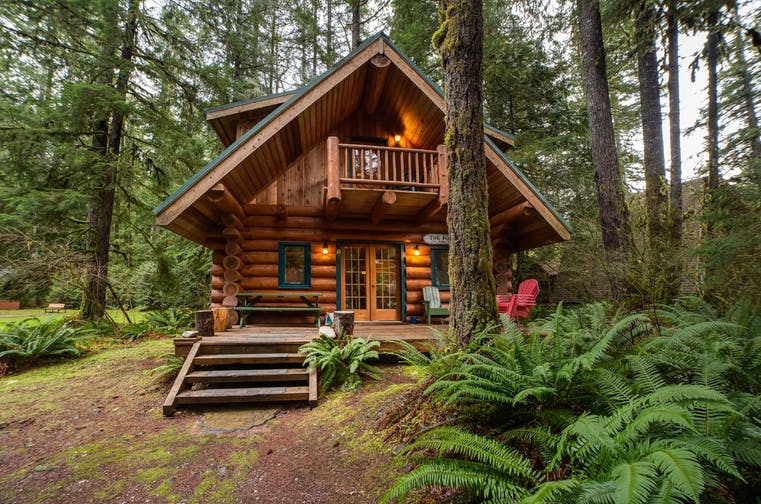 This gorgeous cabin will leave you dreaming about its wooden balcony and forest-surrounded deck for weeks after you've left. Enjoy a ski vacation with friends or a family reunion in this sizable, 8-person lodge.
Sleeps: 8
Price: $215/night Book Now

Hit the hot tub or sauna in this beautiful and spacious cabin. There are so many activities to enjoy year round at the Mt. Baker lodges.
Sleeps: 4-6
Price: $247/night Book Now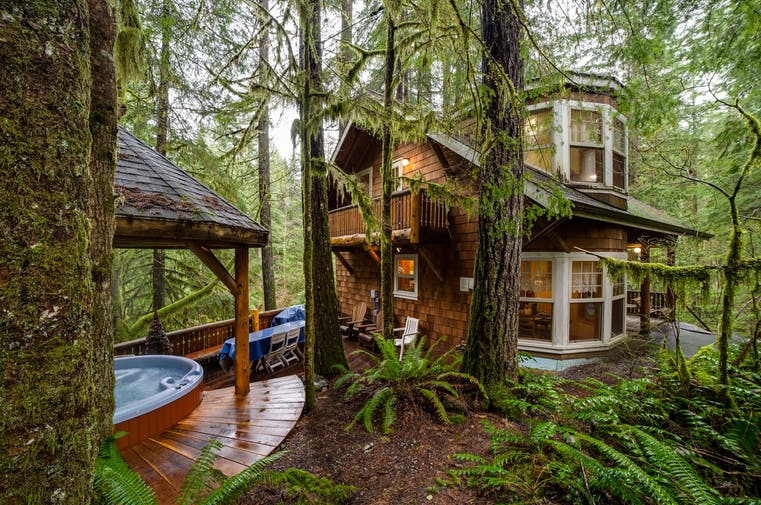 This whimsical cabin features vaulted ceilings and a private hot tub. Bring your pup and bask in the forest views surrounding the lodge.
Sleeps: 4-6
Price: $226/night Book Now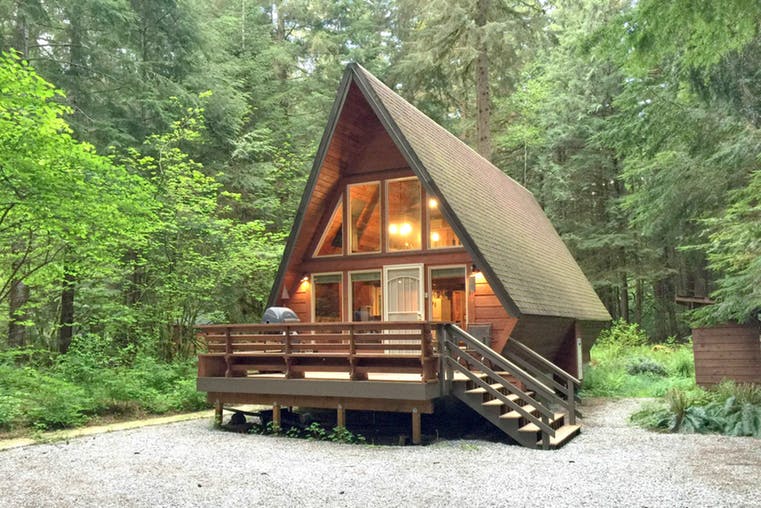 Who doesn't love an A-frame in the middle of an old-growth forest? This quintessential mountain retreat has a gas fireplace and a loft with a sitting and sleeping area. There is even a partially enclosed gazebo with a brand new hot top. This cabin can't be beat.
Sleeps: 4-6
Price: $172/night Book Now
Popular Articles: